Southeast Michigan field crops update – May 20, 2021
The Head Blight Risk Assessment Tool is critically important to help farmers assess the relative risk of this disease.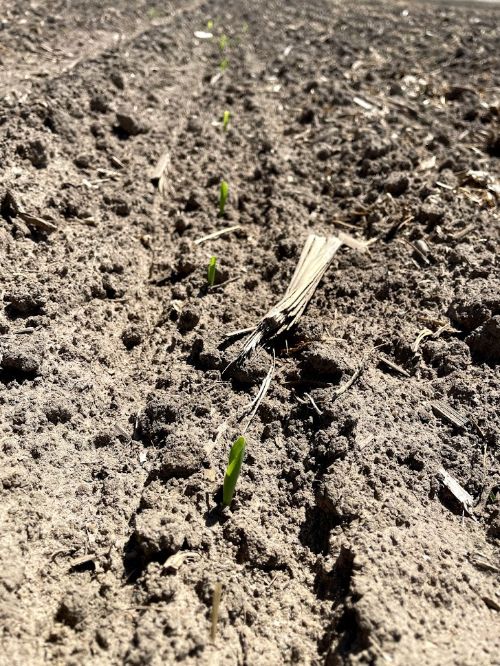 Weather
Michigan State University agricultural meteorologist Jeff Andresen says the forecast for May 24 through June 1 is for near to above normal temperature with a low chance for above normal precipitation. The dry weather means there is low water vapor in the atmosphere and a jet stream that will need to shift to a southwesterly flow with higher water vapor and moisture from the Gulf. A combined U.S. government climate agency announced on May 13 that La Nina has officially ended. This suggests a lower probability of sustained dryness over North American crop regions during the 2021 summer, including Michigan.
Corn
Corn is coming up nicely in southeast Michigan. Nematodes in corn are not as noticeable as in soybeans, potatoes, carrots or other crops. Nematodes are microscopic roundworms that penetrate the cell walls of roots and disrupt the flow of nutrients to the plant. There are often no above ground symptoms unless nematode populations are extremely high. Plant parasitic nematodes that are economically important in corn include lesion, needle, dagger, lance and root-knot nematodes. These and other corn nematodes vary in size, feeding habit, damage potential and symptomology. Foliar symptoms can easily be confused with nutrient deficiencies, herbicide or insect damage. For southeast Michigan, crop rotation, good fertility and weed control are non-chemical management practices.
Wheat
Fusarium head blight (FHB) or head scab is one of the most important disease of wheat, oats, barley and other small grain crops. Now that wheat is heading out, the Penn State Fusarium Head Blight Risk Assessment Tool is critically important to help farmers assess the relative risk of this disease and any spraying. Favorable weather includes warm, wet, humid conditions prior to and during flowering and early grain fill. Cool conditions slow fungal growth and sporulation.
Vegetables
Irrigation systems are running due to the dry weather conditions and to cool asparagus spears with the high temperatures in the near-term forecast. Dan Brainard of MSU says that irrigating with 0.25 inch of water can reduce air temperatures at the 2-inch soil level and 6 inches above the soil surface between 5-15 F. In the hot and dry period in 2016, his lab found this cooling effect lingered for 5-11 hours after irrigation at 6 inches above the soil level and 7-44 hours at the 2-inch soil level. The spring flight of Cabbage maggot should be peaking now based on the degree day totals at the MSU Enviroweather station at Applewood Orchards, Deerfield. Tomatoes, peppers, cabbage, lettuce and melons are being transplanted. Sweet corn is also being planted.
Field day at Monroe Community College Student Ag Farm
A summer twilight field day will be held at the Monroe Community College Student Ag Farm on Wednesday, June 23, at 6 p.m. Sponsored by the Monroe County Farm Bureau and the Agriculture Advisory Council, this event is free. It will include a porkburger supper with all the trimmings and plot tours of three MSU research projects. More details will be forthcoming about registration and COVID-19 safety guidelines.
Conservation practices grants now available for farmers in the River Raisin Watershed
Farmers can sign up for conservation practices grants such as crop rotation and filter strips before May 21. Applications are accepted on a rolling basis. Contact the Monroe, Lenawee or Washtenaw Conservation Districts to apply. Applications will be reviewed within 15 business days of submission. Please visit the Accelerating Conservation Adoption in the River Raisin website for more details.
Michigan Soybean On-Farm Research Projects for 2021
We are still looking for cooperators in southeast Michigan. If you are interested in becoming a partner, please contact Ricardo Costa, MSU Extension field crops educator, at 573-639-8971 or costasil@msu.edu to request a detailed protocol for each of the projects. There are 13 projects to choose from, ranging from planting rates to fungicide application.
This article was adapted from Field Crop IPM Report published by Ned Birkey, Spartan Agricultural Consulting, LLC.