Southeast Michigan field crops update – May 7, 2021
Alfalfa weevil larvae are feeding and can cause economic injury. Scout fields and evaluate whether a better strategy is to spray or take the first cutting early.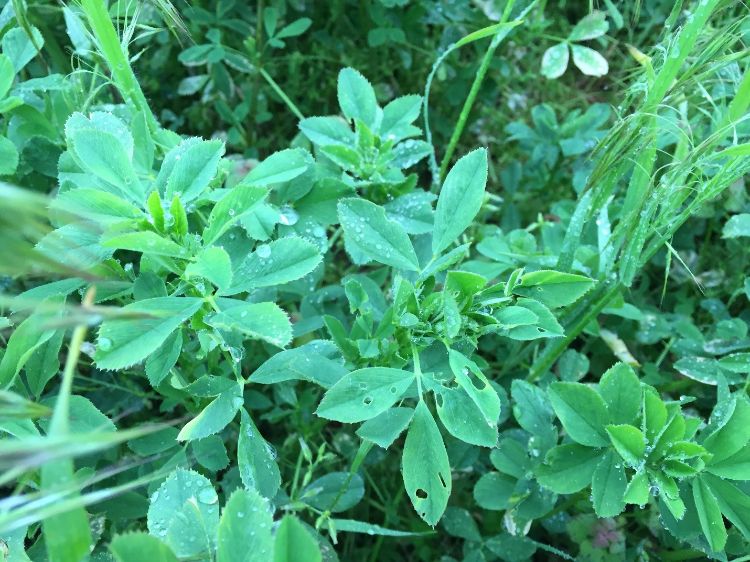 Weather
The soil temperatures are right on target as of May 5, 2021, at 57.7 degrees Fahrenheit at the 2-inch level at the Michigan State University Deerfield Enviroweather station. Growing degree day (GDD) (heat units) are the highest since 2017 at 254 GDD base 50 F since April 1. We have accumulated 370 GDD base 41 F for alfalfa, so alfalfa weevils will be feeding. Rainfall totals since April 1 total 2.53 inches, more than last year but about half of each of the previous three years of 2017, 2018 and 2019.
Alfalfa
Alfalfa weevil larvae are feeding and can cause economic injury. Scout fields and evaluate whether a better strategy is the spray or take the first cutting early. Heavily skeletonized leaves can have a frosted appearance. Check tips of stems for feeding and treat if 40% of stems show damage and the field won't be harvested for at least seven days. If the field will be cut within the next week, then consider cutting early to kill weevils rather than spraying. Remember that bees or other beneficial insects may be in the field, so spraying will kill them as well. Many insecticide labels include honey bee warning statements.
MSU entomologist Christina DiFonzo suggests cutting any fields in bloom because all of the insecticides registered for alfalfa are toxic to bees, therefore these fields should be cut. If considering a spray, be sure to check the preharvest interval (PHI) which can range from zero to 28 days depending on the product and rate per acre. Highest quality alfalfa is at the one-tenth bloom stage, though many local buyers are not especially interested in the quality measures such as the amount of crude protein, relative feed value, acid detergent fiber (ADF) or neutral detergent fiber (NDF).
Wheat
Farmers who wish to enter the National Wheat Foundation and/or Michigan wheat yield contest have until May 15 to submit their online entries.
Fields are in the critical Feekes 8 growth stage when the flag leaf emerges. At this time, scouting for diseases becomes very important. Septoria leaf spot favors cool (50-68 F) and rainy conditions and can cause significant yield loss. The flag leaf generally provides about 80% of the crop's yield potential. Most fungicide spraying is directed to protect the flag leaf from diseases such as Septoria and powdery mildew, which reduce grain fill and the size of the grain. The "best" treatment starts with planting resistant varieties. Sprays now at Feekes 8 will help protect the flag leaf but will not adequately protect the head from late-season diseases.
Field day at Monroe Community College Student Ag Farm
A summer twilight field day will be held at the Monroe Community College Student Ag Farm on Wednesday, June 23, at 6:00 pm. Sponsored by the Monroe County Farm Bureau and the Agriculture Advisory Council, this event is free and will include a porkburger supper with all the trimmings and plot tours of the three MSU research projects. More details will be forthcoming about registration and COVID-19 safety guidelines.
Conservation practices grants now available for farmers in the River Raisin Watershed
Farmers can sign up for conservation practices grants such as crop rotation and filter strips before May 21. Applications are accepted on a rolling basis. Contact the Monroe, Lenawee or Washtenaw Conservation Districts to apply. Applications will be reviewed within 15 business days of submission. Please visit the Accelerating Conservation Adoption in the River Raisin website for more details.
Michigan Soybean On-Farm Research Projects for 2021
We are still looking for cooperators in southeast Michigan. If you are interested in becoming a partner, please contact Ricardo Costa, MSU Extension field crops educator, at 573-639-8971 or costasil@msu.edu to request a detailed protocol for each of the projects. There are 13 projects to choose from, ranging from planting rates to fungicide application.
Wheat watchers report
We will be releasing a wheat watchers report on the MSU Extension Wheat website every two weeks. If you don't see your county reported and want to become a reporter, please contact Ricardo Costa at 573-639-8971 or costasil@msu.edu.
New technology in agriculture
Roundup Ready soybeans and Bt corn came on the market 25 years ago in 1996. There were educational plots at the Herb Smith and Melvin Dailey farms, respectively, that year to talk about this new technology. The old days of inserting genes into plants (GMO) have long passed the agriculture industry, although the term is still commonly used today. CRISPR/CA9 (Clustered regularly interspaced short palindromic repeats/CRISPR associated-proten9) is a newer technology that does not take genetic material from a different organism and inserts it into the DNA of a plant or animal. Instead, CRISPR CA9 technology is used to edit the DNA sequence and, in very simple terms, "turns on or off" the precise gene. An example is buying nice, white apple slices in a store or restaurant, and the slices do not turn brown, which is the normal oxidation process of an apple. The gene that promotes browning has simply been turned off.
Another newer technology used in agriculture and other industries is blockchain, a continuously growing list of records called "block" linked and secured using cryptography. Using the chain, a company can trace a product back to its source by simply scanning a QR code or looking up a unique identifier online. In the event of a food safety recall, blockchain technology can help identify affected products within seconds, saving companies millions of dollars while protecting consumer health. This technology is used by Walmart, IBM, Giant Berry Farms, Intel and the government of Singapore, among others, and is being considered by the U.S. Food and Drug Administration to track and trace the source of contaminated foods.
This article was adapted from Field Crop IPM Report published by Ned Birkey, Spartan Agricultural Consulting, LLC.