Southeast Michigan fruit update - April 4, 2023
Emergence from dormancy in a wet spring.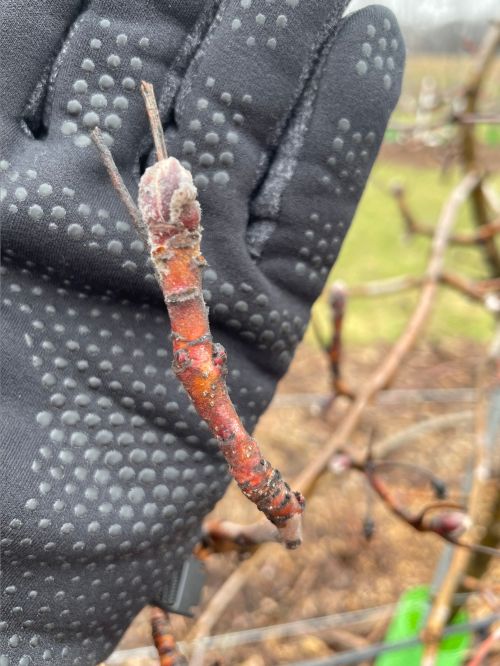 Welcome to the first in-season fruit article update for southeast Michigan for the 2023 season. Throughout the season, these updates will include information about the weather in the past week and the upcoming week, a fruit-by-fruit guide to current conditions with appropriate pest and disease updates, and other relevant observations.
General observations
Even though we have seen a warm winter in southeast Michigan, the temperatures have consistently stayed below those needed to gain many degree days. Growers around the state are finishing up tree fruit pruning (especially on more tender fruit), putting on dormant sprays, and even doing some planting if they can get into their fields. Despite the low temperatures and wetness, there are some signs of us moving into spring. Green tip in apples has been reported near our warmest Michigan State University Enviroweather station at Deerfield. At the apple plot at the Tollgate Farm in Novi, MI, the majority of cultivars are at silver tip, including Idared, Honeycrisp, Mac and Zestar, with a few lagging behind, including Liberty, Pink Lady and William's Pride.
The trap line monitoring has started at the Trevor Nichols Station in Fennville, MI. The season's typical first emergent pest, green fruitworm, has been trapped there. Plans are being made for the southeast Michigan trap line to start later this spring.
Fruit-by-fruit conditions
Apples: Green tip has been reported near Deerfield, MI, while further north in Novi we are at silver tip. Scab sprays should be applied at the next opportunity as we break dormancy. Rimpro is currently reporting a low, but present, risk of scab infection.
Blueberries: There is still time to apply dormant spray products to suppress early season diseases, but buds have swollen in southwest Michigan and our blueberry growers won't be far behind.
Brambles: We are seeing some bud scale separation in raspberries in Washtenaw County as well as in southwest Michigan.
Cherries: Some movement in cherry buds has been seen in southwest Michigan.
Grapes: No movement reported.
Strawberries: No observed movement has been reported. When new leaves start to emerge from crowns, overwintering mulches should be removed and raked between the rows. Some growers are putting out floating row covers. Growers are looking at early season herbicides to control overwintering weeds. When selecting an herbicide, check the pre-harvest interval (PHI). We are getting to the part of spring where some herbicide PHIs are cutting it close to predicted harvest dates.
Peaches and nectarines: Peach leaf curl can be kept under control with a fungicide application either in the late fall or just before bud swell, but not when leaves are present.
Pears: Some pear psylla has been spotted in west central Michigan. Asian pears are starting to show some movement and bud swelling.
Plums: Plum and stone fruit crosses as well as Japanese plums have been reported to be phenologically progressing in the southwest part of the state. Prune out black knot and dispose of the knots by burning or removing from the orchard. Sanitation is an important step in managing this disease.
Seasonal weather update
We have had another active week of weather. It has been cool and relative to normal with considerable precipitation. This has been one of our wettest starts of the year on record so far. Soil moisture is near normal to start the season.
In the short term, we are expecting rain throughout the week. There is potential for severe weather on Wednesday, April 5, with the possibility of thunderstorms, hail and high winds. While Wednesday will be warmer, temperatures will cool down again later in the week. There could be some freezing temperatures over the weekend.
In the medium term, we are looking at mean temperatures warming up and precipitation dropping below normal. The long lead outlooks are still calling for warmer and wetter than normal conditions for the late spring and summer seasons.
While this winter has been a mild one, we don't appear to be seeing early spring movement in our fruit crops. Our regional average growing degree day accumulation for the season so far is behind the 5-year average by 30 growing degree days (GDD) at 42 Fahrenheit, 27 GDD at 45 F, and 18 GDD at 50 F (see table below). Degree days accumulate when average temperatures for the day exceed the base temperature of the model. So, even though we have seen a warm winter, the temperatures have consistently stayed below the those needed to gain many degree days. Read this Michigan State University Extension article to learn more about degree days: Understanding growing degree-days.
Growing degree day (GDD) accumulation March 1 - April 3, 2023. Forecast from April 4-10, 2023.

Station (County)

GDD Base 42 F Current

GDD Base 42 F Average (5 Yr.)

GDD Base 42 F Forecast

GDD Base 45 F Current

GDD Base 45 F Average (5 Yr.)

GDD Base 45 F Forecast

GDD Base 50 F Current

GDD Base 50 F Average (5 Yr.)

GDD Base 50 F Forecast

Commerce (Oakland)

33

66

89

15

44

57

4

22

26

Deerfield (Monroe)

58

89

123

34

62

83

11

33

38

Emmett (St. Clair)

26

55

74

12

38

45

2

20

20

Flint (Genesee)

41

78

98

21

53

63

5

27

29

Freeland (Saginaw)

27

52

75

13

34

48

3

17

23

Hudson (Lenawee)

43

76

106

23

53

70

7

28

34

Lapeer (Lapeer)

38

71

89

19

49

56

5

26

25

Pigeon (Huron)

21

42

50

10

28

30

2

14

12

Romeo (Macomb)

37

67

92

19

45

59

5

23

26

Average of stations in this region:

36

66

88

18

45

57

5

23

26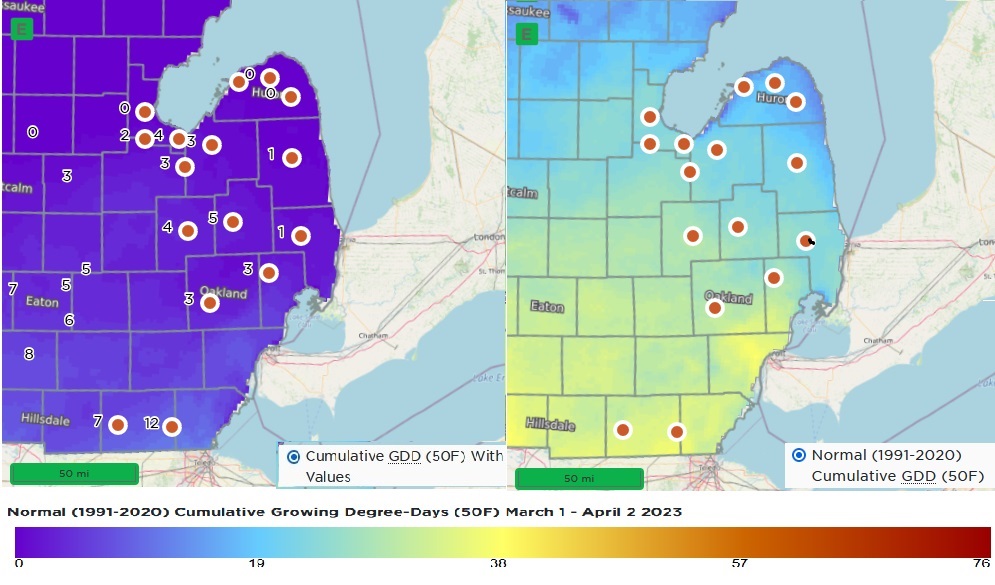 Watch Jeff Andresen's biweekly agricultural weather forecast reports here.
More information and reports on normal weather conditions and departures from normal can be found on the NOAA Climate Prediction Center website, NOAA U.S. Climate Normals website, NOAA Climate Normals Quick Access Page (which may be searched by region), and Midwest Regional Climate Center website.