Southeast Michigan fruit regional report – May 19, 2015
Leafroller populations are very high in many apple blocks. Crop load is variable in many tree fruits as bloom has ended.
Weather
Warmth over the weekend brought another period of very rapid growth in tree and small fruit crops. For the third week in a row we have accumulated a good number of growing degree days (GDD). For much of east Michigan, our season has swung forward a bit further to currently running four to six days ahead of normal for GDD totals and a few days ahead for growth stages, with the exception for strawberries, which are still a few days behind normal.
There has been a series of showers last week that brought only a few tenths of an inch of precipitation for most fruit growers. Most areas of our region are running 2 to 4 inches behind normal for spring rainfall.
There is a chance of frost predicted this evening; strawberry growers need to be ready to frost protect.
East Michigan GDD totals from March 1 to May 18, 2015

Location

GDD42

GDD45

GDD50

Commerce (Oakland)

561

447

292

Emmett (St Clair)

521

412

265

Flint (Genesee)

630

505

334

Lapeer (Lapeer)

581

469

331

Petersburg (Monroe)

624

501

334

Pigeon (Huron)

438

342

216

Romeo (Macomb)

576

461

300
Tree Fruits
Apples are mostly at petal fall to 5 millimeters in the Flint, Michigan area. Apple crop load is extremely variable this season. At some orchards, many apple varieties don't appear to have set a good crop this season, although it is a bit early to determine apple crop load. This is making thinning decisions even more difficult than normal. Some growers are heavily thinning most of their varieties while others are only thinning a few varieties. With cooler temperatures forecast for the next few days, Michigan State University Extension suggests growers wait for daytime temperatures to get back to the lower 70s to apply thinning sprays. Phil Schwallier's carbohydrate thinning model and charts suggest that trees will be under no stress due to the sunny, cool weather for the rest of the week, so normal thinning rates can be used. All charts in all areas are very similar.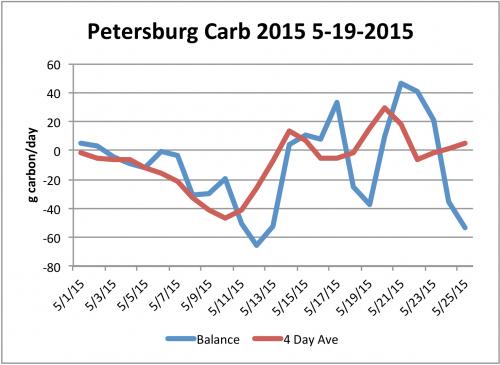 Apple scab was also a concern for some growers last week as about half of our region had an apple scab infection period. I am just starting to find a few apple scab lesions from the April 5 infection period. High numbers of apple scab spores were caught at my trapping location in each of the three wetting events of the past week, so primary apple scab season continues. I have not found any fire blight strikes, nor have I seen any oozing from last season's cankers.
Many apple blocks have very high numbers of leafrollers these last few days, especially where a pink spray was not applied. The leafroller and other larvae list includes obliquebanded leafrollers, redbanded leafrollers, fruittree leafrollers, inchworms and green fruitworms. The first catch of codling moth started late last week. A few stink bugs continue to be found, and a brown marmorated stink bug was reported in a structure yesterday, May 18. Oriental fruit moth trap catch continues. Plum curculio and apple curculio continue to be found in apples, with egglaying injury just starting in the last day. European red mite egg hatch continues, as does hatch of rust mites. Oystershell scale crawlers are starting to become active. San Jose scale adult males are being caught in traps in high numbers. Mullein plant bug adults continue to be found, but now are considered a beneficial insect. Many beneficial insects have begun to be seen in the last week. This list includes lady beetles, minute pirate bugs and assassin bugs.
Pears are 7 millimeters in size; the crop load appears extremely variable this season. Pear psylla egg hatch continues this week with high numbers of adults continuing.
Peaches are at shuck split for those few growers with a crop this season. Growers are removing dead and dying trees, most of these blocks are older trees. Peach leaf curl is being seen as are bacterial spot symptoms.
Sweet cherries grew quickly over the weekend, most are 10 to 12 millimeters in size. Many varieties have thinned down to one to three fruit per cluster. Many blocks had a fair amount of fruit drop in the last week.
Tart cherries are 6 to 8 millimeters in size. There is a good crop of tart cherries coming along this year.
European plums are at shuck split to 5 millimeters and Japanese plums are at shuck split. Some Japanese plum varieties have little to no crop this season.
Small fruits
Grape shoots are 8 inches in length for Concord types with flower buds emerging. Many European varieties have extensive winter kill. A few grape berry moths continue to be seen.
Strawberries are at 10 to 20 percent bloom and continue to look much better than a few weeks ago as they have finally put on some good growth. It appears the start of harvest for strawberries will be a few days later than normal. Strawberry clipper feeding damage on flower buds is common at many farms the last few days; cover sprays need to be applied at most farms. Gray mold cover sprays will be needed over the next week as we see more bloom in strawberries. Angular leaf spot lesions on leaves have been seen at just a few farms, all where there was a history of angular leaf spot last season. Canadian thistle sprouts or shoots continue to be seen in many strawberry fields.
Raspberry canes of summer fruiting types are continuing to show leaf growth with flower buds expanding. Dead cane tips continue to be seen in several varieties, killed from cold temperatures this winter. Fall red raspberry canes continue to emerge from the soil this week, showing rapid extension growth. The longest canes are 8 to 12 inches in length.
Blueberries are at full bloom. I am encouraged to see many buds continue to swell, more than I expected. More time is needed to determine crop load for this season.