Southeast Michigan vegetable regional report – August 10, 2016
New pests appear as harvest season ramps up.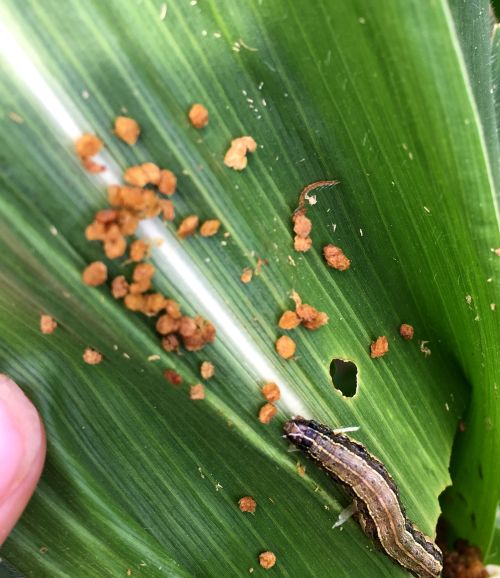 Weather
Rainfall continues to be in short supply, and there is little rain forecasted.
The table below presents rainfall (in inches) for the Michigan State University Enviro-weather stations in southeast Michigan.
Rainfall amounts (in inches) in southeast Michigan

Weather station

Rainfall last week

Rainfall since April 1

0

8.98

0.09

9.08

0.19

8.4

0.02

9.14
Crops
Sweet corn harvest continues, with the hot temperatures pushing corn production along. I've seen fall armyworms feeding in the developing tassels and leaf whorl of late season sweet corn. This is a pest that overwinters in the southern U.S. and moves north as the growing season progresses. The caterpillar can be identified by a Y on its head capsule. The threshold for fall armyworm is any number present as either moth or larvae, and pesticides used to treat corn earworm or European corn borer should work on fall armyworm.
Brown marmorated stink bugs are a new pest to Michigan that can damage sweet corn, peppers, tomatoes and others crops. MSU Extension recommends scouting for this pest, as high numbers were reported overwintering in homes in many Michigan counties. MSU entomologist Julianna Wilson is tracking brown marmorated stink bugs throughout the state, and reports on numbers weekly. Read her latest weekly report, "Michigan brown marmorated stink bug report for Aug. 5, 2016."
Potato plant tops have generally been killed off and the skins are toughening up. Alternaria, or early blight, has been spotted in some fields, which can be identified by brown concentric rings in dead leaf tissue, usually appearing first on older leaves. Prevent the disease with fungicides – more information can be found on Michigan Potato Diseases: Early Blight. I suspect late blight is in the area, so keep an eye out for this pathogen on damp foliage in the morning.
Processing tomato harvest will begin next week. There are bacterial diseases present in some varieties, so keep an eye out for tomatoes that have black specks or white pimples. If you have questionable fruit or plants, feel free to contact me at schuhmar@msu.edu and I can take a look, or they can be sent to MSU Diagnostic Services, who will diagnose the issue for a small fee. Staked tomatoes for fresh market are generally looking good, with high yields and quality being reported.
Cabbage harvest continues, and the hot temperatures have made cooling fresh-picked cabbage a necessity for storage and transport. Cabbage loopers and imported cabbage worms are out and feeding on younger cabbages. I haven't seen any damage from the new invasive pest swede midge in this part of the state.
Muskmelon harvest continues, with good crops being reported all around.
Squash, zucchini and cucumber harvest continues, with some cucumber fields being abandoned. Downy mildew has not been formally confirmed in our area, but I've heard talk of it in Lenawee and Monroe counties. Higher downy mildew spore counts were reported in Monroe County about a week ago. Preventative fungicide routines are key and should not be deviated from. Squash bug nymphs are out and damaging yellow squash. Treatment is advised if there is more than one egg mass per plant.
Meetings
On Aug. 27, there will be a Breakfast on the Farm event in Hartland, Michigan. Tickets are free and can be picked up at various locations in southeast Michigan.
For growers interested in organic vegetable production and management techniques, the Zilke Farm in Milan, Michigan, will be hosting an Organic Vegetable Farm Twilight Meeting from 6-8 p.m. on Sept. 8.
For women involved with farms who want to increase their knowledge in regards to farm management and finance, Annie's Project is offering classes at the Lenawee County Extension Office starting Sept. 15. For more information and registration, visit the Adrian Annie's Project event page.