Southeast Michigan vegetable update — Aug. 23, 2017
Recent storms have brought up this season's first major influx of corn earworm.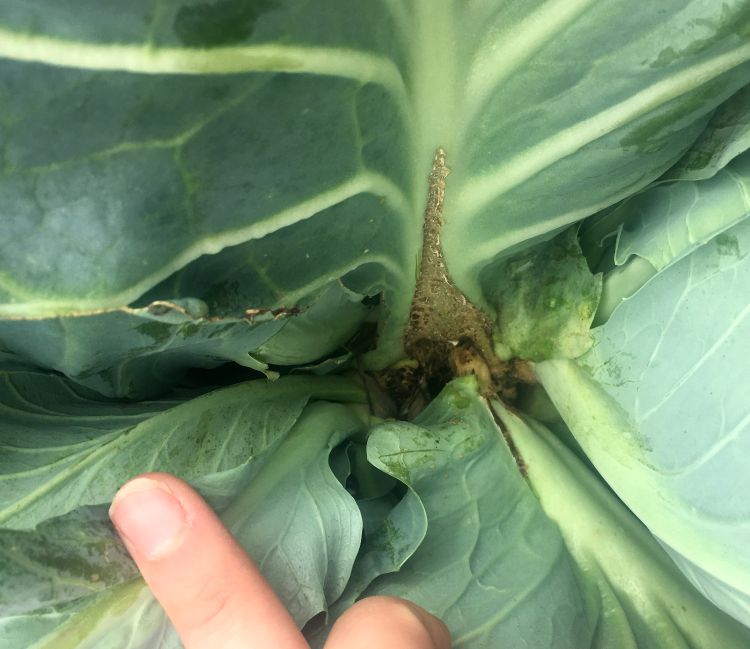 Weather
Rain and storms have moved through the region in the last week, bringing very welcome precipitation to farms in our region. The weather front also brought cooler temperatures, which will likely hold through the end of the month.
The table below presents rainfall (in inches) for the Michigan State University Enviroweather stations in southeast Michigan with the amount of change from last week reported. Growing degree-days (GDD) starting March 1 are calculated using the Baskerville-Emin Method.
Rainfall and GGD totals as of Aug. 23

Station

GGD (base 50)

5-year GGD avg. (base 50)

Rainfall since April 1 (inches)

1,975 (+143)

2,003.9

12.54 (+0.29)

2,269 (+153)

Not available

13.18 (+0.8)

2,035 (+139)

2,168.3

14.47 (+1.18)
Crops
Swede midge damage is being found in cole crops. This pest is suspected to have three to five overlapping generations in our area. Look for plants with blind heads and brown scarring. For example, in cabbage you will see plants developing many small heads instead of one large one, and when looking at the base of these many heads, you will see the characteristic scars.
Once damage is visible, the pest has likely already completed the damage-causing part of its life cycle. Note fields where damage is present, and rotate cole crops far away spatially from affected fields next year. Timely removing plant remains after harvest may also help reduce future populations.
Pepper harvest has picked up on many farms. The recent rains will likely increase phytophthora incidence.
Sweet corn harvest continues. Late last week, an influx of corn earworm was carried into our area with a changing weather pattern. I caught 12 moths in Lenawee County between Tuesday and Friday, Aug. 15-18, averaging out to three moths per night. The threshold for this time of year, when field corn is not silking, is one to three moths per night. MSU Extension advises treating any fields where green silks are present. The next generation of European corn borer is predicted to emerge in 139 GDD.
If you are finding worms in your corn, proper caterpillar identification can help you figure out where to tighten up your control program next year. Corn earworm can be a wide range of colors, with an unmarked and light brown head capsule. If you are finding this pest in a high numbers of ears, monitoring flights via your own traps or online resources can help time sprays.
Western bean cutworm is a newer pest, whose caterpillars bore through the side of the ears and have a band of thick black and thin white strips behind their heads. If you are seeing this pest in high numbers, scouting corn for eggs during peak moth flight in mid-July and treating accordingly will provide control. For information on caterpillar identification, see "Sweet Corn Pest Identification and Management" from the North Central IPM Center.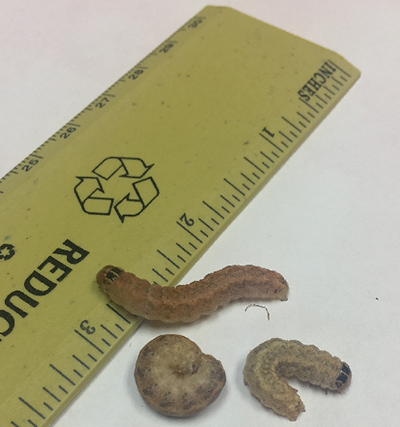 Contact me any time at 517-264-5309 or schuhmar@msu.edu for pest and disease sampling. I make updates regularly on Twitter at @SoutheastMIVeg.
Meetings
Growers with greenhouse and floriculture aspects to their farms may be interested in attending the 2017 Greenhouse Production, Plant Health, and Marketing Conference Sept. 13 in Lansing, Michigan. A wide range of topics will be covered, with a focus on increasing plant quality, safety and sales. For more information, see "Register now for 2017 Greenhouse Production, Plant Health and Marketing Conference."
The Midwest Mechanical Weed Control Field Day is Sept. 26 at the MSU Horticulture Farm. This meeting will feature mechanical weeders from the U.S. and Europe, as well as the experiences of farmers who use these tools. For more information and registration, see "Midwest Mechanical Weed Control Field Day."
Hotels are filling up for the Great Lakes Fruit and Vegetable EXPO, Dec. 5-7 in Grand Rapids, Michigan. The combination of grower-focused, research-backed presentations and an amazing exhibit hall make it a can't-miss event.