Southeast Michigan vegetable update – May 3 2017
After a burst of field activity last week, chilly and rainy weather has moved in and will likely hold into the weekend.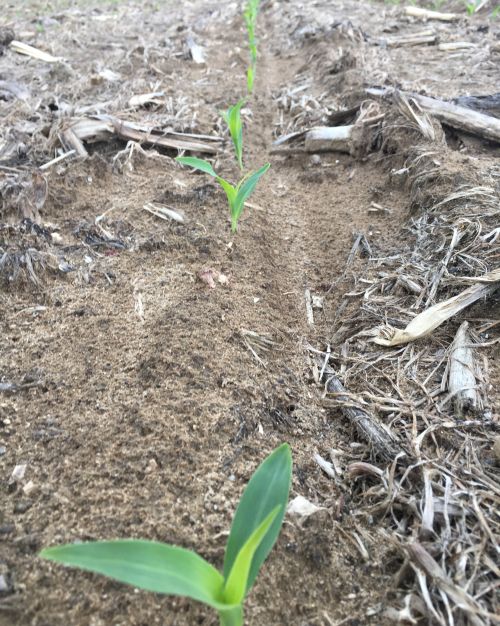 Weather
Warm and dry weather last week saw farms planting a variety of crops as well as doing field preparation, with most farms reporting that planting was on schedule. Wet and cold weather this past weekend brought field activities to a standstill. Expect more cold and a steady rain moving into the weekend, with overnight lows nearing 40 degrees Fahrenheit in some areas. This cold weather will likely bring degree-day totals into a more typical range for this time of year.
The table below presents rainfall (in inches) for the Michigan State University Enviroweather stations in southeast Michigan, as well as degree-days (starting March 1) calculated using the Baskerville-Emin Method. Soil temperature range (top 2 inches) over last seven days is also included when available. For a refresher on degree-days and how to get this information in your area, see "Accessing growing degree-days with Enviroweather" by MSU Extension.
Rainfall and degree-day (DD) totals as of May 3
Station
DD base 42
DD base 50
5-year DD average base 50
Rainfall since April 1
Soil temp. range
Commerce
363 (+65)*
161 (+32)
135.3
3.45 (+.88)
49.6-55.2
Deerfield
466 (+83)
219 (+43)
NA
3.37 (+1.2)
48.5-77
Hudson
365 (+68)
158 (+33)
164.2
NA
NA
Crops
Asparagus harvest has begun.
Cole crops (cabbage, cauliflower, broccoli, kale, collards) have been planted on bare ground and plastic. Cabbage maggot is out in southeast Michigan, expect egglaying to peak 105 more degree-days base 43 F. This spring's cold and wet conditions may make damage more severe, especially if cole crops are planted into a field with decaying organic matter (i.e., plowed down cover crop). See the "Midwest Vegetable Production Guide" for more information. (Open the guide through the link, hit ctrl+f and search for "cabbage maggot," or call me at 517-264-5309 to get a hard copy.)
Note that EPA decided to keep Lorsban (chlorpyrifos) available.
Processing tomato transplants were going out at the end of last week.
Sweet corn planting continued until the cold snap, and some fields have seen emergence. Seedlings have up to four leaves. The cold front that moved in last Wednesday night, April 26, seems to have brought in true armyworm and black cutworm. With last week's high capture numbers, it gives us a date to write on our calendars and count degree-days up from that date. I would guess based on current degree-day predictions, eggs won't begin hatching until mid-May. Using Enviroweather with a start date of April 26 in Deerfield, we are currently at 48 degree-days, and will potentially be up to 59 degree-days by this time next week.
Pest

County

Trap catch (3/26-5/2)

Intensive capture?

Eggs hatching DD base 50

Significant damage DD base 50

Type of sweet corn field at risk

Black cutworm

Lenawee

43

4/26–28,
4/29–5/1,
5/1–2

90

300

Fields with late terminated spring cover crops, fields with winter annual weeds.

True armyworm

Monroe

13

5/26–28

"612

Sweet corn fields bordering wheat, no-till plantings into grasses.
Some zucchini is out on plastic under low tunnels.
Growers with vegetables or transplants in hoophouses/greenhouses should try to regulate growing environments as much as possible as the cold and damp weather moves in. Botrytis has been reported in some growing environments, and limiting moisture, increasing airflow and removing infected/decaying plant materials out are good preventative measures. For more information on this gray mold in ornamentals and vegetables, see MSU pathologist Mary Hausbeck's article, "B is for Botrytis blight on ornamentals."
Contact me any time with questions at 517-264-5309 or schuhmar@msu.edu. I make updates regularly on Twitter at @SoutheastMIVeg.
Meetings
It is never too early to make accommodations to attend Great Lakes Fruit and Vegetable EXPO, Dec. 5-7, 2017, in Grand Rapids, Michigan. The combination of grower-focused, research-backed presentations and an amazing exhibit hall make it a can't-miss event.