Southeast Michigan vegetable update — May 9, 2018
Just as things dry out, more rain is in the forecast. Cabbage maggot flies are starting to emerge across the region.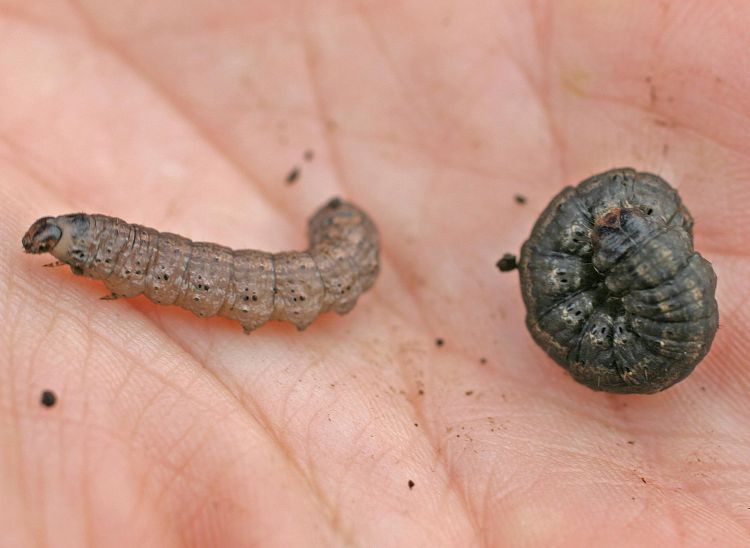 Weather
Current conditions are warm and things are starting to dry out, but the weather will shift as a cold front moves in Thursday, May 10. We will likely have a round of storms with strong winds and potential hail, and Friday will be cold and rainy. Things will shift moving into next week with the outlook calling for dry and warm weather.
The table below presents rainfall (in inches) for the Michigan State University Enviroweather stations in southeast Michigan, as well as growing degree-days (GDD) calculated using the Baskerville-Emin Method. GDD average for Commerce and Hudson, Michigan, is over five years, while Deerfield, Michigan, is over two years. Soil temperature range in Fahrenheit at 2-inch soil depth, and rainfall is in inches with parenthesis indicating change since last Wednesday. For a refresher on degree-days and how to get this information in your area, see "Accessing growing degree days with Enviro-weather."
Rainfall and GDD totals as of May 9

Station

GDD base 42

GDD base 50

5-Year GDD average base 50

Soil temperature range

Rainfall since April 1

Commerce

291

152

160.8

52.7-61.6

3.53 (+1.47)

Deerfield

339

180

218.2

51.9-79.3

5.15 (+1.66)

Hudson

308

159

180.1

53.7-61.6

3.99 (+0.81)
General
As more row crop fields are worked up and planted, set aside time (maybe on a cold and rainy Friday) to get your vegetable plantings up on Driftwatch. This is especially critical in light of increased dicamba acreage—crops like snap beans, pepper, tomatoes and watermelon are all very sensitive, though almost all vegetable crops can be injured.
For those interested in mechanical weed control, MSU has released a set of videos that cover three different cultivation tools. If you are interested in flextine harrows, finger weeders, and torsion weeders, just click the associated hyperlink to watch a YouTube video.
Crops
Asparagus picking is still light.
Beets have been planted and are beginning to emerge.
Cole crop planting carries on. The Enviroweather Cabbage Maggot Model for Deerfield has predicted that adult emergence has begun, so we will see increasing cabbage maggot pressure in the coming weeks. Plan for some kind of protection for all plants going out, or avoid planting. If transplants have had neonicotinoid treatments in the greenhouse, that can provide some protection.
Products like Capture LFR, Diazinon AG500 and Verimark can be used (check the label for application methods allowed by crop). If timing a Lorsban application post-transplanting, make sure the spray will hit the base of the plant and wait until we are closer to peak egglaying to hit more flies with the application. Peak egglaying is roughly 12 days out in the Deerfield area, making a good application time nine to 11 days from now. Your local Enviroweather station can provide an estimate of when peak egglaying in your area.
Check the label of each product for specific label language, as there is a lot of nuances for each product, application method and crop. Research in the U.S. and Canada has shown row covers can be effective at excluding adult flies, making it a good control measure for organic fields or smaller plantings of cole crops.
I've seen some wirestem (rhizoctonia) in some low and wet areas; this soilborne disease's hallmark is plants appearing girdled just above the soil line, taking on a dried out, wiry appearance going into the soil. It is also responsible for damping off of recently transplanted plants. There are limited treatment options available for this issue; working on drainage can help in the future.
Peas have emerged and are a couple inches tall.
Potato planting is ongoing, early plantings are emerging.
Fresh market tomatoes are beginning to go out on black plastic.
Processing tomato planting has begun. If you have a history of plants being mowed off at the base, keep an eye out for erratic pinhole feeding on the plant, which is indicative of young black cutworm (see photo) feeding. These caterpillars will live up to their name as they age, and are the insect most commonly associated with mowed down tomato transplants. I have been trapping for black cutworm in Lenawee County and got my first flush of moths this week, probably coming up with last week's rain and storms.
The eggs laid by these moths are likely hatching, so keep your eye out for small holes in the center of the leaves. If you see this feeding, dig around at the base of the plant for the offending caterpillar. If you see enough damage where treating is warranted (each caterpillar can cut three to four plants in lifetime), many of the same products available for tomato fruitworm or tomato hornworm can be used on cutworms, just refer to the label. A list of recommended products can be found in the Midwest Vegetable Production Guide.
Sweet corn continues to be planted and emerge. See the note in the tomato section on black cutworm arrival. For sweet corn, scout weekly until plants are in the six-leaf stage. Look for pinhole feeding, which suggests small or young caterpillars, as well as cut plants, which suggest larger or older caterpillar. Black cutworm thresholds in sweet corn are based on the size of the caterpillar:
Small caterpillars (less than 0.5 inch) causing 3 percent or greater stand loss.
Caterpillars larger than 0.5 inch causing 5 percent stand loss.
There are many products available for treatment, including pyrethroids and baits. See the Midwest Vegetable Production Guide for a list.
Contact me any time at 517-264-5309 or schuhmar@msu.edu with questions or pest requests. I tweet about what I'm seeing @SoutheastMIVeg.
Meetings
The 2018 MSU Weed Day is tentatively scheduled for July 27 from 8 a.m. to 3 p.m. on MSU's campus. For more information, see the Weeds Day 2018 webpage.
Have you ever wondered how MSU gets their fruit and vegetable recommendations? Learn more about vegetable research and management June 28 during the Agriculture Innovation Day: Focus on Fruit and Vegetable Technologies. This year's event is being hosted at the Southwest Michigan Research and Extension Center in Benton Harbor, Michigan. For more details, see "MSU Agriculture Innovation Day: Focus on Fruit and Vegetable Technologies."
It is never too early to make accommodations to attend Great Lakes Fruit and Vegetable EXPO, Dec. 4-6 in Grand Rapids, Michigan. Hotel blocks are open and tend to go fast. The combination of grower-focused, research-backed presentations and an exhibit hall featuring a diverse set of vendors make it a can't-miss event.