Southwest Michigan field crop update – June 13, 2019
2019 is a tale of many growing seasons.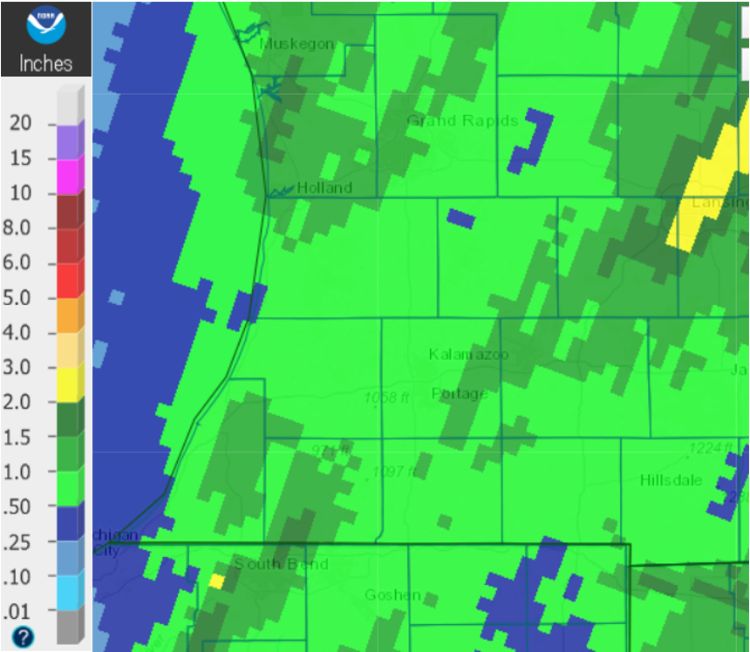 Ask any grower in southwest Michigan about 2019 and a few themes will quickly emerge. For one, the sandier the soil, the better. For another, thank goodness for no-till planters. And perhaps finally, there is no such thing as excess planter capacity. Now, we all know there are potential downsides and costs associated with each of these statements, but each of them has merit in 2019.
Early planting has become a trend across much of Michigan. Some of these lessons came from the Thumb in Michigan, where the growing season is shorter, and early planting of corn and soybeans is more of a necessity than an option. But increasingly, we are seeing more producers in the southern portion of the state breaking out planters earlier in April.
During the last two growing seasons, we have seen some of the best planting conditions—as far as soil is concerned—occur in the late April window. It is not without some risk (chilling injury potential during seed swell, early frost, seeds in the soil for extended periods, etc.), but the results for the last couple of growing seasons have been impressive. The early planted corn is now V6-7 and growing very well. Growers are sidedressing nitrogen in fields right next to fields that have yet to emerge. Three fields in Cass County that were visited earlier this week have nearly perfect stands, even though the plants took nearly a month to emerge.
Is the pattern of increased rainfall in the spring a trend that is poised to continue? While it is hard to know, it seems that areas of the Midwest are finding it harder to find extended dry periods to plant corn and soybeans.
Weather outlook
Last week was a bright spot this spring, with normal to above-normal temperatures and a break in the rain early in the week. Unfortunately, that will not be the case for this coming week. The weather system that is coming through today, June 13, is unusual for June—the upper air pattern that brought rain and cold temperatures is more normal in March.
Rainfall totals for the next seven days are predicted to be as high as 3 inches or more, which means we may not see equipment moving in fields again for a while. We are on track for June to be the fourth "wetter-than-normal" month in a row this spring. All of the National Weather Service outlooks—6-10-day, 8-14-day and 3-4-week—are calling for cooler and wetter than normal conditions. However, there is a slight possibility of some moderation at the end of the month according to Michigan State University's agricultural climatologist Jeff Andresen.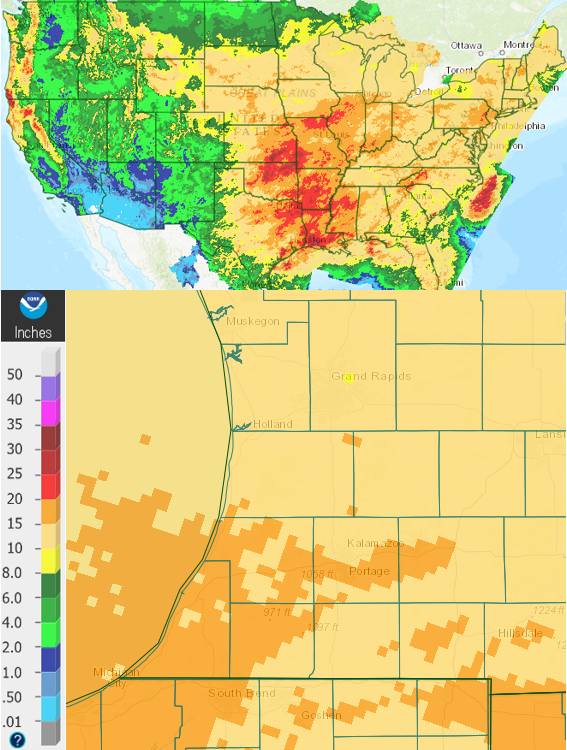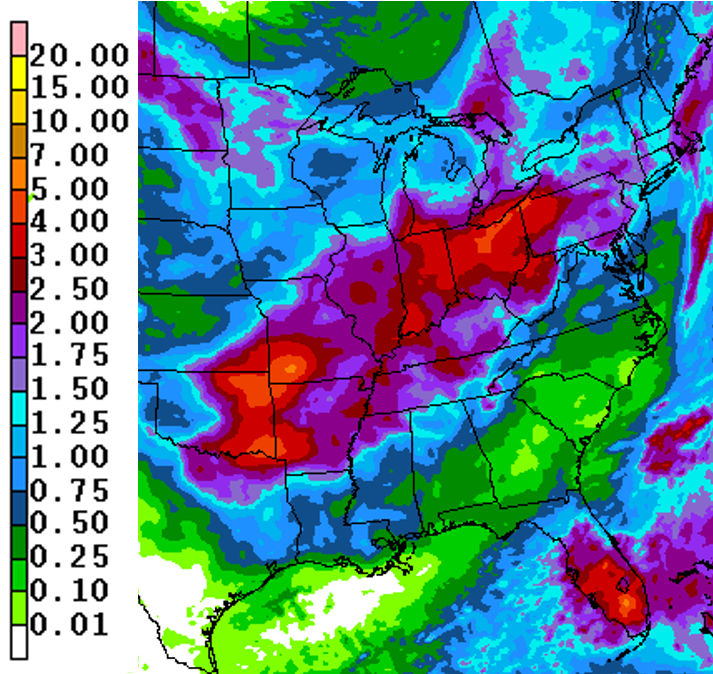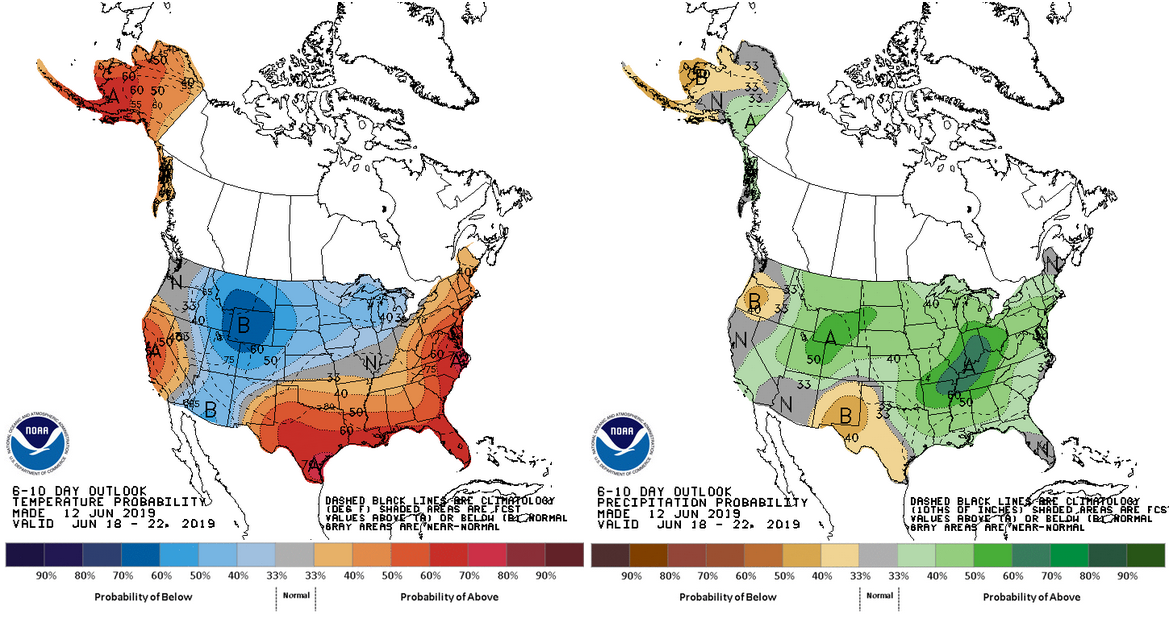 Corn
Michigan was 63% planted as of June 9, behind every other state except Pennsylvania (50%) and not far ahead of Indiana (67%). About half of those acres have emerged and most of the crop looks fair to good overall. As noted above, corn is receiving sidedress nitrogen applications in advanced fields, emerging in others, and is in nearly all stages in-between across the countryside. We are seeing a wide variety of colors in corn fields, which says we are having some issues with getting nitrogen applied, leaching has occurred, or both. One tell-tale sign is that the darker soils, especially in the lower portions of the fields, have better color. With all the rainfall, we should not be seeing much of this in low lying areas. If you applied nitrogen early, you may want to collect a PSNT nitrogen sample to check how much nitrogen is still with us. Some of this may also be coming from sulfur deficiency. Both nutrients can move out of the profile with excess rainfall.
Weed control is also becoming an issue on some fields that were no-till planted, but conditions have been too wet to traffic with sprayers. We are creating some epic ruts in fields this season. The only thing that could be considered a trend is that there seems to be more pockets of giant ragweed in fields in southern Cass County than has been seen in the past—not whole fields, but small areas. This is probably worth keeping an eye on. Later planted corn needs warm weather and drier conditions to keep moving. Neither may be in the cards during the short term. All the management options from here on out should be reduce growth setbacks. Carefully weigh weed control options that set the crop back a bit during normal growing seasons because the corn will need all the help it can get to reach maturity before a fall frost.
Watch for signs of leaf diseases and be prepared to treat early if the stand has good yield potential, especially for tar spot. MSU's Martin Chilvers will be talking about tar spot on next week's Virtual Breakfast (June 20). Visit the Virtual Breakfast page for information on how to join the meeting at 7 a.m.
We are nearing the time for first generation European corn borer moth flight, so fields that are organic or were planted to non-Bt corns should be on your scouting calendar. Early planted corn is the most susceptible to first generation European corn borer, later planted corn for second. Given Michigan's planting progress, we should have a little of both for them to munch on.
Soybeans
We are all over the board on soybean growth and development, with the majority being fairly small. Michigan was 45% planted and 23% emerged as of last week. Virtually all said in the corn section can be said for soybeans as well. The most visible weed species in fields continues to be marestail. This has not been a good year for tillage, so many no-till beans will have more marestail this year than normal. Hopefully, either LibertyLink or RoundupReady Xtend varieties were planted so there can be some effective post emergence options.
With heavy rainfall on the morning of June 13, we will probably see more delays in finishing planting on heavier soils. Some fields may have poor stands because of planting in wet conditions. After the soybeans move beyond the cotyledon or early unifoliate stage, patchwork planting directly into the stand, especially with a planter, will do minimal damage to the existing plants and provide opportunity to increase the number of plants per acre in lieu of taking out the original stand.
Wheat
The crop continues to look good in the southwest. Most fields were treated for head scab protection, which, given the weather and the crop, looks to have been warranted.
Alfalfa and mixed grass hay
We managed to put up a lot of first cutting hay in pretty decent shape over the last weekend, especially where corn and soybeans were in the ground. Yields were likely quite good based on initial reports.