Southwest Michigan field crop update – Sept. 3, 2020
Cooler temperatures with greater chances of precipitation in the coming week will help with grain fill, but these conditions may also increase the likelihood of further disease progression.

Weather update
August was once again warmer than normal, and the last week was about four degrees warmer than normal in the south central and southwest regions. We did have short reprieves to the hot weather last month, but overall we are between one and two weeks ahead of schedule with regards to growing degree days (GDD).
Precipitation has been lacking in most parts of the region, and that is reflected in the D0/D1 drought that blankets the entire region. The rain certainly helped provide needed water last week, but it was not enough to fill the soil profile in most non-irrigated fields. The precipitation forecast for the coming week is interesting and falls along a southwest-to-northeast gradient, but the zones are so narrow, we'll need to see how accurate the current prediction proves to be. The first chance of rain should be here near the beginning of next week.
The current 6-10 and 8-14 day outlooks call for cooler than normal temperatures. The one-month outlook for September changed right at the end of August to now predict below-normal temperatures for the entire month.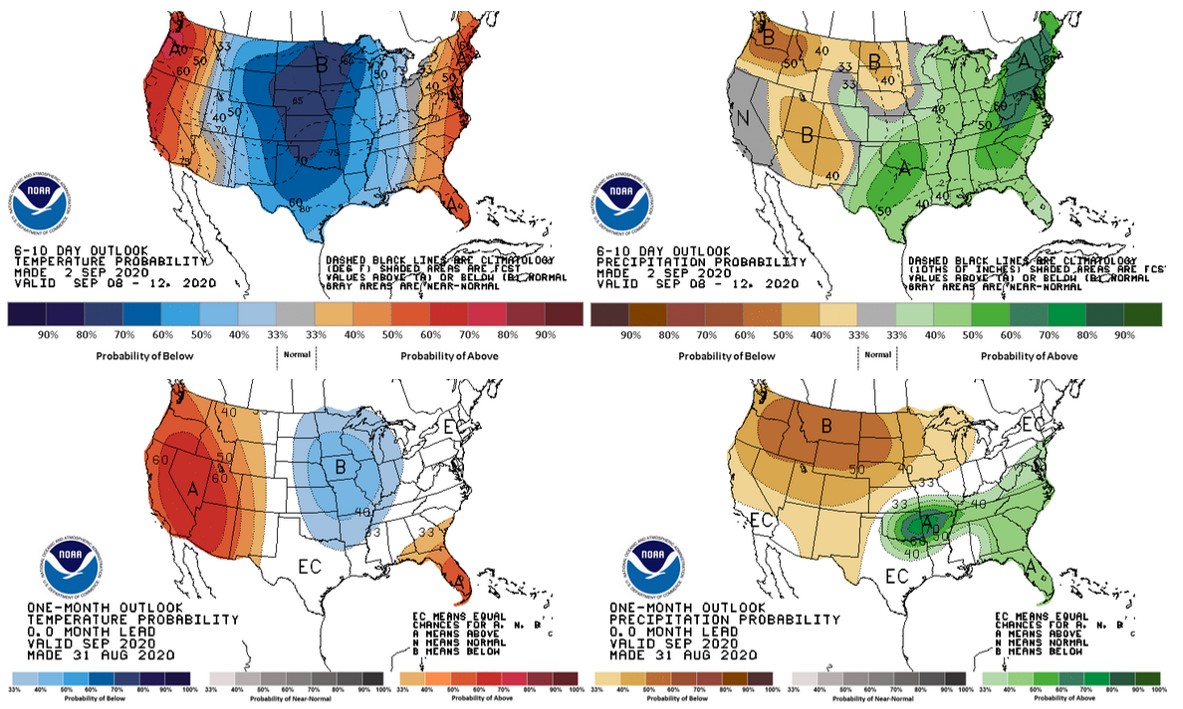 Crop update
Roughly 13% of corn in Michigan has reached the dent stage (R5) as of Aug. 31, according to the latest USDA Crop Report, and 54% has reached the dough stage (R4). Most fields in the area reached silking during the third week of July and will likely reach black layer the last week of September. However, with cooler than normal conditions expected this month, the trajectory to reach black layer may change slightly. Ratings reported by USDA show an overall worsening of the crop across the state over the past few weeks with only 50% rated good or excellent (33% fair), likely due to impacts of dry conditions. We'll see whether late-season diseases in our region will also impact this—see below.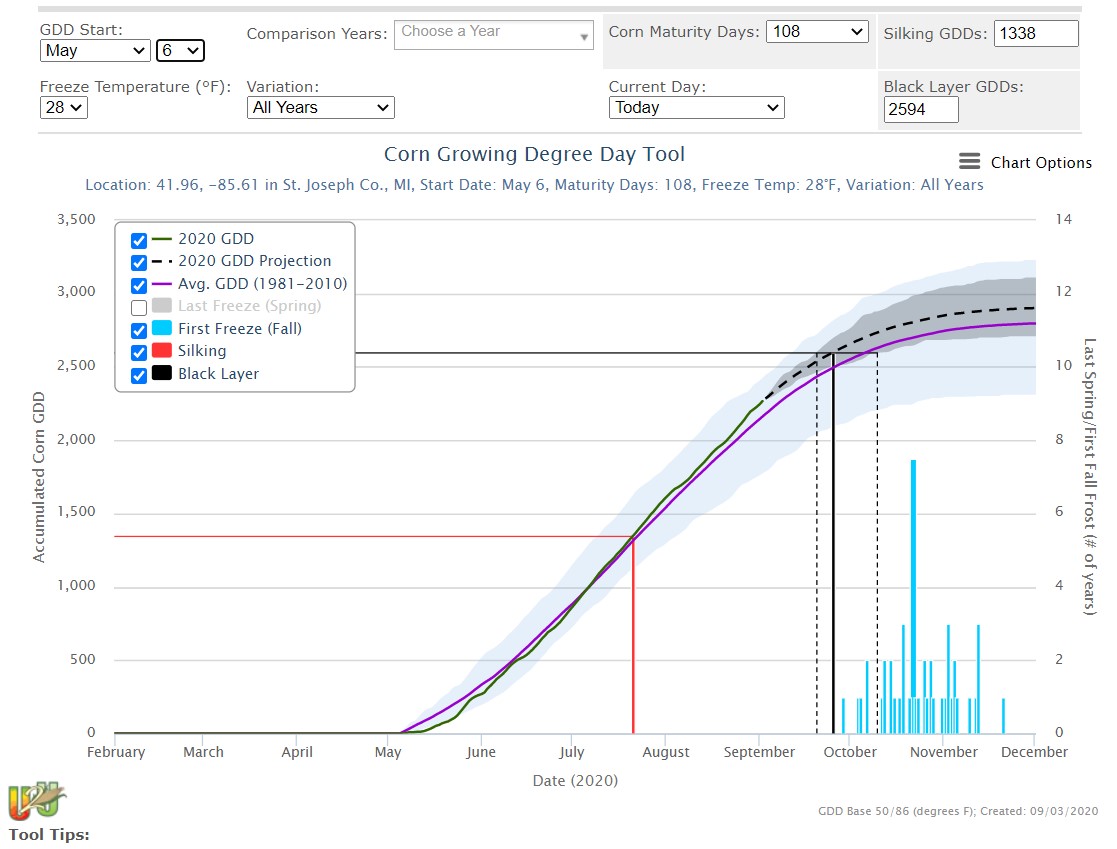 Silage chopping has begun in the region. Michigan State University Extension cropping systems agronomist Manni Singh talked about considerations for corn silage production and mycotoxins that impact silage quality in this week's Field Crops Virtual Breakfast (see recording below). He encouraged silage growers who are concerned about mycotoxin levels to send samples in for testing. He has made available an opportunity to get free testing—see details in his article, "Corn silage mycotoxins: Invitation to submit new samples and 2019 results."
Most soybeans have reached full seed (R6) with some fields beginning to turn yellow and drop leaves already. The USDA crop condition ratings have also dipped for soybean at 60% good or excellent and an additional 29% fair. Sudden death syndrome reports have increased in the last two weeks in the southwest. There is nothing to be done at this point but monitoring fields will help you with variety selection and other future management decisions. If you have sudden death syndrome in a given field that has not been sampled for soybean cyst nematode, consider sampling those fields this fall. Cost of testing is covered by Michigan's Soybean Checkoff Program. Download the SCN sample testing form.
Pest update
I was selfishly hoping that tar spot would stay localized in counties along Lake Michigan, but that was a fool's hope. The blessings of much-needed rain and cooler temperatures have unfortunately provided Phyllachora maydis, the fungus responsible for tar spot, with more favorable conditions to progress in its life cycle. As the fungus continues to develop and lesions are found on a higher percentage of leaf surface, photosynthetic capacity decreases and sugars are relocated from the stalk, resulting in potential for decreased grain fill and an increase in potential for lodging. Continue scouting fields to determine the level of severity and make plans to harvest early as necessary to avoid yield loss to lodging.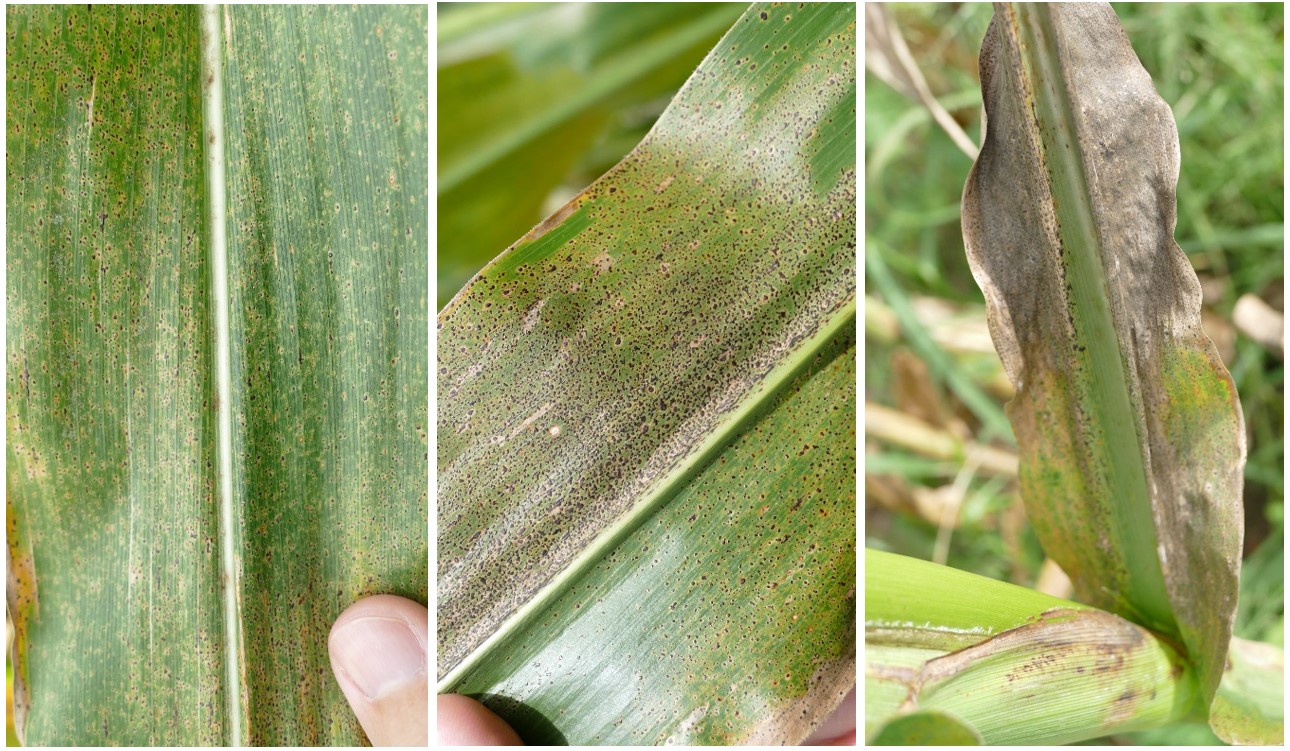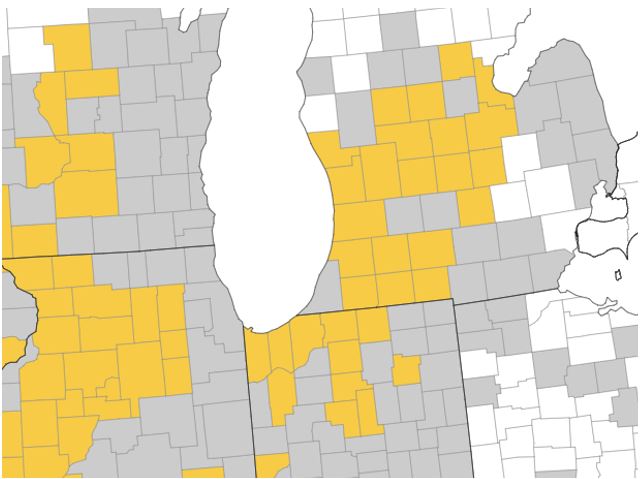 MSU Extension field crops entomologist Christina DiFonzo sent the following update during the second half of August.
Potato leafhopper and spider mite populations have dropped in most locations, despite some dry locations in the state. The cooler weather is especially favorable for the insect-killing fungi that attack them.
Winged soybean aphids were detected in the Midwest suction trap network catches in the last week of July, probably coming off of fields in Minnesota and Wisconsin. Soybean fields in Michigan were colonized that week, but numbers are low and the plant stage isn't optimal for population growth. Think of these aphids as the chickens which will feed and build up natural enemies before the winter.
Western bean cutworm flights have tapered off. Larvae that emerged in late July will be fourth to fifth instar, big enough for their feeding and frass to be obvious in ear tips. I have had a few reports of ear damage on both the tip and side of ear, which comes with bigger larvae. Consider walking corn fields now to check for infestation (and for tar spot as well, while you are at it). Remember that western bean cutworm moths prefer to lay eggs in pretassel and fresh tasseling fields; that means some fields could be infested while nearby fields are clean, depending on how plant stage lined up with peak flight and egg laying. Although it is too late to spray for western bean cutworm, fields which are heavily infested should be on your radar to harvest first to reduce the potential for DON. And Martin Chilvers reminds us that the same goes for fields with significant levels of tar spot, since infection by that pathogen weakens stalks.
Water use
Forecasted weekly potential evapotranspiration (FPET) through Sept. 9 is 1.1 inches, which is slightly below normal, and that will likely continue the following week. The multiplication factor (crop coefficient, Kc) is 1.2 for corn through early dent (R5) and soybean through full seed (R6), so total weekly crop need is more like 1.3 inches. After these stages, that factor drops down to 1.0. For those using irrigation, keep the soil moisture above 50% through black layer in corn and until 70% of soybean pods have yellowed (typically during R7). You can observe when individual pods mature when the membrane inside the pod stops holding tightly to the seeds.