Southwest Michigan field crops update - September 8, 2022
Corn and soybean are entering the final stages of grain fill. Dry conditions have kept disease pressure low, but hopefully the crop will have enough water to get to the finish line.
Weather
Temperatures this past week were 2-4 degrees warmer than normal on average in the southwest. We are still roughly a week ahead on heat units and picked up 195 growing degree days (GDD, base 40 for alfalfa) or 125 GDD50 (for corn and soybean) this past week at the Kalamazoo Enviroweather station. The forecasted reference evapotranspiration (FRET) rate will be slightly lower than normal for this time of year at 0.8-0.9 inch this coming week. The forecast predicts the addition of 180 GDD40 or 115 GDD50 in the coming week. Both the 6-10 day and 8-14 day outlooks call for above-normal temperatures for Sep. 13-21.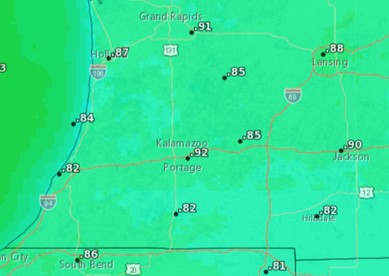 Precipitation this past week was meager once again with most areas receiving less than a quarter inch. The region has been very dry overall over the past two weeks with 1-2 inches below normal rainfall for the southern two tiers of counties. Several high-pressure centers perched over the Midwest will bring beautiful weather and near-cloudless skies over the next few days with the next chance of rain likely on Sunday. The forecast is for another drier than normal week with less than 0.75 inch for most of the region, all of that predicted Sunday through early Tuesday. The medium-range outlooks both call for near-average chances of precipitation during the middle of September.