Southwest Michigan field crops update – April 21, 2022
The recent wet weather and roller coaster temperatures will give way to cool and dry conditions for the remainder of April, giving growers their first extended opportunity to get fields prepped and planted.
Weather
Temperatures this past week have been 7-8 degrees Fahrenheit colder than normal for southwest and south central Michigan. You may have noticed forsythia bushes in your area with their iconic yellow blooms this past week—typically a sign that soils are nearly ready for planting. However, with mostly cloudy and windy weather, wet soils have cooled from their peak of over 50 F on Apr 14 and are mostly hovering below 45 F. A warm frontal system will be passing through Michigan on Friday bringing our first summer-like temperatures on Saturday and Sunday. These warm temperatures will only be with us for about 36 hours though as a cold front will come through Sunday afternoon bringing an unusually wide swing in daily maximum and minimum temperatures. This weather pattern will usher in cooler-than-normal temperatures that will persist into the first week of May.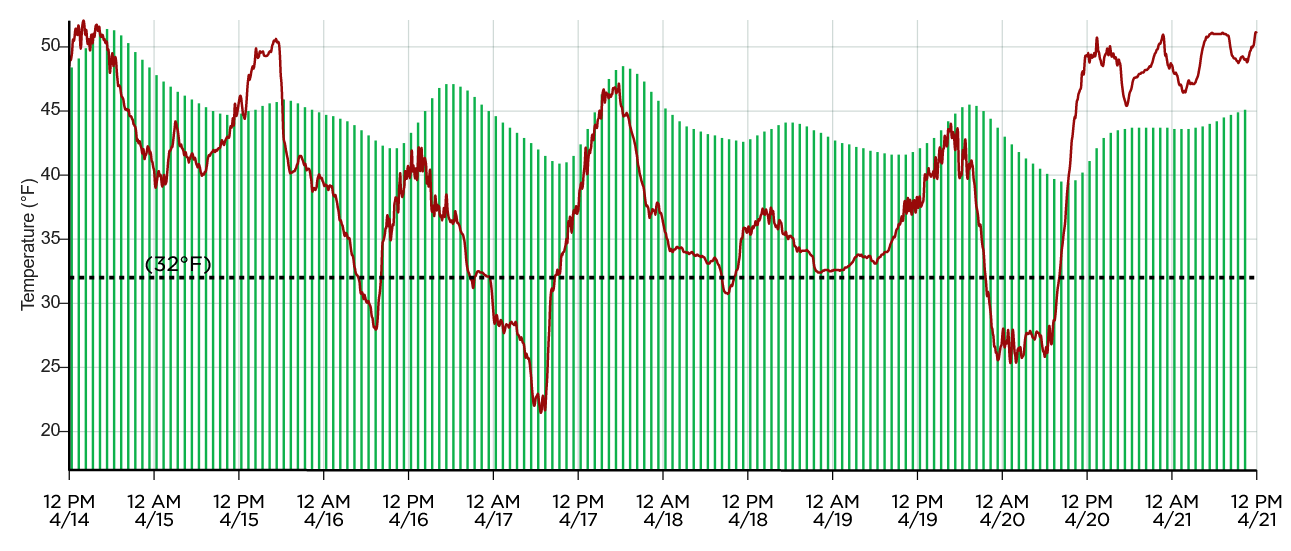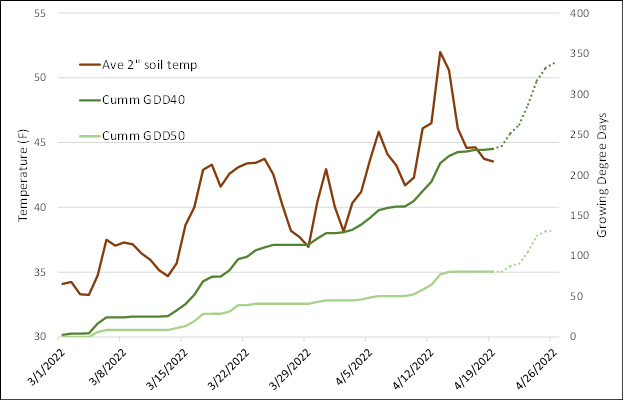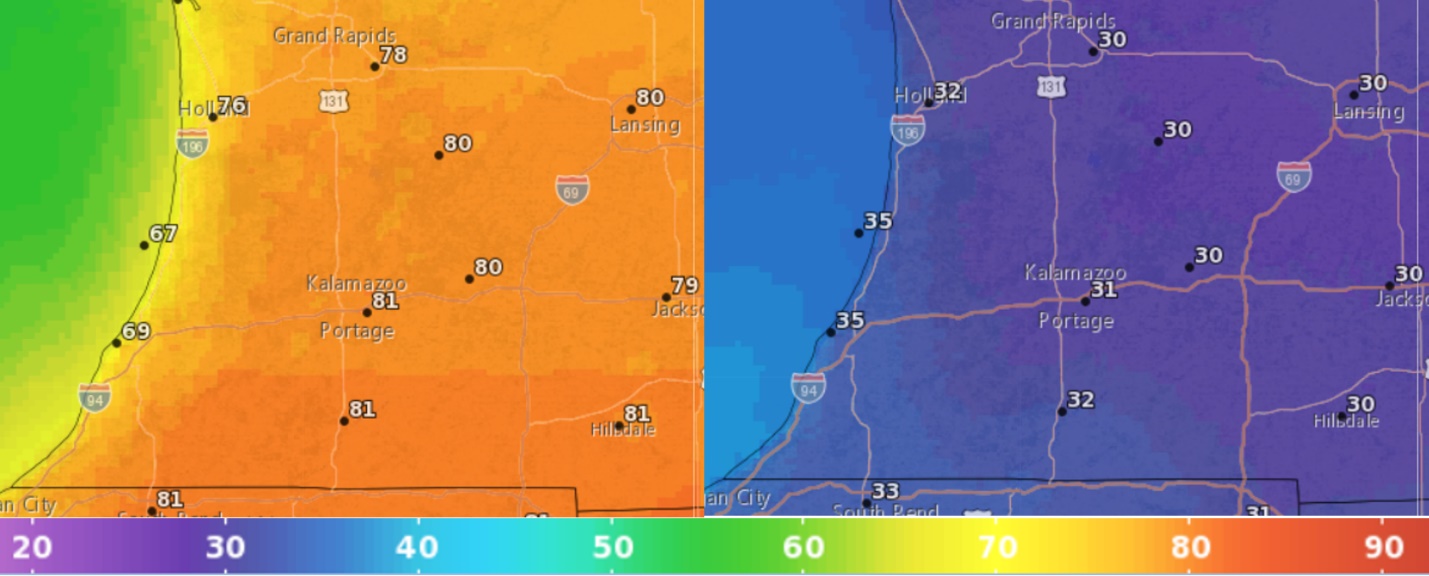 Precipitation total amounts have been normal for this time of year with less than an inch this past week. However, the rain (and snow) events have been spread out keeping fields wet. The forecast for the coming week is for less than 0.75 inches for most areas within the region. Most of that is expected with the first rain event on Friday and less than 0.25 inches expected on Sunday evening. The bright spot in the weather forecast is for dryer than normal conditions to begin next week and persist into at least the first week of May.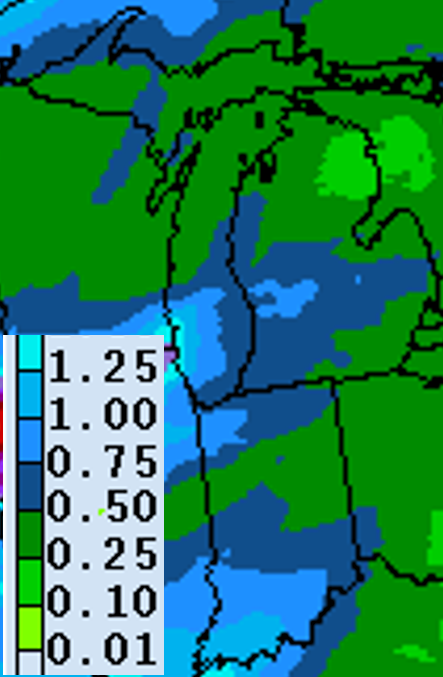 Wheat
Wheat in Michigan is rated at 43% good to excellent (34% fair) according to the current USDA Crop Report. Tillering is progressing well in the region as early nitrogen (N) applications are taking effect.
Weeds
With perpetually wet soils, many growers may need to shift their plans from using spring tillage for weed management to making burndown applications, even with record-high herbicide prices and tight supplies. Cold temperatures, recurrent rain events and high winds have made it challenging to find opportunities to make herbicide applications. Although we have had a couple of windows of warm air temperatures, temperatures so far this spring have been mostly too cold for burndown applications to be effective. With the shift in weather patterns over the coming week will come opportunities for those needing to apply herbicides. Winds will be shifting from easterly to southerly with the passage of the warm front, and wind speeds are expected to be 10-20 mph over the weekend. Winds will shift again to westerly and northwesterly with the passage of the cold front on Monday and will gradually die down to near-ideal speeds by mid-week. Unfortunately, nighttime temperatures are forecasted to drop into the 30s until late next week.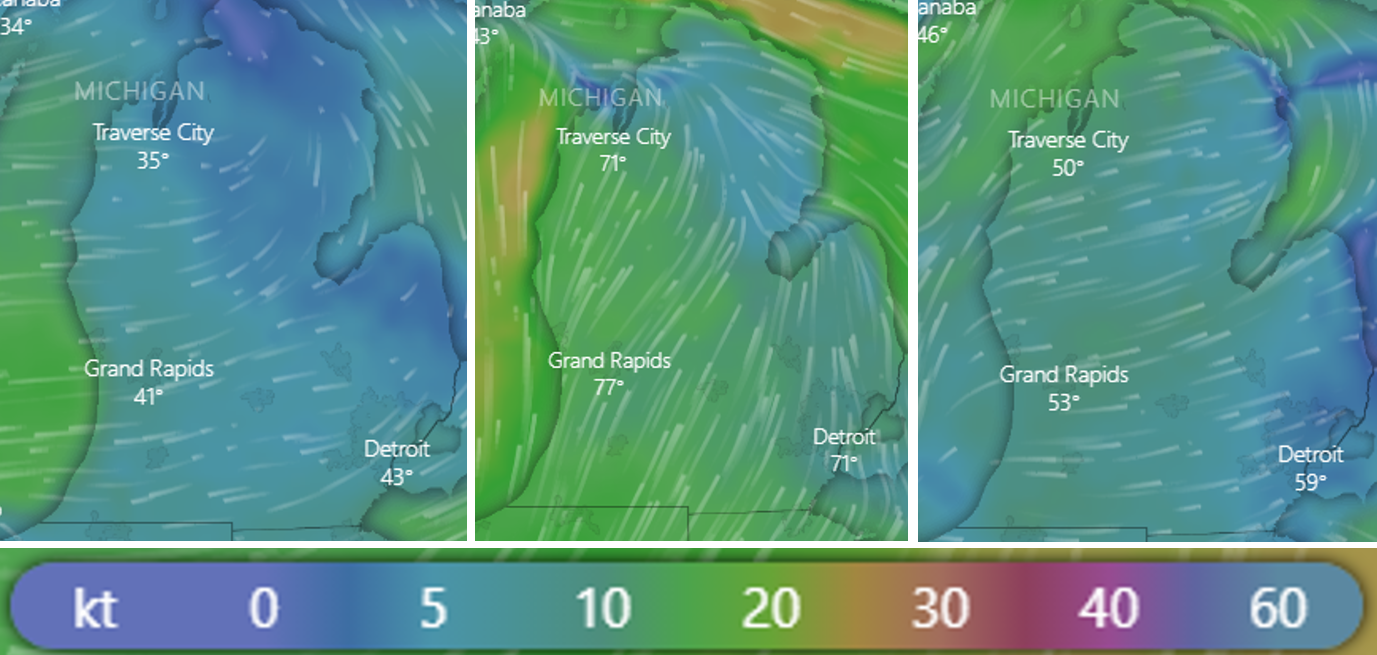 For those with weed infestations that require a herbicide application, you may be considering using your liquid N as a carrier. Purdue University's weed specialists Bill Johnson and Marcello Zimmer discussed this option in their recent article, "Spring Herbicide Applications On Winter Wheat." They said, "Caution should be taken when using liquid fertilizer as a herbicide carrier as moderate to severe crop injury can result, especially in saturated soil conditions. Many POST applied wheat herbicide labels allow for liquid nitrogen carriers, but require different rates and types of surfactants than if the herbicide was applied with water as the carrier." Check out that article for more details including a table with most common wheat herbicides and their restrictions.
Michigan State University Extension weed specialist Christy Sprague also commented on results from past research using Affinity BroadSpec, Huskie and 2,4-D with 28% UAN as a spray carrier on weed control and wheat tolerance and made the following recommendations (View the full article here: "Making herbicide applications to wheat? Timing is everything."):
2,4-D amine or 2,4-D ester at 1 pint per acre can be applied with liquid nitrogen fertilizer solutions (28% UAN) as the spray carrier at 100% or a 50:50 28% UAN:water mixture. 2,4-D ester formulations generally mix easier with fertilizer solutions than 2,4-D amine formulations. When applying 2,4-D products with 28% UAN as the spray carrier, DO NOT include surfactant. The addition of other herbicides or fungicides to these mixtures will likely increase the risk for crop injury.
MSU does not recommend applying Affinity BroadSpec or Huskie with 100% (56 pounds actual N) 28% UAN as the spray carrier. The risk of crop injury and potential yield reductions is higher with these combinations. The full load of surfactant at 0.25% v/v used in these combinations was likely the cause for increased injury.
Affinity BroadSpec and Huskie can be applied with 50:50 ratio of liquid nitrogen fertilizer solutions (28% UAN) and water (28 pounds actual N). Reducing the surfactant rate in these mixtures to 0.125% v/v will also reduce the risk for crop injury. Wheat tolerance is also greater if applications of these combinations are made prior to wheat jointing (Feeke's stage 6).
Quelex is a newer herbicide that can be applied in spray solutions containing nitrogen fertilizer. While this herbicide was not available while we were conducting our spray carrier research, we have applied Quelex with 100% UAN in a previous research trial and observed a slight increase in injury to wheat compared with Quelex applied alone. However, this injury was only temporary and did not impact wheat yield. If using this practice, do not add more than a 0.25% v/v surfactant.
Insects
Moth trap counts continued in the single digits this past week in Michigan and northern Indiana with a few exceptions. Traps in LaPorte County, Indiana, caught 24 true armyworm and 22 black cutworm for the week ending April 13. With the strong southerly winds over the weekend, we may see higher trap numbers by next week. Another thing to keep in mind is that egg hatch and larval development are all dependent on GDD accumulation, so we can expect slower insect development for those early egg-layers.
Moth trap counts for true armyworm (A1-4) and black cutworm (B1-3) in St. Joseph and Kalamazoo counties.

12-Apr

19-Apr

A1

3

1

A2

0

0

A3

1

1

A4

0

0

B1

0

1

B2

0

0

B3

0

0
Corn and soybean planting considerations
Corn and soybean planting considerations was the topic of this week's MSU Extension Field Crops Virtual Breakfast with cropping systems agronomist Manni Singh. Early planting decisions often hinge on two important factors among others: soil temperature and soil moisture. Although waiting until soil temperatures are 45-50 F and rising is a good general recommendation, it is best to include the weather forecast in your decision. Soil water temperatures below 50 F could cause imbibitional chilling for the first 24 hours after planting for soybean and the first 48 hours for corn. If soils turn cold after that, it generally does not cause this chilling effect on the seed, but cold soils will delay emergence which requires an accumulation of 100-120 GDD. When planting into cold soils, Singh suggests that a seed treatment will likely be a good insurance policy.
Although soil moisture is necessary for seeds to germinate and grow, too much water can create anaerobic conditions and increase the risk of soil compaction when a field is trafficked with heavy equipment. Singh showed a graphic (see below) that indicated what soil moisture levels are safe to traffic for a range of soil textures. It is important not to get anxious to plant and "mud in" seed which could result in sidewall compaction, poor seed-to-soil contact, and soil compaction.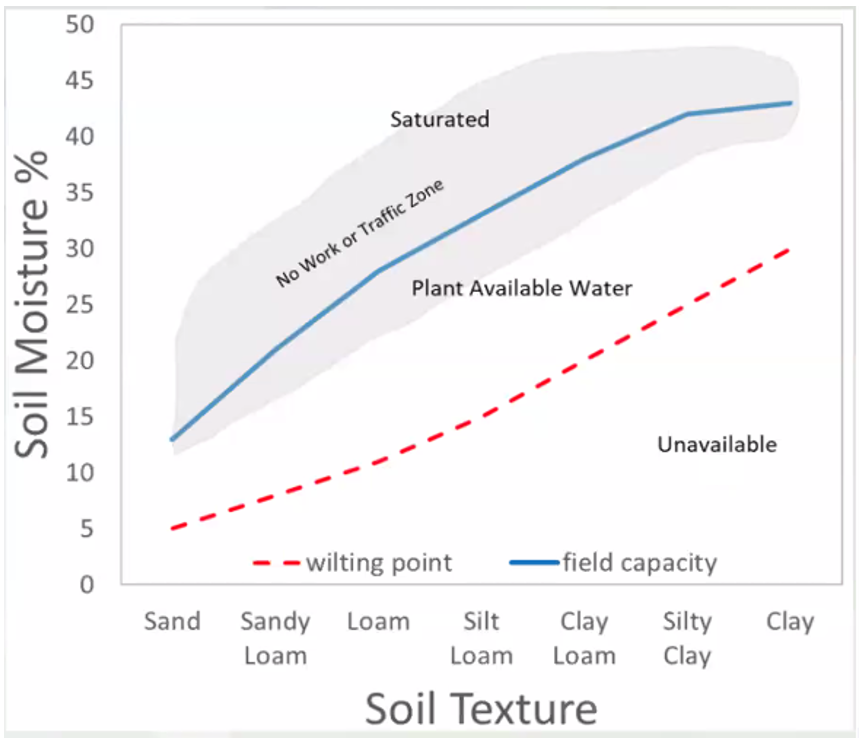 Singh shared research results on several other planting issues. Be sure to check out the recording if you missed the session, but here is a brief summary of his recommendations:
The range of optimal planting dates for both corn and soybean is roughly the end of April to the middle of May for southern Michigan.
There is a 30,000-40,000 seed difference between the agronomic and economic optimal seeding rate, both of which increase the later in the season planting occurs.
Research in soybean continues to show a yield advantage when planting in 15-inch row spacing over 30 inches – lower populations can be used if white mold is an issue.
The optimum corn seeding rate for high-yielding environments as found throughout most of Michigan's Lower Peninsula is 32,000-34,000 seed.
Longer-season varieties and hybrids produce higher yields at earlier planting times.
The later corn is planted, the fewer GDD are required to reach black layer, what is referred to as GDD compression—research in Michigan showed 5.6 GDD lower requirement per day delay in planting.