Southwest Michigan field crops update – August 17, 2023
Tar spot in corn remains low but soybean diseases are becoming increasingly evident with the increased rain over the past month.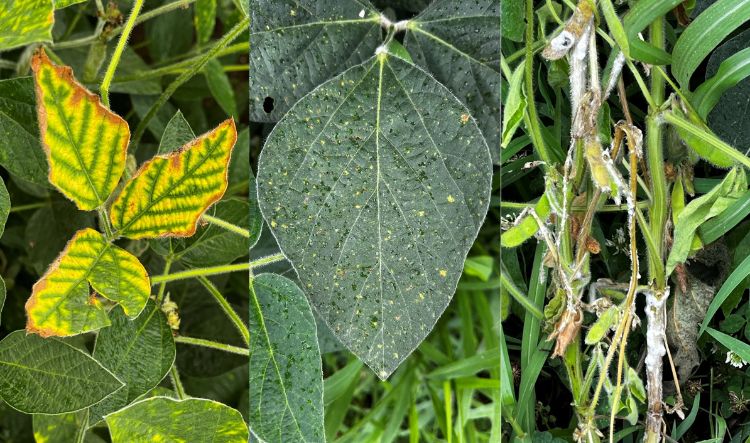 Weather
Temperatures last week were slightly below normal particularly with daytime highs. We accumulated only 119 growing degree days (GDD, base 50), and with the cooler temperatures, we are about the same or just slightly behind where we were last week with respect to GDD50 departure from normal. The forecasted reference evapotranspiration rate (FRET) is roughly 1.3 inches for most of the region for the week ending Aug. 23, which is near normal for this time of year. An additional 137 GDD50 are predicted for the coming week.
The 6-10 day outlook calls for above-normal temperatures. However, Michigan State University climatologist Jeff Andresen says there is disagreement with the 8-14 day outlook with some models predicting a shift to slightly below-normal temperatures toward the end of the month.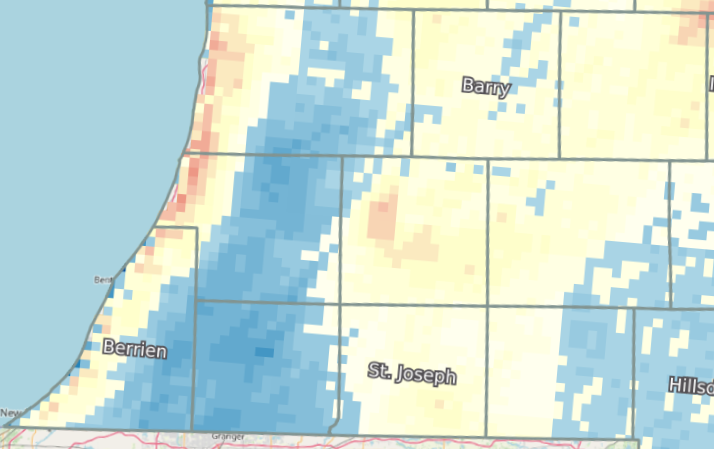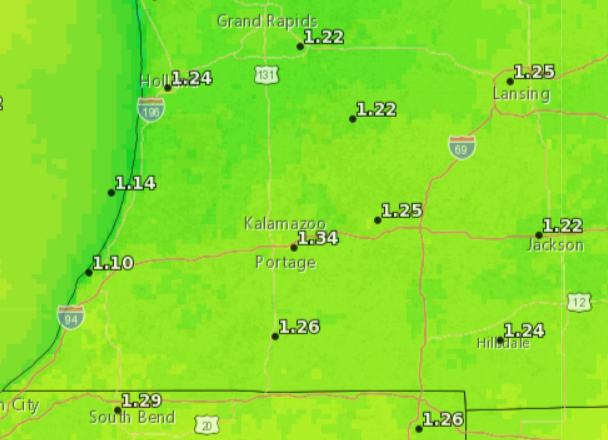 Rainfall this past week ranged from less than a quarter of an inch along the Indiana border to over 4 inches closer to Grand Rapids, Michigan. Rainfall during July was 1.5 to two times normal, which alleviated short-term drought stress to crops and began to replenish the soil water reserves. However, so far in August, there has been a definite gradient from northwest to southeast within the region with the latter receiving very little rainfall. The drought monitor (Aug.17 release) shows a slight improvement in drought status from last week across Michigan except for portions of Eaton and Barry counties. However, the continued impact to the western Corn Belt could mean reduced yields and higher prices this fall. The precipitation forecast map for the coming week predicts totals of 0.5-0.75 inch for southwest Michigan with all of that predicted to fall this morning. Andresen says a high-pressure ridge will bring hot weather and dry conditions this coming week. The medium-range outlooks both call for below-normal chances of precipitation through the end of August.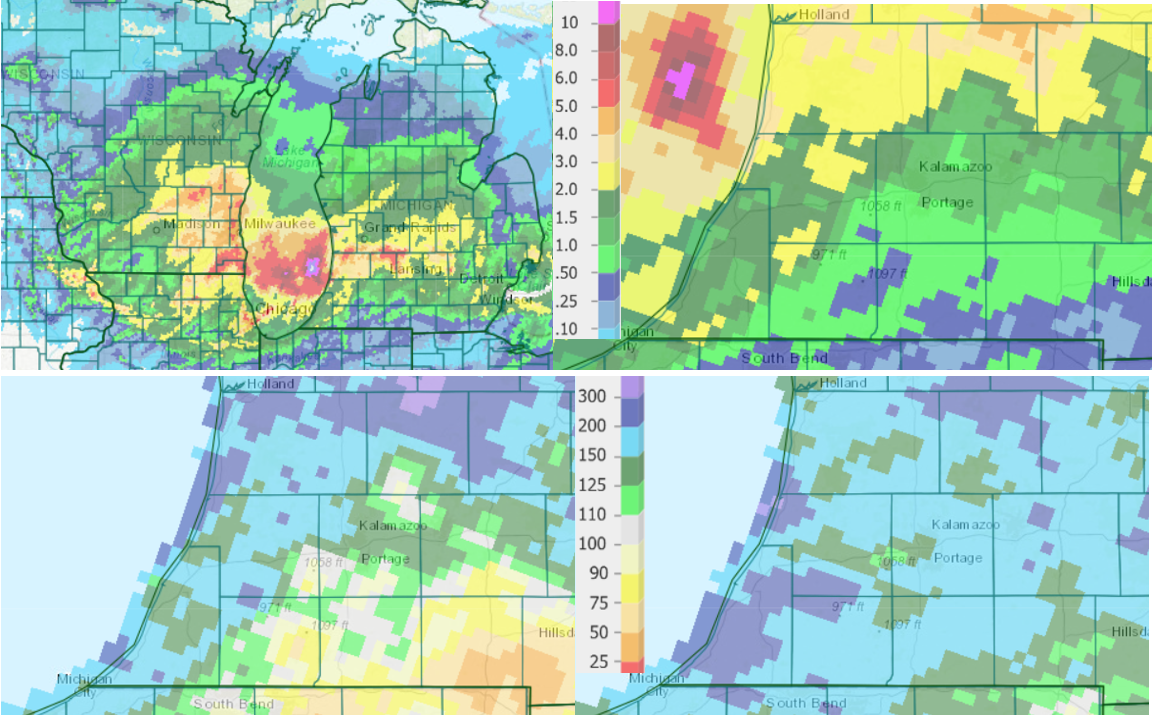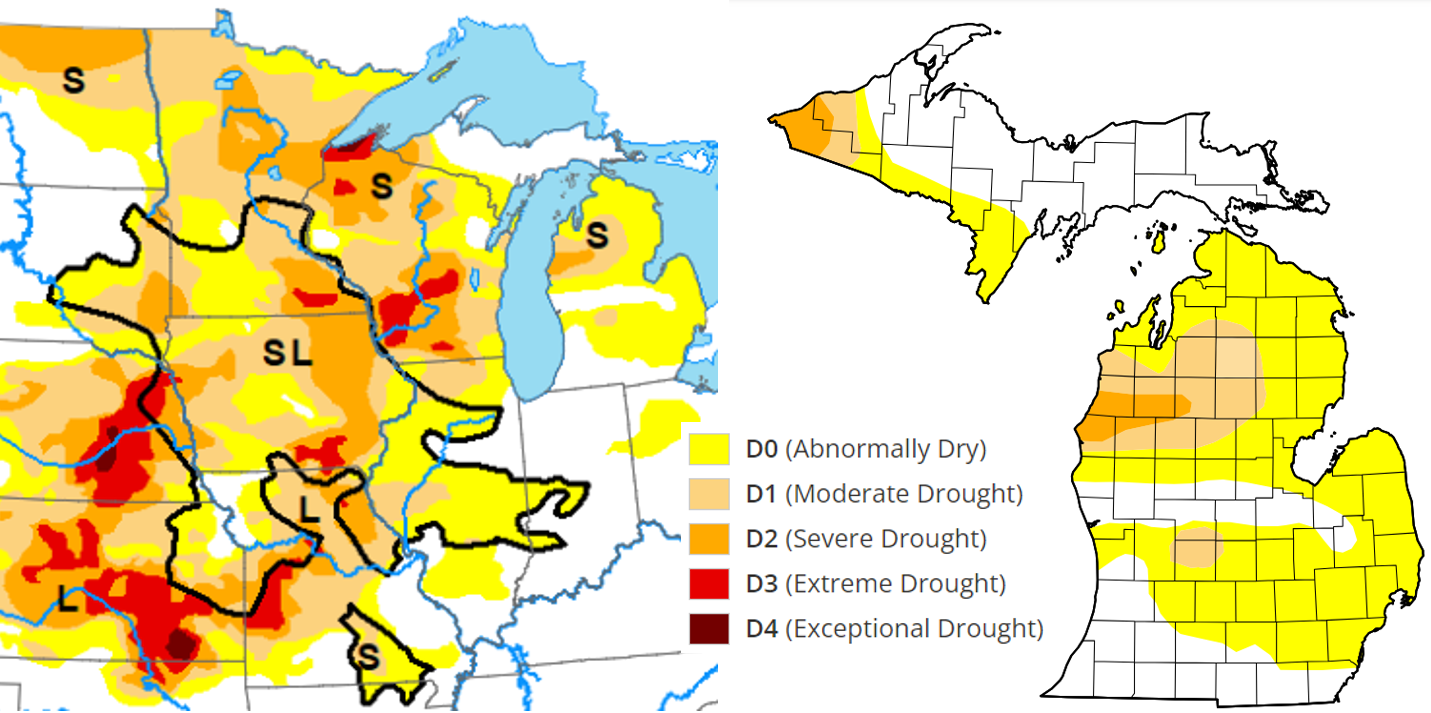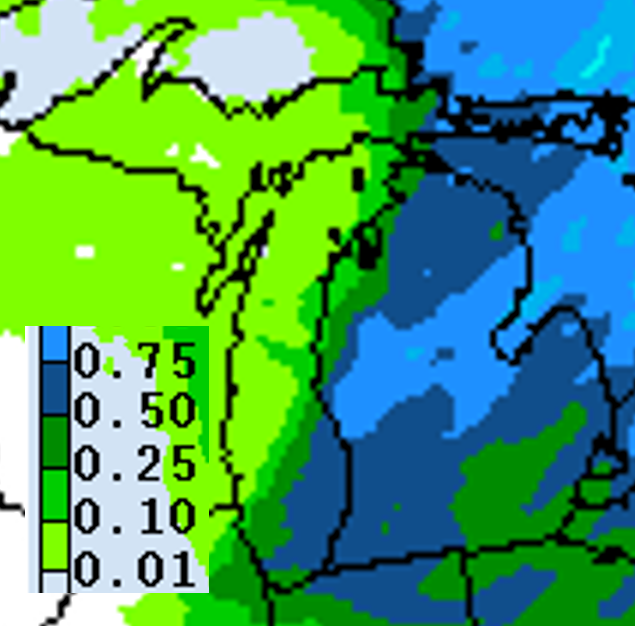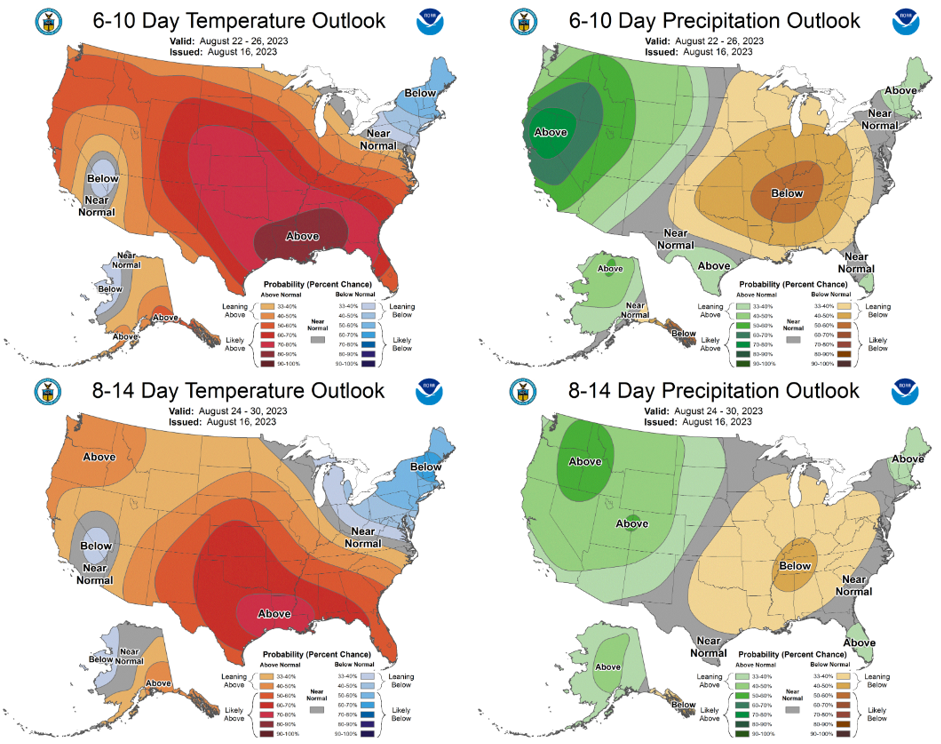 Crops and pests
Corn and soybean did not appear to have advanced much from last week in fields visited with the most advanced corn still at the blister stage (R2) and soybean at R4 (full pod, pods are 3/4 inch at one of the four uppermost nodes on the main stem) to R5 (beginning seed, seed is 1/8 inch long in the pod at one of the four uppermost nodes on the main stem). Tar spot risk is varied across the region but thankfully incidence remains low.
However, soybean diseases are beginning to flare up in some fields. White mold has been found under irrigation in 15-inch row spacing where canopy closure was early and vegetative growth was extensive. There is nothing that can be done at this point—a fungicide application during flowering (R1 to early R3) would have been the best management tool and timing, and "revenge spraying" this late will only waste money. Symptoms visible from the truck include necrotic leaves that will spread to the top of the canopy, and closer inspection will reveal the white mold fungus itself near the base of the stem. The Sporecaster app for white mold continues to show high risk of white mold for most of the region.
Sudden death syndrome (SDS) is showing up in fields with a history of that disease. MSU field crops pathologist Marty Chilvers says variety selection and seed treatments are the two best lines of defense for the next time soybean is in the rotation for infected fields. Downy mildew is another disease favored by wet/humid conditions. However, Chilvers says it is caused by an oomycete and not a true fungus, so fungicides typically applied for white mold or other foliar diseases are not effective against downy mildew. It is commonly found in the upper canopy on newer leaves, but it rarely impacts yield.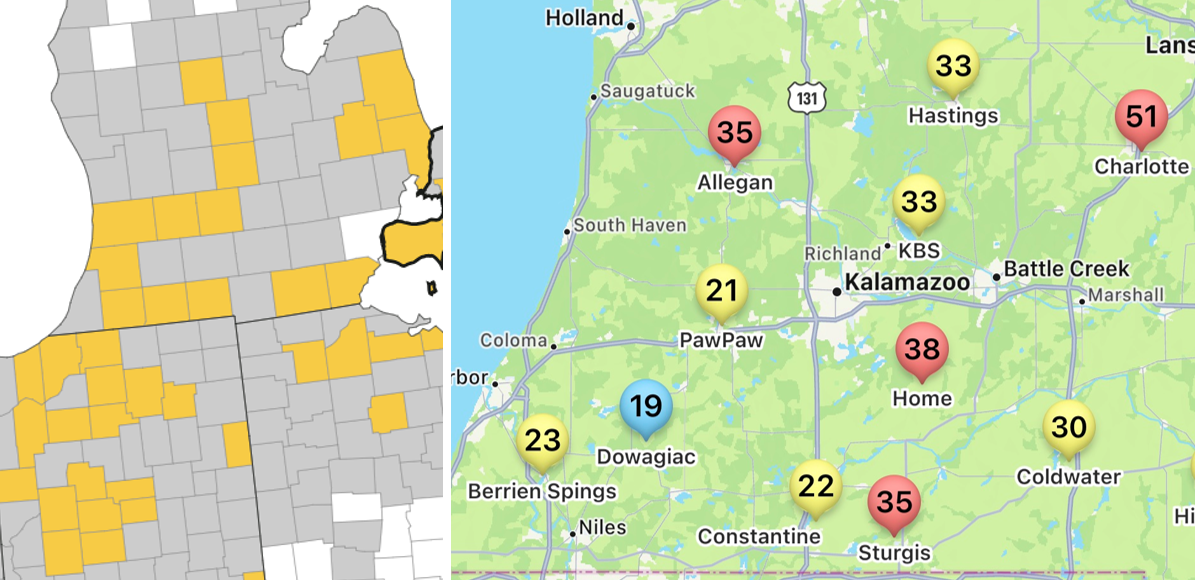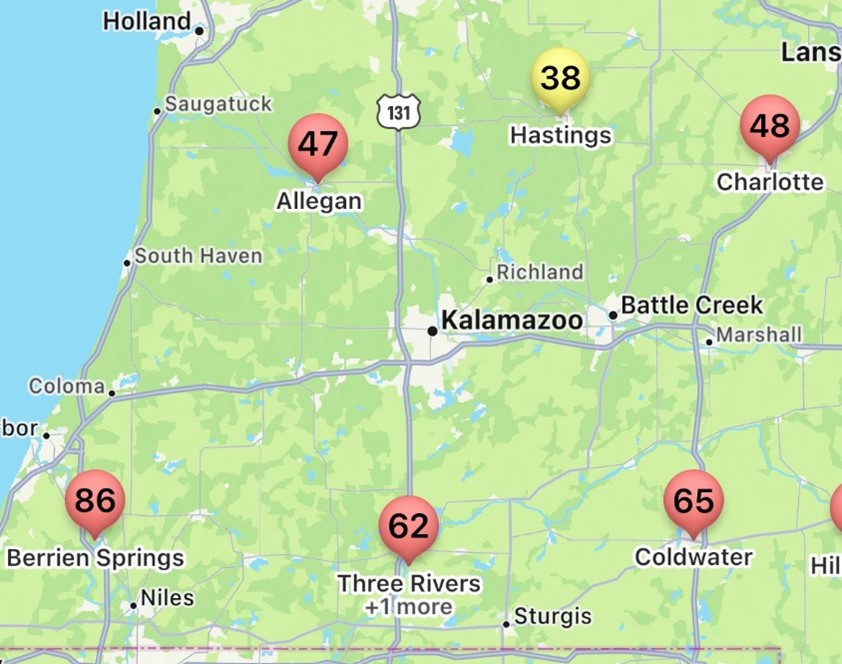 Irrigation. Both corn and soybean in almost all fields remain at peak water use with a Kc of 1.2, which will continue through dent (R5) in corn and full seed (R6) in soybean. With the estimated weekly FRET at around 1.3 for this week, both crops will use 1.55 inches of water this coming week.
"Hot Topics" was the topic of this week's MSU Extension Field Crops Virtual Breakfast where several MSU field crop specialists joined and shared updates and fielded questions. Here are a few of the topics that were addressed during the session:
Wheat streak mosaic virus encountered this year and management strategies.
Options for controlling late-season waterhemp and other weeds in soybean.
Impact of forecasted weather on plans for forage harvest and new seeding along with some best practices for new forage seedings.
The likelihood of corn and soybean late plantings making it through to maturity before a killing frost, including a discussion by Jeff Andresen about how to use the U2U website.

For late plantings, you can adjust GDD in U2U to account for specific hybrid requirements and for compression with late plantings—MSU cropping systems agronomist Manni Singh says 4-5 few GDDs are required for every day the crop is planted late, which is beneficial.
U2U only considers accumulated GDDs, it does not take into account stunting or delays caused by drought.
If you were not able to join the session, the recordings will be closed-captioned and available at the Field Crops Virtual Breakfast webpage and the MSU Extension Field Crops Team social media platforms: Facebook, Spotify, YouTube, Apple Podcasts and Twitter.
Meeting announcement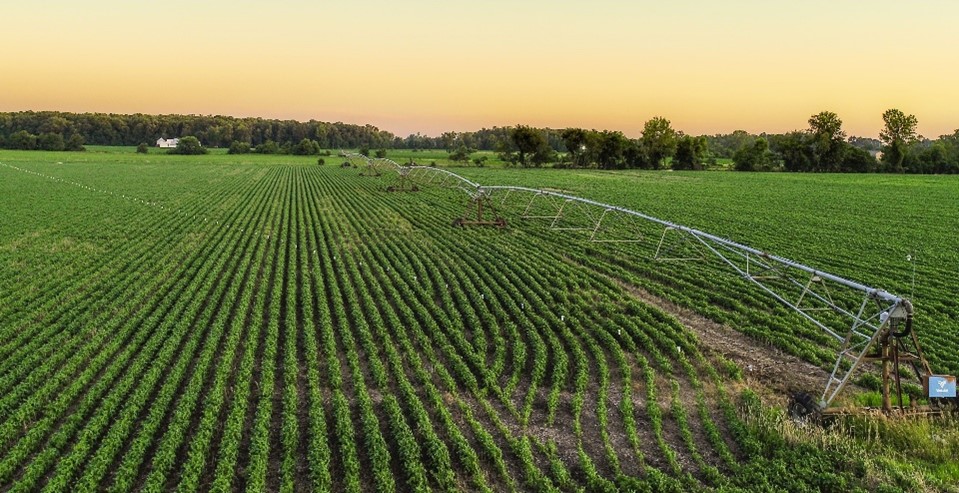 For those who live near St. Joseph County, you are invited to attend the 2023 Southwest On-Farm Research Field Day on Wednesday, Aug. 23, from 8 a.m. to 2 p.m. in Sturgis, Michigan. This event highlights on-farm research efforts of Michigan State University Extension specialists and educators in the region. Topics include important issues that farmers in southwest Michigan face in terms of agronomy, pest management, irrigation, farm safety and environmental stewardship. The event is offered FREE to attendees due to generous support from the Michigan Soybean Committee and a grant from the United States Department of Agriculture Natural Resources Conservation Service. Farmers, agribusiness professionals, agency staff and those interested in agriculture are welcome to attend.
The day begins at 8 a.m. with check-in and a light breakfast, and the first educational session begins at 8:30 a.m. Lunch is included, and the day will conclude by 2 p.m. Bonus: As the topic of on-farm safety and combine fires will be addressed, we will be giving away three fire extinguishers during a drawing at the end of the meeting thanks to support from the St. Joseph County Farm Bureau. Credits available include three RUP, five CCA, one PARP and MAEAP Phase 1. Registration is open through Sunday, Aug. 20.