Southwest Michigan field crops update – August 4, 2022
Disease and insect pressure remain low as corn and soybean progress through pod setting and grain fill stages. If timely rains keep us out of droughty conditions, the crops should continue to thrive this month.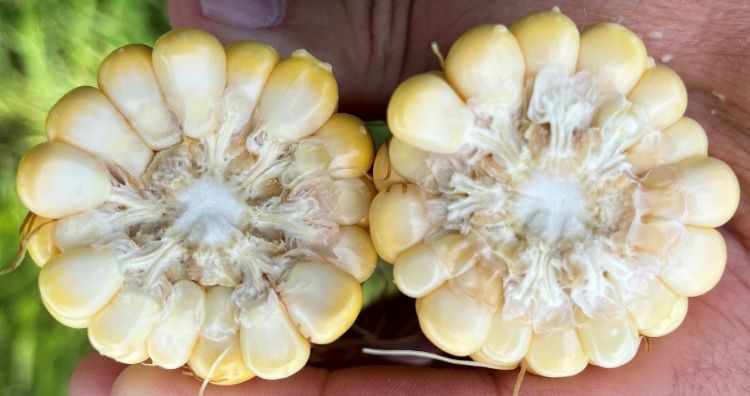 Weather
Temperatures this past week were near normal on average in the southwest. We picked up 215 growing degree days (GDD, base 40 for alfalfa) or 145 GDD50 (for corn and soybean) this past week, similar to the previous few weeks. The forecasted reference evapotranspiration (FRET) rate will be lower at 1.1-1.2 inches this coming week with daily rates of 0.15-0.20 inch. The forecast predicts the addition of 205 GDD40 or 145 GDD50 in the coming week. Both the 6-10 day and 8-14 day outlooks call for normal to slightly above-normal chances of warmer-than-normal temperatures during the first half of August, although we will have a bit of a reprieve next week with normal to slightly below-normal temperatures.
Precipitation was widespread but variable this past week ranging from less than two-tenths in the southwest to over 2 inches further north, most of that falling with the passing storm front overnight on Wednesday. Reports of hail and high winds came in from the second and third tiers of counties, and around 35,000 customers were without power Thursday morning. The dew point will be hovering near 70 degrees, so we can expect these uncomfortably humid conditions until next Tuesday. The high-pressure center coming in behind the front that is currently moving southeast out of Michigan will bring dry weather over the weekend before the next frontal system is expected late Sunday through Tuesday which should bring widespread rainfall to the region. The forecast for the coming week is highly variable with current predictions between 0.25-1.25. The medium-range outlooks call for slightly below-average chances of precipitation during the middle of August.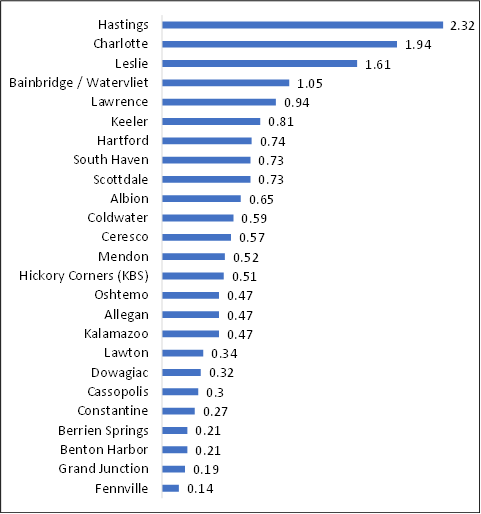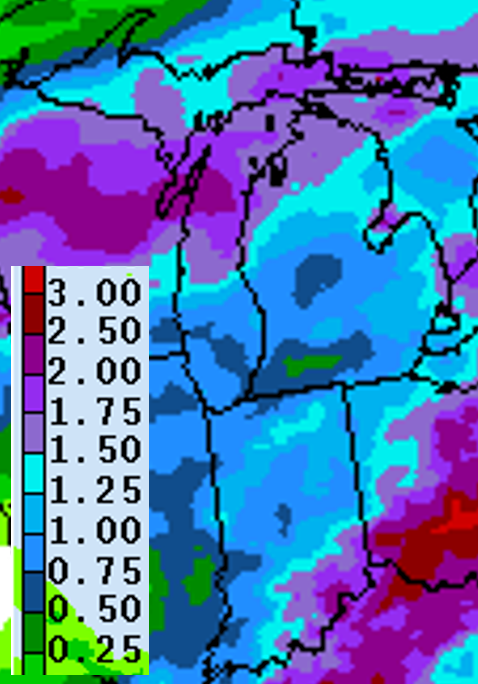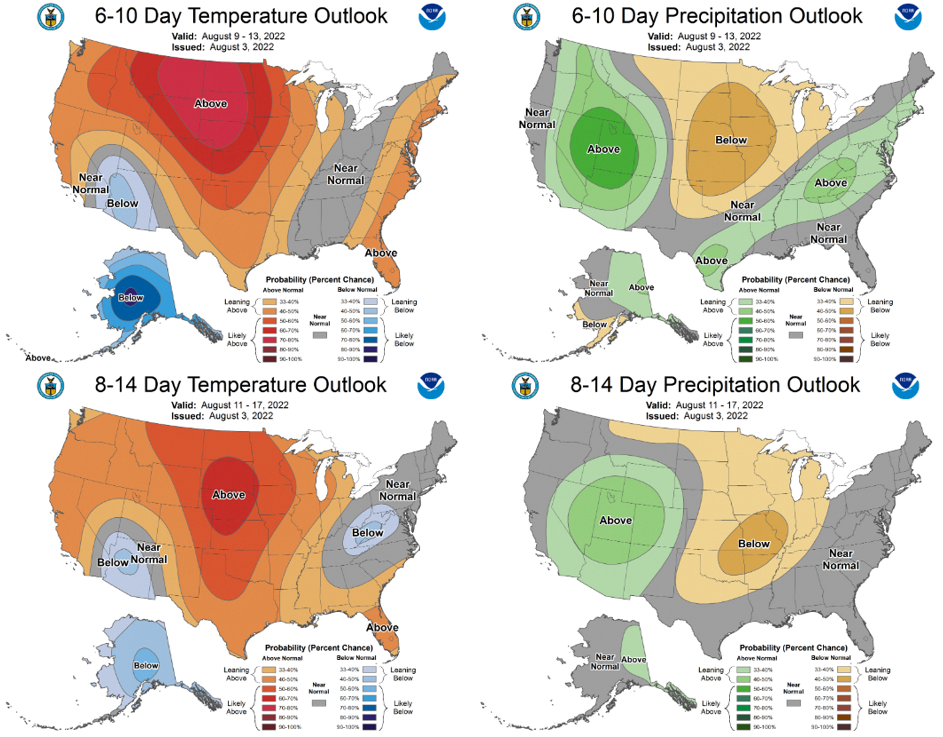 Crops and pests
Corn and soybean were rated at 64% and 56% good to excellent, respectively, this past week throughout Michigan. The earliest corn fields have reached the milk stage (R3) and the earliest soybean field visited has reached beginning seed (R5, seed is 1/8 inch long in the pod at one of the four uppermost nodes on the main stem) although most fields are at beginning pod (R3, 3/16 inch or longer appear at one of the four uppermost nodes).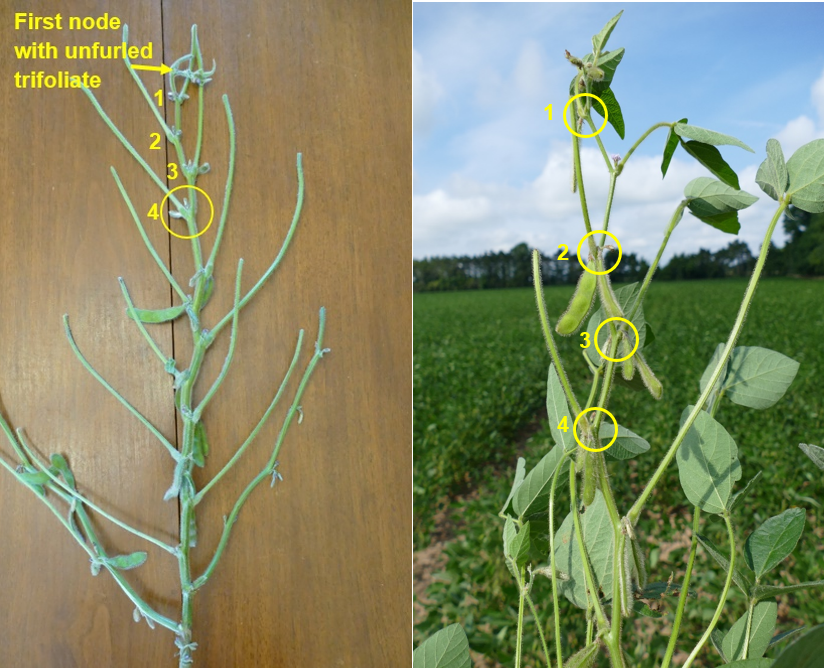 MSU Extension wheat specialist Dennis Pennington says the 2022 MSU Wheat Performance Trial results are posted on the Michigan Wheat Program website in the "What's Hot" column. It will also be posted on the MSU Variety Trials website and it will be printed in the Aug. 15 issue of Michigan Farm News. If you would like to receive the report via email, contact Pennington directly.
Diseases. MSU Extension field crop pathologist Marty Chilvers says his students have found white mold apothecia in the last couple of weeks in soybean research plots, and the risk of this disease taking off will increase with wet and humid weather. Tar spot has now been confirmed in five counties in Michigan with Ingham and Lenawee being the closest along with LaPorte in Indiana, but these are limited to a few lesions in the lower canopy. Risk remains relatively low throughout most of the southwest according to the Tarspotter app although locations in central Michigan that have received more rain in the past week are showing higher risk. Chilvers says later fungicide apps even up to R4 could be warranted if disease pressure picks up, but generally VT to brown silk is still the recommended timing.
Irrigation. Corn and soybean both have a Kc of 1.2 in most fields and will require 1.3-1.4 inches this week. With the rainfall received recently, we may be able to get away without irrigating this coming week if we get the rains currently predicted on Monday.
Insects. Western bean cutworm (WBC) moth trap counts dropped off to single digits in all traps in the region this past week, and counts in Indiana also decreased from the previous catch. The peak flight in our region was during the second and third weeks of July as noted in last week's report. No fall armyworm moths were captured again this week.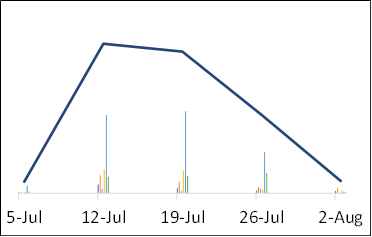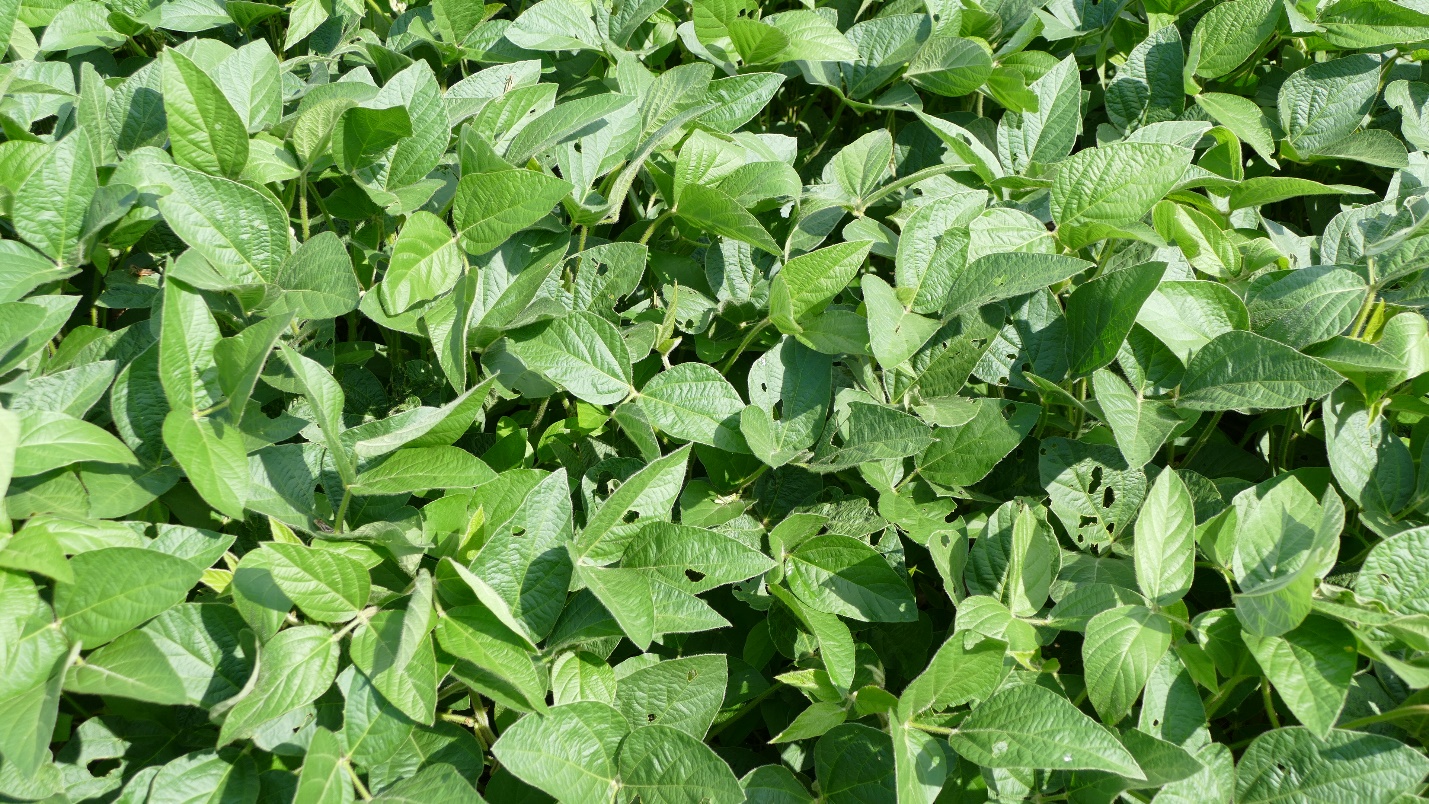 Field Crops Virtual Breakfast
Forage planting recommendations was the topic of this week's MSU Extension Field Crops Virtual Breakfast with forage and cover crop specialist Kim Cassida. Alfalfa and other perennial forages should be planted at least six weeks before the first hard freeze (28 degrees for around 4 hours) is expected to allow the plants to develop enough below-ground biomass to survive the winter. Grasses can sometimes be successfully established as late as late-September, but the risk of an early freeze must be weighed when seeding that late.
According to MSU agricultural climatologist Jeff Andresen, the various first-freeze date tools only measure when temperatures reach a certain temperature and do not consider how long during a given day those temps are sustained. Cassida says an hour or so is not a concern whereas 4 hours at 28 degrees is considered a hard frost.
In alfalfa, the crown develops aboveground and is pulled belowground. Generally, when the plant has multiple shoots, that is a sign that the crown has been pulled underground, and usually even 1/8-inch crown depth is sufficient to ensure winter survival.
Another consideration is whether there is enough soil moisture for the seeds to germinate and the young plants to grow. An extended dry spell at planting could be OK if the seed cannot germinate. However, if there is enough soil moisture for the seeds to germinate and then an extended dry spell occurs, that is when a major risk of stand failure occurs.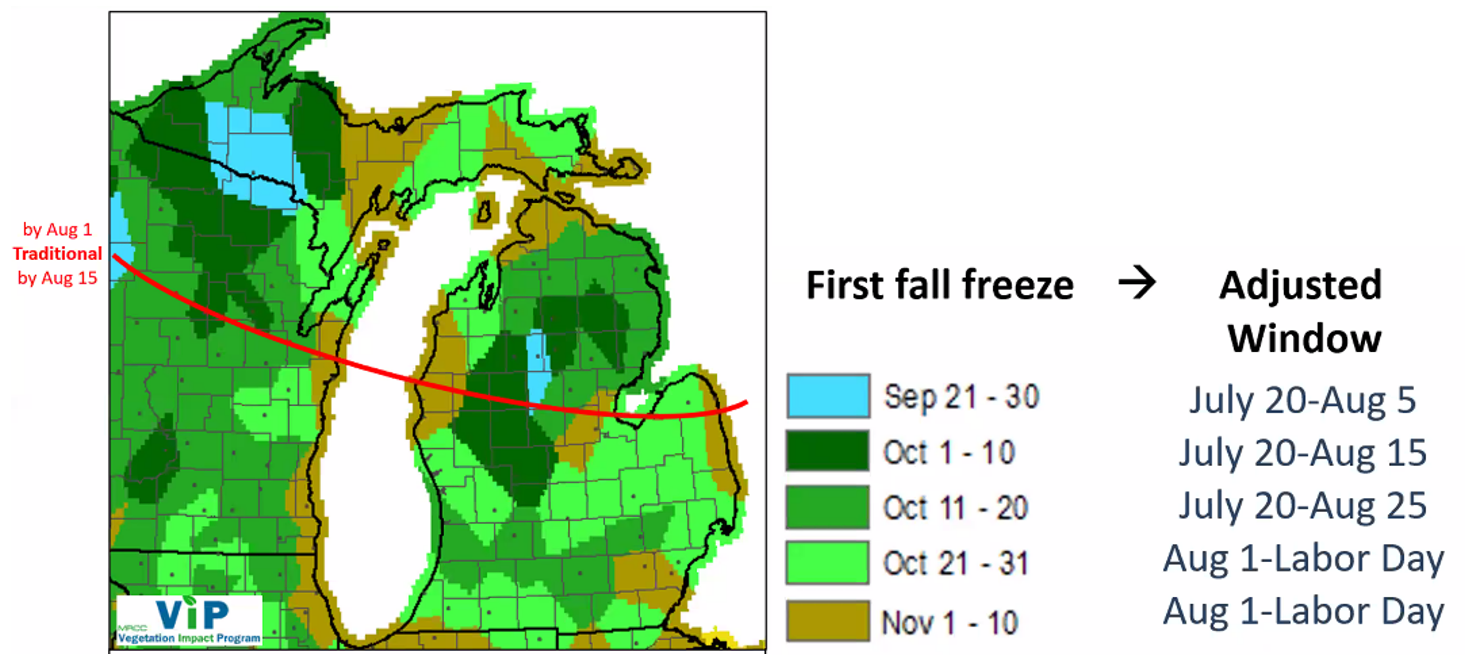 If you were not able to join the session, the recordings will be closed-captioned and available at the Field Crops Virtual Breakfast webpage and the MSU Extension Field Crops Team social media platforms: Facebook, Spotify, YouTube, Apple Podcasts and Twitter.