Southwest Michigan field crops update – July 15, 2021
Weeks of wet and humid weather may be coming to an end this weekend, and this may trigger a change in crop scouting needs as we hit reproductive stages in corn and soybean.
Weather
Temperatures in the region this past week were a few degrees cooler than normal. We are still 50-100 growing degree days (GDD) base 50 ahead of normal, which equates to roughly one week ahead. The forecasted reference evapotranspiration (FRET) is around 1.3 inches in the coming week. The forecast is for cooler-than-normal temps through this weekend turning to near normal to warmer-than-normal by Sunday. According to Michigan State University Extension agricultural climatologist Jeff Andresen, an upper air ridge pattern with associated high pressure will bring warm and dry weather in the coming week, and that trend will likely stay with us through most of the rest of July.
Precipitation totals for the past week are depicted below and ranged from less than 0.25 inches to over 2 inches with a definite southwest to northeast gradient that followed storm tracks. The forecast for the coming week ranges from a quarter inch north of Grand Rapids, Michigan, to 2 inches to the east along the Indiana border. All of that is expected to fall between Thursday and Saturday this week with no predicted chances of rain after that. The 6-10 day outlook calls for below-normal rainfall with no clear guidance toward the end of the month.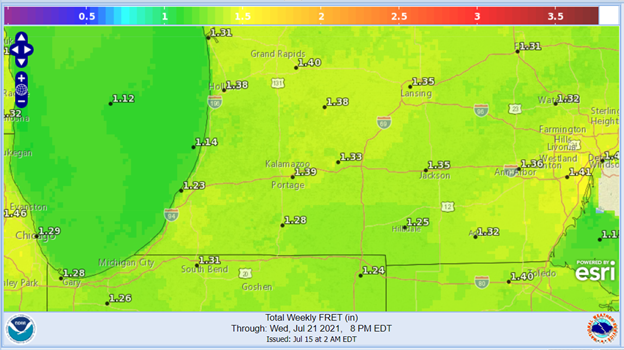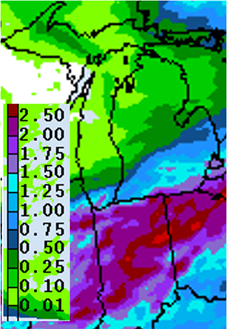 Crops and pests
Corn in many fields in the region has reached the tassel stage (VT). Early planted soybean has reached beginning pod (R3) while most fields are still in the flowering stages. As we likely head into dry conditions for the rest of the month, remember that corn will be at peak water use from V16 through beginning dent stage while soybean's peak water use begins at R3 (beginning pod) and goes through full seed (R6). Both crops in these advanced stages will require roughly 1.6 inches of water this coming week.
Western bean cutworm moth flight increased significantly in the region and the greater Great Lakes region this past week. Charles Scoville with Golden Harvest reported seeing his first egg mass of the year this past week. Generally speaking, peak western bean cutworm flight occurs between now and the first week of August. The following comes from MSU Extension field crops entomologist Chris DiFonzo in her Fast Fonz Facts release:
"Moths prefer to lay eggs in pre-tassel and just-tasseling fields. Fields which are out of sync with the surrounding landscape (planted early and well ahead of neighboring fields) may be infested first and heavily (likewise fields planted very late). These sorts of fields are worth a visit to be sure they aren't acting as a trap crop for egg laying by all the moths in the neighborhood. In southern and central Michigan, I would target scouting for egg masses in the last week of July. If moth flight is heavy, continue every seven days into August.
What should you scout? Most hybrids, even Bt hybrids, can be infested by western bean cutworm larvae because only the VIP Bt trait has efficacy against western bean cutworm, so most fields are at risk. For Bt and non-Bt hybrids, the cumulative threshold is 5% of plants with egg masses. This low threshold is not really about yield loss but more about quality. Larvae usually cause minimal loss in grain yield because they often feed only in the ear tip on small undeveloped kernels. Instead, our main concern is damage which opens up the ear to molds which in turn increase the risk of mycotoxins. The elevated western bean cutworm flights this season appear to be lining up with increased risk of ear mold infection.
A long awaited article on the overuse of seed treatments was published this week in DTN/Progressive Farmer. This thorough news article discusses seed treatment use and regulation, the increasing data on economic returns (or lack thereof) in the Midwest, the widespread detection and environmental impacts of seed treatment pesticides in the landscape and in organisms, and the sketchy fate of treated seed that isn't sold. The article author, Emily Unglesbee, previously covered the mishandling of leftover treated seed at an ethanol plant in Meade, Nebraska which resulted in an expensive cleanup. Emily was sparked to research and write this broader article because of the many questions she had as she covered the Meade story."
Diseases
MSU Extension field crops pathologist Marty Chilvers provides us with the following update on corn diseases to watch for:
"Ear molds of corn, and in particular Gibberella/Fusarium ear mold, can cause significant issues with grain quality. Weather conditions around silking are critical to ear mold establishment as the Fusarium species that cause Gibberella ear rot and Fusarium ear rot require free moisture for spore germination and ear infection via silk channels. The recent and current wet conditions have been favorable for the Fusarium pathogen to infect through the silks; hopefully we will catch a break over the next couple of weeks with drier conditions while silking occurs.
The Fusarium Risk Tool for wheat demonstrated low risk of wheat head scab during the critical wheat flowering period. Although the tool has not been validated on corn, it is reasonable to assume that it will provide an indication of ear mold risk. This tool is currently (as of July 14) showing HIGH RISK of favorable conditions for ear mold infection in many parts of the state. In the map below, Green is low risk, yellow is medium risk, and orange is high risk.
Fungicides labelled (or with 2ee labels) for ear mold suppression include Proline, Caramba and Miravis Neo. However, just as with wheat head scab management, fungicide timing is critical. Research from Ontario has demonstrated that fungicides must be applied during silking to have the greatest benefit in suppressing ear molds. And just as in wheat, do not expect miracles—fungicides will certainly aid in reducing ear mold and mycotoxins, but if the hybrid is susceptible and weather conditions are conducive, there will still be significant disease and mycotoxin accumulation. The VT/R1 timing is also now the recommended timing for western bean cutworm management if present above threshold, so it may be possible to tank mix fungicide and insecticide when appropriate.
Given the last few weeks of wet weather across the state, tar spot of corn is easy to find in fields that have had a history of the disease. Tar spot can develop quickly under favorable conditions which includes 7 hours of leaf wetness. The pathogen takes about 2 weeks to go through a disease cycle, so if wet weather continues, disease pressure can build in a short amount of time. When disease pressure builds to high levels, we have seen a 30-50 bu/acre protection from a fungicide applied at the R1 growth stage. Ideal fungicide timing for tar spot will depend on when the disease develops in a field. There have been situations (heavy disease pressure, susceptible hybrid and favorable weather conditions) where an application in mid-August has protected 20 bu/acre. Rainfall events and leaf wetness periods in July and August will determine how severe tar spot is this season. Don't forget to scout for other corn disease such as gray leaf spot and northern leaf blight. These diseases are best managed with resistant hybrids but can benefit from a fungicide application if disease pressure is present. If you have any questions feel free to contact me via email at chilvers@msu.edu or via Twitter at @MartinChilvers1."