Southwest Michigan field crops update – June 2, 2022
Warm and dry conditions this past week accelerated crop planting progress as well as crop emergence and development. Cooler and wetter conditions in the forecast would help to replenish some of the soil water lost to recent high evapotranspiration rates.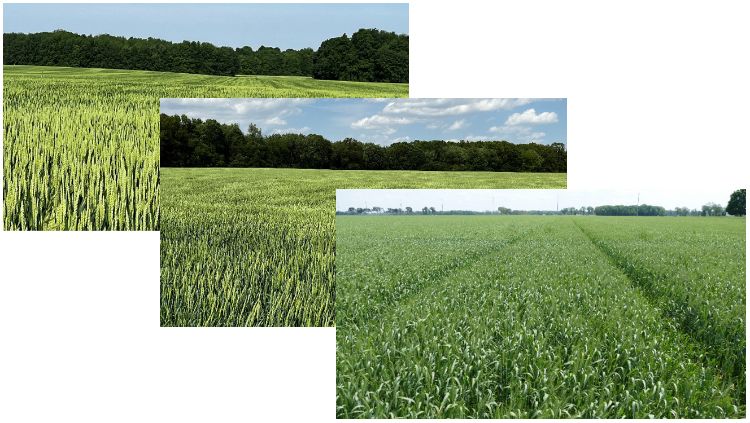 Weather
Temperatures this past week were 4-5 degrees above normal with 35 growing degree days (GDD, base 50) more than the 5-year average and more than twice as many as we had for that time in 2021. We are currently nearly a week ahead on heat units for much of the region. The current forecast is for only another 100 GDD50 and 170 GDD40 to be added this coming week as temps turn cooler. Highs will be in the mid-70's and lows in the mid-50's all next week. The potential evapotranspiration rates will be lower than last week with roughly 1.2 inches this coming week. The medium-range outlooks both call for below-normal temps through the middle of June.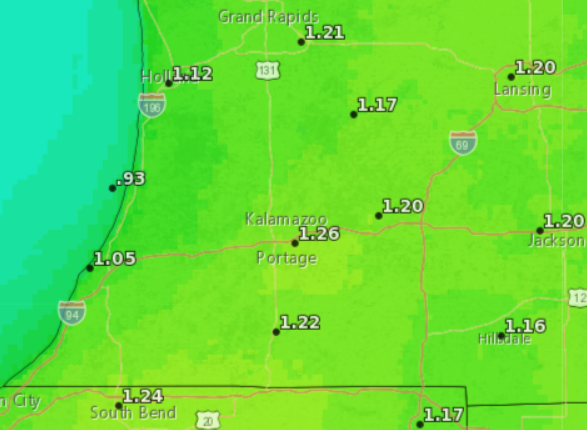 Precipitation this past week was highly variable across the region with 0.1-3.0 inches of rain with heavier amounts in the northwest and southeast portions of the region. Rainfall in May was slightly below normal aside from those same two parts of the region. Another cold front will be moving through Friday but there is no moisture available with it so no rain is predicted, but winds will be shifting to W to WNW and intensifying as it passes. A stationary front across Indiana will stay there several days beginning this weekend which will likely bring several chances of rain next week. The forecast for this coming week is for 0.5-1.0 inch of rain, most of that falling between Saturday night and mid-week next week. The 6-10 and 8-14 day outlooks both call for slight chances of wetter than normal conditions through the middle of the month.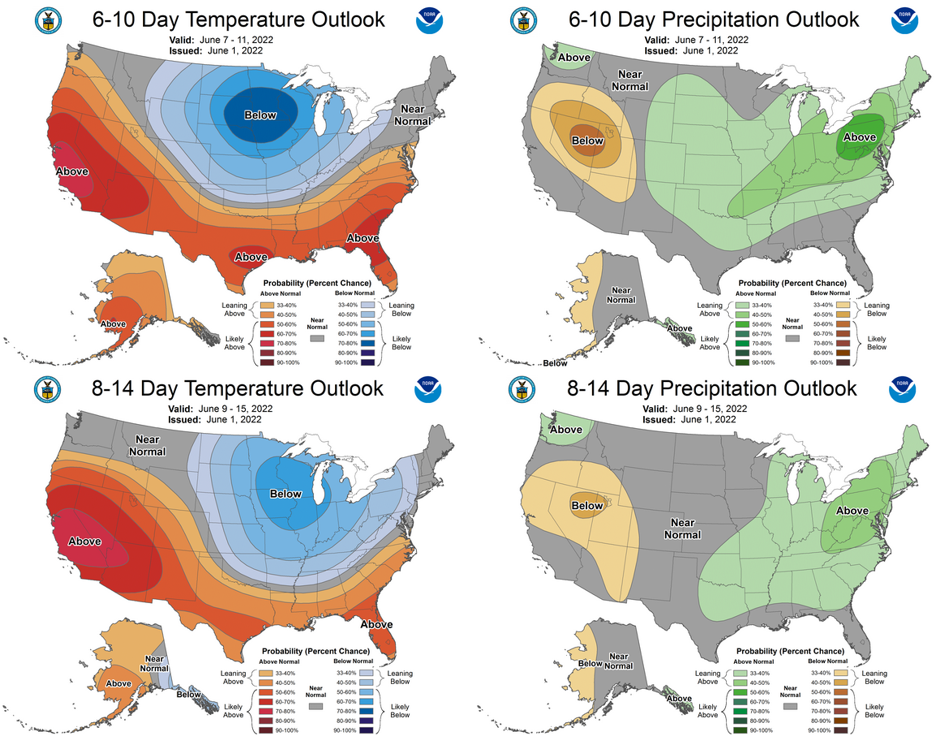 Crops and pests
Wheat in Michigan was rated at 51% good to excellent at the end of last week with another 31% rated fair. Fields in our region reached beginning flower stage (Feekes 10.5.1) earlier this week with heads fully emerged and a few anthers showing in the middle of the head. This is the optimum time for a fungicide application to protect the flag leaf and the head against Fusarium head blight, also known as head scab. Currently, the risk of head scab is low for southwest Michigan for all but very susceptible wheat varieties. However, the forecast of cooler and wetter than normal conditions in the first half of June may increase that risk.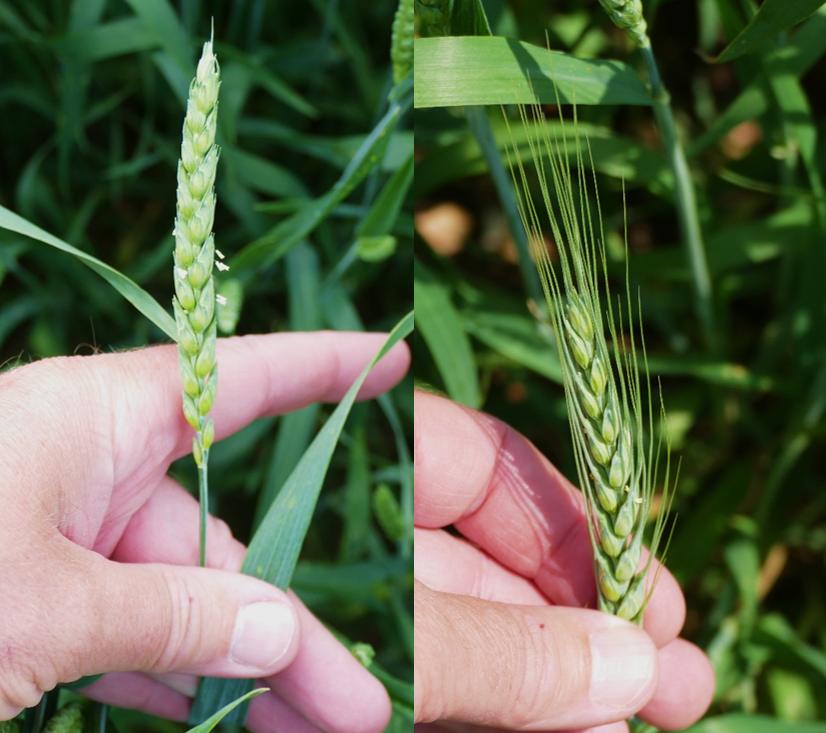 Forage harvesting began over the weekend as the hot, dry and windy conditions made for ideal hay drying. Alfalfa fields are a bit varied in regards to development in the region, but first cutting should begin in about a week. Reports of heavy alfalfa weevil feeding have come in from southeast and central Michigan, but harvesting early is usually the recommended method of control at this point. Early harvest will usually prevent further losses due to feeding as the weevil larvae will either be killed during harvest or will fall onto the ground and starve once the hay is removed. For those considering making an insecticide application, be sure to check the pre-harvest interval (PHI) on the label to determine whether waiting that long is desirable to maintain forage quality.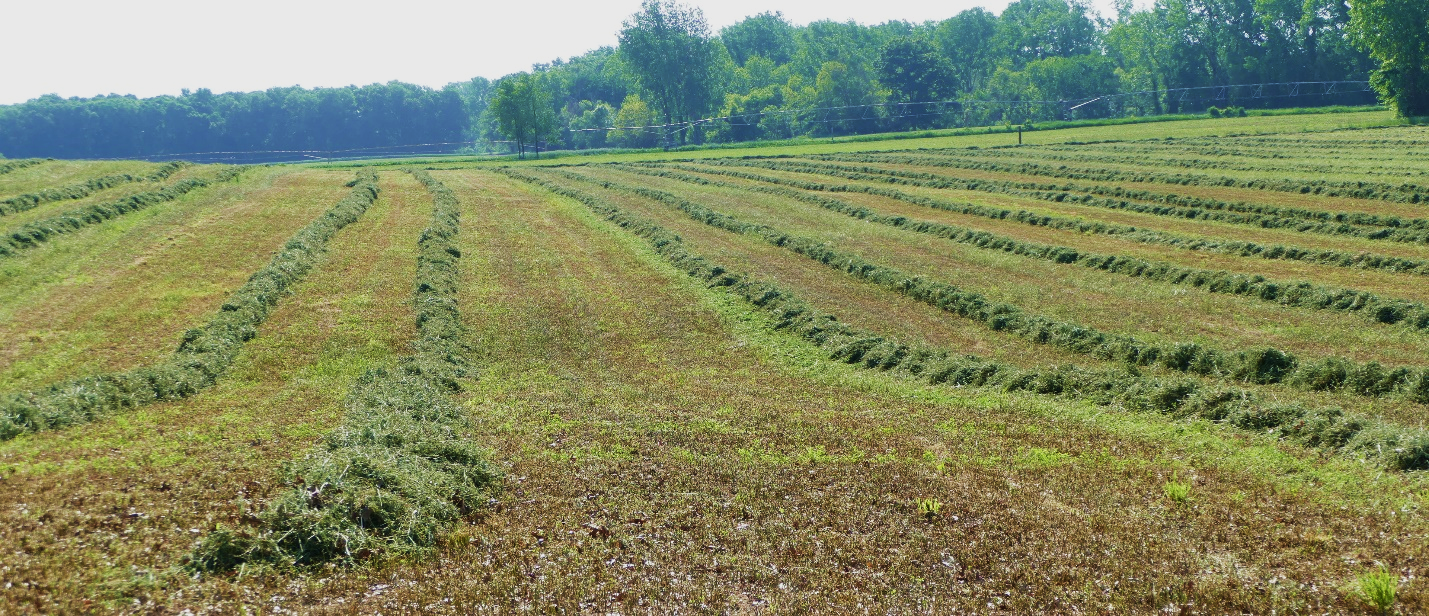 Corn and soybean planting continued to progress this past week with corn now at 80% planted in the state which is 8% ahead of the 5-year average. Soybean remains at the 5-year average with 60% planted. Emergence increased dramatically from last week as expected with 47 and 33% of the corn and soybean crop emerged, respectively, both of which are very close to the 5-year average. Early-planted corn is between V2 and V4 and soybean in the fields visited was just coming into V1—most fields where the crop has emerged are still at VC with only the unifoliates fully open. Corn requires 200-300 GDD50 to progress from V2 to V6 depending on relative maturity group. With only 100 GDD50 forecasted for the coming week, and with cooler than normal temperatures predicted through the middle of the month, sidedress will likely not begin for a couple of weeks.
Insects. Black cutworm and true armyworm catches were as low as last week and traps for those species have now been retired for the season. No significant insect feeding has been reported yet in corn and soybean (only deer).