Southwest Michigan field crops update – June 23, 2022
Summer temperatures have accelerated crop growth this past week, but dry conditions last week and this week could impact growth as crops become stressed.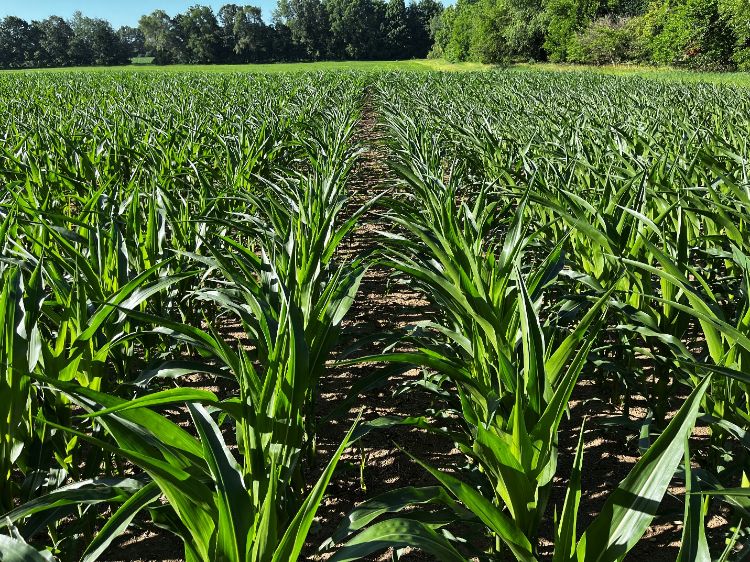 Weather
Temperatures this past week were 4-6 degrees warmer than normal. We picked up 207 growing degree days (GDD) base 40 for alfalfa or 140 GDD50 for corn and soybean this past week, and we are currently 60-90 GDD50 ahead in our region. The forecasted reference evapotranspiration (FRET) rate will be slightly lower this coming week at 1.6-1.7 inches with daily rates near 0.25 inch. The forecast predicts the addition of another 210 GDD40 or 140 GDD50 in the coming week. All of the medium-range and long-range outlooks are pointing toward a continuation of above-normal temperatures heading into the first week of July and forward.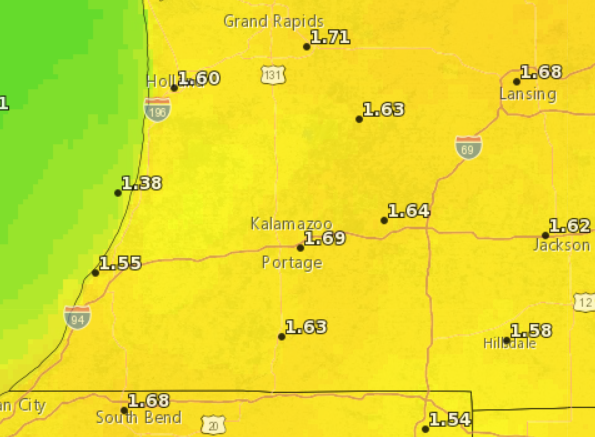 Precipitation this past week was less than 0.10 inch and entirely lacking for most of the region. Although a swath of the region received ample rainfall in the middle of June, other areas have received less than half the average rainfall amount in the past two weeks. The next decent chance of rain will be overnight Saturday although less than a tenth of an inch is predicted. The forecast for the coming week is dry with little to no chance of rain. The medium-range outlooks suggest a moderation heading into the first week of July with normal to above-normal chances of rain.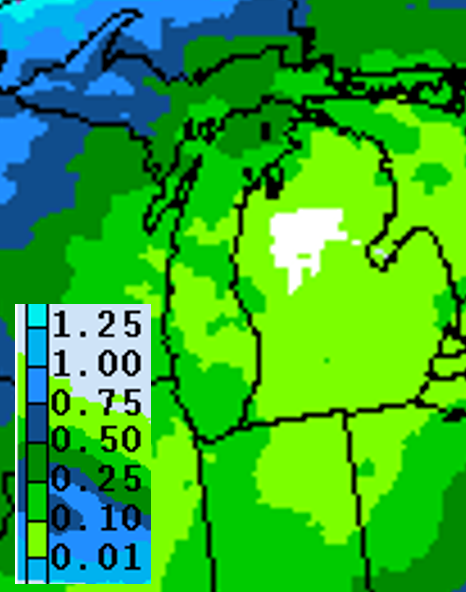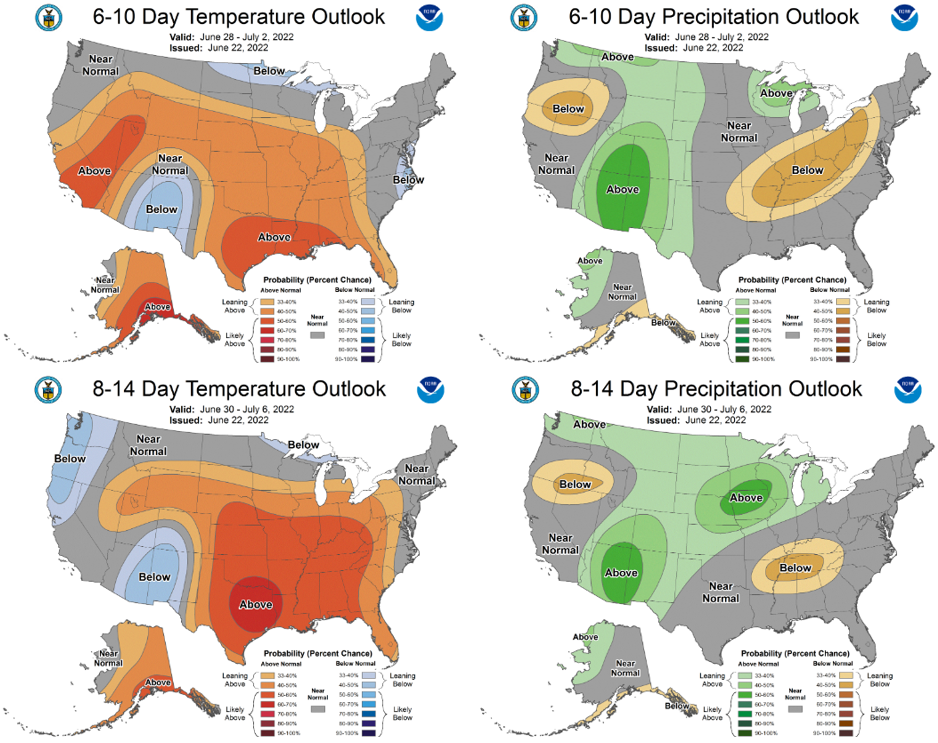 Crops and pests
Wheat in all fields visited had reached soft dough, also known as mealy ripe (Feekes 11.2, material squeezed out of the kernel has a doughy consistency). No significant disease or insect pressure has been identified even in lodged patches, likely due to the high heat and moderate winds as of late. These fields should reach hard dough (Feekes 11.3, kernel hard but dividable with thumbnail) by next week and physiological maturity (Feekes 11.4) in two weeks.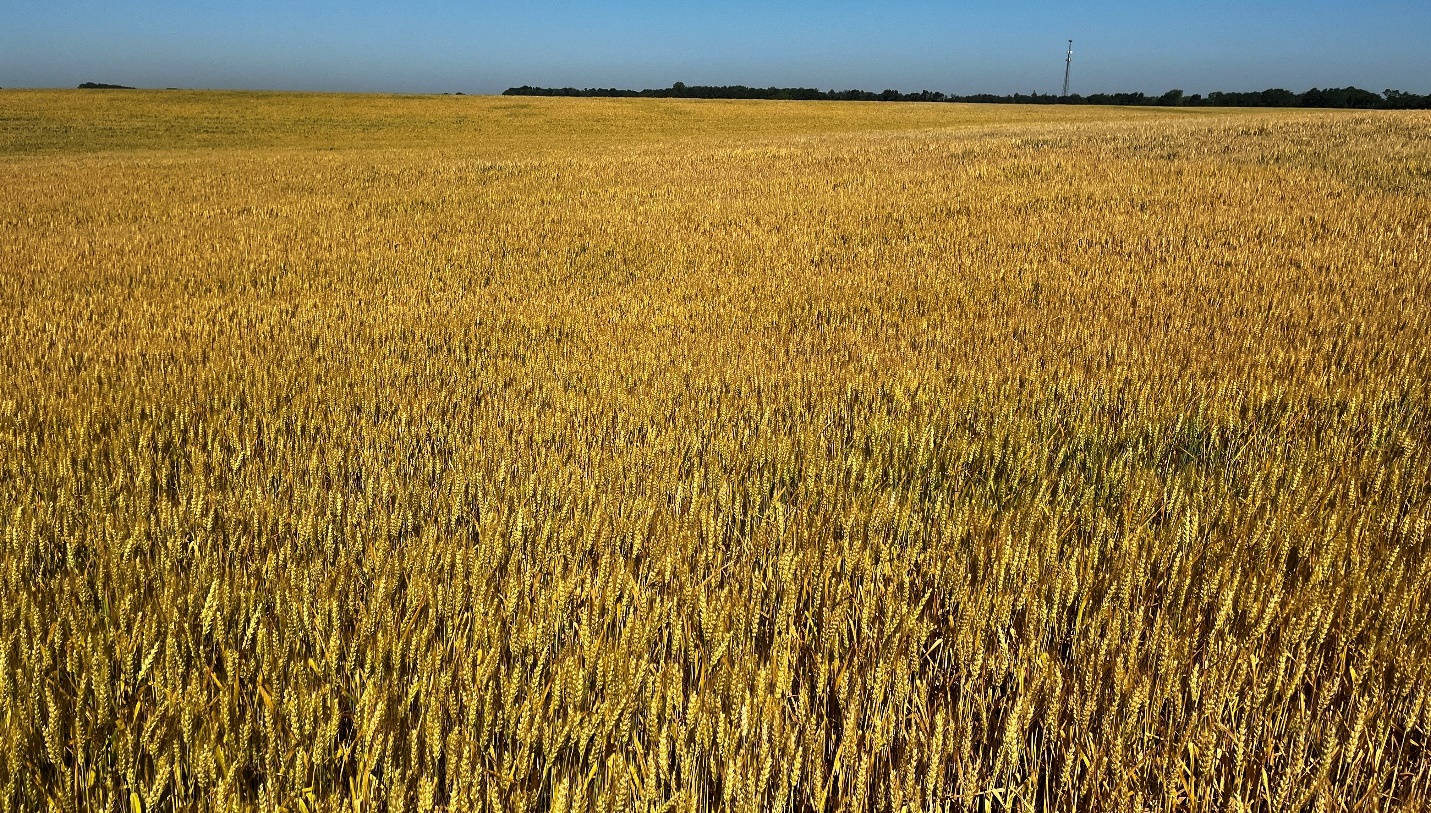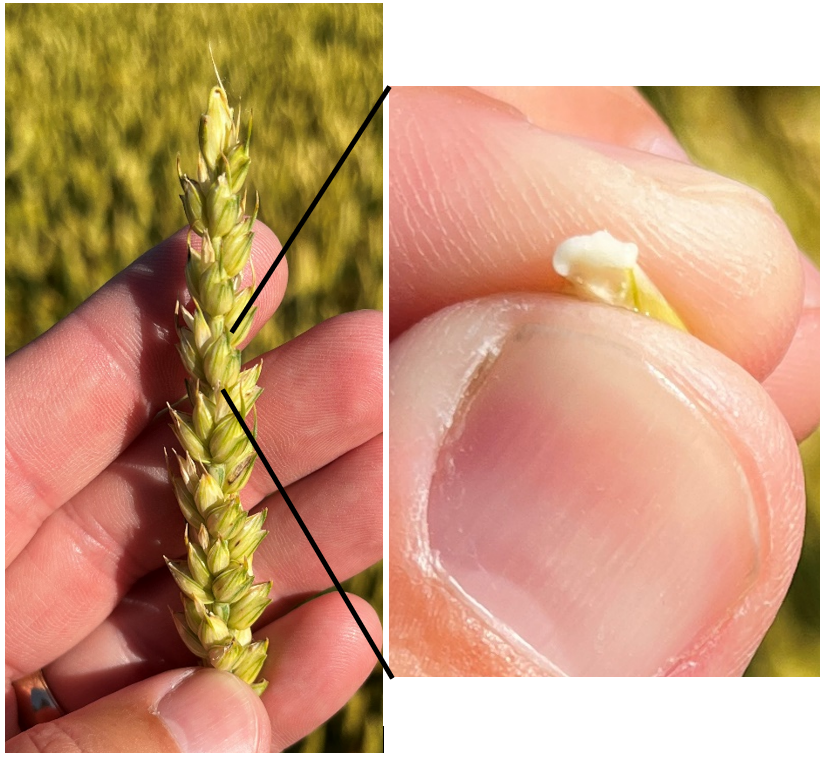 Corn and soybean planting reached 99 and 97% with 93 and 88% emergence, respectively, by the end of last week. The most advanced corn field visited was chest high at V8-V10 although late-planted fields are still around V2. No significant disease or insect issues have been reported to date. Corn will add a new leaf about every three days or 66 GDD50 up through V14 when the pace quickens. With about 140 GDD50 expected this coming week, we will add two more leaves by the end of the month. The old adage, "Knee high by the Fourth of July," though once used as a benchmark for a successful corn crop, no longer holds with modern hybrids. Timely-planted fields should reach 6-8 feet tall by early July, although most fields in our region will still be waist- to chest-high at V6-V8 by that time.
Soybean has reached V5 in many fields although most have not yet flowered. According to University of Wisconsin soybean specialist Shawn Conley, it typically only takes three to five days to go from beginning flowering (R1 - at least one flower on any node) to full flowering (R2 - an open flower at one of the two uppermost nodes). This will be important for many with regards to herbicide application cutoffs—see below for details. However, since a field is not considered to have reached a given growth stage until at least 50% of plants show the determining characteristic—and estimating the percentage of plants in a field can be subjective—there is some amount of "wiggle room" in assigning a growth stage to an entire field. Aside from minor bean leaf beetle feeding, no insect or disease issues have been seen in soybean.
Number of days between soybean growth stages. Adapted from Soybean Growth Stages – U of MN Extension.

Stages

Average number of days

Range in number of days

Planting to VE

10

5 to 15

VE to VC

5

3 to 10

VC to V1

5

3 to 10

V1 to V2

5

3 to 10

V2 to V3

5

3 to 10

V3 to V4

5

3 to 8

V4 to V5

5

3 to 8

Beyond V5

3

2 to 5

R1 to R2

3

0 to 7

R2 to R3

10

5 to 15

R3 to R4

9

5 to 15

R4 to R5

9

4 to 26

R5 to R6

15

11 to 20

R6 to R7

18

9 to 30

R7 to R8

9

7 to 18
Weeds
Weed control continues to be a priority with this year's delayed—and for many, tight—planting window. Weeds such as horseweed (marestail) are over 12 inches tall in many fields, and control options may be limited depending on the crop and herbicide trait package. For example, those with Xtend or XtendFlex soybean can apply one of the approved dicamba products (XtendiMax, Engenia, FeXipan) through the R1 growth stage or until June 30, whichever is earlier. This coming week will provide good spraying conditions, particularly after Monday as winds should be slow enough to make applications on-label. However, MSU Extension weed specialist Christy Sprague cautions that applying dicamba when temperatures are over 80 degrees carries an increased risk of volatilization, so additional caution should be taken. Those with XtendFlex beans can apply glufosinate (Liberty) through R1 (if you can still find any to buy) although you may need to increase the rate to the maximum allowed on label in order to control taller weeds.
Check the product labels for cutoff dates and other restrictions or refer to the MSU Weed Control Guide for Field Crops with separate sections for each crop. There are also sections in the guide with specific recommendations for controlling specific weeds such as multiple-resistant Palmer amaranth, horseweed(marestail), Canada thistle, hemp dogbane and others.
Reminder: The 2022 MSU Weed Tour will be Wednesday, June 29, at the MSU Plant Pathology Farm, 3735 College Road, Lansing, MI 48910. The tour will provide ample opportunity for participants to look at corn and soybean research plots and participate in some short field presentations. Registration/check-in will begin with coffee and donuts from 8:30-9:30 a.m. The field tour will kick off at 9:30 a.m. and the morning tour concludes with lunch. Preregistration is closed, on-site registration is $40.
After lunch, the afternoon tours will begin at 1 p.m. with two concurrent sessions:
Weed Control in Horticultural Crops, located at MSU Horticulture Farm on College Road, south of Jolly Road
Non-GMO Soybean Weed Control Tour, located at MSU Plant Pathology Farm
Recertification credits have been requested for Certified Crop Advisors and Private, Commercial Core, and Category 1A Pesticide Applicator Licenses.
Irrigation
Evaporative demand and crop water use has outpaced rainfall this past week, and irrigation season is in full swing. For those considering irrigating wheat, the current recommendation is to make the final application at soft dough. However, with current wheat prices and the hot and dry week ahead, growers may choose to make another application at hard dough stage in another week, particularly on our light-textured soils. MSU Extension irrigation specialist Younsuk Dong and irrigation educator Lyndon Kelley are conducting a study in St. Joseph County to determine the economic benefit of making the additional irrigation application at hard dough. Physiological maturity occurs roughly two weeks after initiation of soft dough stage, and there will be no yield gained by watering after that point.
For corn and soybean, the following table summarizes crop water need at different growth stages for the coming week.
Growth stage and crop

Kc

Rooting Depth (in.)

Water need for coming week (in.)

Corn

V2

0.2

6

0.3

V4

0.2

10

0.3

V6

0.39

15

0.6

V8

0.56

20

0.9

V10

0.76

23

1.2

V12

1

26

1.6

Soybean

V2

0.5

12

0.8

V3

0.6

16

1.0

R1

1

24

1.6
Crop water use coefficient (Kc), typical rooting depth and crop water need for the coming week for corn and soybean.
Strategies for efficient irrigation water use was the topic of this week's MSU Extension Field Crops Virtual Breakfast with MSU irrigation specialist Younsuk Dong. The first step in making an irrigation plan is knowing your soil types and how much water each can hold. A good place to start is the USGS Web Soil Survey where you can find information on soil types in your field at a macro level, and soil sampling will allow a finer level of resolution if needed. The Web Soil Survey gives an average water holding capacity at different depths for each soil type, an important piece of information to determine how long a saturated soil can supply the water needs for the crop and how often irrigation would be needed.
There are three general ways to manage irrigation. The first is by time elapsed since the last rainfall or irrigation event, though this will need to be adjusted based on current weather conditions and by ground-truthing the actual amount of moisture in the soil. The second is by calculating crop need based on crop stage of development and current and forecasted weather conditions. The formula to follow is ETc = Kc * rPET where ETc is the actual crop evapotranspiration (inches/day), Kc is the crop coefficient, and rPET is the reference potential ET (inches/day). You can obtain Kc for corn and soybean in the MSU Extension Irrigation Scheduling document, and you can obtain daily rPET values for the closest Enviroweather station from the MSU Enviroweather website. You can even sign up to receive free daily texts with rPET values. The third way to manage irrigation is by using soil moisture sensors with a corresponding computer program or the MSU Excel Irrigation Schedule Checkbook Method.
For more information and helpful resources, visit the Biosystems & Agricultural Engineering – Irrigation website. You can also find useful irrigation management tools on the MSU Enviroweather website—hover over Weather and look under Irrigation Tools.
If you were not able to join the session, the recordings will be closed-captioned and available at the Field Crops Virtual Breakfast webpage and the MSU Extension Field Crops Team social media platforms: Facebook, Spotify, YouTube, Apple Podcasts and Twitter.