Southwest Michigan field crops update – June 8, 2023
Most crops look remarkably healthy, even in dryland fields, but signs of drought stress are beginning to surface. Rain forecasted for early next week would be a much-welcomed sight.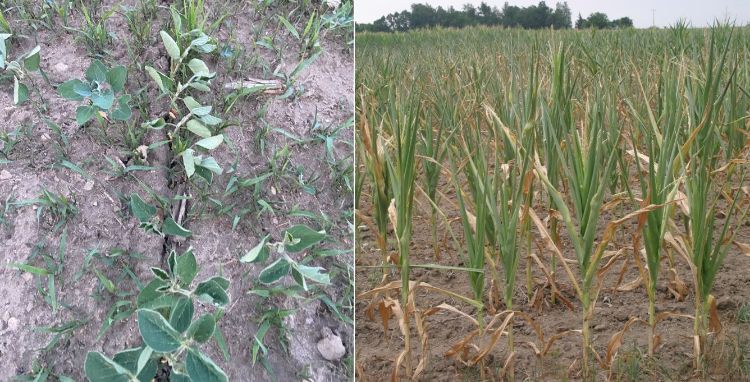 Weather
Temperatures in Michigan this past week were unusually high for this time of year at 4-8 degrees warmer than normal in the southwest. Michigan State University Extension climatologist Jeff Andresen says that an upper-air troughing feature will be moving into the region on Sunday, June 11, and will stick around for a few days bringing cooler weather before returning to summer-like temperatures. We picked up 120 growing degree days (GDD) base 50 degrees Fahrenheit last week and will add another 99 GDD50 this coming week. The forecasted reference evapotranspiration rate (FRET) is roughly 1.4 inches in the southwest for the week ending June 14 with daily rates ranging from slightly above normal through Saturday to slightly below normal beginning Sunday. The 6-10 day outlook calls for slightly lower than normal temperatures but that quickly changes to above-normal temperatures in the 8-14 day outlook.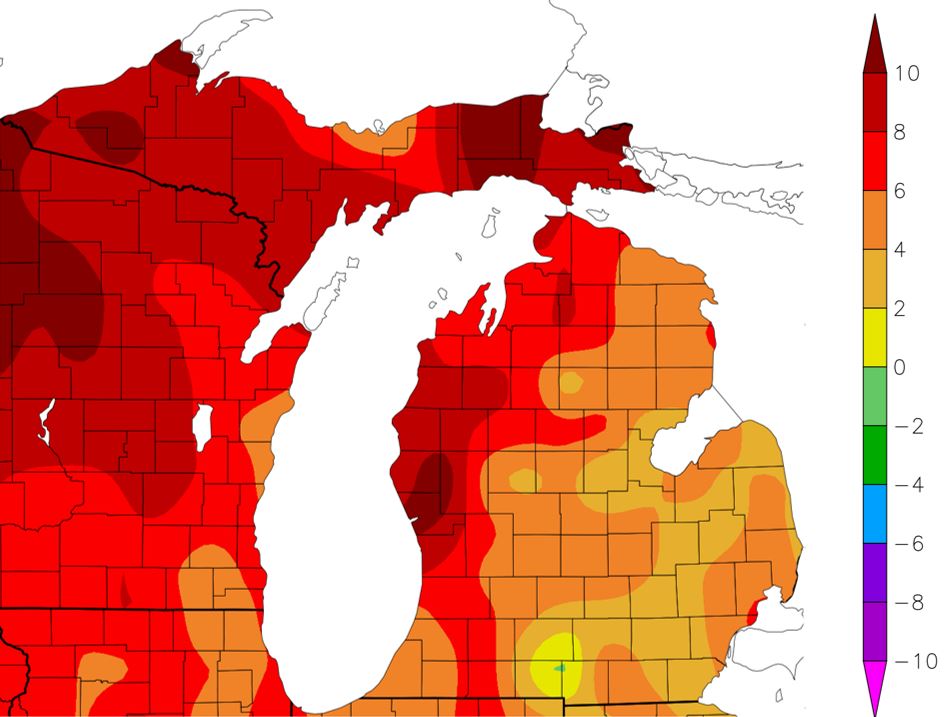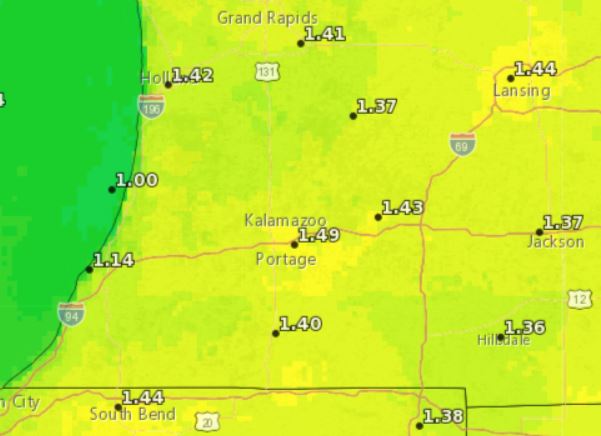 Precipitation is the obvious main concern as we continue to slide behind in total rainfall with some areas having received as little as 15% of normal since May 1. That amounts to 2-4 fewer inches of rain in that period. The latest drought monitor (June 8 release) reflects the worsening conditions even during this past week. Driving around Cass County on Tuesday, a strange substance was hitting my windshield (no, it wasn't bugs, or at least not only bugs), but I had no water in the rain gauge at home in southern Kalamazoo County. These scattered, pop-up showers brought small but appreciated amounts of rainfall the past two days. The good news shared by Andresen is that the upper-air trough will also bring our first significant chances for rain Sunday through Tuesday. The forecast models are highly varied at this point with some predicting over an inch and others less than a quarter of an inch. The current 6-10 and 8-14 day outlooks predict near-normal chances of rain heading into the third week of June; however, Andresen said he would hedge toward below-normal chances over that period.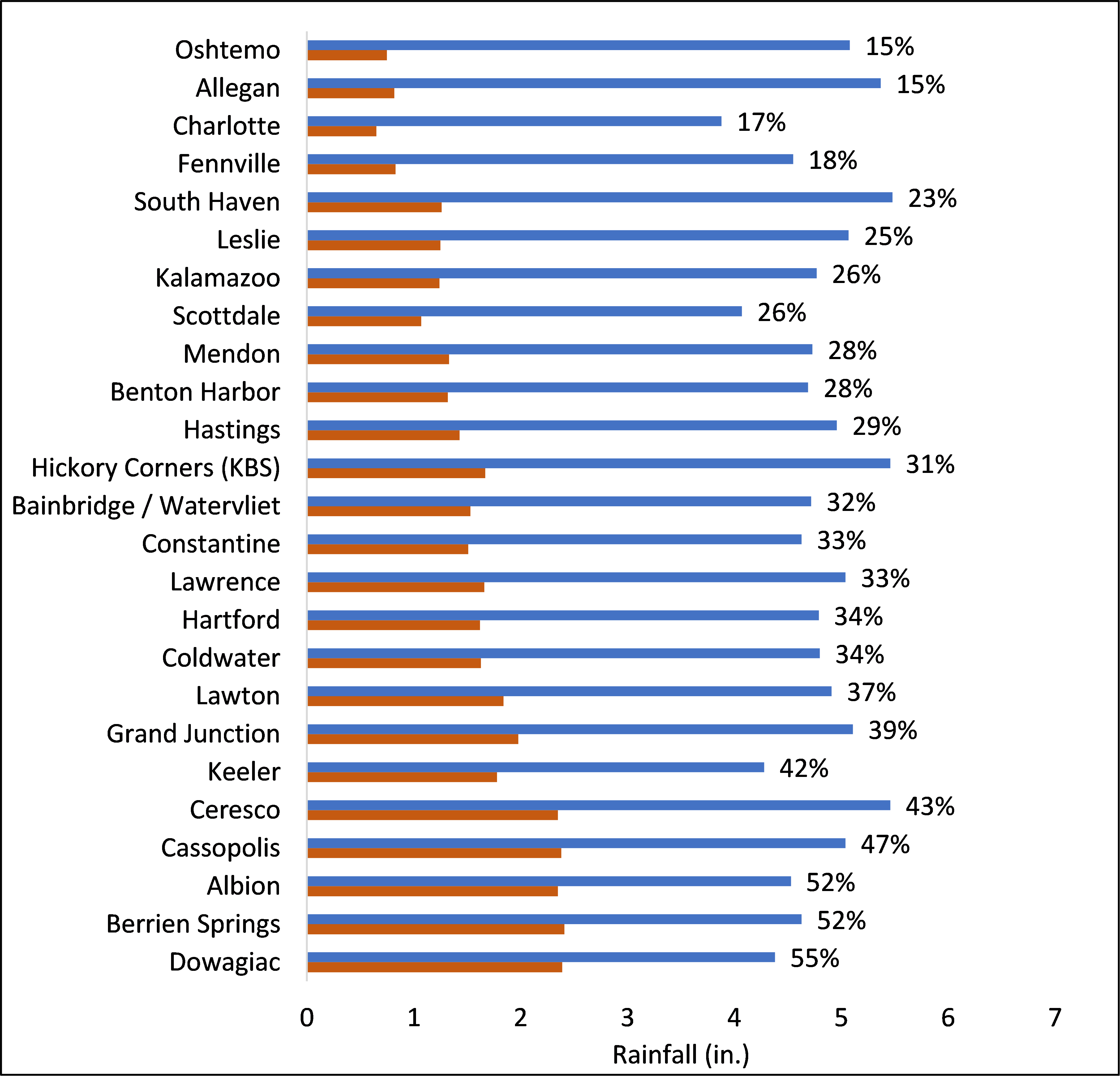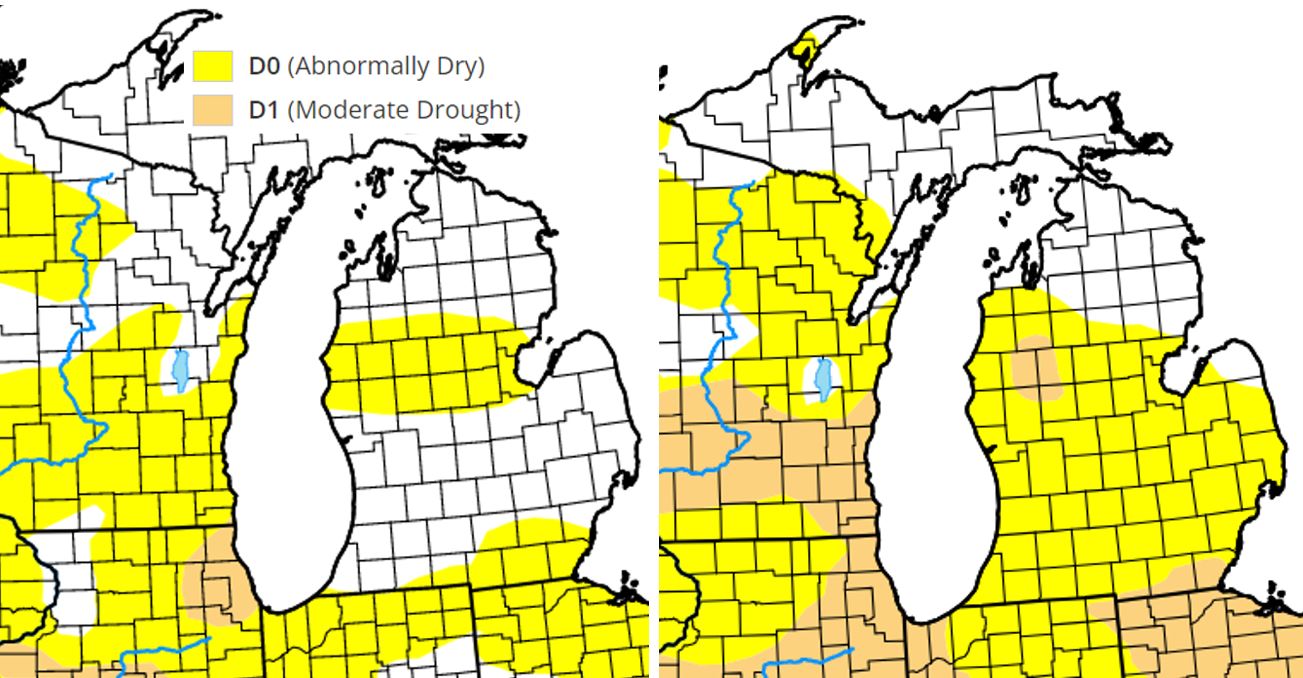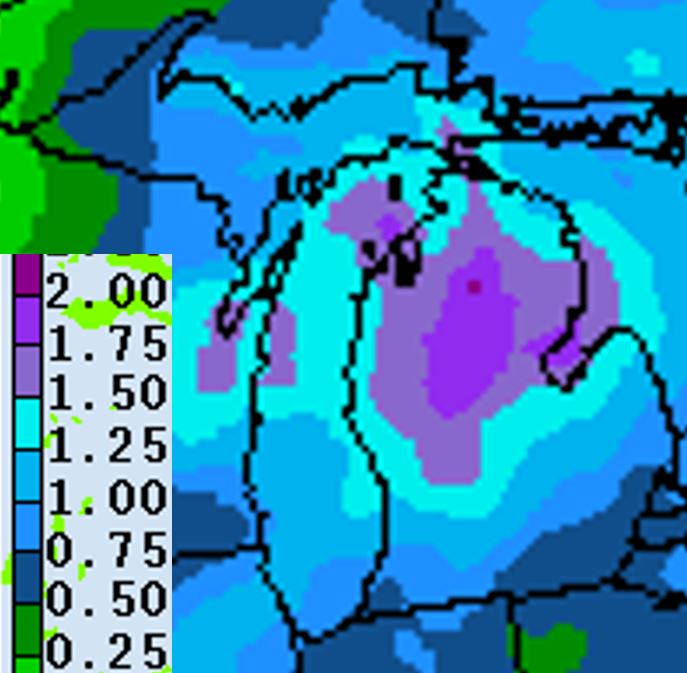 Crops and pests
Corn and soybean planting progress continue to be well ahead of the five-year average as of June — 91% of corn was planted and 72% emerged and 92% of soybean was planted and 62% emerged, according to the latest USDA Crop Report. Corn adds another leaf about every 66 GDD50, and with the warm temperatures last week, we added another two leaves. With temperatures cooling before returning to near-normal, we will only gain another 1.5 vegetative stages this coming week. Corn and soybean in some fields that have not been irrigated are showing signs of drought stress although the crops in other dryland fields are doing, well…it's all about the soil moisture.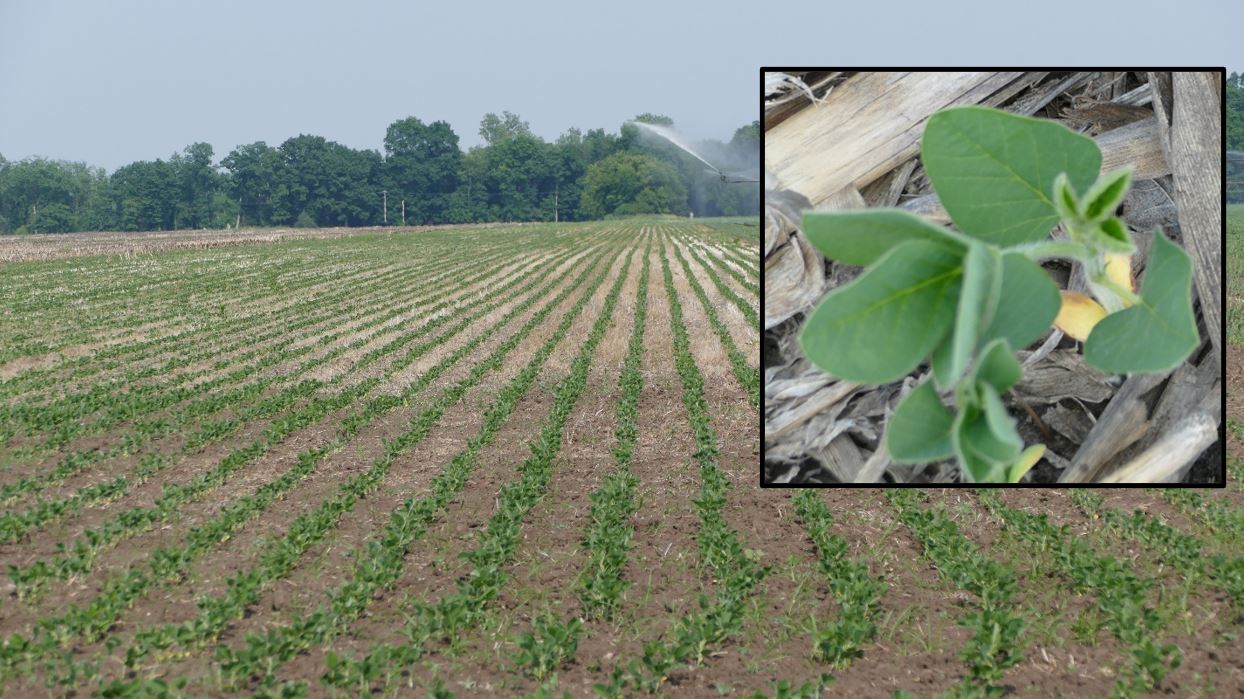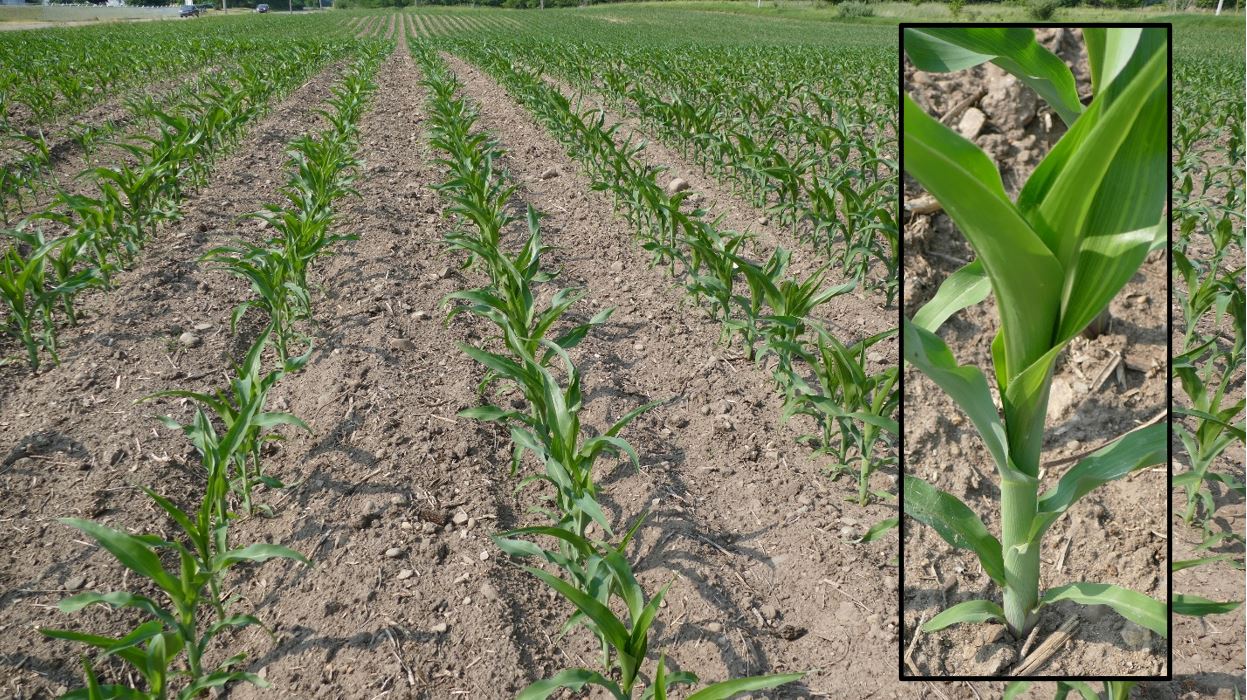 The final plant date in Michigan for corn is June 5 and June 15 for soybeans. The late-plant cutoff is June 25 for corn and July 10 for soybeans. Farmers with acres yet to plant will need to decide soon whether to plant remaining acres into dry soils, especially if little rain develops this weekend. An MSU Extension article, "Understanding delayed planting decisions in Michigan," discussed several considerations around late planting. Here is a snippet from that article: "Given the poor planting conditions, producers who have a Revenue Protection or Yield Protection crop insurance policy have alternatives on how to proceed. Producers currently need to decide if they are going to plant the intended crop, plant the crop late with reduced coverage, take a prevented planting claim, or potentially plant another crop. Producers need to be in contact with their crop insurance agent to make sure they understand the details of their specific contract and pending options."
Winter wheat ratings in Michigan continue to decline according to the current USDA Crop Report as rainfall is still lacking, with 53% rated as good or excellent and an additional 39% rated as fair. Wheat has reached the milk stage (Feekes 11.1). Leaves in non-irrigated fields are showing signs of drought stress with leaves firing (turning yellow) in the lower canopy and as high as the flag leaf in extreme situations. MSU Extension wheat specialist Dennis Pennington says high temperatures during pollination do impact yield, which is not good news as most fields were flowering during the peak temperatures of the last few days of May and first few days of June. Yield is currently being lost where moisture is limited as we progress through grain fill. If the flag leaf remains green (green flag leaves can be seen in the photo below), there is still hope for a decent yield—estimates of 30-50% and even as high as 75% of grain yield is attributed to the contribution of the flag leaf.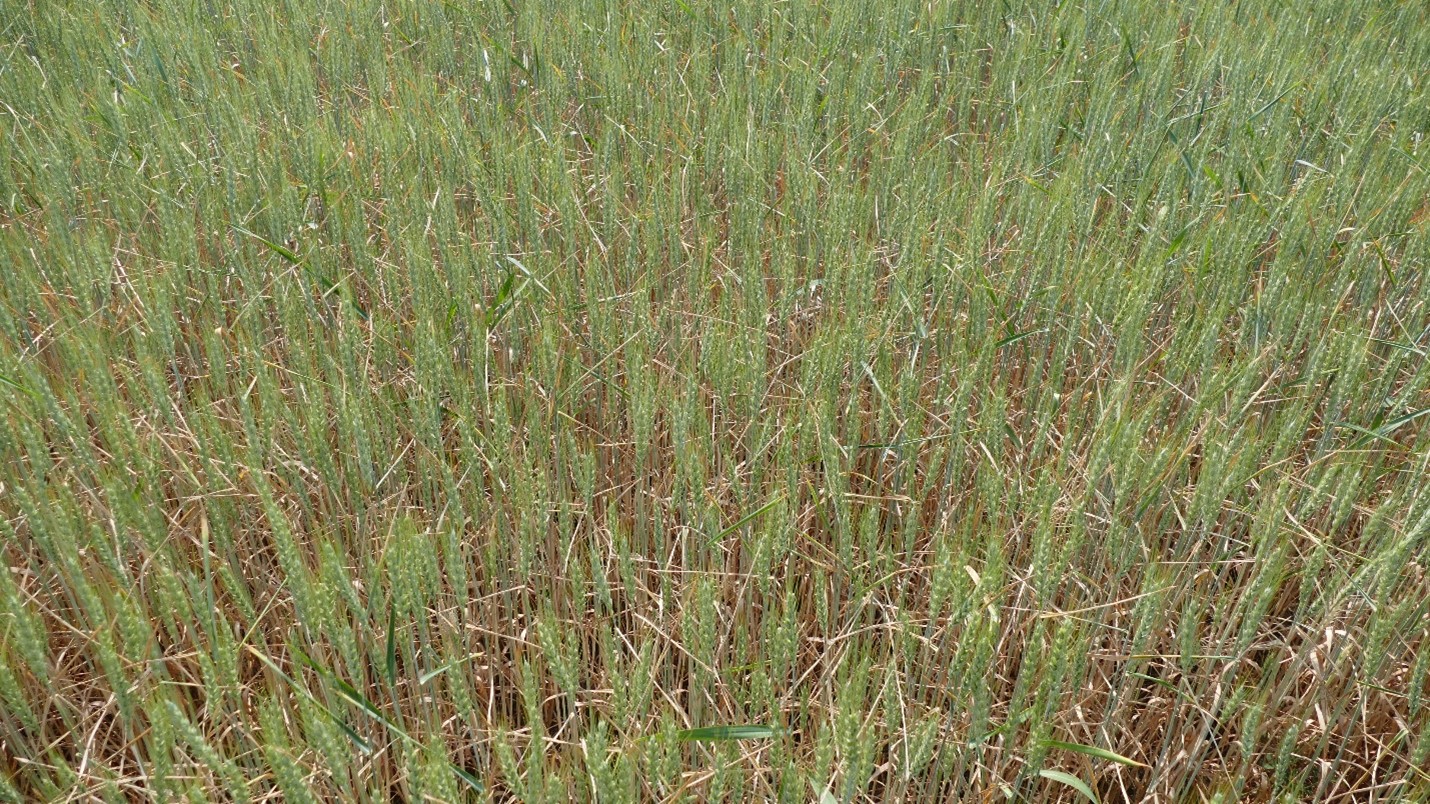 Forages. First cutting on grass hay is in full swing. Overall, first cutting yields have been relatively low due to dry conditions, and some alfalfa fields did not get harvested due to alfalfa weevil damage. With continued dry conditions and the current forecast for June, there may be growers looking to buy more hay this year than expected due to low production. Hay stocks on May 1 were down 15% in Michigan compared with last year according to USDA-NASS. Also, according to USDA, alfalfa hay was selling for $190 per dry ton on average in Michigan earlier this spring and grass hay for $130 per dry ton. However, prices tend to be local, and most will price hay by the bale rather than dry ton. There is no hay market website in Michigan—we typically tell those looking to buy hay to search Craigslist or Facebook Marketplace (buyer beware).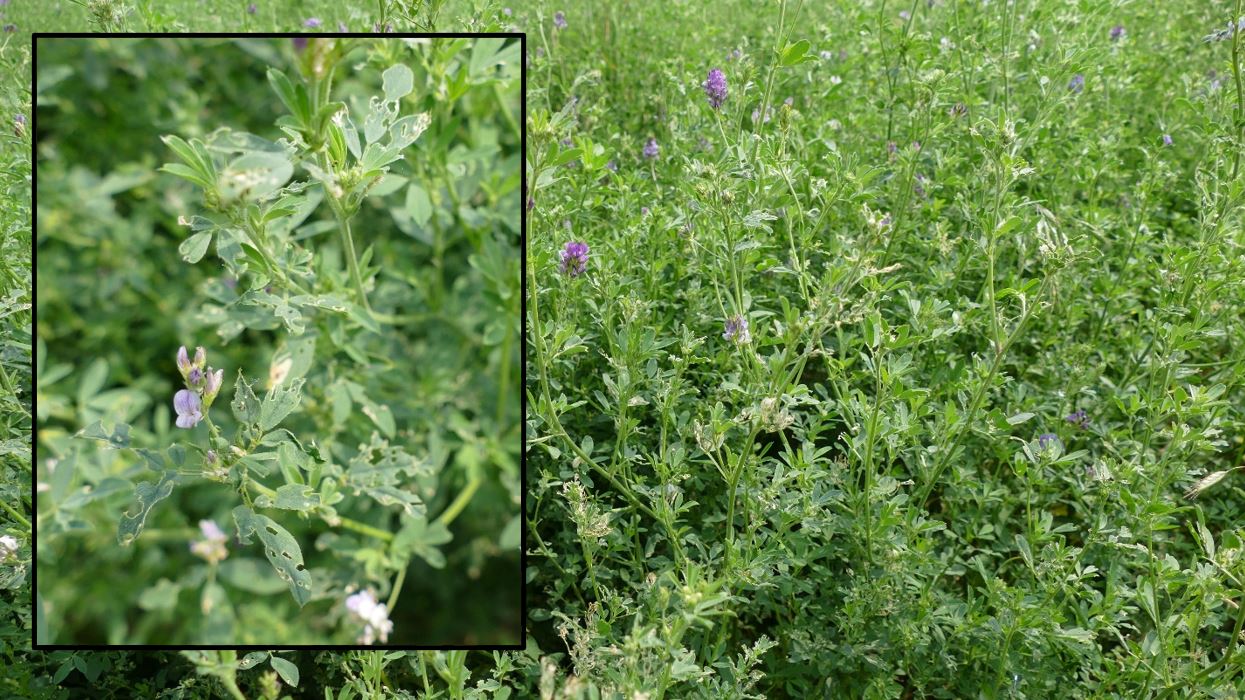 Here are some general guidelines and tips when looking for hay to purchase.
Quality and feed value
Purchasing hay begins with an understanding of quality and feed value. Ask sellers to provide a copy of a forage test analysis, if available. If test results are not available, discuss whether one can be obtained. Forage testing provides information on dry matter, digestibility, and protein. Testing is recommended anytime hay is being bought. To ensure accuracy of testing, a proper sample is needed. Refer to the following articles for more information: "Proper hay sampling holds the key to accurate forage testing" from MSU Extension and "Sampling hay, silage, and total mixed rations for analysis" from the University of Wisconsin Extension.
Estimating bale weights
The next step is identifying what quantities you are purchasing. Whether large rounds, large squares or small squares, two bales of the same size can vary greatly in weight due to bale density, moisture content and even forage species. Refer to Bulletin E-319 – Bale Weight: How Important Is it? from Texas A&M for a guide on estimating bale weight.
Where do I find hay prices?
Gaining an idea of what hay is worth is important before looking at any markets. Values can shift dramatically from one area to another, even with a county. The shift in values is especially important if local supply is a concern. To gain an understanding of hay values, look at a number of sources:
In some cases, buyers may want to secure their hay needs before it is harvested. Pricing standing forages requires several considerations. For more information, review this MSU Extension article: "Pricing standing forage."
Where do I find hay?
Once you've built your base of knowledge, your next step is to find hay to purchase. There are a few options for locating potential hay markets. Local livestock auctions may hold dates for hay sales. Farms with hay for sale may advertise in newspapers, farm magazines or even with roadside signs. With today's technology, there are also several online marketing options.
com is a nationwide marketing website. Hay can be listed or purchased via the site. Several registration options are available, including a standard free account.
https://www.livestockmarket.com/ is an online marketing and auction website. Hay listing or online auctions are available nationwide.
For additional resources on forages, like hay, visit the MSU Forage Connection website. For additional resources related to drought conditions, visit MSU Drought Resources website.
Weeds. For those who planted Xtend soybeans, the last over-the-top application can be made through June 30 or through the R1 growth stage, whichever comes first. Although there are several precautions and limitations for making the approved dicamba product applications (see this website as an example), there is currently no further restriction on date in Michigan. For those growing Enlist soybeans, they can be sprayed with Enlist One or Enlist Duo through R1, and there are no counties in Michigan currently restricted to their use due to the Endangered Species Act.
Irrigation. Most emerged corn is now between V2-V6 and soybean could be anywhere between V1-V3. A summary of crop coefficients and water needs for the coming week is found in the table below, but you can download the Crop Water Balance Sheet for all corn and soybean growth stages from the MSU Extension Irrigation website. Wheat currently has a Kc of 1.05, so that crop will require nearly 1.5 inches of water this week.
Summary of rooting depth and crop water need for corn and soybean during early growth stages.

Crop stage

Crop coefficient (Kc)

Rooting depth (inches)

% of growing season

Water needed this week (inches)

Corn

V2

0.20

6

10

0.28

V4

0.20

10

15

0.28

V6

0.39

15

20

0.55

Soybean

V0

0.20

6

0

0.28

V1

0.30

9

4

0.42

V2

0.50

12

8

0.70

V3

0.60

16

11

0.84
Hot topics was the topic of this week's MSU Extension Field Crops Virtual Breakfast as several MSU Extension specialists and educators shared insights in their areas of expertise and fielded questions from attendees. Keith Mason, the MSU Enviroweather coordinator, gave several tips and tricks for using the Enviroweather website. You can set up a free account and then customize a dashboard with a variety of different tools and models, or you can simply use the individual tools without setting up an account. There are many crop-specific tools for corn, soybean, wheat, alfalfa and potato, including several that track pest development.
Several questions came in from attendees and lots of timely information was shared. Here are a few examples from the notes I took.
MSU soil fertility specialist Kurt Steinke says some corn in the state is showing sulfur and nitrogen (N) deficiency symptoms even in fields where both nutrients were applied. This is because both nitrate and plant-available sulfur can only be taken into the plant when dissolved in water, and since most fields are lacking water, the nutrients can't get into the plants. The sulfur dioxide from the smoke coming from the Canadian wildfires will be quickly converted and become available with sufficient soil moisture, so we will see a little benefit from that. Little N that was applied after the wet period that ended in early April should have been lost, assuming it was incorporated or placed below the surface. Unless N is applied shortly before the rain this weekend, any surface-applied N should contain a urease inhibitor.
MSU weed specialist Christy Sprague says she is still seeing some benefit, although greatly reduced, from the PRE applications made this spring even without incorporation. If dry conditions persist, the rotational restrictions for residual herbicides can be lengthened, so precautions should be taken next spring. She recommends including a herbicide with a residual to the next POST application with the hopes that rainfall will return to Michigan to get the active ingredient incorporated.
MSU forage and cover crop specialist Kim Cassida says potato leafhopper could be an issue early this year, and with plants potentially being smaller, the action threshold would be lower. For those considering whether they should harvest a crop or not due to dry conditions and potential harm to the longevity of the crop, she says that once plants flower, they won't send more nutrients to the roots so there is no advantage to not harvesting.
If you were not able to join the session, the recordings will be closed-captioned and available at the Field Crops Virtual Breakfast webpage and the MSU Extension Field Crops Team social media platforms: Facebook, Spotify, YouTube, Apple Podcasts and Twitter.