Southwest Michigan field crops update – June 9, 2022
Another shift in weather patterns will bring summer temperatures back by the beginning of next week, accelerating crop development heading into the middle of the month.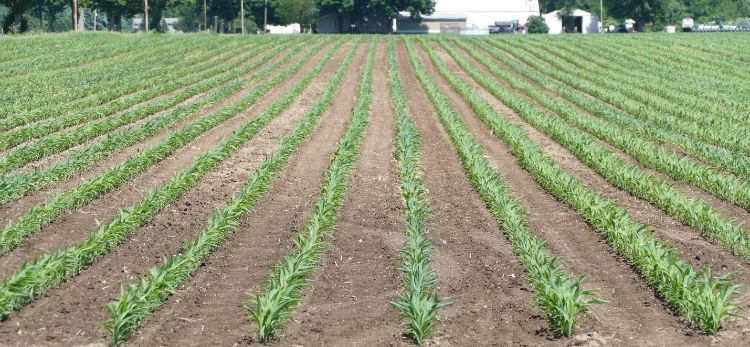 Weather
Temperatures this past week were near normal on average. We picked up only 140 growing degree days (GDD, base 40) or 77 GDD50 this past week, although we are still a few days ahead on heat units throughout much of the region. Changes in the jet stream will result in a shift from cooler-than-normal to warmer-than-normal weather by the beginning of next week. The forecasted reference evapotranspiration (FRET) rate will be 1.3-1.4 inches this coming week with daily FRET rates increasing from 0.15 inch today to as much as 0.25 inch by the middle of next week. The medium-range forecast models show a high degree of confidence for above-normal temps for the third week of June.
Precipitation this past week ranged from 1.0-2.0 inches for most of the region. I got 2.5 inches in the home rain gauge, so I win. The forecast for this coming week is for less than 0.25 inch of rain with the next best chance of rain coming overnight on Saturday. However, there will be almost daily slight chances of rain showers through the middle of next week. Michigan State University Extension climatologist Jeff Andresen says these will be isolated and result in low amounts of rain if they materialize. The medium-range outlooks call for slightly below-normal chances of precipitation for the third week of June.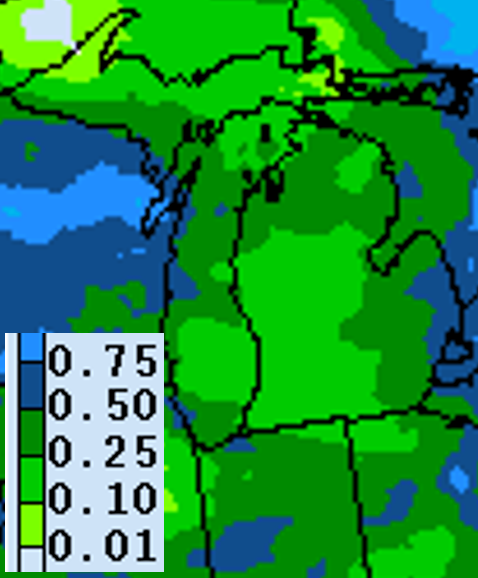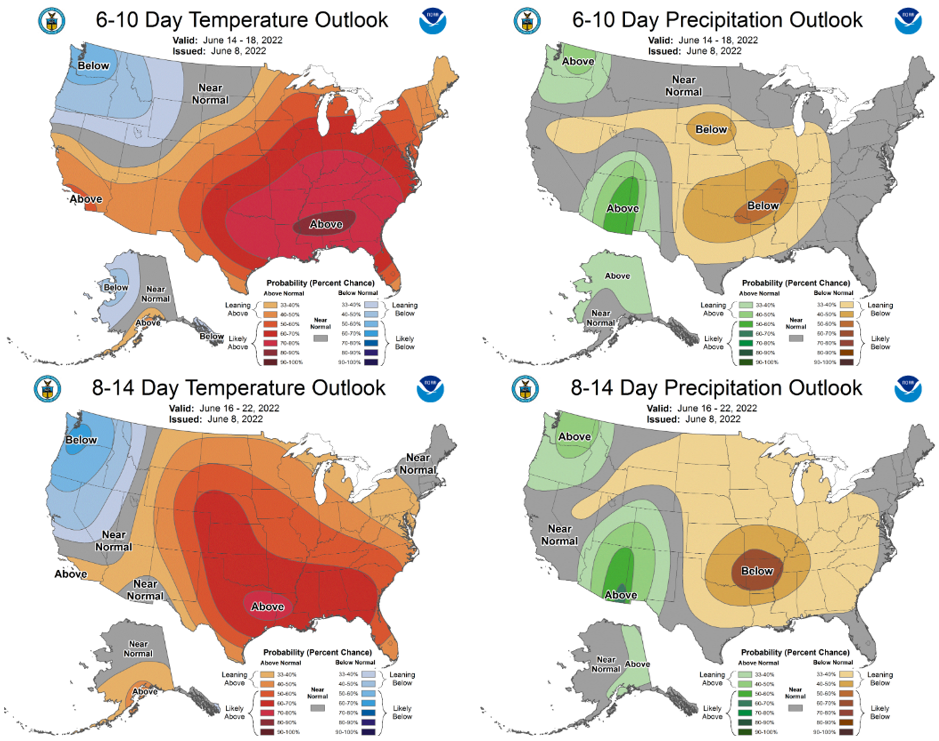 Crops and pests
Wheat in Michigan was rated at 58% good to excellent at the end of last week with another 28% rated fair. More advanced fields have now completed flowering (Feekes 10.5.3). The risk of head scab remains low for southwest Michigan for all but very susceptible wheat varieties. Symptoms resembling foliar disease were seen in two fields in southern Michigan (see photos) both in the lower canopy and on the flag leaf. Samples are being sent in to the MSU Plant & Pest Diagnostics lab to confirm whether it is a disease. If you were not able to get a fungicide application made during flowering and you are seeing disease pressure in your fields (especially from stripe rust), consider making a fungicide application with an effective active ingredient—economic returns will be diminishing rapidly moving forward, but it may still be worthwhile. You can find a fungicide efficacy table for wheat on the Crop Protection Network website.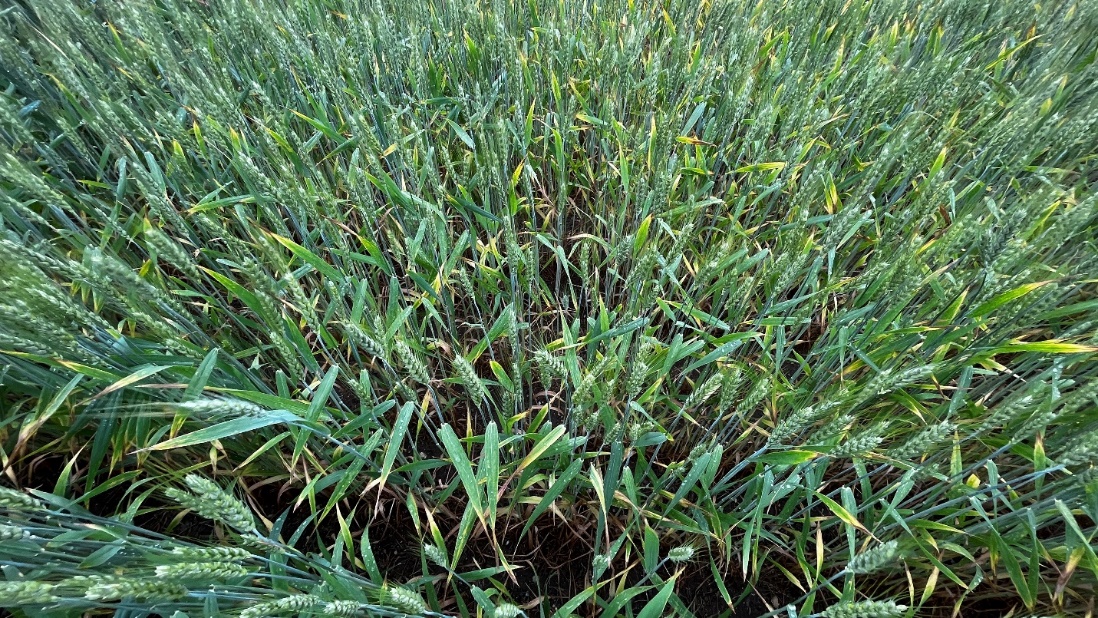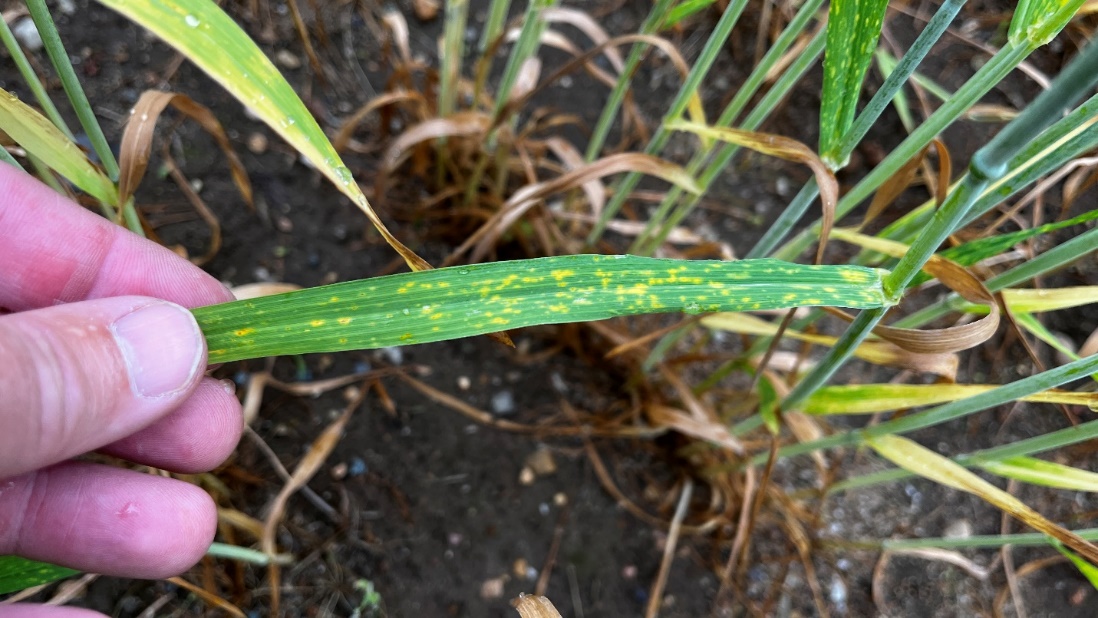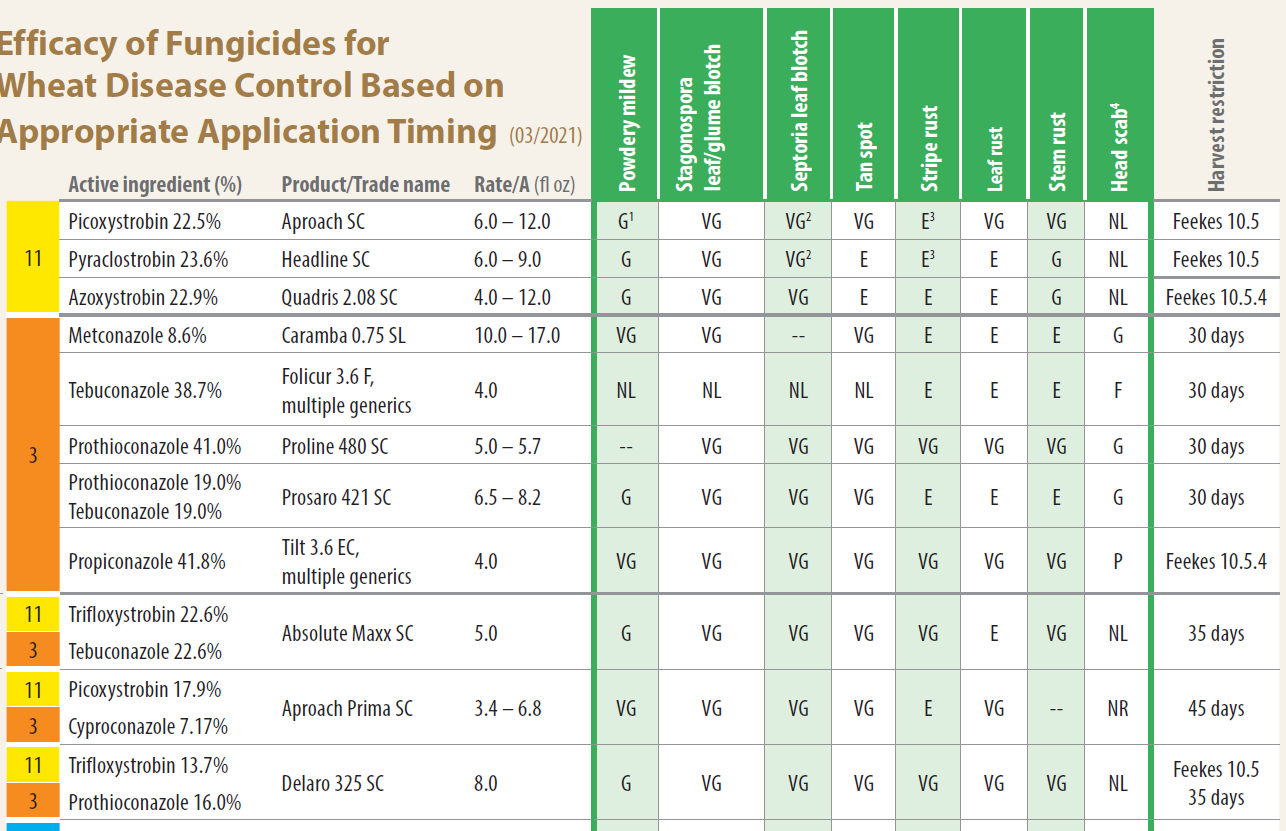 Alfalfa harvesting ramped up this past week with the earliest fields being utilized for green-chop or silage. Cutting has been interrupted with the rainfall this week, but we could see another push for harvest beginning early next week as temperatures climb again; however, some risk will be involved with the almost daily slight chances of precipitation. Alfalfa weevil pupation is expected next week according to the model used on the MSU Enviroweather website.
Corn and soybean planting continued to progress last week with corn now at 93% planted in the state which is 11% ahead of the 5-year average. Soybean is also 11% ahead of the 5-year average with 84% planted. Emergence increased dramatically in the past two weeks as expected with 74 and 62% of the corn and soybean crop emerged, respectively, both of which are about 10% ahead of the 5-year average. Early planted corn is around V4-V5 and soybean is at V2. Corn requires 200-300 GDD50 to progress from V2 to V6 depending on relative maturity group. With about 130 GDD50 forecasted for the coming week, sidedress will likely begin in another week or so in early-planted fields. We are not yet at the point of needing to make changes to soybean varieties, but by mid-June, consider switching to a variety that is 0.5-1.0 earlier maturity group, decreasing the row spacing (if possible) and increasing the seeding rate. MSU Extension soybean educator Mike Staton recommends increasing planting populations by 15% during the first half of June and by 20% when planting in the last half of June.
Insects. MSU Extension field crop entomologist Chris DiFonzo says black cutworm traps in central Michigan are still catching high numbers of moths and recently-killed weedy fields may be an issue for those fields that are yet to be planted, particularly if late weed control efforts created a "green bridge" for the larvae to feed. No reports of crop damage have come in yet, but that could be due to lack of scouting as planting efforts are still underway. Potato leafhopper have been found in the state, so plan to begin scouting in early July as this is when populations increase and tend to impact alfalfa. Asiatic garden beetle are still feeding in sandy fields in southwest Michigan although they are now pupating in northern Ohio, so the window of risk for Michigan will soon be closing.
Irrigation
The timely rainfall events have meant irrigation has not been needed in most corn and soybean fields, although potato and wheat crops have been in moisture deficit situations where rainfall has remained low these past few weeks. Wheat that is just finishing flowering is using 1.1 times the reference ET rate for an estimated water need of 1.4-1.5 inches of water in the coming week. Corn at V4 will need roughly 0.25 inch and soybean at V2 will need roughly 0.7 inch of water this coming week. Potato that has closed within the row is using rates equal to the reference ET rate and so will need 1.3-1.4 inches this week.
White mold management in soybean was the topic of this week's MSU Extension Field Crops Virtual Breakfast with field crop pathologist Marty Chilvers and his doctoral student Jill Check. White mold is caused by the fungus Sclerotinia sclerotiorum and is a common pathogen in soybean. It attacks soybean flowers between R1 and R3 growth stages particularly during wet, foggy weather when relative humidity in the canopy is high and temperatures are relatively cool. The Sporecaster app, available for both Android and iPhone, will predict risk of white mold based on weather forecasts given certain user-entered parameters. The app is underperforming for irrigated fields, but current research at MSU is investigating new predictive models and data collection strategies to improve the accuracy of the app.
Management strategies for white mold include planting in wider row spacing, reducing plant population, and selecting varieties that are tolerant of the disease. In a study conducted at MSU, researchers found up to 60x more apothecia (spore-producing mushrooms) in 14-inch row spacing compared with 30-inch spacing. Another study showed nearly a 20 bushel difference among different soybean varieties.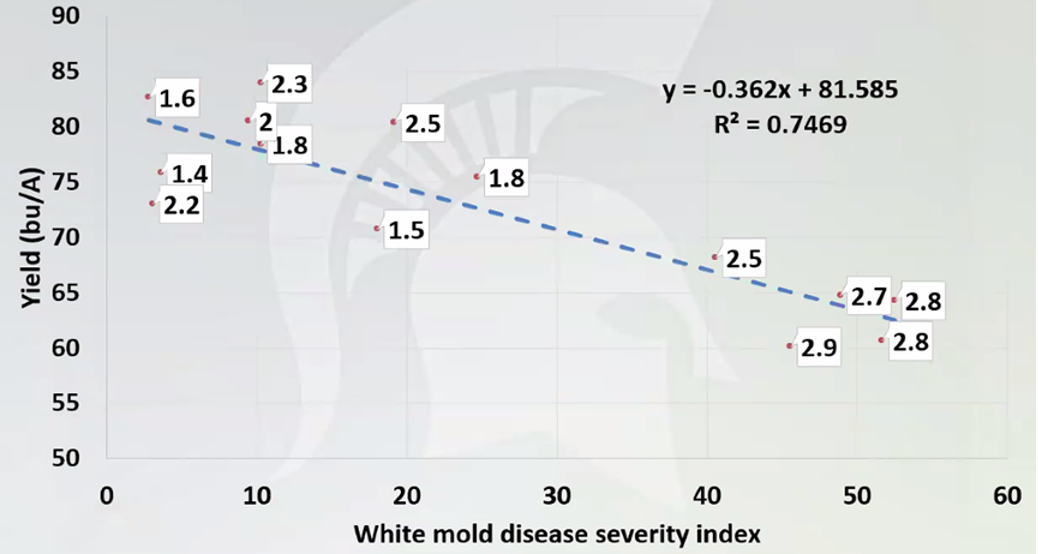 A few other tips presented during the Virtual Breakfast include:
No-till keeps sclerotia (overwintering structures) on the surface to degrade
High residue in a corn-soybean rotation reduced apothecia production in one MSU study
Roller-crimped rye creates a mat that forces apothecia to form ahead of soybean flowering
Sprayer setup is important to ensure adequate coverage, including: using 15-20 gallons per acre spray rate; using 40 psi nozzle pressure and select nozzles to apply fine to medium droplets; target the mid-point of the canopy
If you were not able to join the session, the recordings will be closed-captioned and available at the Field Crops Virtual Breakfast webpage and the MSU Extension Field Crops Team social media platforms: Facebook, Spotify, YouTube, Apple Podcasts and Twitter.