Southwest Michigan field crops update – May 25, 2023
Crop germination and emergence have been rapid this past week with high soil temperatures. Unfortunately, soil moisture may be lacking as evapotranspiration continues to outpace rainfall totals.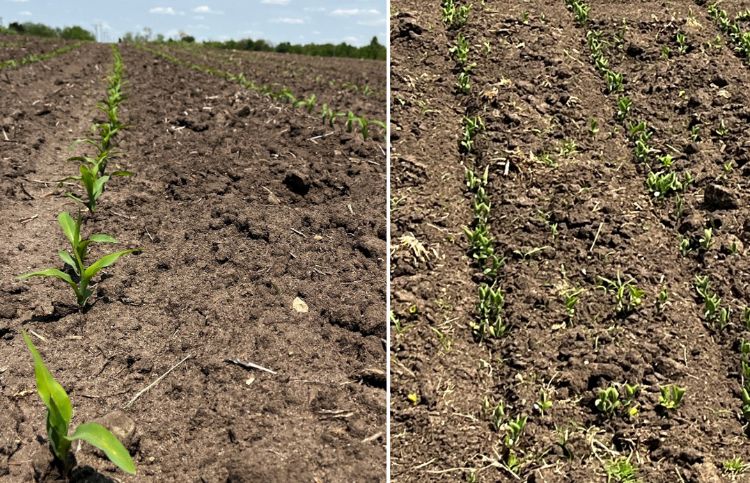 Weather
Temperatures this past week were 1-3 degrees cooler than normal. Similar to last Thursday, there were predictions of near-freezing temperatures for this morning, but lows remained above 40 degrees as recorded at Enviroweather stations. Expect similar conditions for Friday morning before temperatures begin an upward trend heading into the weekend. Michigan State University Extension climatologist Jeff Andresen says that an upper-air ridge will bring warmer temperatures next week, and we could even approach 90 degrees. The high-pressure center in the middle of the ridge will bring very dry, sinking air along with the high temperatures.
We should pick up an additional 106 growing degree days (GDD base 50 degrees) this coming week, so germination and emergence will continue to be very rapid, assuming soil moisture is available. The forecasted reference evapotranspiration rate (FRET) is roughly 1.6 inches in the southwest for the week ending May 31 which is high even for mid-summer. Both the 6-10 and 8-14 day outlooks call for warmer than normal weather through the first week of June.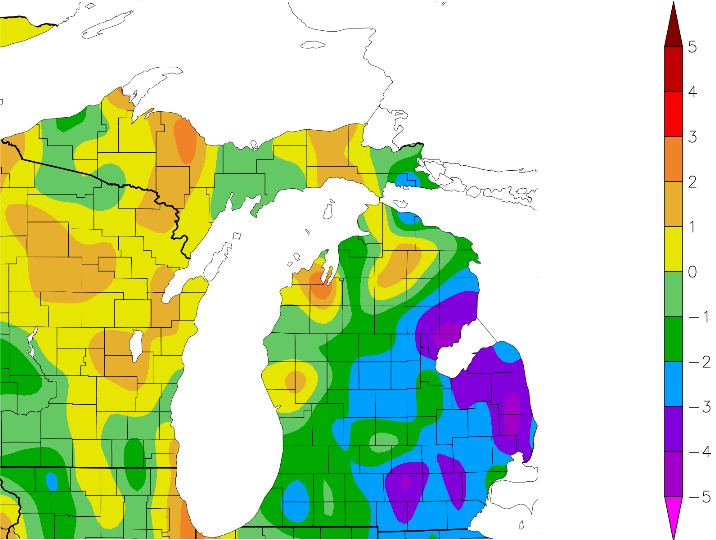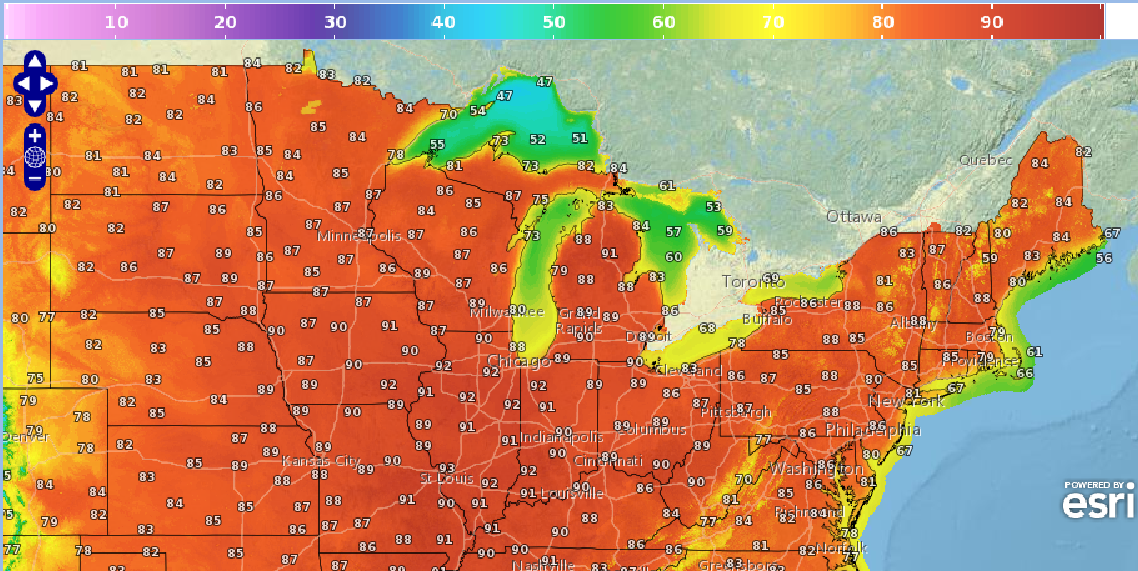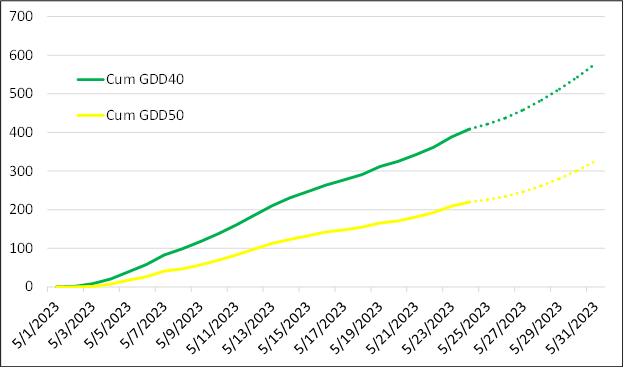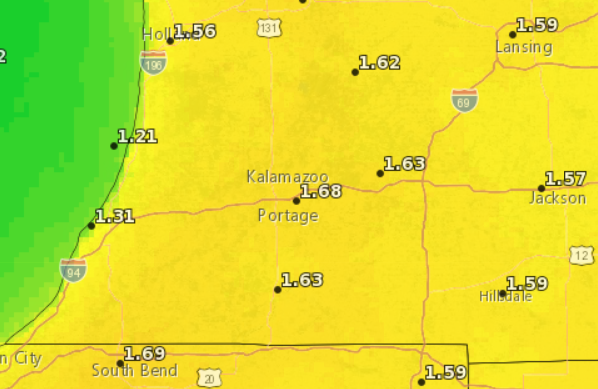 I'm copying and pasting an unusually large amount of information from last week's forecast as we seem to be seeing a cyclical pattern for weather this spring. Rainfall totals last Friday were less than 0.50 inch, and we continue to be 1-2 inches below normal for the month of May. The below-normal rainfall is causing soil moisture levels to decline from the surplus earlier in the spring. You don't need a legend in the graphic for the precipitation forecast for the coming week—there is no rain expected throughout most of the Lower Peninsula. The current 6-10 and 8-14 day forecasts predict below-normal chances of precipitation through the first week of June. Andresen says there is a hint of a reversal in the upper air pattern that could come during the second week of June bringing wetter conditions, but that is highly speculative at this point.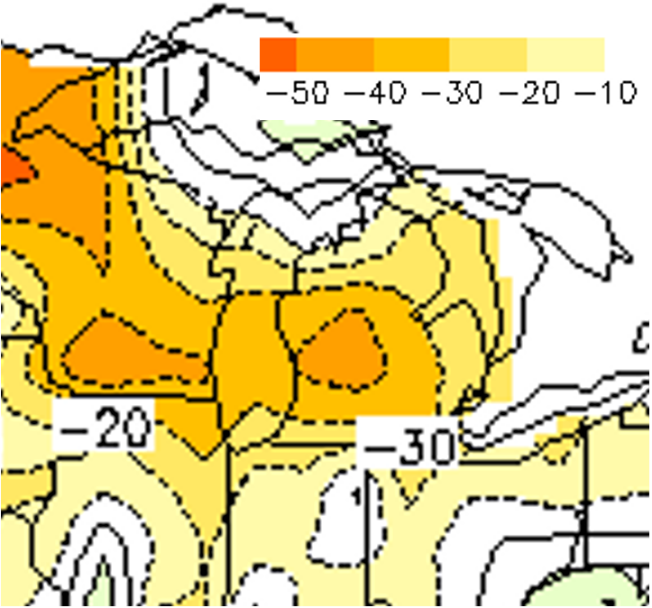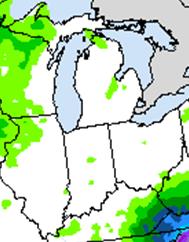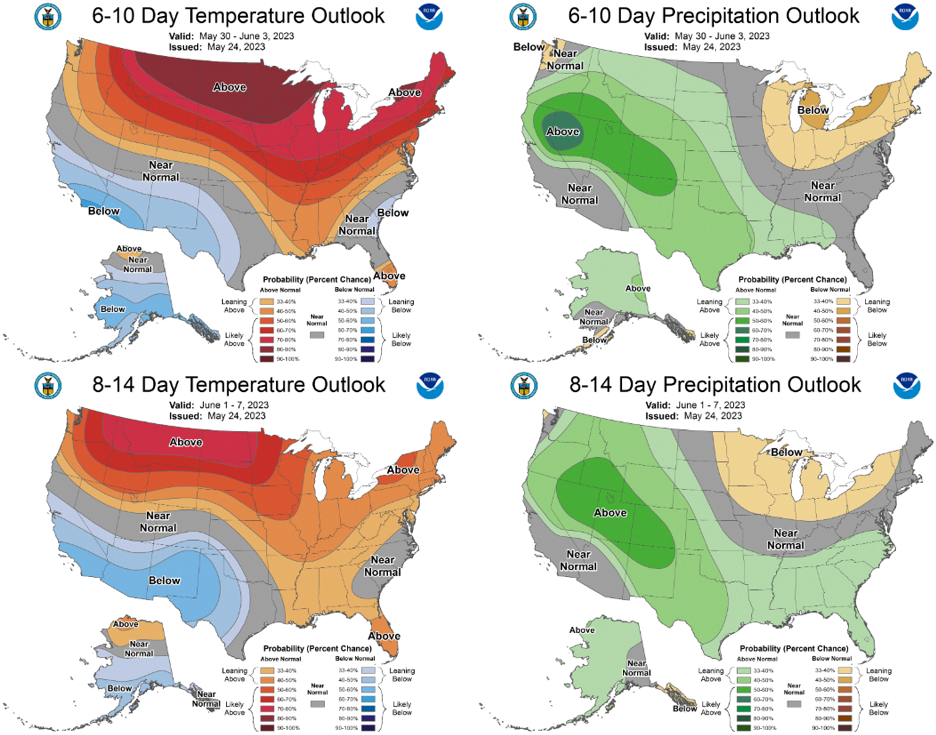 Crops and pests
Corn and soybean planting progress both pulled ahead of the five-year average as of May 21 according to the latest USDA Crop Report. Corn was 60% planted and 20% emerged while soybean was 57% planted and 16% emerged. With warmer soil temperatures, germination and emergence are occurring faster than was predicted using air temperatures. For example, one soybean field being monitored was planted on May 13 and emerged on May 20. Even though only 83 GDD50 had accumulated during that time period according to air temperature, 94 to 146 GDD50 had accumulated according to 2-inch soil temperatures as measured at nearby Enviroweather stations. More than half of planted fields had emerged crops as observed during a scouting trip earlier this week. When planting into dry soils this week, refer to the article, "Soybean planting depth considerations when planting into dry soil conditions" by MSU Extension soybean senior educator Mike Staton for guidelines.
Winter wheat ratings in Michigan dipped slightly according to the current USDA Crop Report with 64% rated as good or excellent and an additional 29% rated as fair. In some wheat fields visited this week, the crop was still in the boot stage (Feekes 10.0) while most fields were partially or fully headed (Feekes 10.5), although no anthers were found. According to North Dakota State University's Agricultural Weather Network, once the head has completely cleared the collar, head extension (growth of the stem to raise the head above the flag leaf) begins. An additional 115 GDD32 are required for this phase with flowering (Feekes 10.5.1) being initiated after that, generally beginning in the middle of the head. We are on track to see anthesis (flowering) initiation by June 1. MSU Extension wheat specialist Dennis Pennington says yield will begin to be impacted as dry conditions persist in the coming 7-10 days, particularly as adequate soil moisture is required for successful pollination and grain fill. With the dry weather, head scab risk remains low throughout the Tri-State area. Check out the weekly Wheat Watchers report for updates from around the state.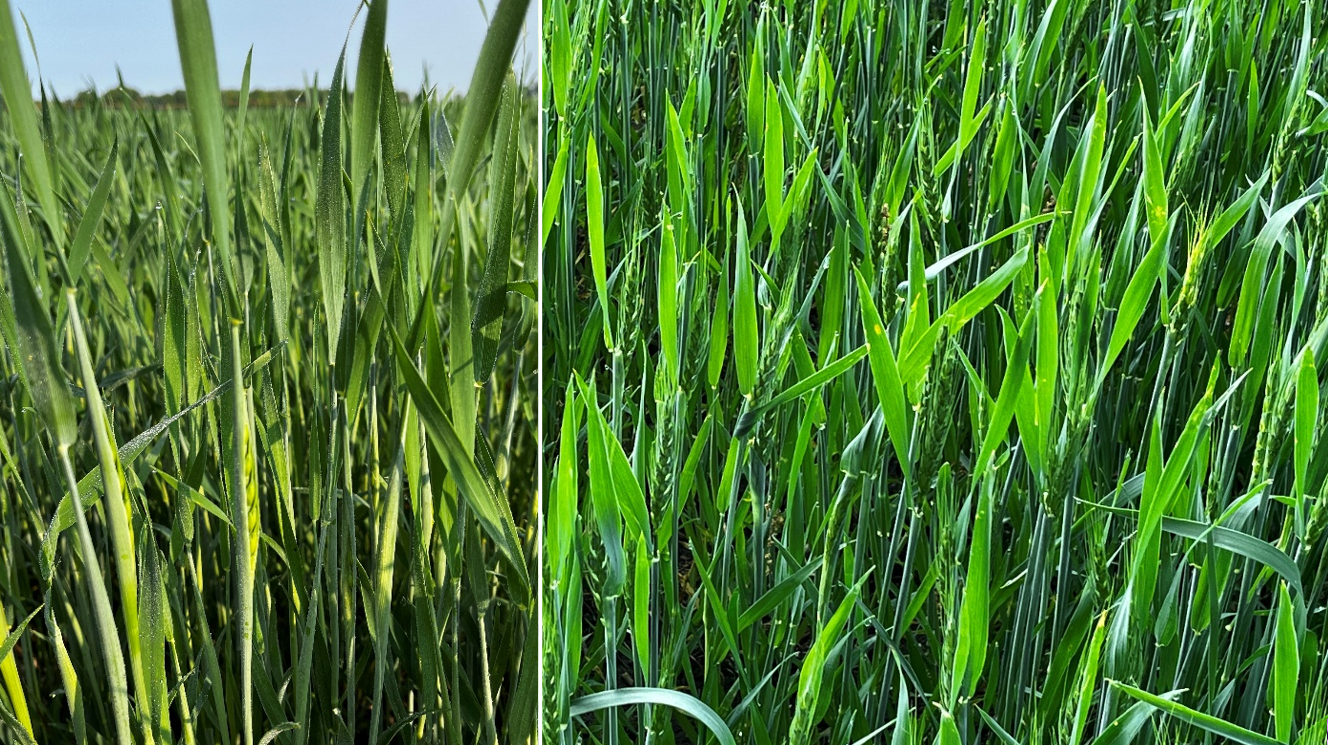 Forages. First cutting is well underway in the region although I have yet to find an alfalfa blossom. The coming 7-10 days will provide perfect haying weather with high temperatures, high solar radiation, and essentially no chance of rain. Reports of intense alfalfa weevil feeding and repeated insecticide applications have come in from around the area. Many who have made one application and observed insufficient control have opted to harvest early rather than wait an additional pre-harvest interval—often 7 days but varies according to product.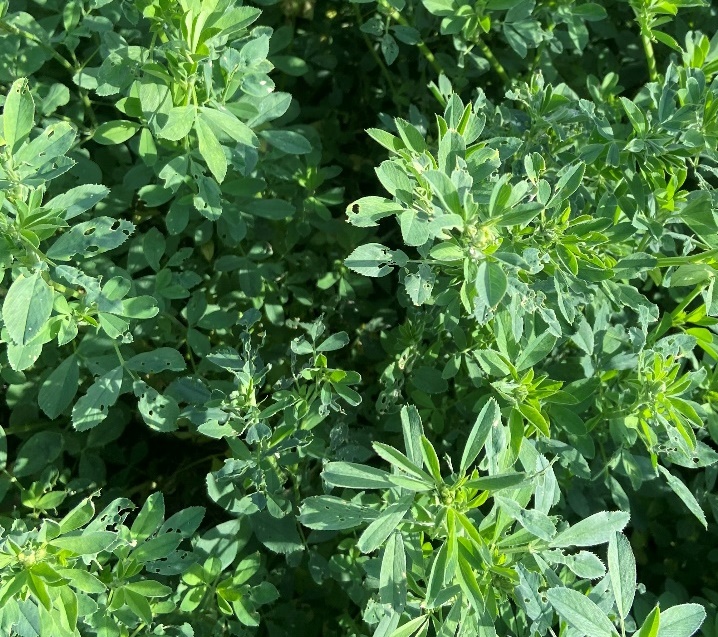 Irrigation. The use of irrigation to germinate seed is the hot topic for several growers this past week. They stress the importance of maintaining the "nick," or timing of the male and female seed for silking/tasseling and the detasseling schedule. Half-inch applications on sandy loam soil will assist in germination/emergence or incorporating/activating herbicides—check out this article for more information.
The reference ET value is the amount of water that is estimated to be used at your location by a reference 6-inch grass. The crop coefficient, often referred to as Kc, is used as a multiplier to make up the difference between 6-inch grass and the crop you are growing. For corn at V2-V4, the Kc is 0.20 and increases to 0.39 by V6. Soybean Kc is 0.20, 0.30 and 0.50 at VC, V1 and V2, respectively. Most corn and soybean fields in the region will need 1.62*0.20 = 0.32 inch of water for the week ending May 31. A chart of Kc for corn and soybeans by development stage is available at the MSU Extension Irrigation website. If cover crops were not terminated until recently, soil moisture may be depleted in those fields and irrigators should consider making 1-inch applications to replenish the rooting zone.
Insects. True armyworm (TAW) and black cutworm (BCW) traps in southwest Michigan this past week (ending May 22) were mostly empty. Purdue has ended their black cutworm trapping for the season although they still had catches of ~140 true armyworm at their two northern research stations. Purdue is reporting early feeding and even cutting of corn and soybean by black cutworm in their Pest and Crop Newsletter from last week.
Moth captures from traps set in southwest Michigan for the week ending on the given date.

17-Apr

24-Apr

1-May

8-May

15-May

22-May

Armyworm

TAW 1

69

1

1

1

0

0

TAW 2

1

11

11

7

8

0

TAW 3

2

1

0

5

1

0

TAW 4

0

13

1

9

5

2

Black cutworm

BCW 1

0

0

0

0

0

0

BCW 2

0

0

0

1

1

0

BCW 3

1

3

1

0

0

0

BCW 4

2

0

0

0

0

0
Plant & Pest Diagnostics - Know your problems was the topic of this week's MSU Extension Field Crops Virtual Breakfast with weed diagnostician Erin Hill. The Plant and Pest Diagnostic Clinic at MSU is one of numerous such centers around the country, most of which are housed at land grant universities. The MSU lab has several content area-specific specialists who handle identification of plants/weeds, insects/arthropods, pathogens and nematodes. They also assess abiotic injury, conduct weed herbicide resistance screening, and use molecular tools for diagnoses. They do not, however, conduct tissue nutrient analyses or soil testing beyond pH and EC—all MSU soil nutrient testing is now being contracted through A&L Great Lakes.
Hill talked in-depth about what is required when sending in samples for identification or analysis. The specific procedures depend on what is being analyzed, so check out the clinic's website for submittal forms and protocols. Identification usually begins with sending in high-quality photos of the plant/issue in question. These should be in-focus and zoomed in enough to show detail, but sending pictures with a wide view is also important to show any patterns on the plant or in the field. Although photos are sometimes forwarded to the clinic from the Ask Extension portal, it is best to email them directly to the clinic. When submitting photos or physical samples, including as much information as you can (e.g., crop variety/hybrid, planting date, name and timing of pesticide applications) will reduce the chances of necessary follow-up questions.
When mailing or dropping off physical samples be sure to follow the specific procedures outlined on the website. Common mistakes in shipping include: sending plant tissues in sealed plastic containers where fungus will grow rapidly; packaging soil in common paper bags; not air-drying saturated soils prior to shipping; and including too few leaf samples or too little of a plant in order to make an accurate identification or diagnosis. If shipping, it is best to send samples at the beginning of the week to avoid lengthy times where samples are sitting in a truck or on a loading dock.
The costs for services range from $0-10 for plant identification to $90 for herbicide screening. Prices double for samples coming from outside of Michigan. Once you receive your diagnostic report via email, you will be sent an invoice for services. Some services are covered by Michigan commodity groups. For example, Michigan Wheat covers the costs for general health and other analyses of wheat (not shipping). Michigan Soybean Committee covers costs for soybean cyst nematode (SCN) testing and for herbicide screening of weeds commonly problematic in Michigan fields (pigweed species, ragweeds, horseweed/marestail, and common lambsquarters).
If you were not able to join the session, the recordings will be closed-captioned and available at the Field Crops Virtual Breakfast webpage and the MSU Extension Field Crops Team social media platforms: Facebook, Spotify, YouTube, Apple Podcasts and Twitter.