Southwest Michigan field crops update – May 4, 2023
Cold weather appears to be behind us with temperatures remaining above 40 F through Mother's Day. With very little chance of rain until Sunday, the next few days will be the first major push to get fields planted this season.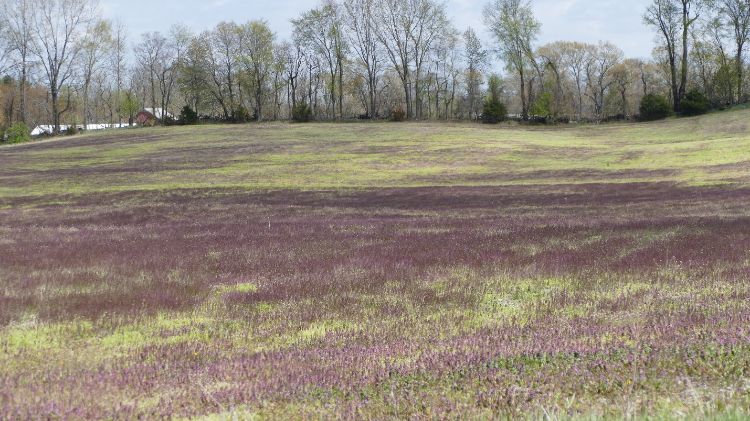 Weather
Temperatures this past week were, well, cold. Most of the region was 6-8 degrees below normal with a few pockets near the Indiana border even colder than that. Soil temperatures have held steady in the mid-40s, but they should climb above 50 degrees and remain there with the upcoming warm weather. With nighttime temperatures remaining above 40 degrees at least through Mother's Day, all systems are go for burndown applications and, if soil conditions are favorable, for planting.
We did not accumulate much in the way of heat units this past week, but again that will change sharply over the next couple of weeks. Growing degree day (GDD) totals will be important to monitor moving forward both in terms of seed germination and growth and for insect pest hatching and larval development. Both the 6-10 and 8-14 day outlooks call for warmer than normal weather through the middle of May.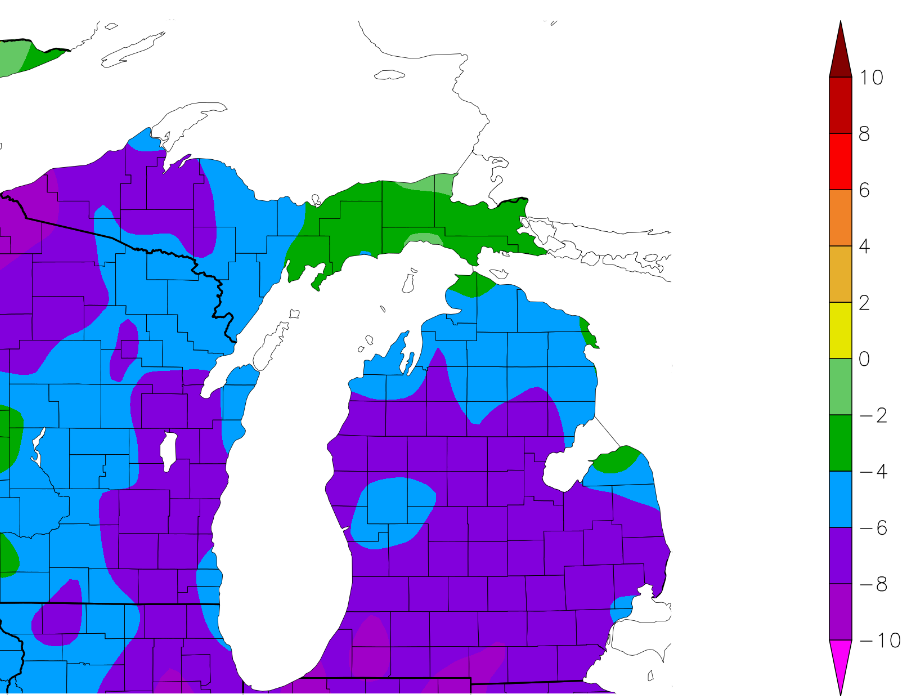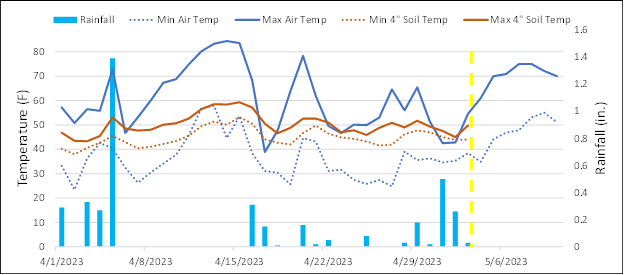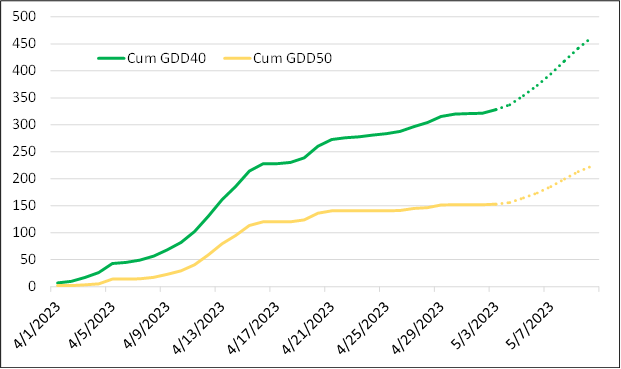 Even with almost daily rainfall since last Friday, precipitation totals were actually near normal this past week for southwest Michigan with about a half-inch more rain than normal in and around Cass County. For those of you with a summer vacation home in the Upper Peninsula, they had quite a time up there with record-setting snowfall near Marquette, Michigan. Michigan State University climatologist Jeff Andresen said reports of 30 inches of snow—on top of that much snowpack—and high winds made for an interesting week. They now have a flood watch as their "new crop" snow begins to melt.
Back down in southern Michigan, the coming week should be drier than normal with less than half an inch of rain predicted for most of the region. The current 6-10 day and 8-14 day forecasts predict normal to slightly below-normal chances of precipitation through at least May 17. Andresen says his prediction would lean toward below-normal for this timeframe.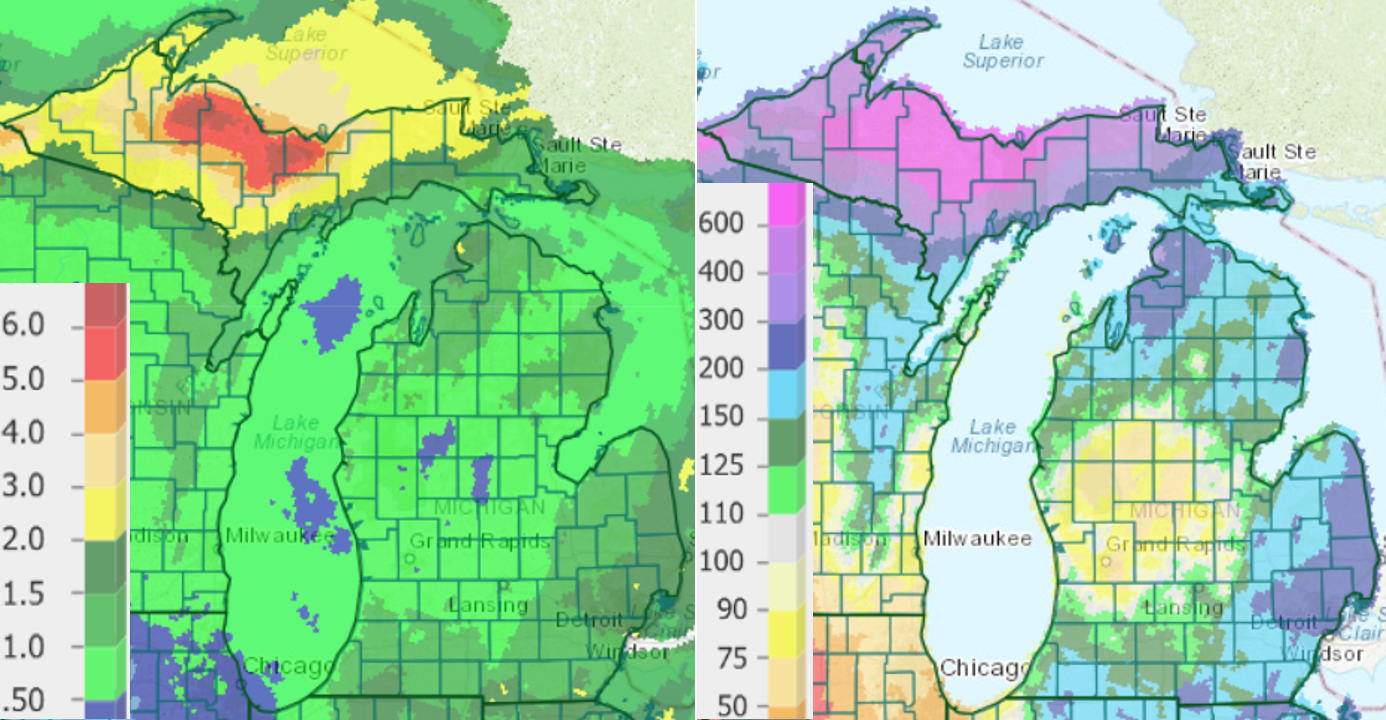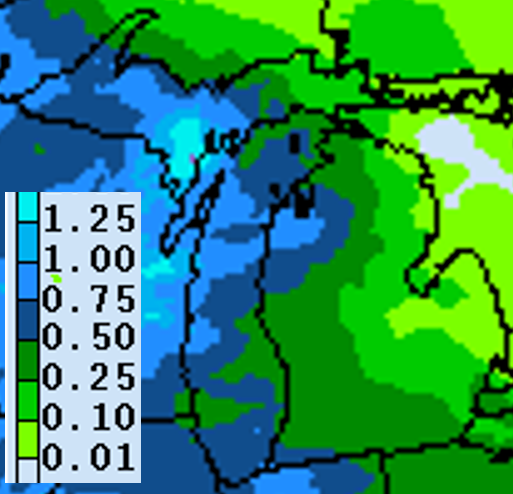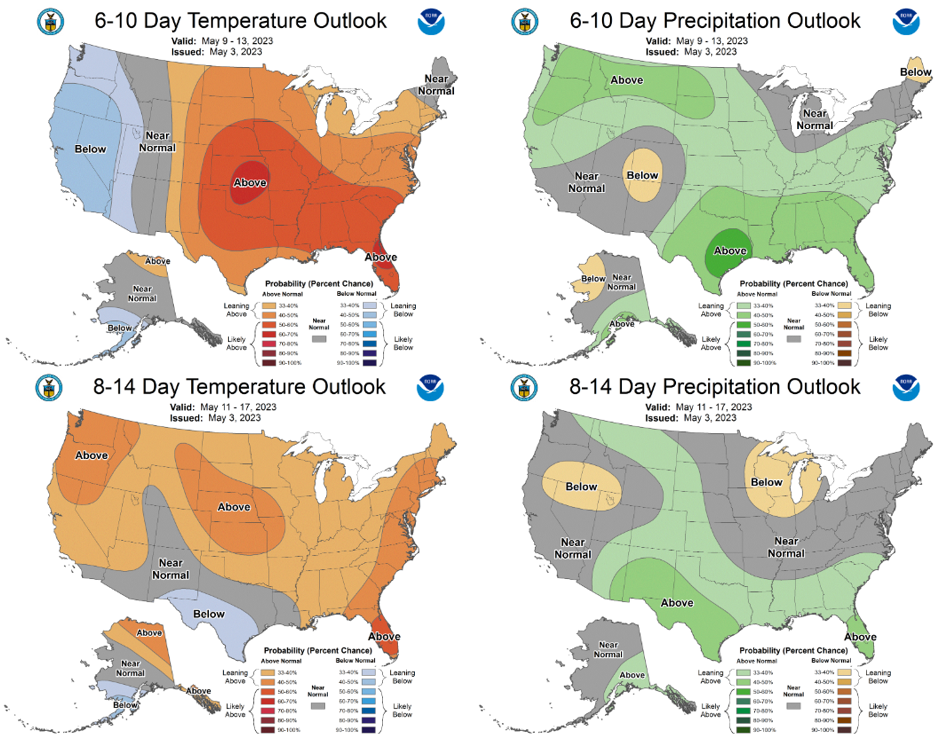 Crops and pests
Corn and soybean planting progress is close to the five-year average (7% planted) with 2% and 6% planted, respectively, as of April 30 according to the latest USDA Crop Report.
As explained last week, once seed is planted, 100-120 GDD50 are required for emergence in corn and closer to 130 for soybean. As a refresher, GDD50 is calculated as the average daily temperature minus 50. For example, the forecast for Sunday, May 7, in Kalamazoo is a high of 74 and a low of 56 with the resulting average temperature being 65 degrees. Subtracting 50 degrees gives us a prediction of 15 GDD50 added that day. If corn were planted on May 3, that would mean emergence could occur in nine to 10 days according to the forecast for Kalamazoo in AccuWeather. However, remember that this should be calculated with soil temperatures until emergence, which is harder to predict than air temperature, so the corn may not emerge until several days after that given current soil temperatures.
Forecast for Kalamazoo air temperature according to AccuWeather with associated GDD base 50 accumulation for May 4-18.

Date

High

Low

Average

GDD50

Cum GDD50

4-May

65

46

55.5

5.5

5.5

5-May

73

48

60.5

10.5

16

6-May

74

51

62.5

12.5

28.5

7-May

74

56

65

15

43.5

8-May

75

55

65

15

58.5

9-May

70

51

60.5

10.5

69

10-May

75

50

62.5

12.5

81.5

11-May

74

56

65

15

96.5

12-May

76

58

67

17

113.5

13-May

75

57

66

16

129.5

14-May

74

57

65.5

15.5

145

15-May

74

56

65

15

160

16-May

69

53

61

11

171

17-May

68

52

60

10

181

18-May

68

50

59

9

190
Winter wheat ratings in Michigan held steady according to the current USDA Crop Report with 64% rated as good or excellent and an additional 30% rated as fair. Wheat has reached jointing (Feekes 6) in almost all fields in southwest Michigan, and a few earlier varieties have reached Feekes 7 (two nodes visible, see photo). According to MSU wheat specialist Dennis Pennington, the wheat crop around the state looks better this year than it has in a long time, and he is seeing the same crop development that we are seeing even with the recent cold temperatures.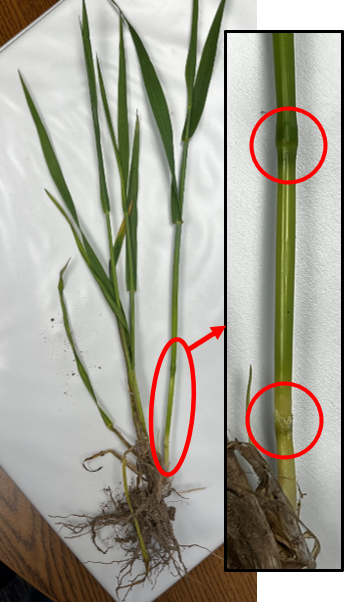 Insects. True armyworm (TAW) and black cutworm (BCW) trap counts in Indiana this past week (April 19-26) were similar to previous weeks but falling. Counts from southwest Michigan were low across the board. MSU field crop entomologist Christina DiFonzo says she has also gotten very low trap counts near Lansing, Michigan, but moth flights are highly erratic, so counts in one county may be off the charts while those in an adjacent county remain low.

Moth captures from Indiana for the week ending 4/26/23. Black cutworm trap counts marked with an asterisk were considered "significant" by Purdue staff.

BCW

Week 1

Week 2

Week 3

Week 4

Allen

0

1

0

Allen

1

2

3

3

Allen

61*

50*

26*

43*

Elkhart

5

30*

8

8

Jasper

65*

3

4

0

Jasper

0

9

10

11

Kosciusko

13

24*

24*

8

Lake

151*

948

52*

16

Lake

5

16

19*

6

Lake

0

1

9

7

LaPorte

26*

27*

27*

6

Porter

16*

39*

27*

17

St. Joseph

0

25*

Whitley

74*

76*

58*

11

Whitley

32*

15

5

13

TAW

Pinney

60

296

216

54

NEPAC

0

259

179

13
Moth captures from traps set in southwest Michigan for the week ending on the given date.

April 17

April 24

May 1

Armyworm

TAW 1

69

1

1

TAW 2

1

11

11

TAW 3

2

1

0

TAW 4

0

13

1

Black cutworm

BCW 1

0

0

0

BCW 2

0

0

0

BCW 3

1

3

1

BCW 4

2

0

0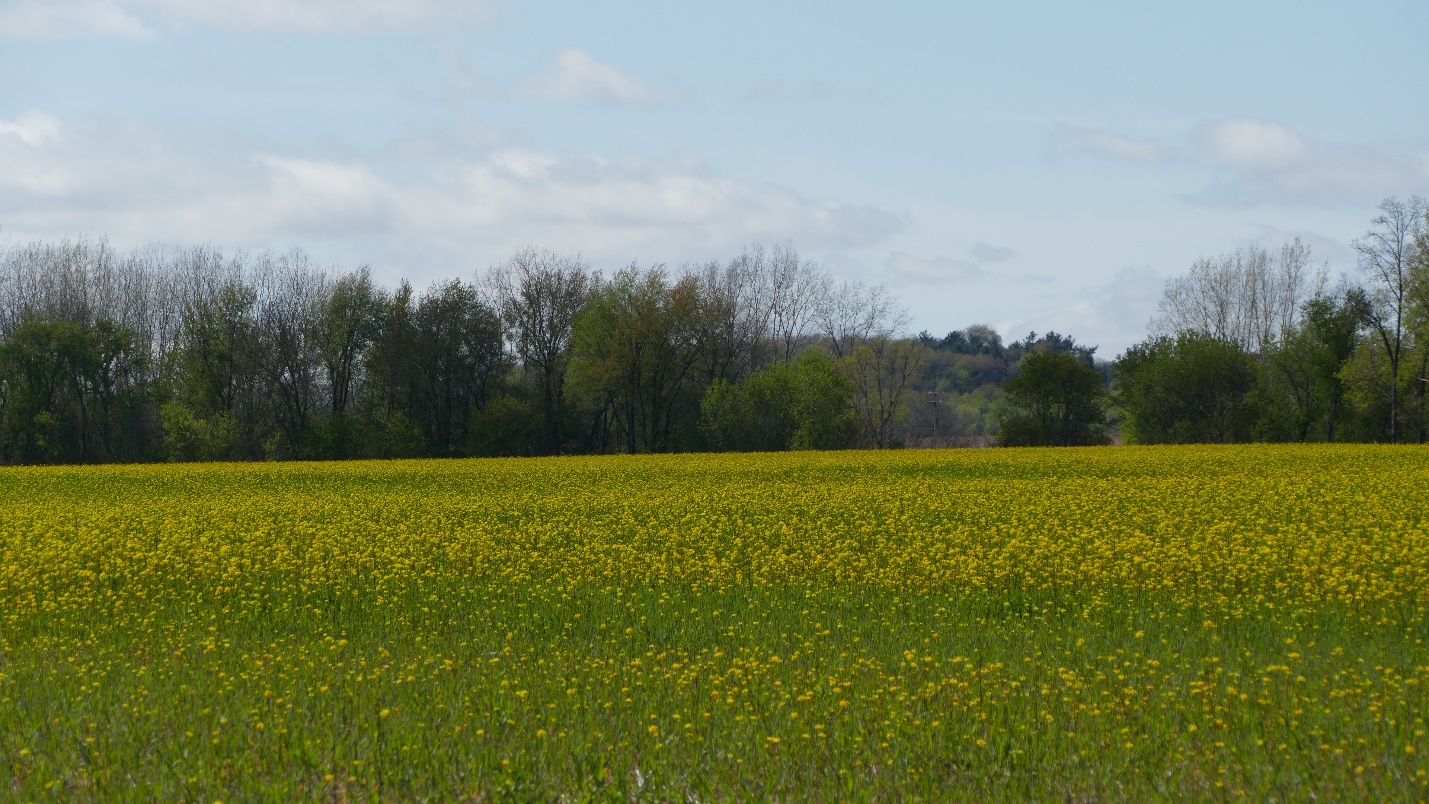 Wheat foliar and head scab management was the topic of this week's MSU Extension Field Crops Virtual Breakfast with field crop pathologist Marty Chilvers. There are several fungal, bacterial and viral pathogens that can infect wheat, including powdery mildew, stripe rust and Fusarium head blight, also known as head scab. Different environmental conditions favor different diseases. For example, powdery mildew is favored by cool and dry conditions, particularly where excess nitrogen has been applied. However, stripe rust—as was prevalent in 2016—is favored by cool and wet conditions.
Variety selection is crucial if you have had a history of a given disease in your area. Another critical management decision is timing of fungicide applications. Chilvers referred to three typical fungicide timings based on crop development: T1 right around jointing (Feekes 5-6); T2 at flag leaf (Feekes 9); and T3 at flowering (Feekes 10.5.1). For example, in the 2016 stripe rust outbreak, a T1 application proved to be too early while the T3 timing proved to be too late. He showed research results looking at yield response to one or two fungicide applications at different timings. All applications improved yield over the non-treated control with the T1 plus T3 treatment achieving just over a 10 bushels per acre increase on average. However, Chilvers noted that more applications of a given fungicide increase the risk of developing resistance to the fungicide over time. A T3 application will typically result in the greatest yield response with the additional benefit of also protecting against head scab.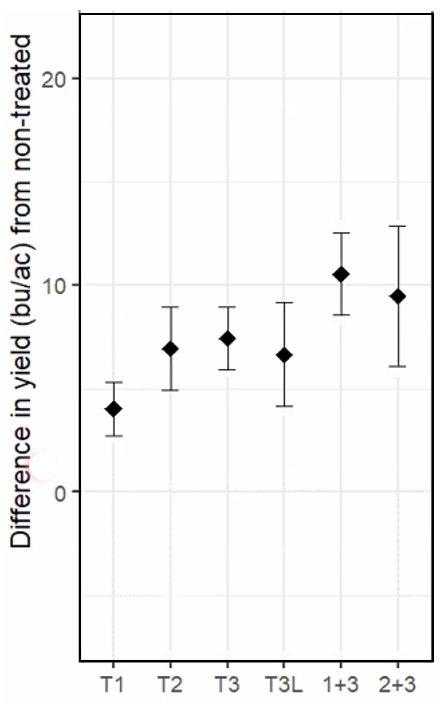 Head scab is caused by Fusarium graminearum, the same pathogen that causes Gibberella stalk rot, ear rot and some seedling diseases in corn, which is why it is generally not recommended to plant wheat after corn. Head scab is favored by warm, wet weather during flowering. The ideal time to apply a fungicide to protect against head scab is when 50% of heads are flowering (Feekes 10.5.1). The challenge is that wheat can advance from heading to end of flowering in a week.
Chilvers says the options for effective fungicides in wheat are expanding. Prosaro and Caramba have been the recommended fungicides for head scab over the past several years. However, Miravis Ace (Syngenta), Prosaro Pro (Bayer Crop Science) and Sphaerex (BASF) have also provided good control in university research trials. Refer to the Fungicide Efficacy for Control of Wheat Diseases produced by the Crop Protection Network for guidance in selecting effective fungicides.
Michigan wheat growers have other important resources available to help in making management decisions. The Michigan Wheat Program (checkoff program) has funding to cover diagnostic fees for identifying diseases and other problems in wheat through MSU Plant & Pest Diagnostics. The Fusarium Risk Tool uses weather forecasts to predict the risk of head scab in the U.S.
If you were not able to join the session, the recordings will be closed-captioned and available at the Field Crops Virtual Breakfast webpage and the MSU Extension Field Crops Team social media platforms: Facebook, Spotify, YouTube, Apple Podcasts and Twitter.