Southwest Michigan field crops update – September 14, 2023
Advanced corn and soybean fields are reaching physiological maturity this week. Knowing the potential in-field dry down rates will help farmers better plan for harvest timing and bin drying strategies.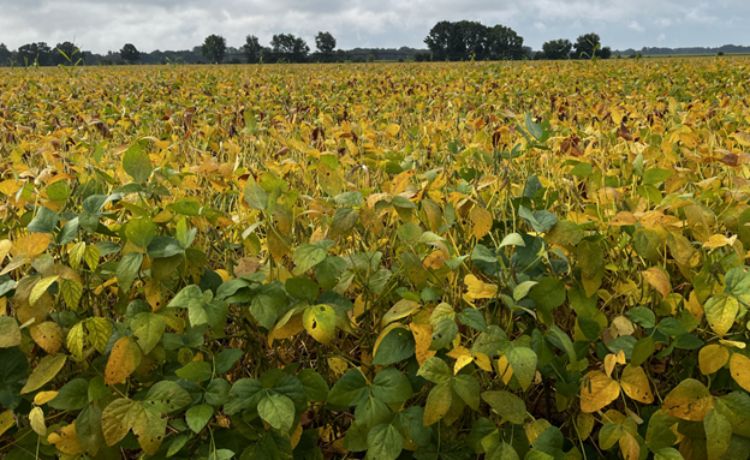 Weather
Temperatures last week were near normal on average with slightly warmer than normal nights and slightly cooler than normal days. We accumulated only 72 growing degree days (GDD base 50) which was nearly 20 units less than predicted. Much of the state is a week or more behind in heat units although some portions of southwest Michigan are near normal or even slightly ahead. Michigan State University climatologist Jeff Andresen says an upper-air troughing feature will give way to a ridge that will bring warm and dry air to the Midwest and remain for the next one to two weeks or longer. The forecasted reference evapotranspiration rate (FRET) is roughly 0.9 inches for the week ending Sept. 20 with daily rates ranging from a few hundredths of an inch below normal to a few hundredths above normal by next week. Only 76 GDD50 are predicted for the coming week. Both the 6-10 and 8-14 day outlooks predict strong chances of above-normal temperatures heading into the last week of September.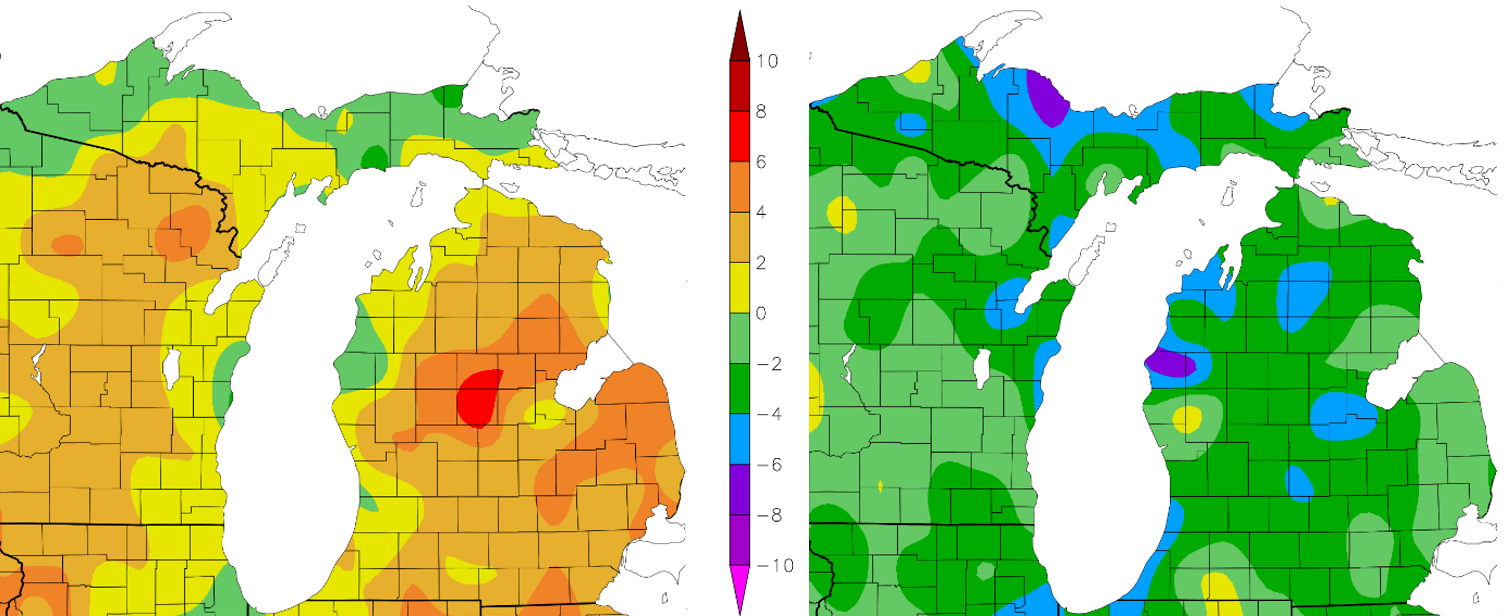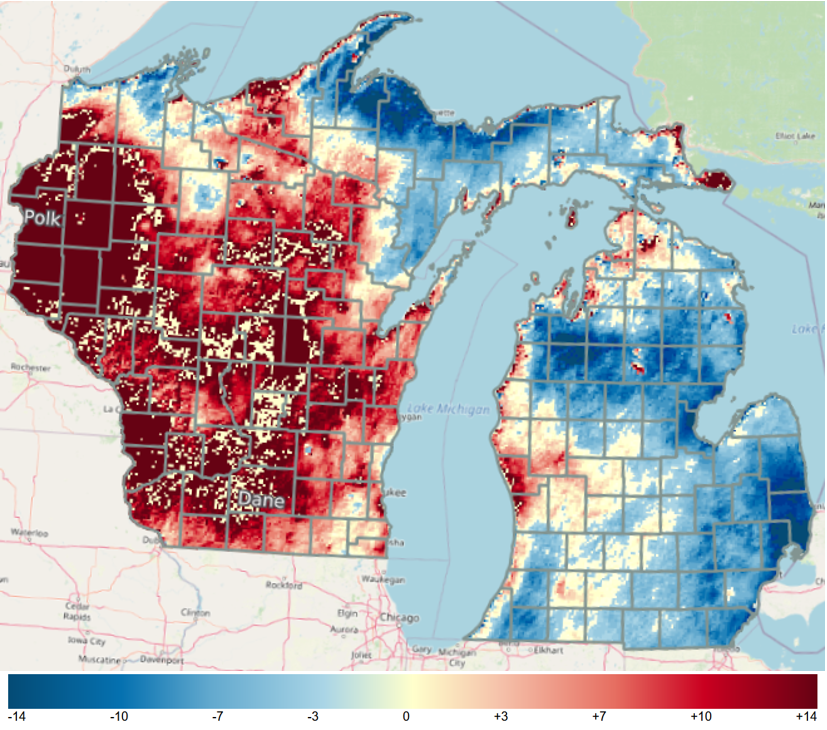 Between 0.25 and 1.25 inches of rain fell across the region this past week with most areas receiving a half inch or so. Aside from Berrien County and portions of Cass County, the region has received 25-50% less rain than normal over the past month. The current release of the Drought Monitor shows the northern half of Indiana and a portion of southern Michigan being abnormally dry with D1 drought impacting a small pocket right along the state border.
The precipitation forecast for the coming week predicts less than 0.25 inches for southwest Michigan, all of which is predicted for this weekend. Andresen says a weak frontal boundary currently over the central states will bring a chance of small amounts of rain Saturday, Sept. 16, into Sunday. The 6-10 day outlook calls for below-normal chances of precipitation while the 8-14 day outlook predicts near-normal chances although Andresen says it looks like warm and dry conditions will persist through the end of the month.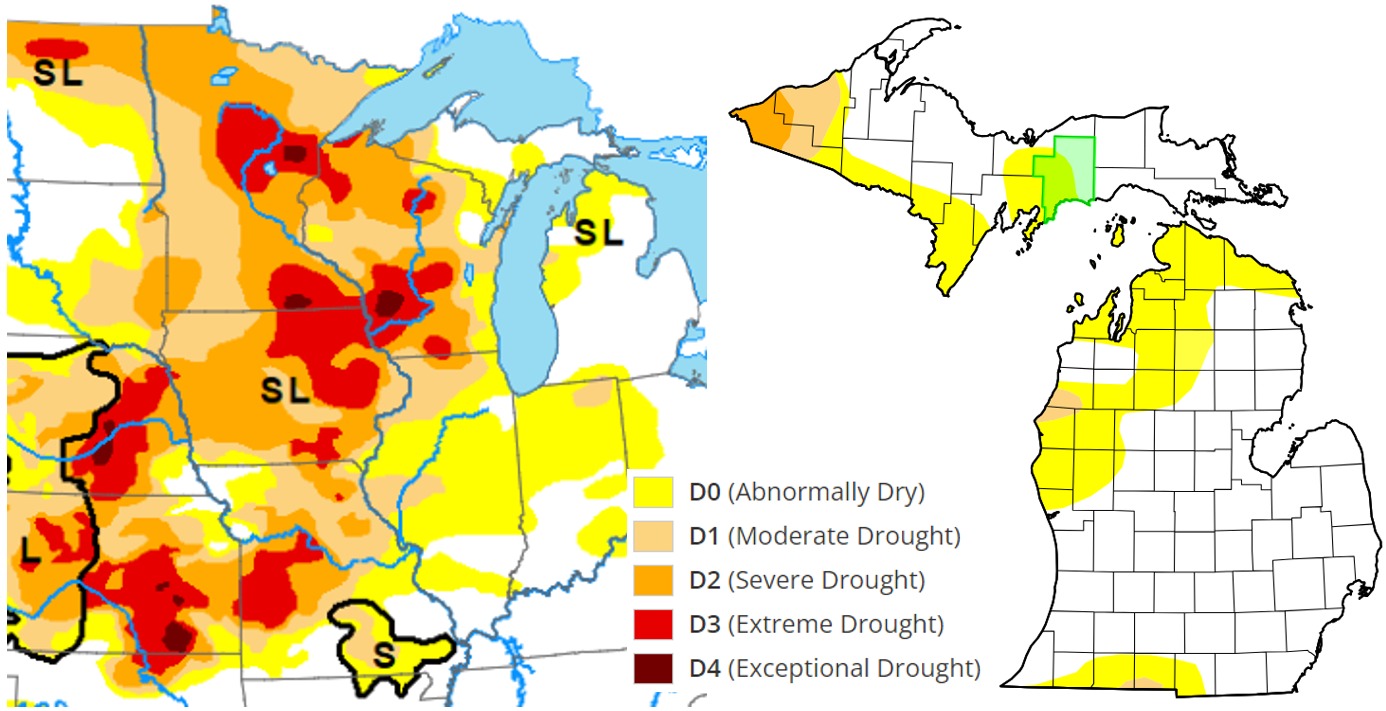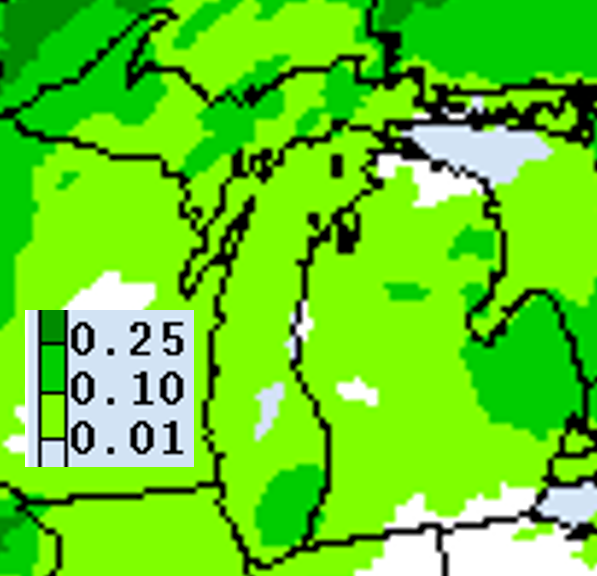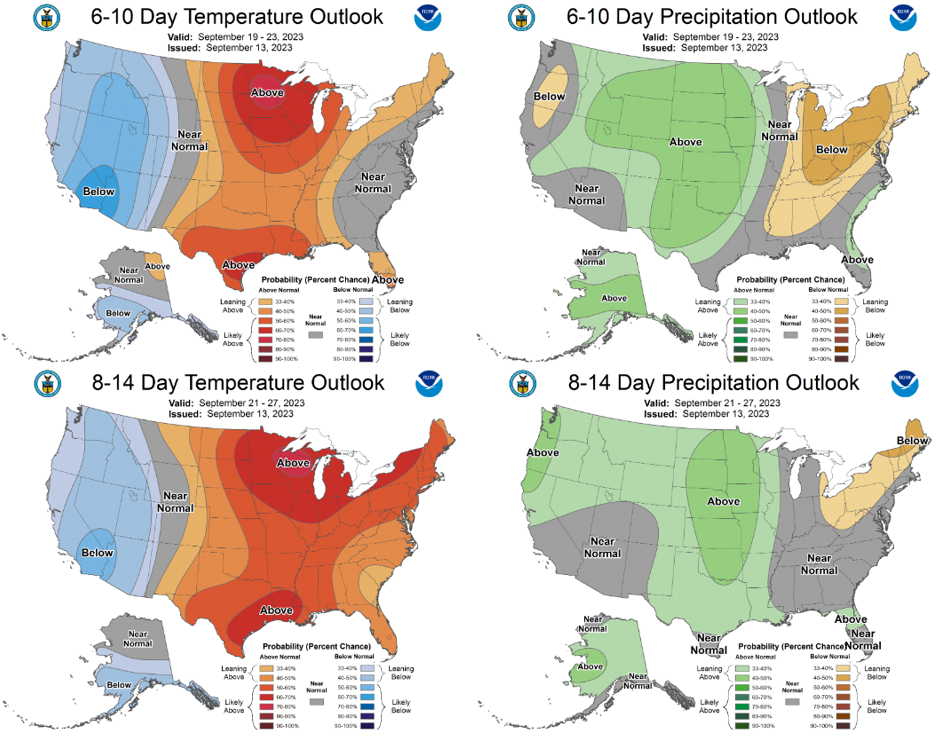 Crops and pests
Corn development continues to be near the five-year average according to the most recent United States Department of Agriculture Crop Update with 58% of corn in Michigan having reached the dent stage (61% average) and 10% having reached black layer (12% average). Soybeans on the other hand are behind with only 13% of the crop in Michigan dropping leaves compared with 27% for the five-year average. However, as is the case with corn, soybean development in the region is highly varied with most fields still at full seed (R6) while a few more advanced fields visited are nearing full maturity (R8). Two recently-published Michigan State University Extension articles—"Harvest recommendations for soybean fields with variable maturity" and "Corn growth and maturity response to variable weather conditions"—address late-season harvest issues associated with variable crop development within fields.
One corn field visited this week had just reached black layer (R6) while most others were still mid-dent (R5.5). To check for black layer, break the cob in half to see whether the milk line has reached the base of the kernels (i.e., no milk line visible). Then take several kernels and scrape the pedicel to look for a layer of tissue that is brown to black in color. Once physiological maturity has been reached, all grain dry down occurs through the kernels themselves and is dependent on weather (temperature, humidity, sunlight) and factors related to the plant itself (husk thickness, degree of husk openness, whether ears hang down and shed rainfall, kernel pericarp thickness, etc.).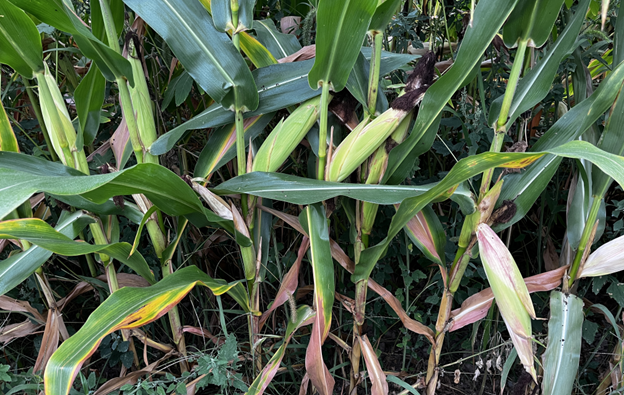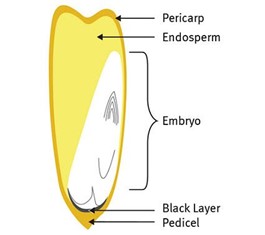 Knowing potential in-field dry down rates is helpful for planning harvest timing and bin drying. Below are research results and tools from several sources to help with estimating dry down rates for corn and soybean.
According to Iowa State University Extension, "On average, typical seasonal drying rates range from 0.4 to 0.8% moisture loss per day. If the fall months vary from normal in terms of temperature or moisture, the rate of dry down will differ. For example, wet and cool weather will delay drying. We've recorded seasonal dry down rates less than 0.3% per day. On the other hand, warm dry weather speeds drying rates. Kernels could lose up to 1.0% moisture per day. Considering that corn at maturity has about 30% moisture content it could easily take two to four weeks for grain moisture to drop to 15%."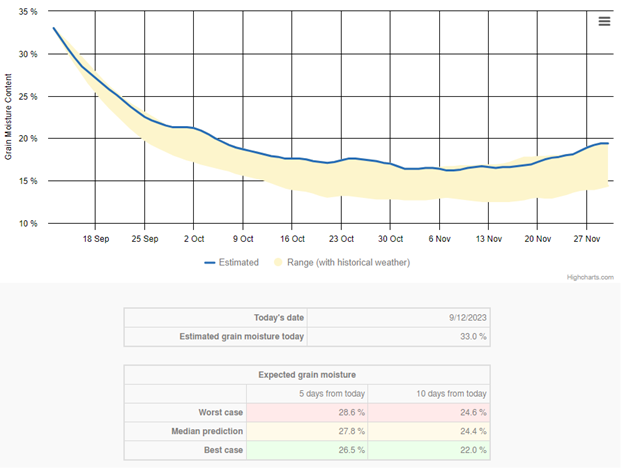 We don't often talk about rate of soybean dry down, mainly because it occurs so much faster than with corn and is seldom a problem with harvest timing. The following comments and research results come from Iowa State University Extension regarding soybean dry down.
"During senescence carbohydrates are converted into oils. Soybean seed moisture changes very little, remaining near 60% during the de-greening period. As the pods turn to mature color at the beginning of maturity stage (R7), seed dry matter accumulation is complete and seed moisture rapidly decreases.
"To quantify the rate of soybean dry down and investigate how planting date and maturity group affect the dry down rate we utilized a field experiment near Ames, Iowa. The experiment contained four planting dates and four maturity groups over three years. Soybean pods were collected to determine soybean grain moisture from September through October. Dry down rate was affected by maturity group selection, planting date, and year (data not shown).
"During the first 12 days after maturity, the average dry down rate was 3.2% per day, which is about five times faster than that of corn. After that period, the dry down rate significantly slows down or stops completely, stabilizing at about 13% moisture….However, if weather conditions are conducive, grain dry down can be achieved in as early as nine days after maturity."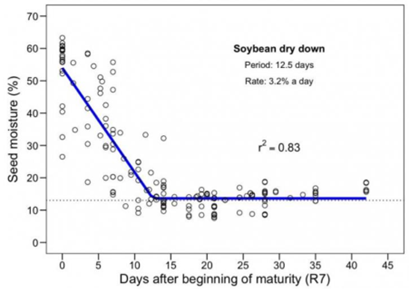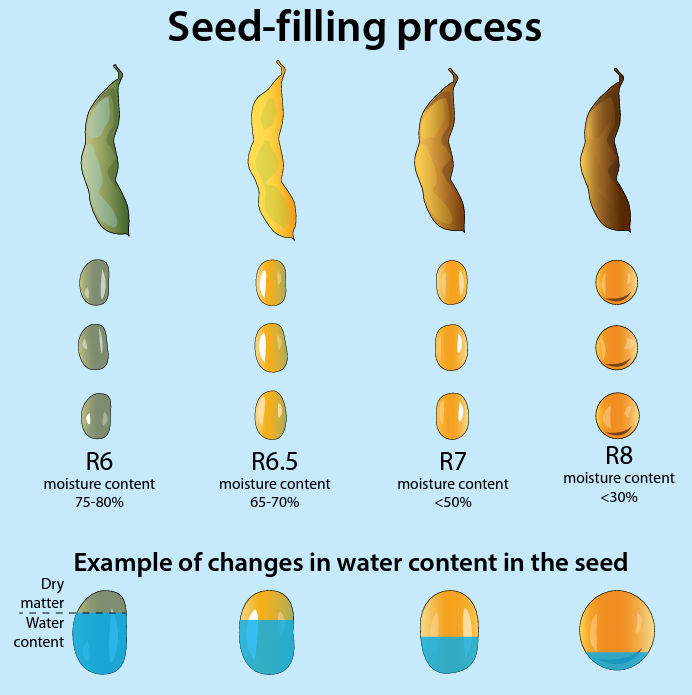 Irrigation. A summary of crop coefficients and water needs for corn and soybean in the coming week is found in the table below with an estimated weekly FRET value of 0.9 inch. Irrigation is recommended to continue until black layer in corn and until half of a soybean field has turned yellow. Note that tapering off irrigation at the end of the season does not take into account a cover crop that may need additional moisture to make the most of the investment.
Summary of crop water need for corn and soybean given a weekly evapotranspiration rate of 0.9 inches.

Crop stage

Crop coefficient (Kc)

% of growing season

Water needed this week (inches)

Corn

Beginning dent

1.2

80

1.08

Full dent

1.0

85

1.50

Black layer

0.66

90

0.59

Full maturity

0.11

100

-

Soybean

Full seed (R6)

1.2

80

1.08

Beginning maturity (R7)

1.0

89

1.50

Maturity (R8)

0.2

100

-
"Monitoring Nematode Resistance in Soybeans" was the topic of this week's MSU Extension Field Crops Virtual Breakfast with MSU Extension nematologist Marisol Quintanilla. Soybean cyst nematode (Heterodera glycines) is the #1 yield-reducing pathogen of soybeans in North America. It infects soybean roots where juveniles penetrate the root and develop to adulthood. The bodies of adult females fill with eggs, some of which are released outside the body and can hatch immediately while most remain inside the female's body which dies, hardens and becomes a cyst that can persist for a decade or longer. The cysts appear as small grains attached to soybean roots (much smaller than nodules containing nitrogen-fixing rhizobium) that turn from white to yellow to tan over time.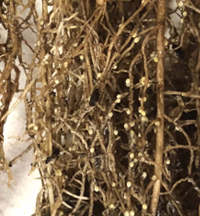 Above-ground symptoms include stunted and yellowing plants, although symptoms may not occur even though soybean cyst nematode are impacting yield. Below-ground symptoms include the soybean cyst nematode cysts themselves, stunted roots and reduced nodules. There is some link between soybean cyst nematode damage and sudden death syndrome severity, but more needs to be learned about this relationship.
The first line of defense against soybean cyst nematode is selecting varieties that are less susceptible. The two most common sources of genetic resistance are PI88788, which is found in the overwhelming majority of modern soybean varieties, and Peking. Quintanilla recommends rotating between planting soybeans with these sources of resistance with two years of planting PI88788 varieties and one year of Peking varieties. She also recommends rotating to non-host crops as often as possible, and new research findings suggest that including wheat in the rotation may serve to reduce soybean cyst nematode egg numbers. Seed treatments (e.g., iLevo, Saltro) are also available that are thought to suppress soybean cyst nematode.
Quintanilla's lab has performed research investigating the impacts of different cover crops on soybean cyst nematode populations. One finding suggests that a combination of cereal rye, "trap crop" soybeans, and white mustard proved effective at reducing soybean cyst nematode numbers. Other studies looked at the impact of various manure applications on soybean cyst nematode numbers. One study showed that layer chicken manure and a layer ash blend both significantly reduced soybean cyst nematode numbers while an application of a high-carbon dairy manure resulted in significantly higher numbers of eggs hatched. Quintanilla suggested that one strategy in managing soybean cyst nematode could be to apply certain types of manure, such as the high-carbon dairy manure, to corn in the rotation to induce the soybean cyst nematode eggs to hatch on a "suicide mission," reducing egg numbers for when soybean is planted.
Sampling your soils is the best way to verify what extent soybean cyst nematode may be causing problems in your fields. The best time to take soil samples is right after soybean harvest, pulling soil cores from within the root zone. The Soybean Checkoff pays for processing soybean cyst nematode soil samples through the MSU Plant and Pest Diagnostics lab for all Michigan soybean farmers.
Quintanilla says her lab continues to conduct research with soybean cyst nematode management, and they will be conducting a survey this fall to assess soybean cyst nematode populations, distribution throughout Michigan, HG types and factors influencing their presence. If you would like to take part in that survey, please send an email to yazdanif@msu.edu. More information about soybean cyst nematode can be found by visiting the Soybean Cyst Nematode Coalition and the Soybean Research and Information Network websites.
If you were not able to join the session, the recordings will be closed-captioned and available at the Field Crops Virtual Breakfast webpage and the MSU Extension Field Crops Team social media platforms: Facebook, Spotify, YouTube, Apple Podcasts and Twitter.