Southwest Michigan field crops update – September 7, 2023
Corn and soybean crops that are more advanced are nearing the finish line to physiological maturity—will later plantings and longer-season maturity groups follow close behind or bump up against a killing frost this fall?
Weather
Temperatures last week were 3-6 degrees Fahrenheit warmer than normal due to warm nighttime and daytime temperatures. We accumulated 135 growing degree days (GDD base 50). Michigan State University Extension climatologist Jeff Andresen says an upper-air troughing feature will dominate the middle of the country with air flow out of Canada bringing cool temperatures this coming week. The forecasted reference evapotranspiration rate (FRET) is only 0.8 inch for the week ending Sept. 13 or about 0.25 inch lower than normal. Only a mere 91 GDD50 are predicted for the coming week. Both the 6-10 and 8-14 day outlooks call for below-normal temperatures.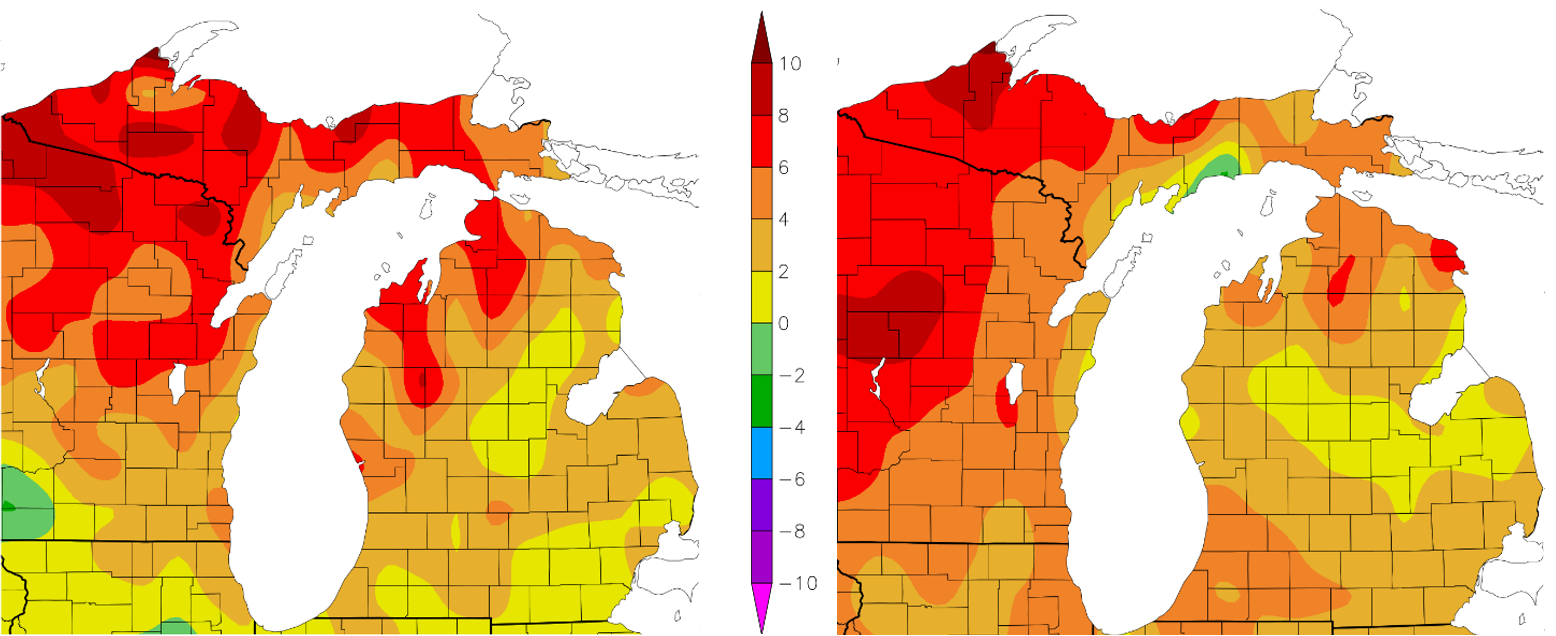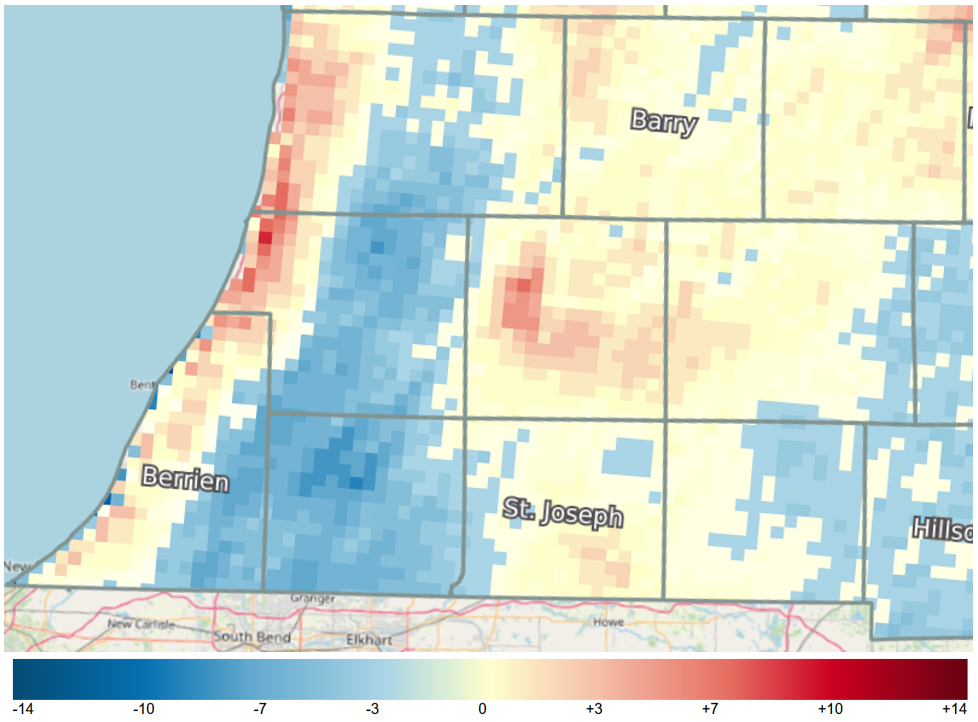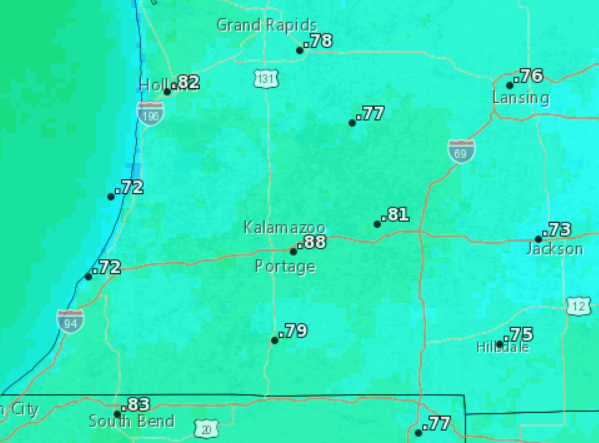 No rain fell this past week over much of the region prior to the storm fronts that passed through yesterday (Sept. 6). The past two weeks have been extremely dry with most of the southwest receiving less than 25% of normal rainfall. The leading and trailing storm fronts yesterday brought widespread rainfall which, in some cases, provided enough water to get crops through the next seven to 10 days. The precipitation forecast for the coming week predicts less than 0.50 inch for southwest Michigan and that is not expected until next Tuesday. The 6-10 day outlook calls for near-normal chances of precipitation (Andresen would have pegged it at below-normal) while the 8-14 day outlook predicts below-normal chances.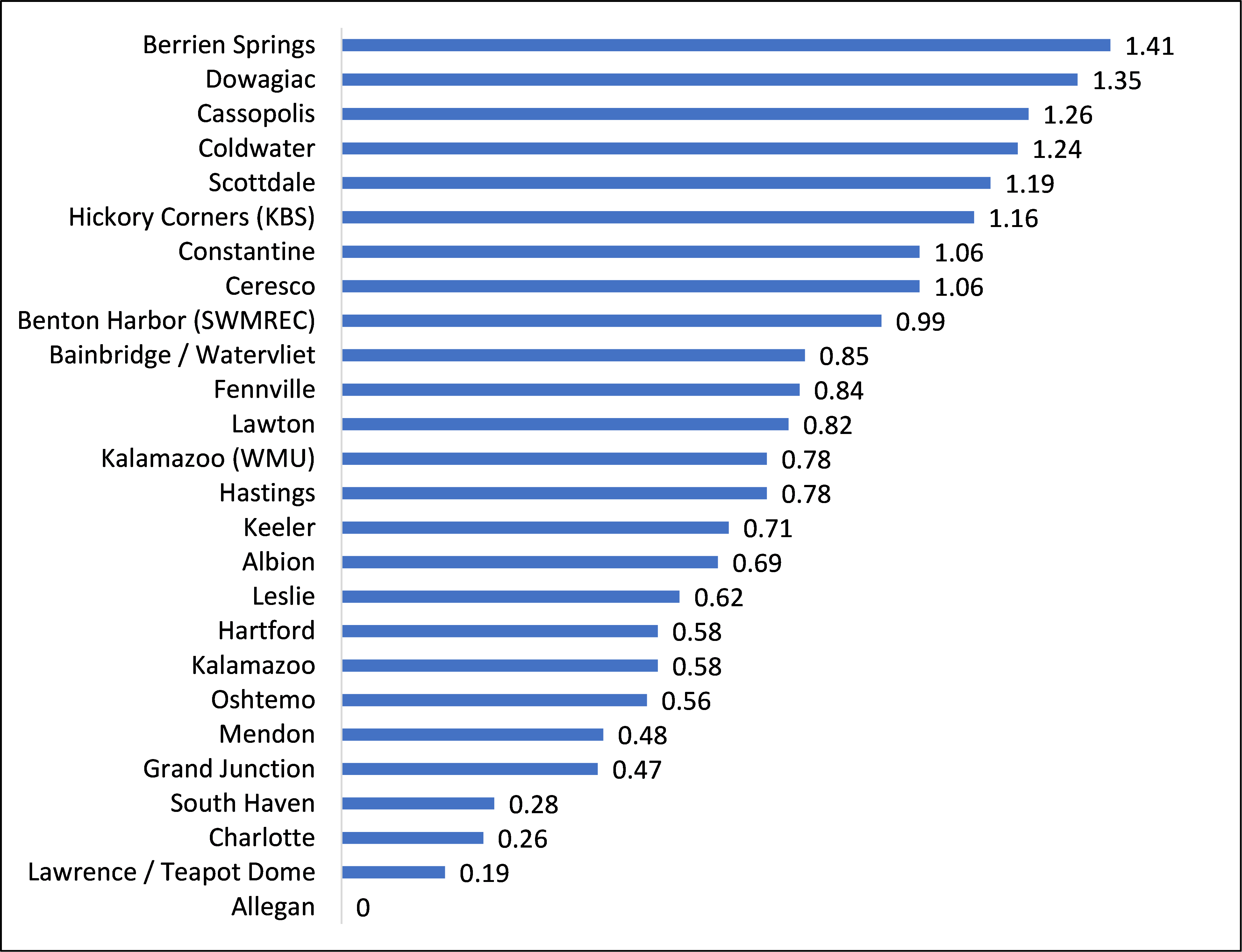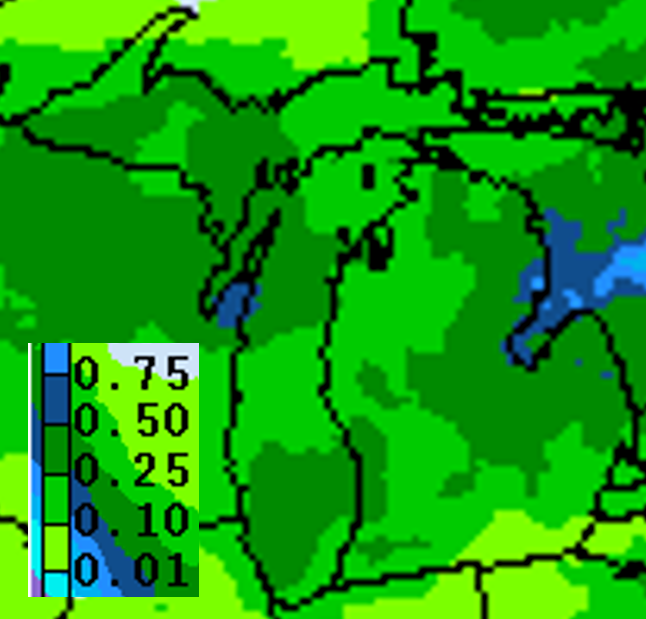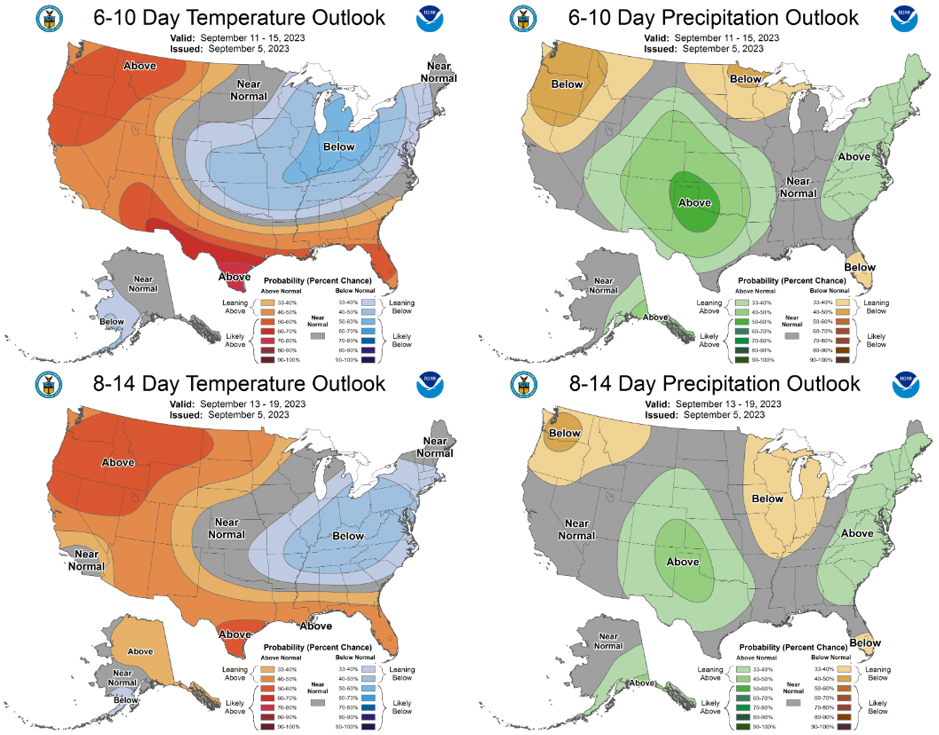 Crops and pests
Corn and soybean development are near the five-year average according to the most recent United States Department of Agriculture Crop Update. Corn in Michigan is 44% dented (45% average) while 95% of soybeans are setting pods, which is the five-year average. Advanced corn fields are nearing full-dent (R5.75) and are at 3/4 milk line. Corn at 3/4 milk line is approximately 100 GDD50 from black layer, so with the cool week ahead, the most advanced fields won't reach physiological maturity for another seven to 10 days.
All soybean fields visited this week were at or near full seed (R6) aside from double-crop fields, which had reached full flower (R2). However, several double-crop fields in Berrien County looked much further along with several more trifoliates. No pods with mature color were found (aside from diseased plants) although yellowing is beginning to occur more broadly in some fields.
As temperatures turn cooler over the next couple of weeks, thoughts of early frost events and impacts on corn and soybean harvest arise. Historically, the first killing frost occurs between Oct. 22 and 26 in the southwest except for Berrien County (Nov. 2). Most agronomists agree that temperatures of 28 F or lower (a "killing frost") for even a few minutes can kill corn and soybean plants although a "simple frost" at temperatures above 28 F and even above 32 F for several hours can also injure plants. Impact of an early killing frost on grain yield and quality is also a factor of what growth stage the crop was at when the frost occurred. Many resources exist to help farmers gauge potential yield loss with early frost events of differing severity levels at different crop growth stages. Here are a few resources with accompanying links.
Calendar days to maturity and percent of yield produced at various soybean growth stages.

Growth stage

Days to physiological maturity1

% of total yield

Full seed (R6)

35

50

Begin maturity (R7)

10

95

Full maturity (R8)

0

100

Taken from "Evaluating Frost Damage in Soybean," North Dakota State University Extension, Source: University of Minnesota

1 Days to physiological maturity are for a full, late-maturity soybean in southern Minnesota (similar to Northern Lower in Michigan)
Soybean yield response to freeze damage

Growth stage

Yield reduction

R4 Full Pod

70-80%

R5 Beginning Seed

50-70%

R6 Full Seed

15-30%

R7 Beginning Maturity

0-5%

R8 Full Maturity

0%

Excerpted from "What Happens to Soybeans When They Get Frosted" in FieldCropNews. Albert Tenuta, Field Crop Plant Pathologist, and Horst Bohner, Soybean Specialist, OMAFRA
Corn grain yield losses following plant defoliation and immediate harvest at three stages of kernel development, compared to losses when defoliated at same stages and left in the field to mature

Stages of kernel development

Harvested at

Defoliation

Maturity

% yield reduction

Soft dough

51-58

34-36

Fully dented

39-42

22-31

Late dent

11-12

4-8

From the National Corn Handbook (NCH-57) "Handling Corn Damaged by Autumn Frost." Source: Afuakwa, J. J., and R. K Crookston. 1984. Using the kernel milk line to visually monitor grain maturity in maize. Crop Sci. 24:687-691.
Whole-plant and kernel moisture of corn at four stages of kernel development

Stages of kernel development

% Moisture Concentration

Kernel

Whole plant

Soft dough

60-62

--

Fully dented

54-55

73-76

Late dent

40

68-69

Mature

23-30

58-64

* Maturity indicated by black layer formation and/or milk disappearance from kernel under normal development. Premature frost or extended cool temperatures may cause black layer formation at earlier stages arid wetter moistures.

From the National Corn Handbook (NCH-57) "Handling Corn Damaged by Autumn Frost." Sources: (Kernel moistures) Afuakwa, J. J., and R. K. Crookston. 1984. Using the kernel milk line to visually monitor grain maturity in maize. Crop Sci. 24:687-691.

(Whole-plant moistures) Kurle, J. E., and H. K. Crookston. 1986. A visual indicator of when to harvest corn for silage. Agron. Abstr. American Society of Agronomy, Madison, WI p. 116.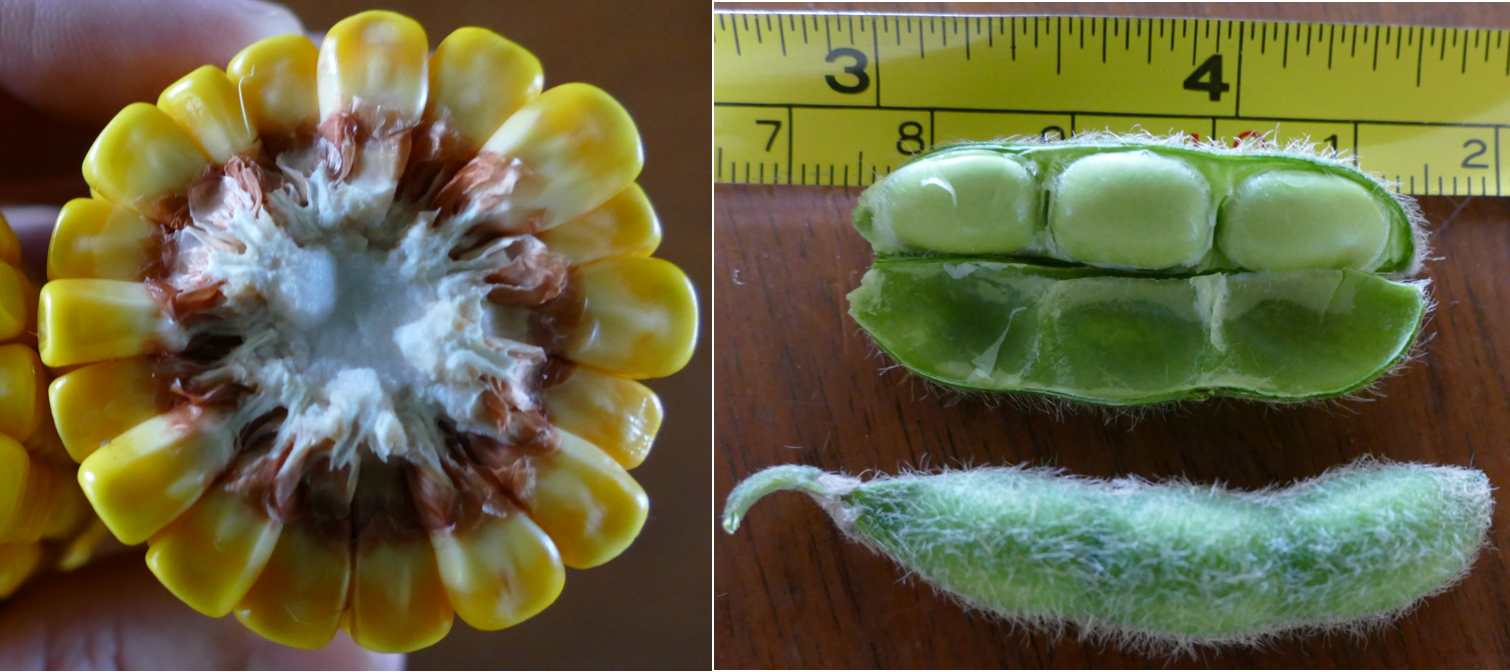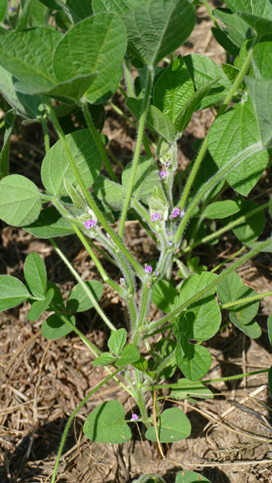 Irrigation. Both corn and soybean in almost all fields remain at peak water use (Kc=1.2). With the estimated weekly FRET at around 0.8 inch, both crops will use 1.0 inch of water this coming week. Water use will begin to drop off soon (Kc=1.0) at full dent (R5) in corn and beginning mature pod (R7) in soybean.
"Marketing Your Grain Crops" was the topic of this week's MSU Extension Field Crops Virtual Breakfast with MSU Extension farm business educator Jon LaPorte. Due to overlapping commitments, I was unable to summarize the session, but the recordings will be closed-captioned and available at the Field Crops Virtual Breakfast webpage and the MSU Extension Field Crops Team social media platforms: Facebook, Spotify, YouTube, Apple Podcasts and Twitter.