Southwest Michigan field crop regional report – August 16, 2016
Dry conditions have taken their toll on crop growth and paved the way for a surge in certain pest populations, but recent rains may help turn things around.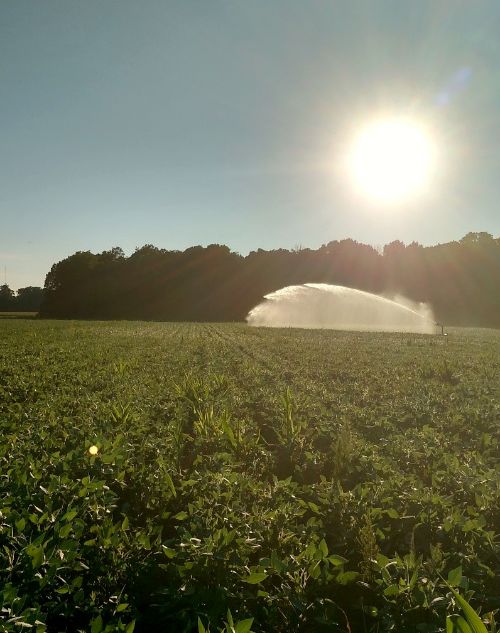 Weather
In the first two weeks of August, temperatures continued to be above normal while rainfall was all but non-existent in most areas in southwest Michigan. Most areas were running 3-to-6-inch rainfall deficits, although spatial variability was "off the charts." Rainfall at all Michigan State University Enviro-weather stations were at least 10 percent below the average of the previous five years with a few sites over 50 percent lower (Figure 1). Comparisons to the most recent drought of 2012 have been common, and several locations have received less rainfall than that year since planting, although many have not yet hit those levels. A key difference between this year and 2012, and a likely reason why many growers have reported crops don't look as bad as they should given the dry conditions, is that most locations had ample moisture going into the season.
Two recent storm fronts that passed through the region Aug. 12-13 and 15-16 brought significant rainfall with local flooding occurring in many locations (Figure 2). An average of 4.6 inches of rain fell during this period, although reports of over 10 inches have come in from many locations, with the heaviest rain falling in a southwest-to-northeast track from South Bend, Indiana, to Lansing, Michigan. On lighter soils with good percolation, these rains likely filled the soil column and overcame earlier deficits. Heavier soils may also be in a similar situation, depending on the rate of water infiltration. Rains over the weekend helped to moisten some of the tight, crusted soils in the area, which likely helped increase penetration with the latest event.
The U.S. Drought Monitor continues to classify most of southwest and south central Michigan as drought-free (Figure 3), although it is questioned whether those models are relying too heavily on some of the rainfall data coming from Kalamazoo, Michigan, and areas along the I-94 corridor, which received much of the rain earlier this summer that passed over most other areas. The National Weather Service is predicting warmer than normal temperatures into fall. The 6-10 day outlook calls for cooler and wetter conditions than normal, so we'll need to stay tuned to see how much of the soil moisture deficit will overcome before corn and soybean maturity.
Crop pests
Spider mites continue to be a growing problem in soybean fields. Don't make the mistake of thinking that irrigation provides enough canopy moisture to help keep spider mites in control with pathogenic fungi. In our dry areas, the corners or field edges can serve as a kickoff point for further infestation. MSU Extension suggests trying to control mites on the edges of fields if there is not a lot of evidence of them moving further into the field. Watch for yellowing or bronzing areas in fields that rapidly expand in area. We have seen several fields in St. Joseph and western Branch counties that needed attention earlier this week.
There has been a resurgence in western bean cutworms in southwest Michigan corn fields. We saw an uptick in this pest's population in fields last year, and the trend seems to have continued this year. Remember, western bean cutworm populations rose quickly after they initially infested the area, but then dropped off just as quickly for the next several years. We are not sure if the dry conditions this year and late last year helped the pest survive biological control factors, or if western bean cutworm populations will become more cyclic.
A couple of the more troubling aspects of this pest is that there can be multiple larvae per ear, which can lead to more kernel damage than corn earworm. Also, western bean cutworm ear feeding often leads to ear molds that can lead to grain quality and storability issues. We will be conducting larvae counts in areas where traps were established to look at the potential for damage from this pest.
As we head into the middle of August, we encourage you to watch soybean fields carefully for areas that change colors or drop leaves early. This is a great time of year to catch sudden death syndrome and pockets of soybean cyst nematode infestations. It will be tougher to do on dryland fields this year, but it is still a worthwhile effort to locate challenges so you can make better management decisions in the future.
Finally, we all know there has been significant drought damage to dryland fields this year scattered across the region. MSU Extension has put together a drought response page that can provide resources to help you decide what may represent the best option for harvesting and marketing drought damaged crops. To view this page, go to: MSU Extension Drought Resources.