Southwest Michigan field crop update – June 1, 2017
Cool and dry conditions in early June provide an opportunity to make progress on spring operations, but farmers should scout fields to monitor for pest pressure.
Weather
Weather this past week has continued to be nearly ideal for planting in most locations in south central and southwest Michigan, with rain missing most areas. Showers tended to be short-lived, although several sites received up to 0.45 inch of rain earlier in the week. Precipitation in some locations in May was on par with the unusually wet weather in May 2015 (Figure 1), although most have been closer to the five-year average.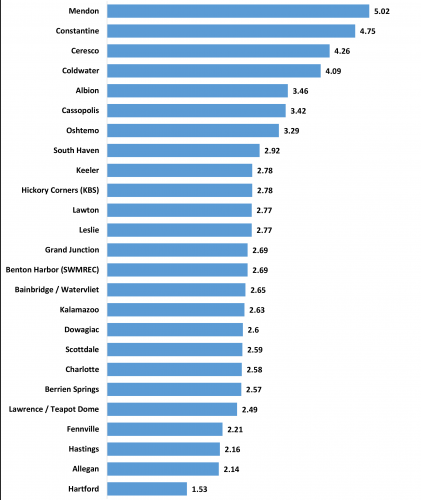 Temperatures have been cooler than normal for this time of year with most locations in the region receiving only 70 percent of the heat units (growing degree-days, GDD 86/50) in May compared with the five-year average. Michigan State University climatologist Jeff Andresen says temperatures should be only 2-4 degrees Fahrenheit cooler than normal in the coming week.
The 6-10 day outlook from the National Weather Service predicts cooler and drier than normal conditions in Michigan (Figure 2), although the 8-14 day outlook predicts a return to normal precipitation levels by mid-June.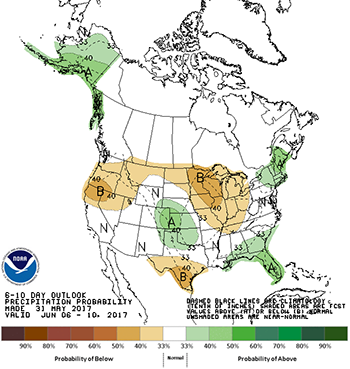 Assuming a planting date of May 14, current and forecasted GDD accumulation since planting is shown in Figure 3. GDDs can be particularly useful in corn to estimate timings of important growth stages. The U2U Corn Growing Degree Day Tool (see Figure 4 for a sample output) is one such tool that allows you to input your crop parameters to see when you can expect to reach, for example, silking based on predicted and average GDD accumulation.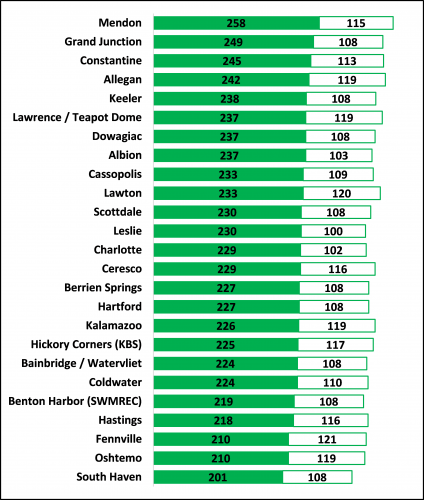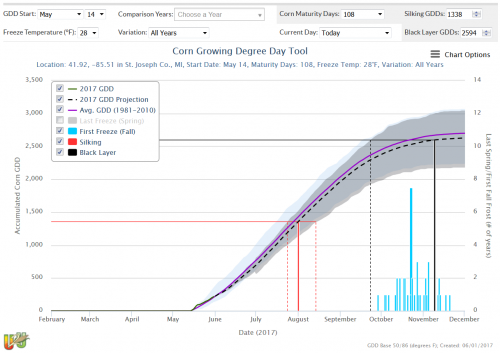 Crop report
According to the Crop Progress Report for May 28, 2017 from USDA's National Agricultural Statistics Service (NASS), 84 percent of corn acres in Michigan were planted and half of that had emerged. For soybeans, 65 percent was planted and 27 percent had emerged.
Progress in the region appears well-ahead of these statewide statistics, although many have had to wait for soil to dry out from earlier precipitation. Some farmers have had emergence problems as post-planting rains caused crusting. Rotary hoes, and in some cases irrigation, have been utilized to increase chances of successful emergence.
Early-planted soybeans in a few fields we've walked with heavier soil have struggled to emerge. If beans have not emerged by two weeks after planting, it's time to do a bit of digging to see whether seeds/seedlings have been infected with Pythium (wet and cool), Phytophthora (wet and warm) or other soil-borne diseases.
Several days this past week have had particularly windy conditions, and at times have kept sprayers out of fields. Horseweed (marestail) has started to bolt—watch for lack of control with glyphosate. Apply effective burndown prior to soybean emergence, particularly if the field has been suspected of having glyphosate-tolerant marestail. If weeds are greater than 4 inches before planting, tillage may be preferred as long as they are sufficiently uprooted.
For more information, there are several MSU Extension articles on herbicide-resistant weeds. You can also check out MSU Extension bulletin E0434, "2017 Weed Control Guide for Field Crops," or visit the MSU Weeds website.
Wheat in the region reached the flowering stage at some point in the past two weeks, and many farmers have made head scab fungicide applications. The Fusarium Head Blight Prediction Center at Pennsylvania State University is currently predicting low risk of Fusarium head blight in Michigan (Figure 5), although it is recommended farmers check the website often as the disease can escalate quickly.
Fields we have visited have shown only minor symptoms of leaf diseases, but a field in southeast Michigan reportedly had heavy flag leaf infection, highlighting the importance of scouting.