Southwest Michigan fruit update — Aug. 8, 2017
Peach and blueberry harvest is moving quickly.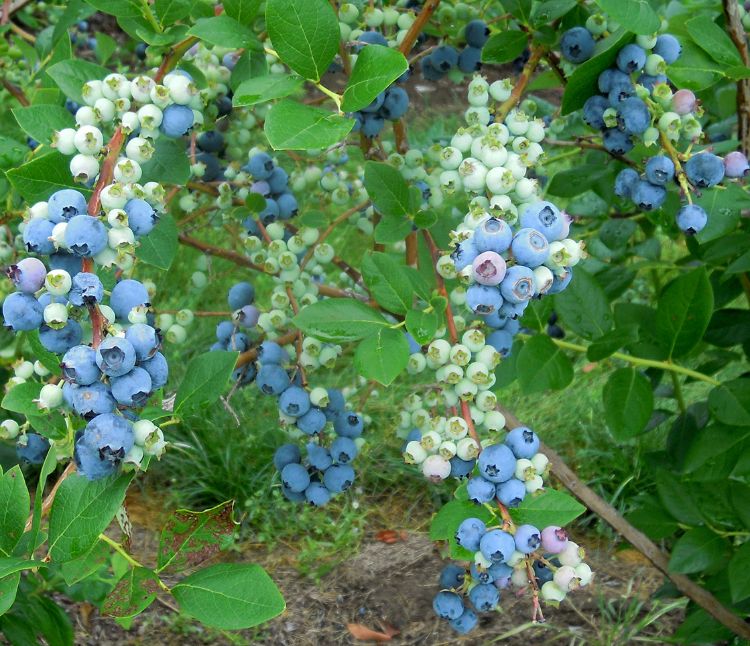 Weather
Last week began warm, with highs in the mid-80s and lows near 60. A cold front moved through the region Thursday night, Aug. 3, and Friday saw widespread lake effect showers. This was the first significant rain in the region since July 13. Rainfall was very uneven. Some areas received about a third of an inch and other received over 1 inch. The average across sites was just over two-thirds of an inch. Comparing this season's rain across southwest Michigan shows an average of almost 13 inches, many sites receiving 10 to 13 inches and some sites 15 to 18 inches.
Last week's potential evapotranspiration was about 1 inch of water and for a season total of over 21 inches since April 1. This was due to the cloudy cool conditions most of the week. This week will be warmer with highs rising into the 80s early in the week and then falling towards the end of the week. There is a chance of showers Thursday and Friday, Aug. 10 and 11. We are about a week ahead of normal. Crop harvests seem to be about two weeks ahead of normal.
Southwest Michigan GDD summary from Jan. 1 – Aug. 6, 2017

Station

GDD 42 F

GDD 45 F

GDD 50 F

Benton Harbor (SWMRC)

2,979

2,552

1,914

Lawton (Lawton)

2,824

2,425

1,824

Fennville (TNRC)

2,658

2,268

1,687

Average for the SW region

2,844

2,438

1,833

Ave from March 1

2,748

2,372

1,800

Accumulation last week

184

162

128
Tree fruit
Japanese beetles are generally scarce, but they are a problem in some locations. San Jose scale catch rose sharply two weeks ago at the Trevor Nichols Research Center. This rise signals the start of the third generation. Any site showing red spots on fruit or limbs this season should be treating for crawlers 375 growing degree-days (GDD) base 51 F from July 31, or about Aug. 10. Growers can review the insect trap catches at Trevor Nichols Research Center.
Brown marmorated stink bugs in the past few years have caused problems in orchards starting in mid- to late August. Currently, only the non-flying nymphs are being caught. Stone fruit trees continue to shed older leaves due to earlier disease and drought stress. Leaf samples for foliar tissue analysis should be collected from mid-July to mid-August. Tissue samples should be sent to A&L Labs.
Peach growers are reporting that harvest is moving rapidly, with harvests of PF17 and Allstar to start soon in some sandy sites. Quality continues to be good. Some growers are applying Retain to part of their acreage to stretch out the harvests. Retain should be applied seven to 10 days before anticipated harvest. Fruit speckles due to bacterial spot can be seen where infected leaves are nearby. To increase fruit color, do light summer pruning one to two weeks before harvest on varieties needing more color.
Oriental fruit moth trap catch continues to be significant in some orchards. We are in the third generation oriental fruit moth flight. Stink bug and tarnished plant bug damage can increase fruit susceptibility to brown rot. As fruit colors, the need for brown rot protection increases. Rotate fungicide classes used for brown rot control to avoid resistance problems.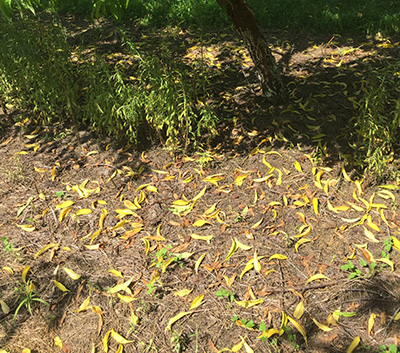 In cherries, yellow leaves are common. Cherry leaf spot is a serious problem in some orchards. Other stresses such as drought can cause yellowing and leaf drop. Chlorothalonil is used after harvest to help suppress cherry leaf spot with low risk of resistance buildup by the fungus.
Plum harvest continues with Redheart, Castleton and Rubyqueen. Thicker skinned European plums are a less favorable host for spotted wing Drosophila (SWD), but you should still protect fruit from SWD. Ripening plums need to be protected from brown rot. Apple maggot also attacks plums, however SWD sprays should also control this pest.
Apple development is continuing with Zestar and Rubymac now testing three (five is considered mature) for Post-bloom fungicide choices in blueberries