Southwest Michigan fruit update – June 20, 2017
Not enough rain fell last week. The summer fruit season is here with strawberries, raspberries and sweet cherries.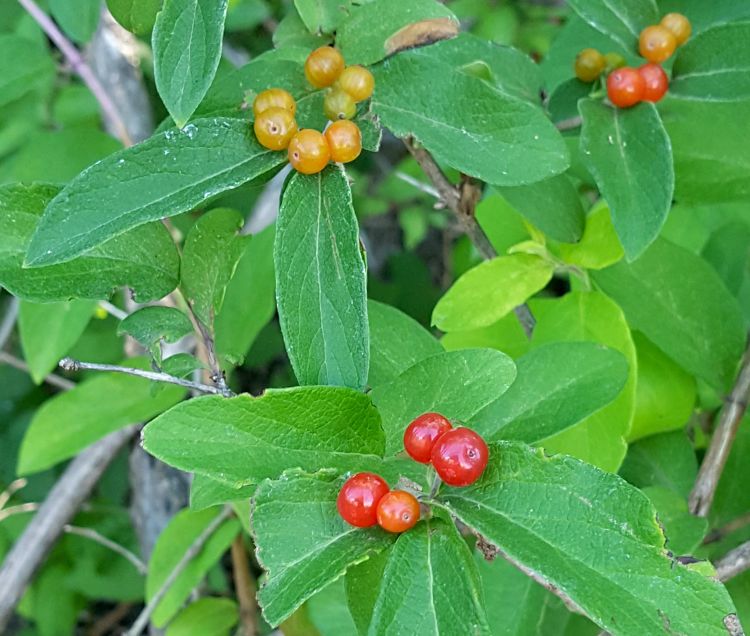 Weather
Last week was hot with highs in the 80s and 90s, and lows in the 60s. Significant rain finally came to the region with storms on Wednesday, June 14, and the passage of a cold front over the weekend.
High temperatures Sunday and Monday, June 18-19, were in the 70s. Scattered storms crossed the region Monday evening. Because the rain was associated with scattered storms, rainfall totals for the week were quite variable and ranged from 0.2 to 2.5 inches. Most areas received just over 0.5 inch of rain. The pattern of the storms is to move to the north.
Water is standing in some fields, but generally the topsoil is moist and the subsoil is dry. With the high temperatures and higher humidity, the potential evapotranspiration fell to less than 0.2 inch of water a day. This low transpiration will continue this week with highs in the 70s and 80s and lows near 60. Growers with irrigation need to check their soil moisture. Most will need to maintain their regular irrigation schedule, while others can cut back to avoid over watering.
There is a chance for showers and thunderstorms later this week, so rainfall will again be spotty. For the week, we accumulated 33 growing degree-day (GDD) base 42 every day and 25 GDD base 50. We are about a week ahead of normal for heat accumulation for this date.
Southwest Michigan GDD summary from Jan. 1 – June 18, 2017

Station

GDD 42 F

GDD 45 F

GDD 50 F

Benton Harbor (SWMRC)

1,615

1,336

943

Lawton (Lawton)

1,474

1,221

865

Fennville (TNRC)

1,347

1,104

767

Average for the SW region

1,492

1,234

873

Average from March 1

1,396

1,167

840

Accumulation last week

232

212

177
Tree fruit
Fruit are sizing well. The rain has been spotty, with many orchards still short of water. Some trees planted this year are showing poor growth due to lack of water. Rose chafer are declining and Japanese beetles have appeared. San Jose scale crawlers should hatch this week, 375 DD51 after male catch. Brown marmorated stink bugs are hatching in southwest Michigan, but damage to crops is still very low. Growers can review the insect trap catch at Trevor Nichols Research Center.
Peach and nectarine hand-thinning is underway. Fruit of early ripening varieties are noticeably larger than later season types. Oriental fruit moth catch is declining. Some trap catches are rising, indicating the beginning of the second-generation flight. Flagging of peach terminals due to burrowing oriental fruit moth larvae began about June 10. Oriental fruit moth damage to young fruit was found last week. Egg hatch for the second-generation should start approximately June 25, about 1,125 GDD45 after the first moth catch of the overwintering generation.
Protection from tarnished plant bug is still needed. Rusty spot symptoms have been reported. Rusty spot and peach scab susceptibility is low now that fruit has reached pit hardening. Bacterial spot symptoms are showing up on peach fruit and leaves of susceptible varieties. These symptoms are still relative light in the area. Susceptibility to this disease decreases past pit hardening.
According to the Michigan State University Enviroweather peach maturity model, the estimated start of Redhaven peach harvest in central Berrien County is July 30, and Au. 4 for the more northern Fennville region.
Sweet cherries are coloring quickly and harvest has begun on early ripening varieties in sandy sites. Warm rains associated with thunderstorms are good infection periods for brown rot. Brown rot is common in neglected cherries. Growers need to maintain protection of their fruit.
Montmorency tart cherries range from straw-colored to red. Bird feeding is increasing. Leaf drop due to cherry leaf spot is becoming more obvious in some orchards. Bush Honeysuckle (Lonicera) is ripening in woods and backyards. This fruit is an early host of spotted wing Drosophila, which can then move to cherries.
Plums are sizing rapidly after pit hardening. Brown rot sporulation is showing up on unprotected green fruit. Maintain protection against black knot until rapid shoot growth stops. Some bacterial spot symptoms have started showing up on fruit.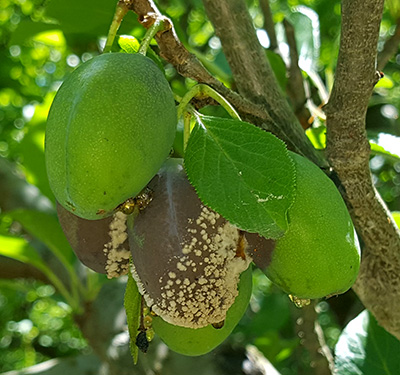 Apple fruit size ranges up to 1.5 inches in diameter. Growers are finishing hand-thinning. Ascospores catch has declined and primary apple scab season is ending. Continue fungicide treatment for scab where infections are evident on leaves. Apple shoots are still growing. Growers need to protect susceptible varieties from powdery mildew until rapid leaf growth ceases. There is relatively little fire blight this year.
The regional codling moth biofix for southwest Michigan was May 16 and the Enviroweather codling moth model has egg hatch beginning June 4 in Berrien County. Biofix for obliquebanded leafroller based on Trevor Nichols Research Center trap data was June 5 and trap catch numbers are increasing across the region.
Control is recommended at 350 to 450 GDD (depending on product) from biofix. This is before egg hatch, which begins 400-450 GDD (base 42) after biofix. This was approximately June 19 for central Berrien County.
Growers can use the Enviroweather obliquebanded leafroller model to fine-tune their spray timing. Scout for spotted tentiform leafminer, aphids, white apple leafhopper and European red mites. Woolly apple aphid has become a problem in many Michigan apple orchard in recent years. We expect to see the fluffy colonies of woolly aphid any time now.
Pear (Bartlett and Harrow Sweet) fruit are approximately 20 millimeters in diameter. First generation of codling moth is not a problem in pears because of the hard fruit. Fungicide treatment for pear scab can stop in orchards with no leaf symptoms. Pear psylla levels seem low. European pear rust is reported on ornamental 'Bradford' pears and commercial pear orchards.
Small fruit
Grapes are ending bloom and moving into berry shatter and the small fruit stage. Concord, Niagara and many hybrid varieties are at buckshot berry. Later hybrids and vinifera grapes are in open bloom or finishing bloom. Rachises, flowers and young fruit are vulnerable to infections of black rot, downy mildew, powdery mildew and phomopsis. Botrytis infections can form where flower parts are still open. Growers need to protect against all of these diseases with multiple modes of action in good rotation.
Rose chafers are feeding in some vineyards. Growers should be scouting for this pest, as well as grape leafhopper and potato leafhopper. Growers who recorded the date of wild grape bloom can use it in the grape berry moth model to determine correct application of insecticides in late June or early July. Wild grapes reached full bloom on approximately May 27 in Van Buren County and May 26 in Berrien County.
Blueberries are in the late green fruit stage. Early varieties such as Bluetta and Duke are beginning to color. Southern growers are picking their early varieties. Shoot growth has stopped as the bushes mobilize their resources into berry growth. Growers have been irrigating. The crop is spotty with some growers reporting a light crop.
Some sites have a heavy fruit set with few leaves on the bushes. This appears to be mainly in Bluecrop and Elliott. Jersey seems to have a good set. Traps are still catching cranberry fruitworm, but numbers are declining. The focus of disease control should be on anthracnose and phomopsis, especially if growers are irrigating heavily. Growers can use the Enviroweather anthracnose fruit rot prediction model to assess their risk of infection.
Bush honeysuckle are ripening in the woods. This plant is one of the first wild host fruits for spotted wing Drosophila.
Strawberry harvest is ending. Some growers closed early due to small, poor quality fruit. Many others will remain open for another week. Time to prepare for renovation. A good time to control weeds is at renovation. Bloom in day-neutral strawberries has stopped as the warmer days promote leaf growth and runnering.
Bramble fruit are growing. We are seeing color in early summer red raspberries and early harvest has begun. Protect against spotted wing Drosophila. Blackberry and black raspberry growers should be scouting for orange rust on the leaves and shoots.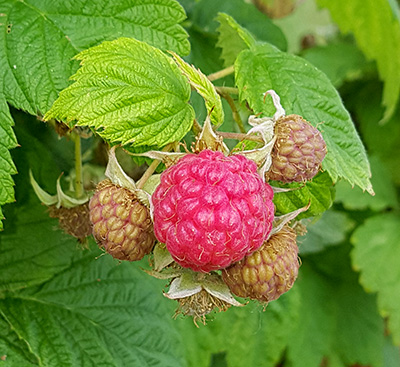 Upcoming meetings
The last Monday fruit IPM meeting is Monday, June 26, at Fruit Acres Farms, 3452 Friday Rd, Coloma, MI, at 5 p.m. Two Michigan RUP applicator recertification credits are available at these meetings.
The next Grape Grower Social, co-hosted by the Michigan Grape Society and Michigan State University Extension, will be Wednesday, June 21, at 3 p.m. in the winery building at Karma Vista. We will have demonstrations of equipment for fruit zone leaf removal, drone use in wine grape production and discuss unique approaches to weed and soil management. Pre-registration is required and is $15. Call 269-927-5674 ext. 4011 or email styburs1@anr.msu.edu to register.
The 28th Annual Viticulture Field Day and Steak Cookout is Wednesday, July 26. This well-attended educational event is hosted by the Michigan Grape Society and Michigan State University Extension, and is at the Southwest Michigan Research and Extension Center. Be sure to register before July 14.
See also