Southwest Michigan fruit update — May 1, 2018
Plants should move quickly with warm summer-like weather this week.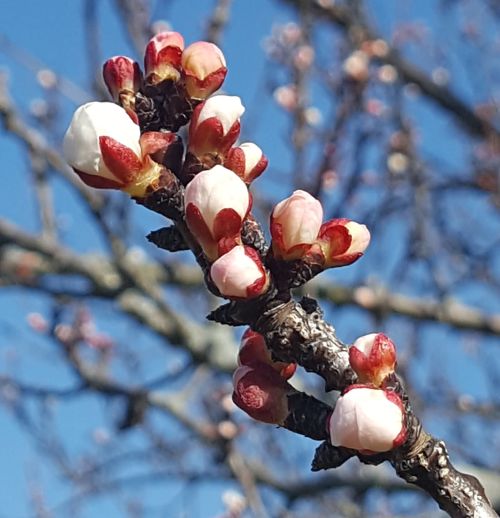 Weather
Temperatures the last two weeks of April were cooler than normal. Last week was warmer with highs in the 50s and 60s. Lows were near or below freezing all week. These were all classic radiation freezes. The dry air allowed temperatures to rise quickly during the day but drop dramatically at night. We accumulated as many heat units (Growing Degree Days, GDD) last week as we had in the last seven weeks. (Compare the Average GDD from March 1 and the accumulation last week). Bud movement was relatively slow. The freezing nights have stopped growth each night. There is a steep gradient in bud development with southern areas as much as a week ahead of northern areas.
Warm summer-like temperatures are forecast for this week, with highs in the 80s and 70s and lows near 60. These warm night temperatures should move things quickly. Rain is likely Wednesday through Friday, with accumulations of an inch or more. This rain will be the first infection period of the year for many diseases. Michigan State University Extension advise growers to apply protectant fungicides against early season diseases.
Southwest Michigan GDD Summary from March 1 through April 29 2018

Station

GDD 42 F

GDD 45 F

GDD 50 F

Benton Harbor (SWMRC)

110

74

34

Lawton (Lawton)

121

83

38

Fennville (TNRC)

86

55

25

Average for the SW region

119

81

38

Accumulation last week

49

36

19
Following this warm, wet week, we should expect a return to cool, dry conditions the following week. The week of May 14 is forecast to return to warmer and wetter conditions.
Tree fruit
Low temperatures on Monday morning (April 30) were in the mid-twenties at low sites away from Lake Michigan. This was a classic radiation freeze with temperatures in low sites or sites with poor air drainage as much as 10 degrees Fahrenheit colder than high sites with good air drainage. This freeze caused some fruit bud damage. But generally most fruit have not developed enough to be hurt by temperatures in the mid-twenties. See 'Freeze damage depends on tree fruit stage of development.' Forecasted warm temperatures for this week will help move tree development to more normal levels. Brown rot will be a concern as stone fruit go into bloom.
Apricots are blooming in the southern areas of the region. The average full bloom date for apricots in Southwest Michigan is April 17, so we are about two weeks behind normal.
Peach and nectarine fruit buds are at red calyx to pink. Blossoms will move quickly into bloom this week with the coming heat. To date, temperatures have been too cool or wetting periods too short for peach leaf curl infections. However, fungicide coverage is still needed for future infection events if temperatures are in the upper 40s to low 50s with rain. Temperatures have generally been too low for bacterial spot multiplication, which is favored by temperatures above 60 F with wet leaves. This may change with warm temperatures and showers forecast for this week. Low level of copper help to suppress bacterial populations. As more green is exposed, the copper application rate should be reduced to avoid phytotoxicity.
Pheromone traps for oriental fruit moth should be deployed soon to detect emergence of the first generation. Trap catches for the Trevor Nichols Research Center in Fennville are available throughout the summer.
In cherries, sweet cherries are at green tip to tight cluster and tart cherry buds are at green tip. We are leaving the window when copper sprays can safely be applied to sweet cherries for bacterial canker.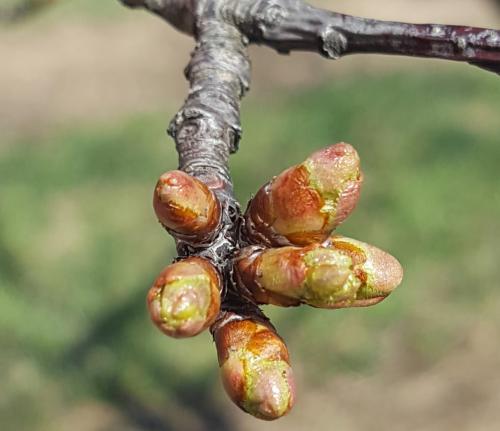 In plums, Japanese plum varieties are at first white, with bloom expected later this week. European plum fruit buds are at green tip. Fungicide treatment for black knot are needed now, with brown rot treatment needed in bloom.
Apples fruit buds are at half inch green (Golden Delicious, Red Delicious) to tight cluster (Zestar, Idared, Macs) in the southern end of the region. We have had little or no apple scab infection events to date due to low temperatures and relatively short wetting periods. We expect one with rains and warmer temperatures forecasted for week. Copper sprays are not advised past tight cluster for fresh market apples because of increased risk for fruit russeting.
In pears, fruit buds are approaching tight cluster. Pear psylla and pear scab are the major concerns.
Small fruit
Grapes are beginning to move and should move quickly this week with the warm temperatures. Concord grapes are past scale crack and into very early bud swell. Vinifera and hybrid grapes show little movement. There is plenty of time to apply dormant sprays to reduce powdery mildew and other diseases.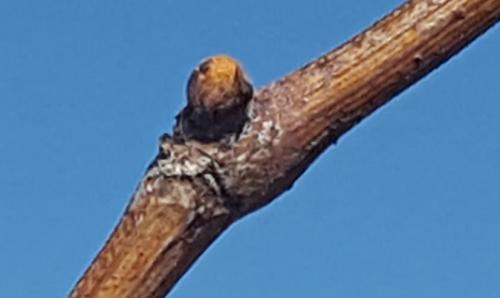 Blueberries flower buds are opening in early varieties such as Bluecrop. Later varieties such as Jersey are still at swollen bud. Leaf buds are moving and green tissue is exposed in the uppermost leaf buds. Plants will move quickly with this warm weather and more leaf tissue will emerge and flower buds will burst. The warm, wet weather with exposed green tissue is ideal for mummy berry infections. Many growers have already applied dormant sprays of copper, Sulforix or lime sulfur products to suppress early season diseases. There is a Blueberry Pre-Bloom meeting tomorrow, May 2, in Ottawa County. We ask that growers preregister if they can, so we can get a more accurate count for the meeting.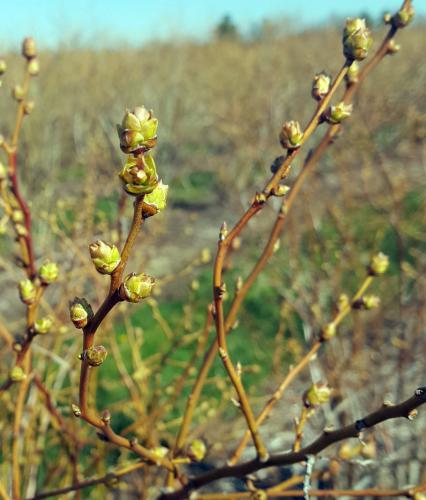 Strawberries are putting out new leaves. The flower trusses are not visible in the crown. Overwintering mulches should have been removed and raked between the rows. Some growers have complained about poor growth, but we expect that as the soils warm and the overnight lows remain warm that flower buds will emerge later this week.
Brambles are beginning to move. Early varieties have green tissue showing and primocanes are beginning to emerge. Lime sulfur treatments for anthracnose can still be applied, but rates should be reduced if green tissue is exposed.
Currents are leafing out.
Cranberries are still dormant but should show growth with this warm weather.
Miscellaneous
The dry, windy weather has allowed growers to really get ahead of their field tasks such as planting, herbicide sprays and cleaning up their fields.
Upcoming meetings
The next Monday fruit IPM meetings is May 7, at Fruit Acres Farms 3452 Friday Rd, Coloma, at 5 PM. Two Michigan RUP applicator recertification credits are available at these meetings.
2018 Pre-Bloom Blueberry Growers Meeting, May 1, 2018 from 1 to 4 PM
Port Sheldon Township Hall, 16201 Port Sheldon St., West Olive, MI 49460
Two Michigan RUP applicator recertification credits are available at this meeting.
Related articles