Southwest Michigan fruit update — May 22, 2018
The wet May continues. Rain and cooler weather will be replaced with summer-like weather this week.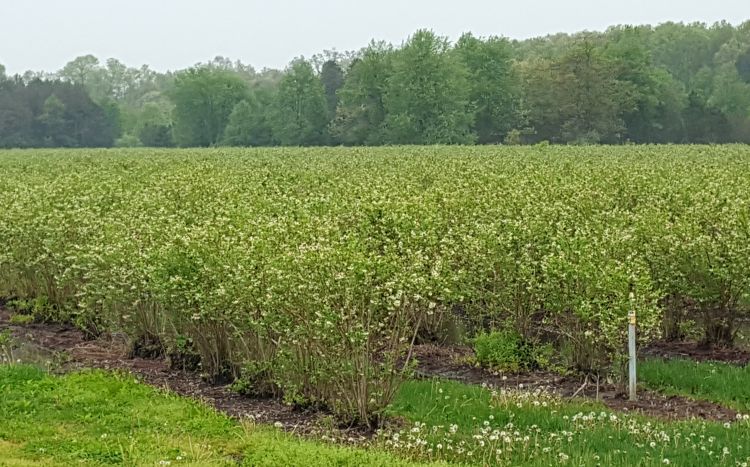 Weather
Last week was warm with highs in the 70s and 80s. The weekends have been cooler with highs only in the 50s and 60s. Last week was pretty wet with rain every day except Wednesday and Thursday, May 16 and 17. These rains dropped about 4 inches of rain across the region and soils are saturated. These rains were a serious disease infection.
Warmer, wet weather is forecast for the beginning of the week. The beginning of the week will be wet. It will be dry late in the week with a chance of rain on the weekend. Highs will be in the 80s.
The warm May has allowed us to catch up quickly in heat accumulations. We are close to normal for growing degree-days (GDD). Fruit crop development is a few days ahead in the southern areas and inland areas further from the cool lake and beginning to pull ahead of the lakeshore areas.
Southwest Michigan GDD summary from Jan. 1 – May 20, 2018

Station

GDD 42 F

GDD 45 F

GDD 50 F

Benton Harbor (SWMRC)

565

448

286

Lawton (Lawton)

594

472

307

Fennville (TNRC)

494

387

242

Average for the SW region

579

459

296
Southwest Michigan GDD summary from March 1 – May 20, 2018

Station

GDD 42 F

GDD 45 F

GDD 50 F

Benton Harbor (SWMRC)

502

404

266

Lawton (Lawton)

531

431

297

Fennville (TNRC)

441

351

228

Average for the SW region

517

418

297

Accumulation last week

137

116

154
Tree fruit
Tree fruit have been leafing out rapidly in the last few weeks. These new leaves are very susceptible to many diseases. Stone fruit bloom has ended, reducing the risk of brown rot. Expanding fruit are susceptible to plum curculio and tarnished plant bug attack. Plum curculio prefers calm warm nights for egglaying and the warm, dry nights this week will be perfect for this pest.
Apricot fruit are up to 0.75 inch diameter. Crop so far looks decent.
Peach and nectarine fruit have emerged from the shuck with good crop potential for the area. Peach leaf curl symptoms were detected late last week on leaves in tops of trees where spray coverage was likely poor. Recent cooler temperature has suppressed bacterial spot, but warmer weather will be ideal for this disease. Fruit out of the shuck are prone to bacterial spot, rusty spot and peach scab infections. Switching over to oxytetracycline instead of copper for bacterial spot now reduces the risk of copper phytotoxicity symptoms to fruit.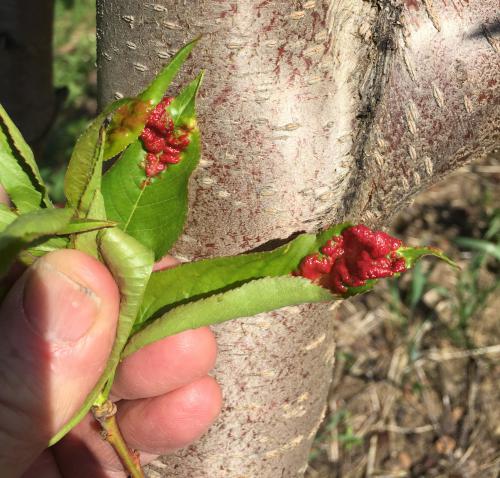 We are catching oriental fruit moth larvae and are using May 7 as the regional biofix (first sustained catch) based on the Trevor Nichols Research Center trap line. General guidelines call for insecticides with ovicidal action at approximately 100 GDD42 after biofix, and approximately 170 GDD42 for insecticides with larvicidal activity. This window was last week. Peach tree borer moths will be emerging fruit.
Sweet cherries are out of the shuck and sizing well. Tart cherries are emerging out of the shuck. Leaves are always susceptible to cherry leaf spot infection. Rains over past two weeks were cherry leaf spot infections. Sweet cherry fruit are always susceptible to brown rot infection.
Japanese plums have emerged from the shuck. European plums are in the shuck. Continue fungicide treatment for black knot until shoot growth stops.
Apple bloom has ended with early blooming varieties such as Zestar, Idared and Macs already reaching 4 to 7 millimeters in diameter. The numerous rains late last week were an apple scab infection for most orchards in southwest Michigan. Symptoms from the May 2 scab infection period should be showing up this week in abandoned apple trees.
Warm, wet conditions during bloom could be fire blight infections. Most rains early in the week were too cool for the disease. Warmer temperatures during Friday's rain was a fire blight infection. Warm rains are forecast for later this week and growers with open bloom should use the fire blight model on Enviroweather to help time antibiotic sprays during bloom. Growers using the interactive fire blight model based on Mary-Blyt are reminded to spray when the infection risk is high.
Do not delay sprays until an infection is predicted. Control the bacterial populations before they reach infection levels. Consider treatment when the EIP values are over 80 if all other factors for infection are present. See "A primer for Streptomycin, Kasumin and Oxytetracycline use for fire blight management" from Michigan State University Extension for more information.
Symptoms from a May 9 infection recorded in some parts of southwest Michigan are expected to start showing up soon. Symptoms from last week's infections on May 16 and 18 in some location will appear this weekend.
Some areas caught their first codling moth Monday, May 21. This marks the first codling moth and biofix at these sites. See "First generation codling moth management" from MSU Extension for more information.
Apple thinning should begin as soon as growers can assess fruit set. Warm, cloudy conditions and frequent rains during pollination may make this difficult. The best thinning windows are when temperatures are rising. The worst thinning windows are when temperatures are cool or are forecast to cool down. The high temperatures forecast for this week and beyond will make thinners more effective and growers should reduce rates.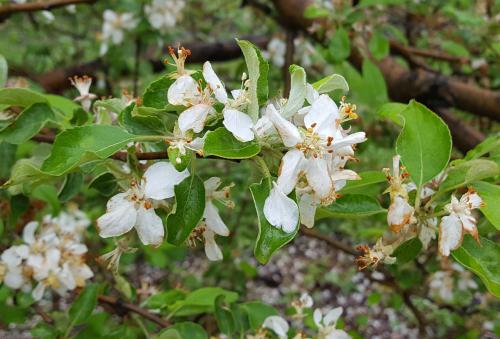 Pear fruit are 5 to 8 millimeters in diameter. Fire blight, pear psylla and pear scab are the major concerns.
Small fruit
In grapes, Concord and Niagara juice grape shoots are 4 to 6 inches and three to four leaves are out. The flower clusters and out and elongating. Vinifera and hybrid grape shoots are elongating. Shoots are 2 to 3 inches long and flower clusters are exposed. This early shoot growth (1 to 4 inches) is a critical time for grape disease control. See "Early season vineyard disease management" from MSU Extension for more information.
This is a critical time for controlling powdery mildew, phomopsis and black rot. All the wet weather is also good for downy mildew. Grape berry moth trap catch continues, but there is no reason to apply controls at this time.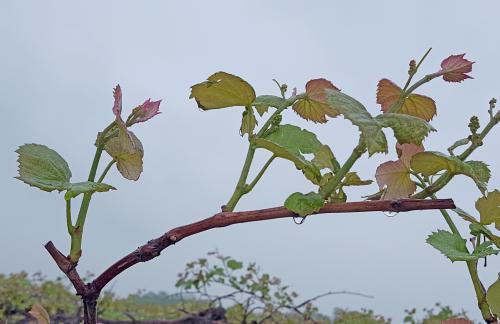 Blueberries are blooming. Shoots and leaves are expanding rapidly. Some mummy berry shoot strikes were found last week. In bloom, the disease focus shifts to controlling the blossom blight phase of mummy berry. Fungicide sprays to protect against mummy berry fruit rot are targeted for early and mid-bloom. Flowers are most susceptible to mummy berry infection immediately after they open, and susceptibility declines as the flowers age. Pollinated flowers become resistant to infection.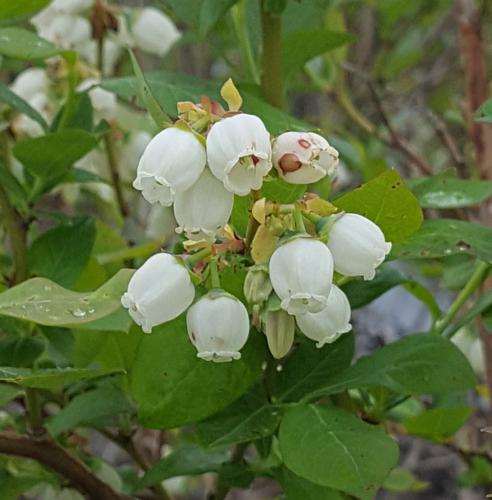 At late bloom and petal fall, protect against anthracnose infections of the green fruit. Recent, long wetting periods have been generally too cool for anthracnose, but the Anthracnose fruit rot model on Enviroweather has predicted some infections already. The long wetting periods we have had are good for twig and stem blights caused by anthracnose and phomopsis.
Many fields are flooded from all the rain in the past few weeks. Many sprays are being applied by air. Use care applying fungicide applications during bloom. To reduce exposure to foraging bees, apply sprays during the early morning and evening.
Cherry fruitworm was caught in Van Buren County last week, setting the regional biofix as May 15 or 16. Have traps for both cherry and cranberry fruitworm to set a more accurate biofix for these pests on yours farms. Use the cherry fruitworm model on Enviroweather to time controls. Cranberry fruitworm should emerge later this week. There is also a model for cranberry fruitworm development and control.
Strawberries are still blooming. Fruit is small, not yet thimble-sized. With all the cool, wet weather, you should worry about angular leaf spot, a bacterial disease. Copper is the only effective control.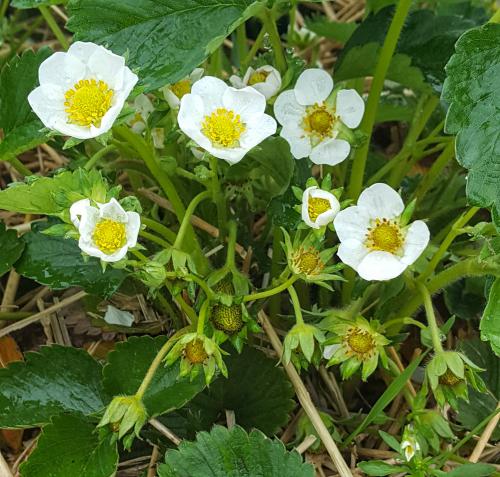 Bramble shoots are growing rapidly. Flower buds are separating and bloom should begin soon. Most primocanes are only a couple inches tall.
Currant bloom has ended.
Cranberries are greening up and terminal buds are swollen. We expect shoot growth to begin this week.
Miscellaneous
Fields and fruit plantings are soggy due to recent rains. Weed populations are starting to take off.
Upcoming meetings
There is no Monday fruit IPM meeting scheduled for May 28, Memorial Day. The next Monday fruit IPM meeting is June 4 at Fruit Acres Farms, 3452 Friday Rd, Coloma, MI, at 5 p.m. Two Michigan RUP applicator recertification credits are available at these meetings.
Pre-register by June 13 for the first Clean Sweep for Southwest Michigan, scheduled for Wednesday, June 27, 2018. Clean Sweep allows pesticide users to safely dispose of unwanted pesticides.
A Blueberry Pre-Harvest and Weed Control Update is planned for Wednesday, June 20, from 7 to 9 p.m., south of Grand Junction off Silver Lake Road. The meeting will include updates and insect and disease control as well as a tour of an herbicide trial including standard and new pre-emergent herbicides, some applied in either the fall or the spring. Look for more details and registration next week.
Related articles