Southwest Michigan fruit update — May 29, 2018
Hot weather has accelerated plant growth and dried the soils.
Weather
Last week started cool with highs in 60s. Highs rose into the lower 80s toward the weekend with about 0.5 inch of rain. The Memorial Day weekend was hot with highs in the 90s. Sandy soils have dried quickly with the high temperatures.
Rain and warm temperatures are forecast for the coming week, but not as hot as the 90s seen this past weekend. We have gone from a week behind to almost a week ahead of normal heat accumulation.
Southwest Michigan GDD summary from January 1 – May 27, 2018

Station

GDD 42 F

GDD 45 F

GDD 50 F

Benton Harbor (SWMRC)

739

599

402

Lawton (Lawton)

772

629

430

Fennville (TNRC)

648

519

341

Average for the SW region

751

610

413
Southwest Michigan GDD summary from March 1 – May 27, 2018

Station

GDD 42 F

GDD 45 F

GDD 50 F

Benton Harbor (SWMRC)

676

557

385

Lawton (Lawton)

709

588

413

Fennville (TNRC)

595

483

327

Average for the SW region

689

569

396

Accumulation last week

172

151

117
Tree fruit
Tree fruit have been leafing out rapidly in the last few weeks. These new leaves are very susceptible to many diseases. Stone fruit bloom has ended, reducing the risk of brown rot. Expanding fruit are susceptible to plum curculio and tarnished plant bug attack.
Wilting and decline of second leaf apple trees due to trunk infestation by black ambrosia female beetles have been detected. Preliminary tests at Michigan State University indicate trunk sprays with Lorsban and, more recently, pyrethroid insecticides appear to be the most effective preventative strategy, but only if the tree has not been infested already.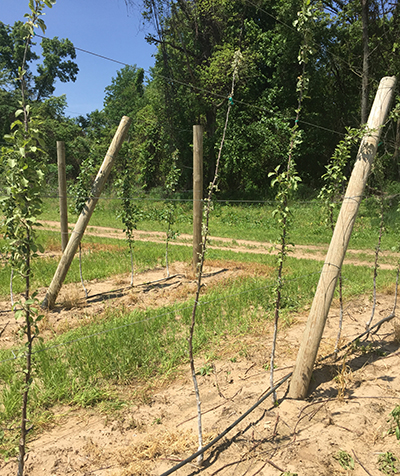 Apricot fruit have reached 1 inch in diameter.
Peach and nectarine fruit are 14 to 18 millimeters in diameter with smaller fruit that may eventually drop. Bacterial spot symptoms are still rare. Fruit out of the shuck are prone to bacterial spot, rusty spot and peach scab infections. Switching over to oxytetracycline instead of copper for bacterial spot now reduces the risk of copper phytotoxicity symptoms to fruit.
We have been catching oriental fruit moth since May 7, the regional biofix (first sustained catch) based on the Trevor Nichols Research Center trap line. Flagging of peach shoots due to oriental fruit moth larvae entries should be showing up soon.
Sweet cherries are 12 to 14 millimeters and Montmorency tart cherries are 9-10 millimeters in diameter. Cherry leaves are always susceptible to cherry leaf spot infection. Warm rains this week will be cherry leaf spot infections. Sweet cherry fruit are always susceptible to brown rot infection.
Japanese plums are 13 to 14 millimeters and European plums are 9 to 10 millimeters in diameter. Fungicide treatment for black knot should continue until shoot growth stops. Some weather-related russeting is showing up on Japanese plum. Plum curculio are active with the warm evening temperatures and will target plum fruit for egglaying.
Apple fruit range from 10-12 millimeters (Gala, Golden Delicious) to 14 millimeters (Zestar) in diameter, and are prone to attack by plum curculio and tarnished plant bug. Symptoms from the May 2 scab infection period should have shown up last week in trees that were not protected by fungicides. With bloom done, risk of fire blight infections is lessened, but be aware that late bloom may extend the risk. No symptoms have been reported yet, but are expected to show approximately May 25 from a May 9 infection recorded in some parts of southwest Michigan. Symptoms from infections on May 16 and 18 in some locations are expected in the last week of May.
Some areas caught their first codling moth Monday, May 21. This marks the first codling moth and biofix at these sites. See "First generation codling moth management" from MSU Extension for more information.
Apple thinning has begun. The warm temperatures make thinners very potent and growers should reduce rates. Self-thinning of early apple varieties has been reported.
Pear fruit are 5 to 8 millimeters in diameter. Fire blight, pear psylla and pear scab are the major concerns.
Small fruit
In grapes, Concord and Niagara juice grape shoots have 16- to 18-inch shoots. Flower clusters are elongated and the clusters are beginning to separate into small subclusters. Wild grapes are blooming. Bloom is approaching and it is a critical time for the control of powdery mildew, phomopsis and black rot. Wet weather was also good for downy mildew. Many growers apply protectant fungicides just before bloom. The warm, wet conditions forecast this week will be infections for many diseases.
Grape berry moth trap catch continues, but there is no reason to apply controls at this time. Note the date of wild grape bloom, which coincides with black locust bloom and use this as biofix for timing the application of controls for the second generation of grape berry moth.
Blueberries are blooming and earlier varieties are at petal fall and small fruit are up to 5 millimeters. With the hot weather, shoots and fruit are expanding rapidly. After bloom, protect green fruit against anthracnose. Cherry fruitworm and cranberry fruitworm have been caught. Both the cherry fruitworm and cranberry fruitworm models on MSU Enviroweather say to time controls to egglaying, which has begun. This means that the timing for controls is now. Now is also the treatment window for controlling tussock moth. Using IGR insecticides controls all these moth pests.
Strawberry bloom is ending. Fruit is reaching thimble-sized. The recent warm weather reduces the risk for angular leaf spot, a bacterial disease. Copper is the only effective control.
Bramble bloom is underway in some locations. Primocane growth is very rapid.
Miscellaneous
Fields and fruit plantings are still soggy in low spots, while sandy areas are very dry. New plantings will need watering until roots are well established.
Upcoming meetings
The next Monday fruit IPM meeting is June 4 at Fruit Acres Farms, 3452 Friday Rd, Coloma, MI at 5 p.m. Two Michigan RUP applicator recertification credits are available at these meetings.
Pre-register by June 13 for the first Clean Sweep for Southwest Michigan, scheduled for Wednesday, June 27, 2018. Clean Sweep allows pesticide users to safely dispose of unwanted pesticides.
A Blueberry Pre-Harvest and Weed Control Update is planned for Wednesday, June 20, from 7 to 9 p.m., south of Grand Junction off Silver Lake Road. The meeting will include updates and insect and disease control as well as a tour of an herbicide trial including standard and new pre-emergent herbicides, some applied in either the fall or the spring. Look for more details and registration next week.
Related articles