Southwest Michigan grape scouting report for June 27, 2017
Bloom is over and grapes are sizing rapidly, with light fungal disease pressure. Grape berry moth egglaying to begin over the weekend.
Development
Bloom is over and the fruit have set. Fruit are sizing rapidly even without rain. In Concord and Niagara, vineyards on early sites are approaching berry touch. About an inch of rain is expected Friday, June 30.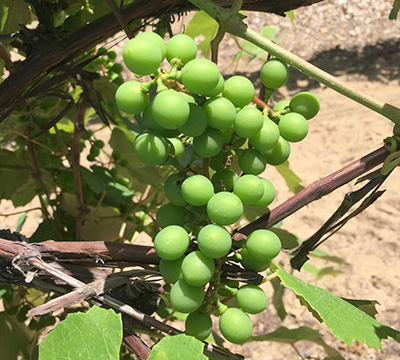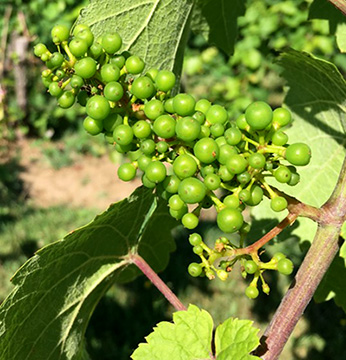 Growing degree-day (GDD) accumulations

Enviroweather Station

Date of wild grape bloom

GDD47 since wild grape bloom

Start of egglaying (810 GDD47)

Start of egg hatch (910 GDD47)

May 26

697

July 2

July 6

May 27

683

July 3

July 7

May 27

684

July 3

July 7
Disease
As many of you remember all too well, we had heavy pressure from downy mildew last year in late summer and fall. To make matters worse, we had warm temperatures through September and October. This combination of circumstances means we probably came into the spring of 2017 with a higher-than-normal amount of downy mildew inoculum in the vineyards.
However, we got lucky. With so little rain in the last four to six weeks, there have been only a few short infections periods for downy mildew and lots of sun to dry it out afterwards. That, along with the fact most growers have been tight on their sprays, makes for very light downy mildew pressure so far in 2017.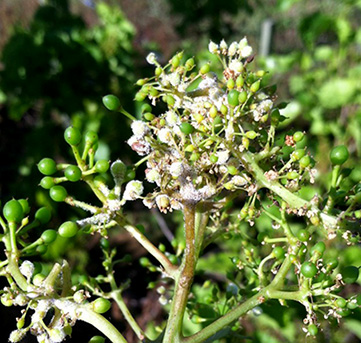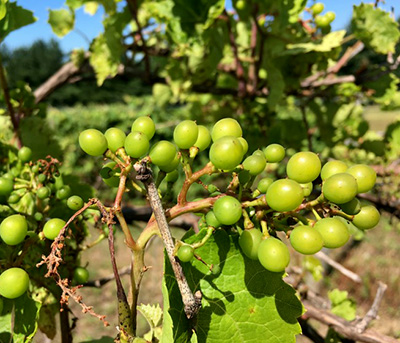 We are observing light levels of black rot infections on leaves and phomopsis on leaves and shoots. Very little downy mildew or powdery mildew has been spotted. Also, very little black rot on fruit or phomopsis on rachises has been seen.
The difference in disease development this year really is staggering. See the pictures in this section for a comparison of our unsprayed rows at the field station—those on the left are from mid-June 2016, and those on the right were taken today. The pictures speak for themselves.
Treatment recommendation
Until two to four weeks after bloom, the fruit and rachises need to remain covered for black rot, phomopsis, downy mildew and powdery mildew. This is true even with light disease development. Most growers applied a post-bloom fungicide last week. In juice grapes, it should take one more tank mix or pre-mixed spray that covers all four major infections, and the vulnerable period will be over.
In wine grapes, at least two more applications will be needed, since especially vinifera berries remain vulnerable to infection two to three weeks longer. Continue using the full rate of most materials through the end of berry susceptibility, especially if you're using the pre-mixes. If you think you can cut back to low rates, wait until after the fruit are no longer vulnerable.
Insects
Rose chafers are still being seen, but rapid berry growth has put us past the window where they are likely to be a problem. For more information, see the Michigan State University Extension article, "Rose chafer management for vineyards."
Meanwhile, grape leafhoppers and potato leafhoppers are being seen in slightly higher numbers this week. Check the underside of leaves in the shaded part of the canopy. These pests also come in from wild grapevines. If you start to see serious damage, treat with a neonicotinoid insecticide.
We are also catching spotted wing Drosophila in vineyards. For grapes, spotted wing Drosophila will join the other harvest-time pests making use of any berry infections or injuries.
If this was a problem in the past for you, we recommend weekly trap checks between now and harvest to anticipate the severity of pre-harvest spotted wing Drosophila.
Grape berry moth trap catch varied between one and 52 moths per trap this week. As usual, we are catching the most grape berry moth in Van Buren County. All grape berry moth damage we're seeing is left over from first generation; second-generation egglaying begins soon.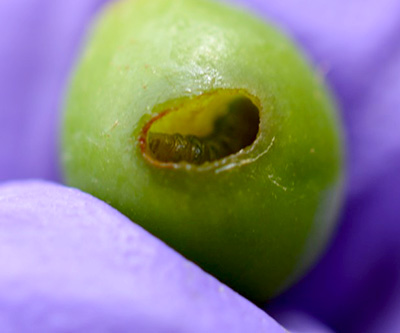 If you recorded wild grape bloom dates use the grape berry moth model on MSU Enviroweather to predict the beginning of second generation egglaying for your farm, look for 810 GDD in the table. The average date for Van Buren County is predicted to be July 3 and the average for Berrien County is July 2.
For ingestion poisons, Altacor and Intrepid—which are excellent—and Delegate, Entrust and Dipel—which are good—should be applied as close to the egglaying date as possible for maximum efficacy.
For contact poisons, Danitol, Hero, Baythroid, Imidan and Sevin—which are excellent—and Brigade, Mustang Max, Leverage and Lannate—which are good—should wait to be applied until egg hatch, about 100 GDD47 later. That puts you in the sprayer July 6 for Berrien County and July 7 for Van Buren County.
If we get rain or too much wind, or you have important holiday plans, it's better to apply a couple days earlier than these windows than a couple days late. If the dates from your farm are much different, go with the farm numbers rather than the county or weather station numbers.
As always, thanks for reading! Don't be afraid to contact us at baughm30@msu.edu or masonk@msu.edu for questions, comments or suggestions.