Southwest Michigan wine grape report — Sept. 22, 2017
Harvest continues; monitor leaf disease, fruit rots and harvest-time insect pests.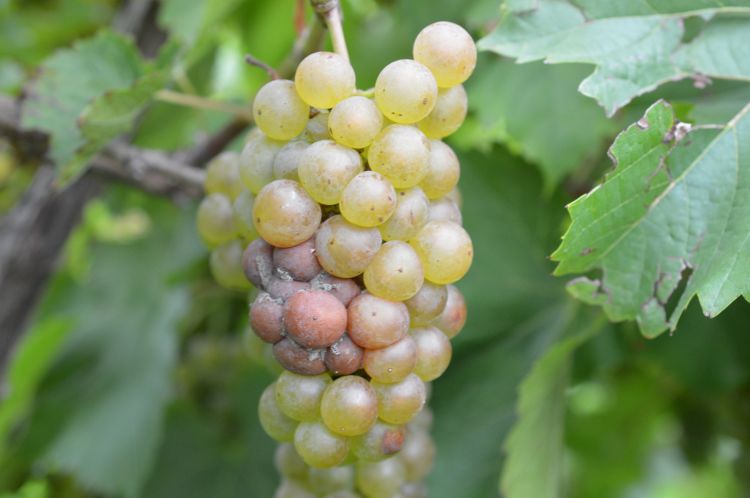 Development and harvest
Harvest is proceeding in vineyards through the southwest Michigan region. Growers are evaluating fruit sugar in juice grapes. Growers and winemakers are evaluating anthocyanin development, varietal character and acid reduction in wine grapes. The hanging crop is developing nicely with recent warm, dry weather.
National Grape began harvesting early Niagara grapes on Thursday, Sept. 21. They plan to switch to Concord late on Monday, Sept. 25, and expect to switch back to harvesting late Niagara in mid-October.
Growing degree-day (GDD) accumulations
Enviroweather station
Date of wild grape bloom
GDD47 since wild grape bloom
Estimated start of egglaying (2,430 GDD47)
Berrien Springs
May 26
2,554
Monday, Sept. 18
Benton Harbor
May 27
2,550
Monday, Sept. 18
Lawton
May 27
2,556
Monday, Sept. 18
Mildews
Incidence of downy mildew and powdery mildew on leaves has increased in some vineyards in the last two weeks. Expect this to continue, as usual. Some of the vineyards we scout had downy mildew development and were treated effectively several weeks ago, so dead lesions are present that will not spread.
In vineyards where actively growing downy mildew or powdery mildew is present, and fruit will have to hang for at least two more weeks, apply again to protect against further development of these diseases. We're trying to hang onto that leaf area for fruit maturation and ripening of the canes for winter hardiness.
Fruit rots
Botrytis and sour rot are spreading in vulnerable varieties. In Niagara vineyards we scout, 4-20 percent of the clusters have at least some Botrytis symptom. Where canopies are open, the amount of Botrytis development appears to be less this year due to the relatively dry weather during harvest so far. (Knock on wood!)
Insects
Some third generation grape berry moth larvae still remain in the fruit, and the partial fourth generation is beginning egglaying. We are seeing the most grape berry moth damage on wood edges, as usual. Michigan State University Enviroweather's grape berry moth model estimates that the start of fourth generation egglaying was on Monday, Sept. 18. The new larvae from this generation will not develop enough to cause fruit damage or cluster webbing until at least Oct 5. Consider a short pre-harvest interval pyrethroid material at this time in vineyards where the fruit will be hanging much past the first week of October.
Spotted wing Drosophila (SWD) numbers continue to increase slowly. The late pyrethroid application discussed above may be needed to manage SWD and other fruit flies, especially where there are any openings in the berries, i.e., from berry moth, severe powdery mildew or any cracking.
Brown marmorated stink bugs are also present. Some feeding damage is occurring at this point, but we expect it won't interfere too much with fruit development or quality. There is still the concern brown marmorated stink bugs will end up in the harvest bins, possibly imparting off flavors to juice and wine, but we have observed them largely flying away and National Grape has not detected any in their Quality Control sampling at the Lawton, Michigan, plant.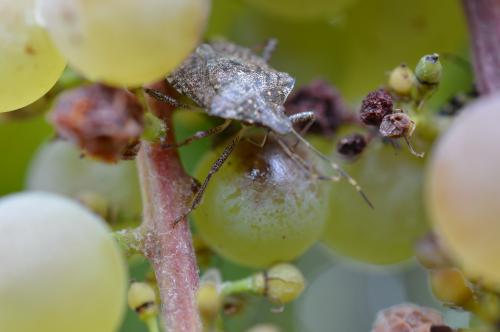 Late-season insect control
Insecticide pre-harvest intervals are determined statistically based on a balance of risk assessments, grower needs and pesticide industry input. They are not magic numbers, but the EPA's best attempt to create a safe time period to stay below the lowest acceptable residues, which are also finagled and estimated. For that reason, remember that the closer you get to the listed pre-harvest interval, the more chances you are taking that slight traces of residue could make it into wine and juice. Keep that in mind if you're thinking about one more application.
So long, farewell, auf wiedersehen
This is our last pest management report for 2017. Please contact Brad Baughman (baughm30@anr.msu.edu, 269-927-5674 x4012) or Keith Mason (masonk@msu.edu) to tell us how you used the reports this year, or what changes you might like to see in 2018. See you at the winter meetings!