2018 Soybean Harvest Equipment Field Day will take place Sept. 13
Learn new information about increasing farm income by reducing soybean harvest losses and reducing the spread of herbicide resistant weed seed.
August 16, 2018 - Author: Michael Staton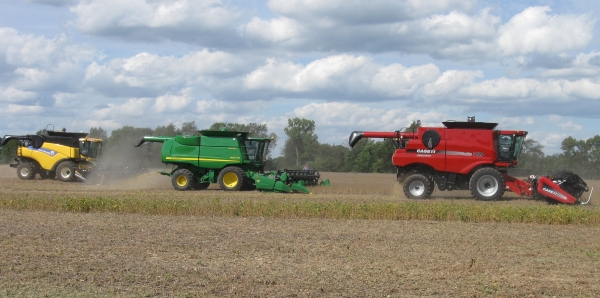 Reducing harvest losses is a simple and effective way to increase soybean yield and profitability every year. However, reducing harvest losses becomes even more important in a dry year like 2018. The plants in severely stressed fields may be shorter than normal increasing gathering losses. Spider mite feeding has also been shown to increase the potential for shatter losses to occur by causing the pods to become more brittle. Reducing harvest losses by just one bushel per acre will produce more than $9.25 per acre of additional income in 2018.
To help soybean producers reduce harvest losses, Michigan State University Extension, the Michigan Soybean Checkoff, Burk Farms, AWS Airbar Systems, Bader and Sons Company, Burnips Equipment Company, Delta College, Janson Equipment and LG Seeds are cooperating to conduct the eighth annual Soybean Harvest Equipment Field Day on Thursday, Sept. 13. The program will begin at 11 a.m. with a presentation on how to reduce the field-to-field spread of herbicide resistant weed seed by cleaning out the combine. The field day site is located in Bay County at 1980 E. Hotchkiss Rd, Bay City, MI 48706. The field is located on the south side of the road just east of the Delta College campus entrance and about three quarters of a mile east of Mackinaw Road (see map).
Participants will learn new information about how soybean harvest losses occur and how equipment selection, maintenance and operation can reduce them. They will also have an opportunity to see the latest harvest equipment demonstrated in the field. Equipment company representatives will be on-hand to discuss specific recommendations for fine-tuning their combines. The following equipment will be demonstrated: draper heads, auger heads and air-assisted reels. We will also measure harvest losses in the field.
To demonstrate how operator skill affects harvest losses, we will ask each combine operator to harvest an area with the combine set and operated to minimize harvest losses. Then we will ask each operator to make one change representing a common error and harvest a second area. Operating the combine too fast for the conditions and positioning the reel too far forward were shown to increase harvest losses at previous field days.
There is no charge for the field day. However, pre-registration is requested by calling 269-673-0370 ext. 2562 before noon on Friday, Sept. 7 as a complimentary lunch and educational materials will be provided. The field day will be rescheduled if the weather, soil or crop conditions are not conducive to harvesting as the equipment demonstrations are important. Please call the phone number listed above after 12 p.m. on Wednesday, Sept. 12 for updated information regarding the field day.
This article was produced by the SMaRT project (Soybean Management and Research Technology). The SMaRT project was developed to help Michigan producers increase soybean yields and farm profitability. SMaRT is a partnership between MSU Extension and the Michigan Soybean Checkoff program.
---