2017 Soybean Harvest Equipment Field Day set for Sept. 26
Participants will learn new information about increasing farm income by reducing soybean harvest losses and reducing the spread of herbicide resistant weed seed.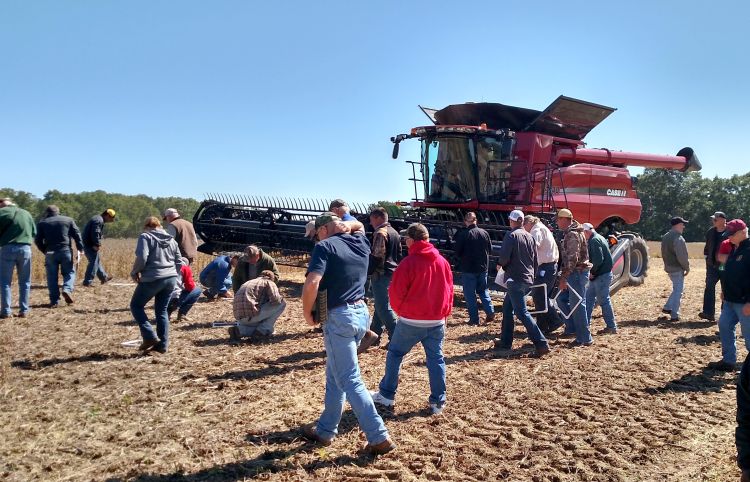 Reducing harvest losses is a simple and effective way to increase soybean yield and profitability every year. However, reducing harvest losses becomes even more important in a dry year like 2017. The plants in severely stressed fields may be shorter than normal, increasing gathering losses. Conversely, plants growing in fields that received frequent and heavy precipitation in June and July may be taller than normal and prone to lodging. Spider mite feeding has also been shown to increase the potential for shatter losses to occur by causing the pods to become more brittle. Reducing harvest losses by just one bushel per acre will produce more than $9.40 per acre of additional income in 2017.
Because of this, Michigan State University Extension and the Michigan Soybean Checkoff are cooperating with Gary Parr Farms, Bader and Sons Company, Burnips Equipment Company, Crary Industries, Janson Equipment Company and Williams Farm Machinery to conduct the seventh annual Soybean Harvest Equipment Field Day on Tuesday, Sept. 26. The program will begin at 11 a.m. with a presentation on how to reduce the field-to-field spread of herbicide resistant weed seed by cleaning out the combine. The field day site is located in Eaton County just north of 4557 North Wheaton Road, Charlotte, MI 48813. This is about three-quarters of a mile north of West Vermontville Highway.
Participants will learn new information about how soybean harvest losses occur and how to reduce them. They will also have an opportunity to see the latest harvest equipment demonstrated in the field. Equipment company representatives will be on-hand to discuss specific recommendations for fine-tuning their combines. Draper heads, auger heads and air-assisted reels will be demonstrated. We will also demonstrate how field rolling affects harvest operations and how to measure harvest losses in the field.
There is no charge for the field day. However, pre-registration is requested by calling 269-673-0370 ext. 2562 before noon on Friday, Sept. 22, as a complimentary lunch and educational materials will be provided. Please call the same number and extension for cancellation or rescheduling updates.
This article was produced by the SMaRT project (Soybean Management and Research Technology). The SMaRT project was developed to help Michigan producers increase soybean yields and farm profitability. The SMaRT project is a partnership between Michigan State University Extension and the Michigan Soybean Promotion Committee