Spotted lanternfly detected in Michigan: What's next for fruit and hop growers?
None found in fruit crops, but be on the lookout for spotted lanternfly this fall.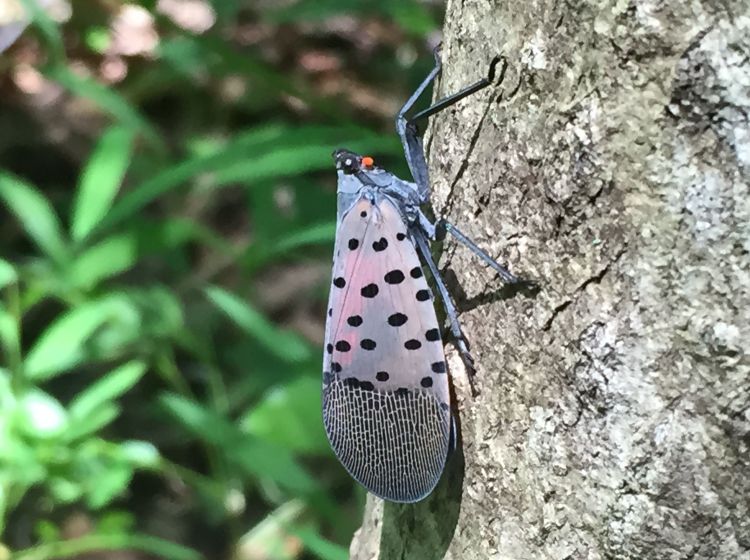 On Aug. 11, 2022, Michigan Department of Agriculture and Rural Development announced detection of spotted lanternfly in Oakland County. This first detected population of spotted lanternfly feeding on tree of heaven and some other host plants means that Michigan moves from being classified as "at risk" to being a state where live spotted lanternfly have been detected. This increases the need for potentially affected growers and their crop advisors to be vigilant, as early detection is key to managing this invasive insect pest.
Grapes and hops are two perennial crops that spotted lanternfly are most likely to feed upon, producing sooty mold when spotted lanternfly feed in large aggregations. Large infestations of spotted lanternfly may also become a nuisance during harvest in other fall ripening crops like apples. Spotted lanternfly start developing into adults during late August, so this is a good time to be looking for them.
It is important to highlight that currently there are no known detections of spotted lanternfly in any Michigan fruit farms. To minimize the economic impact, growers and crop scouts should focus on looking for this pest and reporting any spotted lanternfly detections. This is a very distinctive insect with colorful red, black and white markings, so keep a lookout for the different life stages of spotted lanternfly. This can be done during normal crop scouting, and it will be important to train your harvest crews on what to look for since harvest of grapes, apples and hops overlaps with the timing of its adult life stage.
It is also important to check any local tree of heaven plants since that is a preferred host plant. Photos and more information on this pest and tree of heaven are available in the Michigan State University Extension resource, "Spotted Lanternfly: A Colorful Cause for Concern." There is also lots of good information on the Penn State Extension Spotted Lanternfly website, including videos and photos.
Adult spotted lanternfly are expected to be active through September and until cold weather returns. If you see any insects suspected of being spotted lanternfly, collect the insect in a small jar or a Ziplock plastic bag and note the address. Suspect spotted lanternfly can be reported using the Eyes in The Field website run by the Michigan Department of Natural Resources, in their dedicated page for reporting spotted lanternfly. Here you can provide the location, host plant and insect life stage as well as upload photographs to help confirm the identification.
You can also contact MSU Plant & Pest Diagnostics to get confirmation on the identity of a suspected spotted lanternfly specimen or photo submitted to them.
In the meantime, control efforts are already underway in the Oakland County location with the newly detected population. Since there has been no detection in crops yet, MSU Extension programs this fall and winter will highlight scouting and reporting, while also informing growers and the rest of the fruit industries about the latest research on spotted lanternfly biology and management. There has been a significant amount of recent research on these topics that will guide updated recommendations to help growers manage this new invasive insect.