Spotted wing Drosophila in summer plums and nectarines are a concern for growers
Recent detections of spotted wing Drosophila larvae in summer plums and melting nectarines in west central Michigan causes concerns for growers.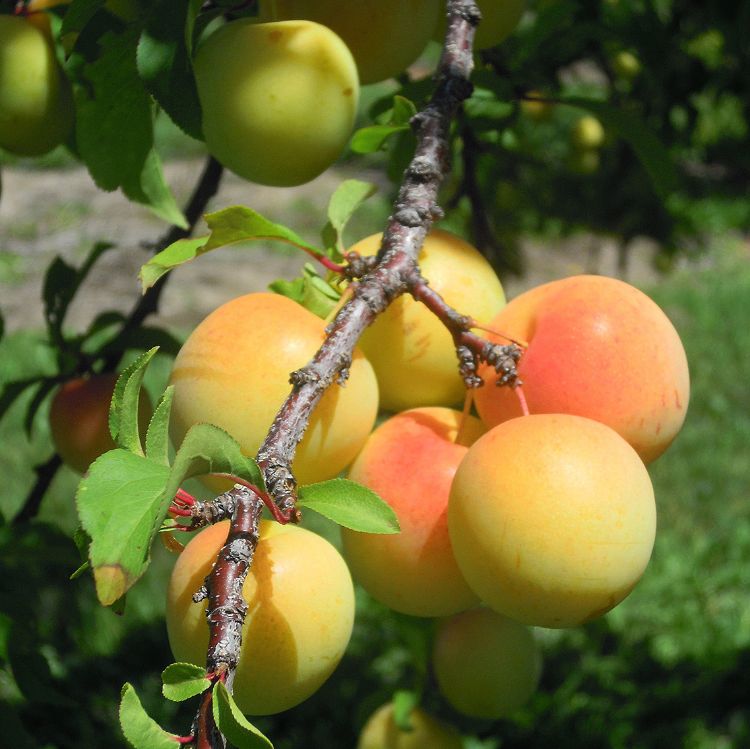 Summer plum harvest began across west central Michigan over the past two weeks. Plum acreage in west central Michigan is small in comparison to other tree fruit crops, but businesses with fresh market produce sales keep small blocks of these popular fruit. These growers have concerns about the need for spotted wing Drosophila (SWD) management in these early summer plums.
Growers are concerned their plums could be attacked by SWD. They are also not sure if there are differences in susceptibility between cultivars.
To address these questions, Michigan State University Extension tested several early cultivars for SWD larvae as fruits ripened. The early results are disturbing. Many summer plum cultivars tested in the past two weeks had SWD larvae.
SWD larvae counts for summer plum cultivars in west central Michigan

Plum cultivar

Plum condition at time of harvest

Date of sampling

SWD Larvae

Early Golden

Very soft, melting consistency. Zero pounds fruit pressure. 30 sampled.

8/1/2017

99

Beauty

Very soft, melting consistency. Zero pounds fruit pressure. 30 sampled.

7/25/2017

52

Methly

Excellent integrity of skin, but zero pounds fruit pressure. 30 fruits sampled.

8/1/2017

0

Santa Rosa

Very soft, melting consistency. Zero pounds pressure. 20 fruits sampled.

8/2/2017

3

Early Magic

Very soft, melting consistency. Zero pounds pressure. 30 fruits sampled.

8/2/2017

0

Shiro

Very soft, melting consistency. Zero pounds pressure. 30 fruits sampled.

8/2/2017

1
Note that this table summarizes a small amount of early sampling for the region and is not meant to serve as a "susceptibility chart." Counts of zero SWD larvae in the Methly and Early Magic plums that were tested do not necessarily mean these plums are not susceptible to SWD. Further testing at other locations could find SWD in these cultivars as well. All summer plums should be considered "at risk" until more testing can be conducted.
These findings demonstrate growers need to be serious about managing summer plums and the later-season plums for this pest, as SWD populations will only continue to build as the season progresses. More plum cultivars will be tested as they ripen, but plum growers need to be on their guard at this time.
Many growers wonder how aggressive a spray program would have to be in a summer plum block to manage for SWD. MSU Extension has not specifically tested summer plum SWD management schedules, but it is likely that a program similar to those used for sweet and tart cherries is needed to ensure clean fruit. Until further testing, assume that a spray every seven days with a product with an "excellent" efficacy rating is needed to keep fruits clean.
Harvest of early nectarines is also underway and we are testing ripening fruits for SWD whenever possible. SWD larvae were detected in melting flesh white nectarine cultivar Silver Gem, while firmer fleshed nectarines such as Summer Beauty have tested clean for SWD thus far. Growers should harvest nectarines at a firmer ripening stage to prevent infestation from SWD, as it seems that thin skinned, melting cultivars are the most likely suspects.
It is still unclear how prevalent SWD susceptibility is in various nectarine cultivars. It is also unclear how susceptible soft nectarines are to SWD compared to summer plums or cherries.
No SWD have been detected in processing peach cultivars in west central Michigan at this time, although testing for this pest in fruits is ongoing. It is likely that peaches with rain cracks or split pits could be infested by SWD, but intact, marketable fruits are not looking to be a host of SWD. The firmer texture, thick skin and thick fuzz of the processing cultivars may make these fruits less suitable to infestation from SWD.
Testing of the processing peach cultivars will continue through the season, covering cultivars Virgil, Vinegold, Arkansas 9, Babygold 5 and Venture as they mature. As the results of these tests come in, look for more information on the MSU Extension Fruit & Nuts page or sign up for the MSU Extension Fruit & Nuts Production newsletter.