Spotted wing Drosophila management guide for blueberries updated for 2013
Michigan State University has released the 2013 spotted wing Drosophila recommendations for Michigan blueberry growers.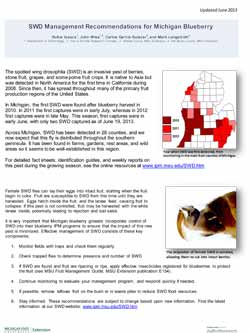 Over the past few weeks there have been low levels of spotted wing Drosophila (SWD) captured in monitoring traps in southwest Michigan. These have been in Berrien, Van Buren and Allegan counties with just single SWD flies trapped in a small proportion of the traps deployed. As blueberries start to ripen in the coming weeks, it will be important for growers to keep a watchful eye on these trap counts and to check in regularly with the weekly SWD reports that Michigan State University Extension is providing.
To provide an overview of the current knowledge of SWD distribution, monitoring, cultural and chemical controls, MSU research and extension staff has prepared an updated version of the document titled "SWD Management Recommendations for Michigan Blueberry." This can be found on the MSU SWD website under the Crop Recommendations page and any updates to this document will be posted at the SWD website through the summer. We are also working on a Spanish translation of this document, expected in the next few weeks.
Dr. Isaacs' work is funded in part by MSU's AgBioResearch.
Did you find this article useful?
---
You Might Also Be Interested In