Spring 2016 field crop nutrient management update for southwest Michigan
Coarse-textured soils with low organic matter levels offer unique challenges for nutrient management in field crops.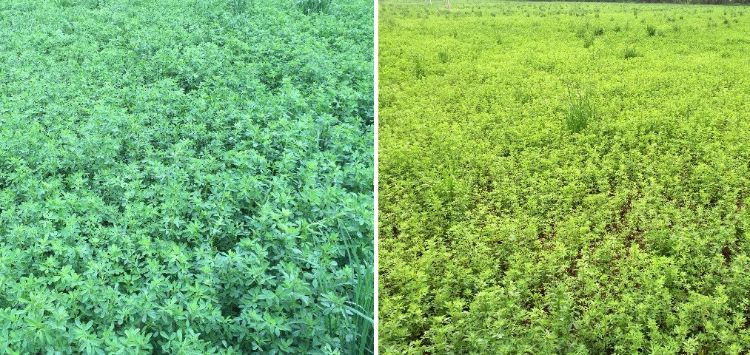 Michigan State University Extension specialist Kurt Steinke presented timely information on field crop nutrient management to farmers and agribusiness representatives at a recent breakfast meeting in southwest Michigan. With planting operations in corn and soybean in progress in most fields due to cool and wet conditions earlier this spring, the discussion focused on wheat and forages in specific with general recommendations for nitrogen (N) and sulfur (S) fertilization in corn.
Manganese (Mn) deficiency has been observed in numerous wheat fields across the state this spring. Symptoms include patches of stunted plants with yellow upper leaves, slight striping of the leaves and whitish or colorless spots. Manganese deficiency is less pronounced at lower soil pH, but it can also be problematic with coarse-textured soils with low organic matter. This problem in wheat has been well-documented in the MSU Extension articles "Manganese deficient wheat" and "Manganese deficiency in winter wheat." Foliar applications of 1-2 pounds Mn per acre should correct this issue, but without addressing underlying causes, foliar applications will likely need to be repeated in subsequent years. Applications should be made according to soil zones in each field to adequately address different levels of deficiency.
Sulfur deficiency is not uncommon on coarse-textured soils, where organic matter is typically low, if inorganic fertilizers are the sole source of nutrient inputs. Sulfur is considered a micronutrient – it is an essential nutrient but at levels lower than macronutrients. For example, a 200-bushel corn crop requires approximately 20 pounds S per acre, and 5.4 pounds S is removed with each dry ton of alfalfa. Deficiency symptoms include stunted and yellowed plants (see photo). Several MSU Extension articles describe sulfur deficiency in alfalfa, sulfur deficiency in corn and sulfur deficiency in soybean.
Steinke said that tissue sampling is the best way to determine S deficiency. Critical tissue levels are approximately 0.25 percent for most crops, although alfalfa, onion and some other vegetable crops have critical levels of 0.30 to 0.50 percent. The MSU Soil and Plant Nutrient Laboratory offers tissue analysis services as do most other Midwest testing labs.
Making late N applications in corn (i.e., V8 to V12) is recognized as one way to mitigate the risk of losing N applied pre-plant through sidedress via leaching or erosion during intense rainfall events. Equipment for delayed N application to corn is becoming available, and fertigation is an option for growers with irrigation equipment. However, Steinke said it is very important to "set up the plant" with good root and shoot growth ahead of the timing of increased N uptake, starting around V6. His studies have shown that pop-up N applications are not enough to carry the plant through to V10 and that split applications (2x2 band at planting + V4 + V10) consistently produced the highest yields. He also said there is more risk of yield loss due to applying N too late and not having sufficient soil moisture compared with applying earlier and losing N in high rainfall events. Steinke has written MSU Extension articles on the use of the Maximum Return to Nitrogen calculator and on general nitrogen recommendations in corn, among others.
The St. Joseph County IPM Breakfast Series is organized by the MSU Extension field crops team in southwest Michigan. The meetings run through the end of June and are held on Tuesdays at the Royal Café in Centreville beginning at 7 a.m. Each meeting includes an update of the major field crops grown in the region, including a crop and pest report, followed by a presentation from a guest speaker on a topic important to crop production. Participants can order breakfast and eat during the meeting.
The speaker for May 31 will be MSU entomologist Christina DiFonzo, addressing the topic, "Field Crop Insect Issues." The meeting will be sponsored by Karl Ritchie with Walther Farms in Three Rivers, Michigan, and CEU and RUP credits will be available. Meetings are open to the public. For more information on this breakfast meeting series, contact Eric Anderson at the MSU Extension St. Joseph County office at 269-467-5511.