Spring is the time to plan for fall
With the recent winter "thaw," gardeners are exuberantly turning pages in their magazines and garden catalogs while planning for spring. Some types of gardening (like planting a vegetable garden) reap immediate rewards, while other types require strategy and months of planning. For instance, last fall you were out in the garden planting bulbs to create that great spring show. Conversely, if gardeners wish to extend their season into fall, planning should take place this spring.

"Fallscaping" is a term used by Pennsylvania horticulturist and nationally known author Stephanie Cohen. The concept focuses on aspects of plants including perennials, annuals, vines and shrubs that have more than one season of impact and are especially showy in autumn. Face it, Michigan is known for its crisp, enjoyable fall season. If you could embellish your present landscape with the right plants, you could be extending your enjoyment of fall for more than just a few weeks.

According to Cohen, fall color doesn't have to come from trees alone. The crimson canopy of a maple tree lasts but a few weeks, but if you seek plants that bloom, fruit and have a great texture, you could be enjoying a carpet of fall color until the snow flies. Cohen suggests to look for plants that have colorful fruits and late season blooms. Ornamental peppers fit right in with this theme and are hardy enough to hold until the first hard freeze. Two of my favorites are 'Chily Chili', a petite producer of cheerful yellow and red peppers and 'Black Pearl,' a mid-sized pepper with nearly black leaves and marble-sized fruits that become ruby treasures as autumn approaches. These are both annual plants that I have no problem integrating into my perennial border, containers or among shrubs. As the foliage fades from the shrubs, the peppers really shine.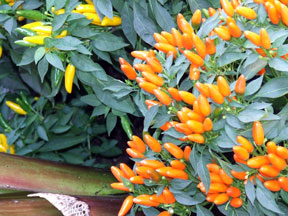 The late show
Cohen also suggests you take a look at late-blooming annuals and tender perennials. We often think of our annuals as looking a bit ragged this time of year, but many are putting on their last and best show shortly before it freezes. Victoria blue salvia along with some of the other tall salvias can fill in the gaps in a tired perennial border. The blue salvias also make a great backdrop for seasonal plants like Chrysanthemum. Tall autumn plants include things like spike celosia and red castor bean. Dramatic star-shaped foliage and robust spiny fruit clusters of the latter become a sharp contrast to the frothy texture of many perennial grasses.

Traditional English perennial borders typically contain a number of "way cool" tender perennials like Dahlia, says Cohen. While one could write an entire book on this group, there are several that really spice up the garden in fall. The 'Bishop' series are a group of "peony" dahlias that boast deep bronze to black foliage and all are topped with daisy-sized, intensely colored blooms. 'Bishop of Llandaff' is one of my favorites because of the deeply pigmented, red blooms. Contrasting with its lacy, almost black foliage, this two-foot beauty will produce heavily until frost. An intense orange cultivar known as 'Bishop of Oxford' is equally interesting with that dark chocolate foliage. Other members of the 'Bishop' series include a cheerful yellow, 'Bishop of York' and a beautiful lavender one, 'Bishop of Leicester.'

It's never too early to be thinking ahead for what you will enjoy at the end of the season as well as the beginning.
For more information
Contact the Kent County MSU Extension office at (616) 336-3265 for program information or log on to www.stuckongardening.com for classes, conferences and program information.