Spruce fir looper in Fraser Fir
Growers should be scouting Fraser fir for spruce fir loopers. Feeding by the loopers on needles could affect the appearance of Christmas trees prior to harvest.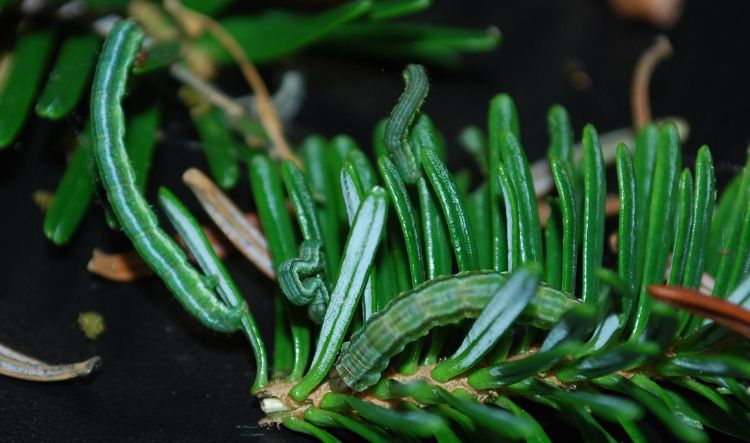 The spruce fir looper is an uncommon pest that can cause heavy feeding damage in Fraser fir. Loopers are caterpillars that are also referred to as "inchworms". Right now we are finding caterpillars anywhere from 0.25 to 1.0 inch long. The body is light green with brownish tinges on the top (dorsal side). Two light-colored, longitudinal lines run down the back. The head capsule is light brown. A scouting board can be used to detect their presence. If you are using a scouting board to shake loopers out of the tree, they often do not move right away, but if you give them a few minutes they will begin to rear up, wave and move around.
The larvae chew notches out of the needles, which after a few days these needles will turn brown. You may also find small worms and needles hanging from silken threads. Most of the damage has been to the top part of the tree, but feeding can be found throughout the tree. Spruce fir looper may have one or two generations per year
We have only rarely seen severe defoliation in Michigan. However, looper populations can build to damaging levels, so growers should be actively scouting fields into early fall to avoid any surprises.