STEAM in Action: School gardens
Gardening to have a positive impact at your school.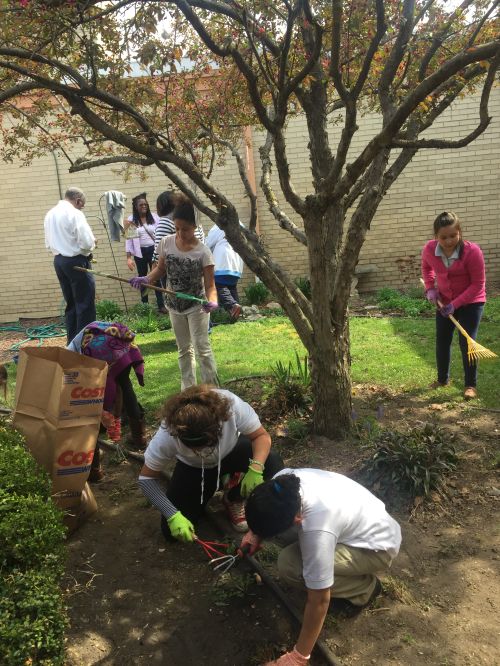 A STEAM (Science, Technology, Engineering, Arts and Math)-focused initiative can really be a wide range of projects and activities. One way to explore earth science and art together is through gardening. Combine that with a school courtyard in need of some sprucing up and you have a fun community service project!
Rachel Puckett, Mentoring to Access Corps member in Oakland County, serves with the Michigan 4-H Tech Wizards program at schools in Pontiac, Michigan. As spring rolled around and youth were getting excited for summer, her volunteer mentors had an idea for keeping their youth mentees excited and engaged. The school they meet in has a courtyard space that needed some sprucing up. Mentors worked with Puckett to determine what materials were needed and came up with a game plan. Youth worked with their mentors to help with different aspects of the project like planting, placing woodchips and even making stepping stones. The project ended with a beautiful new space, but even better, some positive elements and outcomes:
Volunteer mentors took an active role in program planning because it was a project they – and their youth mentees – were excited about.
The garden had multiple things to work on, letting each match focus and work together on one task and build their relationship in the process.
The separate match teams still worked towards a collective end product they could all be proud of at their school.
Youth and mentors were able to directly apply learning about STEAM to a service project.
A school garden is just one way 4-H Tech Wizards mentoring sites around the state have found to engage youth and mentors in community service. Interested in being a mentor and helping Puckett come up with innovative projects in Pontiac, Michigan? Contact Rachel Puckett at 248-858-0841 or rpuckett@anr.msu.edu.
Michigan 4-H Tech Wizards is a 4-H Youth Mentoring program offered by Michigan State University Extension in numerous communities in Michigan. The program uses various STEAM (Science, Technology, Engineering, Arts and Math) projects to help youth build long-term mentoring relationships with adult mentors. Since the focus of the activities is to strengthen their mentor relationship, projects often put a unique spin on STEAM that encourage improving communication, teambuilding, and life skills.
This series, STEAM in Action, features various creative approaches and the mentoring staff member who facilitated these great ideas. Watch for more STEAM in Action articles featuring creative project approaches from our team, including: