Stepping up to cooperatively manage your lake's aquatic plant community
Identification and mapping are key components of 'adaptive' aquatic plant management for your inland lake. Volunteer citizen scientists can make it happen.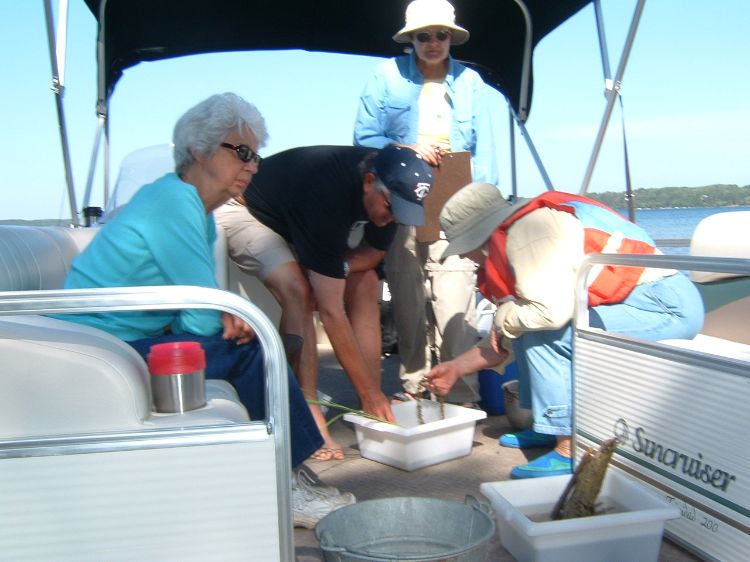 Aquatic vegetation identification and mapping are important components of designing aquatic plant management plans and evaluating their outcomes. Vegetation maps provide important information on the distribution and abundance of plants over time. This information can trigger specific management decisions and also help to evaluate the effectiveness of chosen management decisions.
It is critical that aquatic plants be accurately identified during aquatic vegetation mapping. Traditionally, aquatic plant species have been identified based on characteristics that can be observed visually. For most aquatic plants, this remains a reliable method. The newer method of molecular genetics, as described in a recent Michigan State University Extension article, provides an alternative method that is more sensitive and accurate.
MSU Extension recommends that individuals and associations interested in identifying and mapping the plants in their lake join the Cooperative Lakes Monitoring Program -- part of the Michigan Clean Water Corp (MiCorps). The purpose of this long standing, highly successful program is to train volunteer citizen scientists to monitor indicators of water quality and document changes in lake quality over time – including aquatic plant communities. Additional resources include MSU Extension bulletins WQ55 and E3189.
The information generated through aquatic plant identification and mapping will equip lake associations to effectively partner with their lake consultant to take an 'adaptive management' approach to managing aquatic plants. Adaptive management is effective decision making in the face of change and uncertainty. Maps of a lake's aquatic plant community provide tools for assessing past and current management decisions and to 'adapt' future management approaches accordingly.
Grand Valley State University scientists suggest lakefront property owners suspecting Eurasian or hybrid watermilfoil in their lake may want to consider genetic testing as part of their overall plant identification and mapping effort. Knowing if a watermilfoil is the native species, an invasive or a hybrid will allow them to 'adapt' their management approaches for these plants.
Other articles in this series: