Stretching hay supplies for horses in a drought year
Michigan horse owners can develop strategies to stretch their hay supplies through the winter and early spring using forage substitutes.
Consider stretching your forage supply now to ensure you can feed some long stemmed forage through the winter months. Horses need to eat between 1.5 - 3 percent of their body weight in feed (based on dry matter intake) to meet their individual requirements. Of that total intake, horses should receive at least one percent of their body weight in forage. For many horses, optimizing the forage portion of their diet to 1.5 – 2 percent of their body weight, while minimizing their grain intake is the healthiest way to feed. That means the average 1,000 pound horse will eat around 15 - 20 pounds of hay per day, or one small bale of hay every two to three days, assuming small bales range in weight from 40 – 60 pounds. This can be an expensive endeavor if there is a shortage in hay.
Ideally, fiber particles from forage should be at least two inches in length to help stimulate the intestinal lining of a horse's gut. When stretching your forage, consider supplementing your long stem hay with other high fiber feeds like hay cubes, hay pellets and beat pulp. Complete feeds as well as senior feeds are formulated to supply all of the horse's daily fiber needs. However, horses will still have the psychological urge to chew. By offering long stem forage like hay along with other fiber sources, you can keep your horses happier over the long winter months.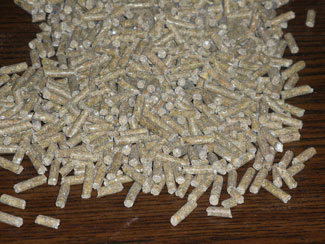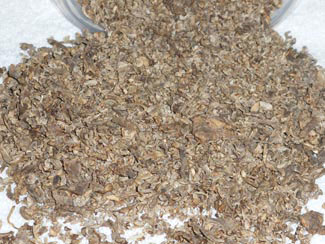 Photo left: Alfalfa pellet
Photo right: Beet pulp
The Forage Substitutes for Horses fact sheet from Rutgers Cooperative Extension is a useful resource if you want to learn more.
Related Michigan State University (MSU) Extension News articles:
Additional information: