Students help experts track an endangered dragonfly
Hunting for the Hine's emerald dragonfly with Great Lakes scientists offers an equally rare learning opportunity for Rogers City students.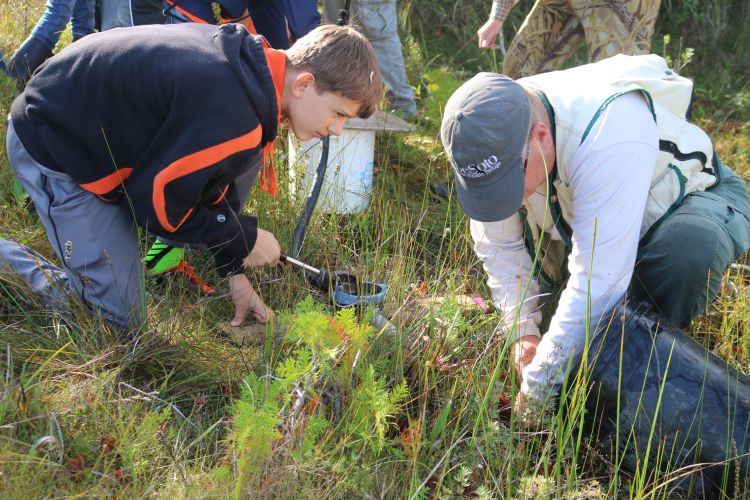 A field trip this fall to Thompson's Harbor State Park was an incredible hands-on science experience for 46 seventh-graders from Rogers City Middle School looking to learn about the many threatened and endangered species that inhabit this coastal park. This also was an amazing career experience, where students worked alongside scientists in search of the federally endangered Hine's emerald dragonfly.
On this day, students were literally getting their feet wet with Michigan State University Extension (MSUE) scientists learning about biology and life cycles of Hine's emerald dragonfly, habitats and wetland ecology, and Lake Huron biodiversity conservation. This part of a new citizen science effort led by Michigan Natural Features Inventory (MNFI) aimed at engaging local volunteers in the effort to map and protect critical high quality habitats of the dragonfly at Negwegon and Thompson's Harbor State Parks (along the Lake Huron coastline in northeast Michigan).
Attention to the dragonfly offers an opportunity to promote Lake Huron biodiversity conservation — the conservation of a variety of species and their habitats. Thompson's Harbor State Park, managed by the Michigan Department of Natural Resources, presents the perfect outdoor learning experience. It offers accessible trails that thread through more than five thousand acres and seven and a half miles of diverse coastal Lake Huron habitats. For the school, it offers an opportunity to blend science with language arts when students undertake a science writing project later this year designed to promote awareness and conservation of these rare species found locally.
After DNR Parks and Recreation staff welcomed the class to the park, students and scientists set off to work pumping out crayfish burrows with MNFI scientists and MSUE educators in search of Hine's emerald dragonfly larvae. Larvae commonly spend three to five years in these wetlands, inhabiting crayfish burrows during dryer seasons, before they emerge as adults. Students gained an appreciation for ingenuity and engineering skills often required of scientists -- on this day using a bilge pump modified to serve as science sampling gear to pump out crayfish burrows located in wetland habitats. Using the equipment students also experienced the tough and often dirty field work required to collect information on rare species in coastal wetlands.
On this day, students discovered plenty of crayfish but not dragonfly larvae in their samples. Students also trekked trails exploring and learned about nature photography as a tool used to communicate science with Michigan Sea Grant and Friends of Thompson's Harbor State Park. They explored plant and bird identification with MNFI scientists – in search of the common, the rare, and even a few unwanted plant species. Identifying invasive species present, students recognized an urgent risk for many rare species, and took time with experts from Huron Pines for a more in-depth look at invasive species, such as spotted knapweed, that cause ecological problems in the park.
Fostering school-community partnerships, the Northeast Michigan Great Lakes Stewardship Initiative network and Sea Grant Center for Great Lakes Literacy helped link educators and youth as part of this important biodiversity conservation project. Students gain the opportunity to learn aside Great Lakes scientists and natural resource experts. In trade, they are contributing to the projects and work of these professionals who serve to manage and protect coastal habitats and rare species found at Thompson's Harbor. This school-community partnership aimed at engaging youth in local environmental stewardship projects reflects a perfect example of place-based education in action.
Visit www.nemiglsi.org to learn about more environmental stewardship projects of students from schools across northeast Michigan. Learn more about place-based stewardship education supported by the Great Lakes Stewardship Initiative network and partnership across Michigan online: http://www.glstewardship.org/
Michigan Sea Grant helps to foster economic growth and protect Michigan's coastal, Great Lakes resources through education, research and outreach. A collaborative effort of the University of Michigan and Michigan State University, Michigan Sea Grant is part of the NOAA-National Sea Grant network of 33 university-based programs.