Summer vacation finds teachers in school exploring Great Lakes watersheds on Lake Huron (Part 2)
Summer Institute Lake Huron educators gain a watershed perspective toward student learning opportunities through Great Lakes water science and stewardship experiences.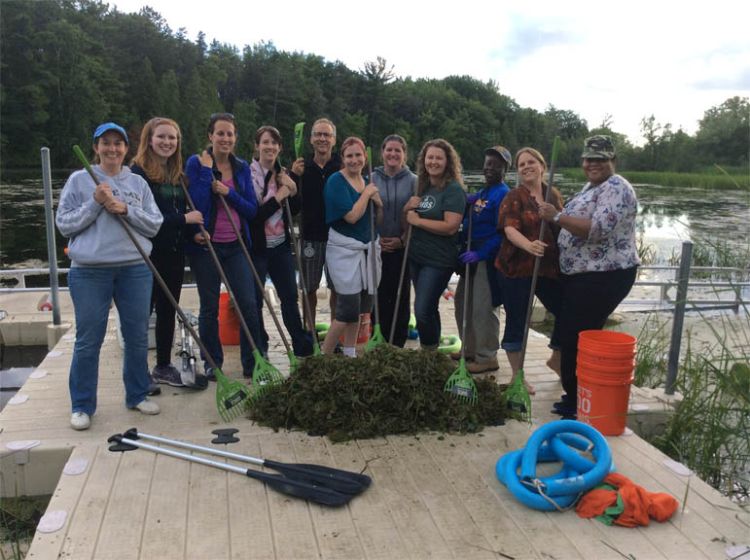 In preparing for the start of school, twenty teachers now have their eye toward local lakes, rivers, and wetlands—and a new enthusiasm toward teaching on rainy days. These teachers from the Northeast Michigan Great Lakes Stewardship Initiative (NEMIGLSI) and Southeast Michigan Stewardship Coalition (SEMIS) were part of the 2014 Lake Huron Place-Based Education Teacher Institute (see part 1) hosted this summer in northern Michigan. Here, teachers experienced water-related science and studies (often in the rain) and practiced Great Lakes stewardship. Fun, engaging, and hands-on is how these teachers may best remember this experience they now hope to share with their students.
One day of this summer teacher training took a watershed approach to exploring our Great Lakes waterways. Appropriately, a rainy day for teachers was a perfect connection of the water cycle to watersheds—and did not deter them from walking in wetlands, studying water quality in a local river, exploring the Lake Huron coastline, and kayaking in search for aquatic invasive species. Teachers took to the waters of Lake Huron with Great Lakes scientists to explore how water science and studies can enhance learning opportunities for their students.
Teachers explored student water stewardship projects in action, and considered prospective place-based education possibilities throughout the watershed. Following the rainfall, their watershed day included: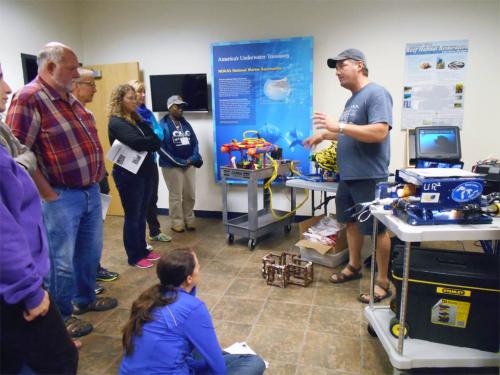 Along the way, teachers compared and contrasted a diversity of water habitats from wetlands to rivers to Lake Huron. Teachers even had an opportunity to practice the place-based stewardship education they teach as they spent one evening kayaking on the Thunder Bay River removing 150 pounds of invasive European Frogbit recently discovered in this local waterway.
This stewardship project cemented learning opportunities centered on invasive species—a pressing Great Lakes issue—while contributing to a Michigan DNR-led management effort to remove frogbit from local waterways. These experiences illustrated how learning (through issues like invasive species), community partnerships (with DNR) and environmental stewardship (removing invasive species, contributing to a planned agency management effort) can be meaningful, engaging and fun for students (and teachers).
In reflection, teachers noted that the hands-on and on-the-water experiences were the most valuable part of their workshop experience, sharing that these types of experiences can help make learning real for students. Thinking about how they might apply these experiences with their students back at school, teachers also reflected that their watershed experience helped them to gain:
Importance in encouraging students to explore, investigate, inquire—inspiring learning through their Great Lakes and natural resources.
Cross-curricular learning ideas, from science and math to history and writing—place-based education and Great Lakes studies demand cross-discipline thought and learning.
Opportunity to focus learning around important environmental issues relevant to Great Lakes communities, such as invasive species—a recurring theme across their watershed studies.
A value in student voice—place-based education illustrates how students can apply their learning in stewardship service and as community leaders.
Stay tuned for Part 3 of this series, where teachers explore Great Lakes fisheries and maritime heritage through study of shipwrecks!