Sunny skies and a light breeze welcomed visitors to Breakfast on the Farm at J&J Dairy
J&J Dairy in Marne, Michigan opened its doors to 2,632 visitors and volunteers at the first Breakfast on the Farm this summer.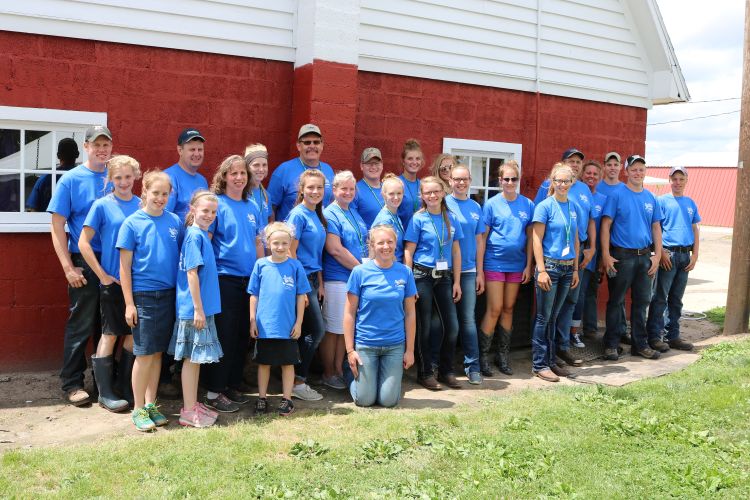 Since 2009, Michigan State University Extension's Breakfast on the Farm program has been providing the general public with a first-hand look at modern farming. For this event, Ottawa County Farm Bureau teamed up with MSU Extension and the Van Dyke family to help plan and deliver the 37th Breakfast on the Farm in Michigan. On Saturday, June 24, brothers Dave, Dan and Tim Van Dyke and their families welcomed visitors and volunteers to their dairy farm. A farm-cooked breakfast of pancakes, eggs, sausage, apple slices, milk, juice and coffee were served to more than 2,600 visitors.
On the self-guided walking tour, visitors had the opportunity to see where cows are housed and to learn about what they are fed, how they are milked and the care that is needed to raise healthy calves. On the crops side of the farm, visitors saw the equipment that is used to plant and harvest crops and where crops and commodities are stored. With regards to milk quality and safety, visitors were encouraged to take a peek at the milking parlor and the bulk tank that chills milk before it is pumped into a tanker that will take the milk to a processor. In addition, visitors were able to interact with representatives from Michigan's commodity organizations while the youth experienced what it takes to produce and sell a commodity at the 4-H Commodity Carnival station. Of course, all were treated to ice cream at the end of the tour.
Breakfast on the Farm is a free family-friendly program that is successful because of willing host farms, generous local and statewide sponsors and enthusiastic and informed volunteers. There is still one more opportunity to visit a Breakfast on the Farm event this summer. In Gratiot County on August 19, the De Saegher family will be opening their doors to the public for a free breakfast and self-guided walking tour. Tickets will be available in the vicinity of the farm and online by July 19, one month in advance of the event. For more information, visit www.breakfastonthefarm or contact Mary Dunckel, agriculture literacy educator at 989-354-9875 or dunckelm@anr.msu.edu or Ashley Kuschel, program coordinator, at 586-469-7616 or kuschela@anr.msu.edu.