Supporting Food and Agriculture in Emmet County
When you support MSU Extension, you help participants learn profitable and efficient business and production practices.
Michigan agriculture continues to be a growing segment of the state's economy. The production of commercial food and nonfood agricultural operations is growing rapidly. The number of households raising a portion of their own food and raising livestock or gardening for pleasure or relaxation continues to increase. When you support MSU Extension, you help participants learn profitable and efficient business and production practices.
Bridging the gap between farm to fork
Efforts to rebuild a more regionally focused Food Systems require true 'systems change' in almost every aspect of the farm to consumer value-chain. Because of this, MSUE Community Food Systems staff devout many hours to community outreach, delivering both formal and informal presentations to a wide diversity of groups. In 2017 those included presentations to:the Great Lakes Leadership Academy; the Intertribal Council of Michigan; the Petoskey School Board, Tip of the Mitt SCORE Chapter; Petoskey Chamber of Commerce members; a U.S. Dept. of Commerce Tour of Russian/former Soviet-Bloc Business and Economic Developers; MSUE Director Jeff Dwyer & the Greening Michigan Institute staff, as a part of their 2017 Spring Network meeting; Downtown Petoskey Open House participants, Emmet County Farm Bureau members, and many others.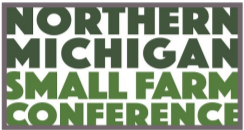 In addition, MSUE staff is a part of the planning Committee for the 19th annual Northern Michigan Small Farm Conference at the Grand Traverse Resort, held on January 26 & 27, 2018. Of the 960 participants, 65 Attendees were from Emmet County. Eleven staff members from MSU and MSU Extension participated by teaching workshop sessions. Additional University participation came in the form of staffing educational booths at the Trade Show or by supporting students from both Campus and Distance MSU programs in order for them to attend Michigan's small farm conference The conference is a premier program of Crosshatch Center for Art and Ecology, and local non-profit and important community partner, located in Antrim County.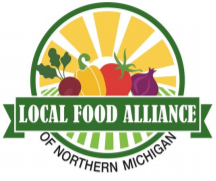 Local Food Alliance- MSUE staff continues to work as a part of this Community Coalition that works to catalyze food system change and to create new and better markets for those working in local agriculture. 2017 success stories include:
Around the Table – this year's annual LFA gathering focused on Good Food for All, with its emphasis on food assistance programs that help assure availability of local farm fresh food to all of the area's residents.
Assisting Farm-to-School efforts at Petoskey Public Schools which include Food Service purchasing from local growers and their Elementary initiative called "Try it Tuesdays."
An expansion of Friendship Centers of Emmet County's Farm-to-Senior program
Continuing efforts to educate the public regarding the importance of buying local at events including Petoskey Business After Hours, and Petoskey's State of the Community luncheon.
Support of area Farmers' Markets and vendors
MSU Product Center Success Story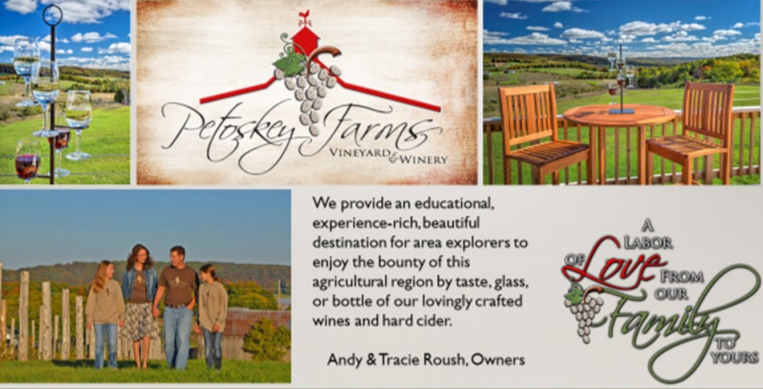 In the summer of 2012, Tracie Roush first sat down with MSU Product Center Innovation Counselor Wendy Wieland to share her and her husband Andy's vision of building of vineyard and winery in the rolling hills, just east of the city of Petoskey. Over the course of the next 6 years, Wieland has been privileged to assist the couple and watch the Roush's dreams materialize into Petoskey Farm's Vineyard and Winery. The business, one of the area's hottest agri-tourism destinations, has grown to include a second location, currently employs 11 people, and has invested heavily in the both the local economy and in the fabric of the local community. "The assistance that Wendy and the MSU Product Center has provided has helped accelerate our original business plan. We would encourage anyone developing or growing a food or farm-related business to seek out their services."