Supporting beneficial insects on your farm or garden
MSU research has identified the best plants for supporting pollinators and natural enemies. At this Aug. 2 workshop, you can see the plants and learn how to use them on your farm or garden.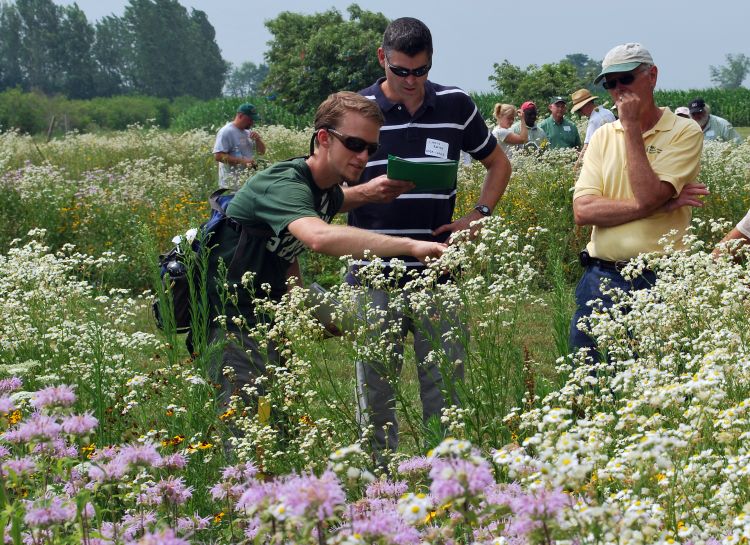 Beneficial insects provide valuable pest control and pollination for farms and gardens, but they need a little help from you as well. Many of these insects benefit from having access to flow­ering plants to provide critical nectar and pollen food through the season. Michigan State University entomologists have been testing Michigan native and other plants for these purposes and want to share their results with you at the Supporting Beneficial Insects with Flowering Plants workshop. The event will include presentations, hands-on insect and plant identification training, and field tours to view over 55 species of insect-supportive (insectary) plants. Speakers include represen­tatives from the MSU Department of Entomology, MSU Department of Plant Biology, USDA Natural Resources Conservation Service (NRCS) and Michigan Native Plant Producers Association.
Participants will learn to identify key pollinators (managed and wild bees) and natural enemies (predators and parasitoids) of insect pests, as well as learn about programs that can help them establish beneficial insect hab­itats on their farm or other property. Field tours will demonstrate which plants are best for attracting beneficial insects and include information on establishing and caring for insectary habitats in farms, gardens, and other settings. Participants will receive four MSU Extension publications including two popular pocket-sized field guides, "Bees of the Great Lakes region and wildflowers to support them" and "Identifying natural enemies in crops and landscapes."
For more details and to register, go to: Supporting Beneficial Insects with Flowering Plants Workshop
To learn more about native plants and beneficial insects, visit: Native Plants and Ecosystem Services
This project is supported by Project GREEEN and the North Central Sustainable Agriculture Research & Education program of USDA.