Sweet corn and summer traditions
Find fresh Michigan-grown sweet corn in August and September.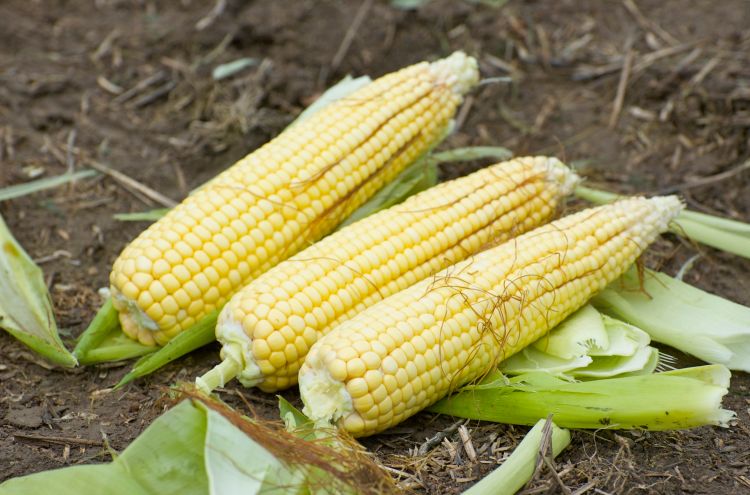 Sweet corn on the cob may be one of the most quintessential American summer foods. Corn is one of the few vegetable crops that originated in the Americas, and sweet corn was originally developed by American Indians by selecting for sweetness qualities. These qualities are due to a gene mutation that allows the kernels to develop twice as much sugar and less starch than field corn varieties.
The history of corn opens doors for family conversations around foodways. The Foodways 4-H Folkpatterns Project has ideas and activities to explore food traditions. For example, try making corn-husk dolls after shucking corn and read about the importance of corn in Native American cultures by reading these books:
The Sun's Daughter

by Pat Sherman

Zinnia: How the Corn Was Saved

by Patricia Hruby Powell

Selu: Seeking the Corn-Mother's Wisdom

by Marilou Awiakta
One of our family traditions is to preserve the abundance of sweet corn by freezing it to enjoy at Thanksgiving dinner. Corn can be frozen on the cob, or kernels can be removed after blanching. The Michigan State University Extension's Michigan Fresh Sweet Corn factsheet has detailed instructions on blanching and freezing corn. This factsheet also features a recipe for making a canned pickled corn relish. For an idea on how to use your frozen corn, try the Michigan Fresh Recipe for Stuffed Peppers with Corn.
One of my favorite sweet corn treats is elotes. The word elote comes from the Nahuatl language and translates into "corn" or "maize."
Elotes are easy to make:
Shuck four ears of corn and place on a hot grill. Rotate occasionally until char marks appear all around.
While the corn is grilling, mix ¼ cup mayonnaise, ¼ cup sour cream, ½ cup Cotija cheese, ½ chili powder, ¼ cup fresh chopped cilantro, and 1 teaspoon minced garlic in a big bowl.
Once corn is done grilling, coat evenly with mixture and sprinkle a little extra cheese and chili powder on top before serving. A little lime juice will bring out the flavors even more.
The messiness of elotes is part of the fun, but to make it less messy you can use corn holders or skewers.
Michigan State University Extension's Community Food Systems Work Team supports the development of local food systems in Michigan. The Michigan Fresh program has tips on growing, handling and preserving as well as healthful recipes to take advantage of the delicious Michigan-grown bounty from your back yard or your local farmer's market. For more information, connect with your local community food systems educator by visiting http://msue.anr.msu.edu/or calling 1-888-678-3464.