Teaching agricultural education is exciting and rewarding
Is teaching agriculture in your future? With the right attitude and opportunity, it can be!
September 24, 2014 - Author: Julie Thelen, Michigan State University Extension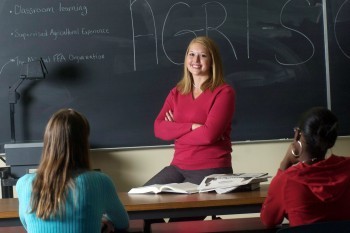 Is agricultural education a career for you? The National Teach Ag Campaign that occurs each fall reminds us all of our passion to teach and inform others about agriculture. For me personally, my career as an agricultural educator has been a truly fulfilling experience and one that I would encourage others to consider as well.
Reflecting on the past five years, I have had the opportunity to be in classrooms as an agricultural education instructor in Michigan and Indiana, as well as my present role as a Michigan State University Extension educator for Michigan 4-H. With a childhood dream of becoming an educator, agriculture education has always been my passion. Having the opportunity to combine a love for teaching with a passion for agriculture allows me to stay inspired about an ever-changing industry that is working to become more transparent to consumers.
The experiences inside the K-12 classroom and within the walls of university halls continue to teach me more about educating youth and furthermore, the importance of teaching others about agriculture. For those considering a career in agricultural education, consider these three lessons, which have been extremely valuable in my pursuit to educate others about agriculture:
Continue to learn. After just a year in my own classroom, I knew there was so much more to learn. With the opportunity to continue my education while teaching, I selected an online master's program where I was able to learn more about teaching youth and adults in agriculture and Extension education. Even with an additional degree, I still have a passion to continue to learn more about topics related to our agricultural system. Books, magazines, email blasts and online sources remain an important educational tool to stay up to date and have accurate information.
Serve as a mentor. Challenges will face you and others throughout your journey, whatever that may be. Consider serving as a mentor to help coach and guide others so they too can have success in their pursuits. A mentor can be many things. For example, it may be encouraging youth to continue working with 4-H or FFA projects, communicating with peers in the industry to work with consumers and those not related to agriculture, or helping to motivate and keep fellow agricultural educators excited and engaged in this dynamic field. No matter the capacity, mentors do make a difference.
Seize the opportunity. If an opportunity presents itself, take it. The chance to make a difference in the life of someone else often appears in various forms and may be hard to see at first. Consider taking risks and trying new ways to educate others. This may be as simple as joining a county committee, volunteering in a classroom for an agricultural education program or even as large as switching careers. Don't be afraid of the chance to make your impact!
Agricultural education takes places in traditional and non-traditional ways each day and while these careers can be challenging, they are ultimately even more rewarding than you can imagine. With passion, drive and encouragement, anyone is capable of becoming a great agricultural educator.
To learn more about National Teach Ag Day, occurring September 25, 2014, visit the National Association of Agricultural Educators website, which also offers tools, resources and publications for teaching agriculture. For more information about pursuing a degree from Michigan State University in agricultural education, visit the Agriculture, Food and Natural Resources Education website.